Whether you're just thinking about building a barndominium, or you're in the middle of construction, getting inspiration is never a bad idea. That's why we are featuring the Hines Family barndominium built in Alabama.
This one has a really great layout. The home measures a Texas-sized 51×34 sq ft, and that is only for the heated area; an 82-foot-wide back porch and a 7-foot-wide front porch. See the bottom of this post for the updated Hines Family floor plan.
We're really impressed by the 32×32 sq ft garage, it's around half the size of the indoor heated area. This huge house is in Alabama and is owned by Steve Hines and his family.
Let's take a look at this beautiful home…
Hines Family Barndominium Exterior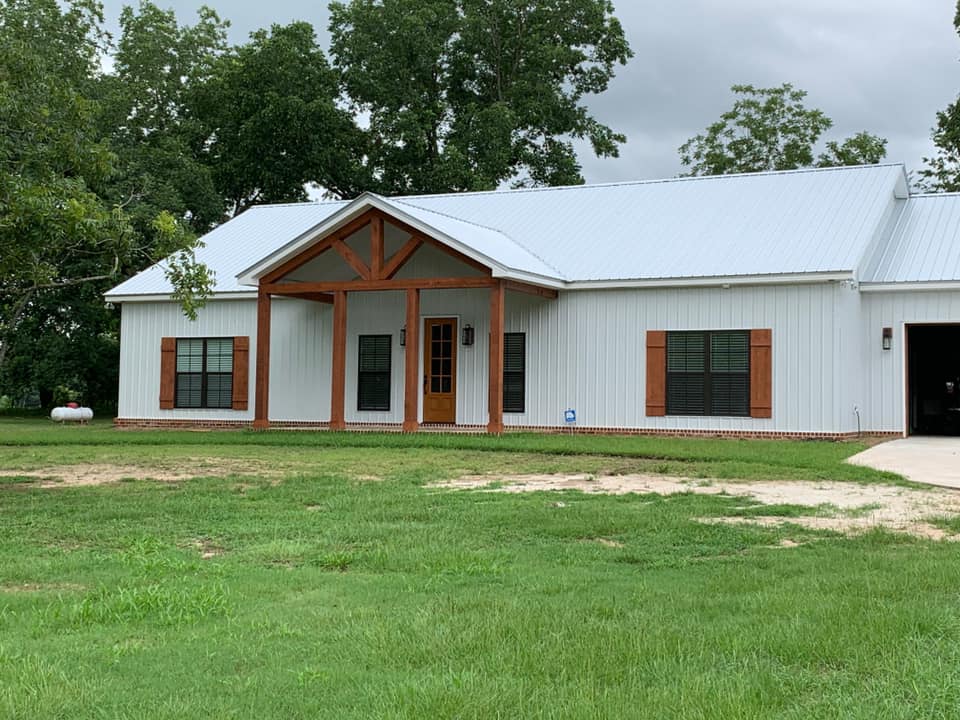 Because wood beams and posts are essential parts of barndos, it is definitely important to choose the best one there is, considering longevity and durability among others.
Cedar wood's popular use for buildings, furniture and finishing touches in homes comes from its many benefits other than the natural beauty it creates:
It is lightweight but strong and definitely durable. As a bonus, it also has a natural oil that gives its distinctive smell and also deters insect attack and decay.
Cedar wood stays cool even on hot days because it doesn't absorb much heat.
It is the best alternative to plastic or resin and even the best and non-toxic substitute to chemically-treated wood.
Between other building materials mostly used such as cement, bricks, and composites, cedar is undeniably the only renewable and biodegradable material
There are different types of cedar and each has its own characteristics. However, you still get the same benefits for all types of this softwood.
Think about it, beauty and quality all in one material! A great choice for the Hines Family barndominium.
Living room
Kitchen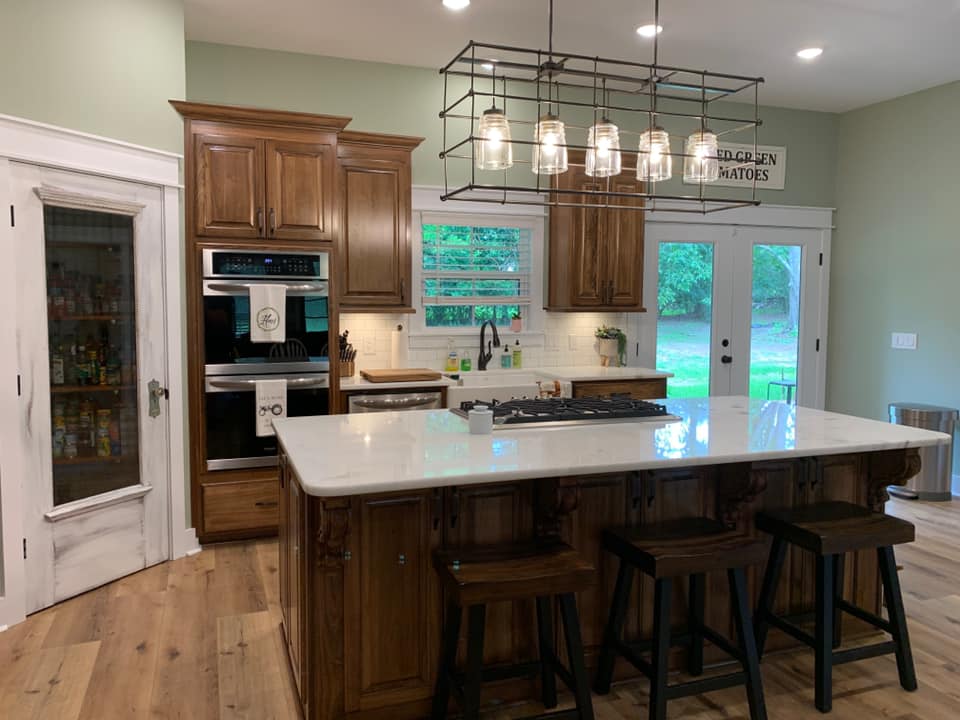 The kitchen is one of the common places in the house that is prone to moisture, other than the bathroom. So you want to make sure that you are using materials that are, on top of everything else, moisture and water-resistant.
Kitchen counters are prone to wear due to spills, scratches, and hot objects. With these, wooden countertops are not in the options. The best material to use would be stone.
Here are the 5 top stone choices to use:
Granite

It has long been the top choice for designers and builders for countertops. It is extremely hard and heat-resistant.

Quartzite

With marble still being considered as the most luxurious stone, Quartzite has the significant advantage of resemblance to it. On the other hand, it has greater density over granite making it more resistant to stains, chips, and scratches.

Dolomite

Though lesser-known, this stone is already gaining popularity being less the expensive option, but nonetheless more durable, than marble.

Marble

It is usually paralleled to luxury. However, it is not as durable and as hard as the rest of the options as it is more prone to stains, scratches, or chipping.

Engineered Stone/ Quartz/ Porcelain

Unlike natural stones, this material is purposely designed for countertops, making it more superior than the stone in several ways.
The Hines Family Barndominium is using Dolomite for their counter. With Dolomite being commonly compared or confused with quartzite or marble, this stone is not as hard and resistant as quartzite, but also not as soft and fragile as marble. With all the given counter material options (and so many others beyond these five), let's take a closer look at the characteristics of Dolomite:
Appearance
The Dolomites are getting popular because of its gray and white colors, and contain streaks giving it a strong resemblance to marble. It can also be found in (very rare) colors of brown, pink, black, and green. This appearance makes it perfect for classy and stylish interior designs such as countertops and backsplash material.
Hardness
Although this stone's hardness is in between marble and granite, its surface can still be scratched by glass and metal. It is not as scratch-proof as granite and quartzite.
Durability
It is very resistant to wear and tear, however, still more prone to cracks and chips than granite is. This stone definitely could last longer than and surpass marble's durability.
Stain resistance
Compared to marble, Dolomite less absorbent to liquid. It is also less sensitive to acid than marble, as well, but will etch when exposed to it. This stone needs regular sealing.
Heat resistance
It's the kitchen and heat is unavoidable! Dolomite takes heat pretty much better than Quartz.
Price
This will be the deal-breaker among them all. Most of Dolomite's varieties come much cheaper than Marble, Quartz, or Granite.
Now you can take your pick!
Now, who thinks those kitchen cabinets are a gem? Well, those are made of Poplar wood, and in the case of the Hines Family Barndominium, they opted to stain it with English Chestnut color.
Why use Poplar wood in your furniture? Let's check out the more important considerations on the characteristics of this material:
Its color/appearance is either light cream to yellowish brown with random gray or green streaks for Heartwood and Sapwood is pale yellow to white.
Typically, it comes in straight forms, uniform grain, and medium-textured.
Heartwood is vulnerable to insect attack, making it lean to the moderately durable to the non-durable side so it is not exactly rot-resistant.
Though easy to work with, this type of wood is light and one of its downsides is its softness (it is hardwood but not very hard, although the term only comes because this type of wood comes from angiosperms). Sanding is necessary to achieve a smooth surface.
It does not have a characteristic odor.
This wood naturally grows in the Eastern United States so this comes as one of the most affordable domestic hardwoods.
Hines Family Barndominium Bedrooms
Bathrooms
The vintage look is timeless! And we bet you adore how these Hines Family Barndominium bathroom tiles look, too. You can check out these vintage bathroom features if you do want to go all-out with that old-fashioned bathroom design.
The rest of the Hines Family Barndominium…
Country music or football; alone or with a company; barbecue or burgers and pizza- all up to you. But always have the beer because there's just no other way but to relax in this back porch setup!
Look at that beautiful woodwork for this massive Hines Family Barndominium garage! What could one ever do in that area? Well, pretty much plenty! Garages are one of the most popular features that barndo owners make sure to look for or have in their plans. Take a look at these Barndominium floor plans with a garage for you to take advantage of this space in your homes.
You're probably itching to get this piece. Here you go – similar to Hines Family Barndominium floor plan!
Now that we've learned about some of the best materials to use, it is now time for you to get that planning started (if you haven't yet). But of course, you can also check out other channels- Pinterest or YouTube for more great ideas and tips!
Best of all, get the Barndominium Life Program, created especially to guide you in your barndominium journey.