After living in a cramped apartment or in a house designed by someone else for a long time, you've finally decided to build your dream home.
Why not opt for a barndominium? These single-story barndominium floor plans provide versatility no other structure does. You can create both functional and fun spaces and then lay them out according to your needs and lifestyle. At the end of the day, what you get is the forever home exactly as you envisioned it.
Is a Single-story Barndominium For You?
For multi-generational families, not having a second floor is ideal. The bedrooms can all be on the ground or the first floor, so grandparents don't have to go up and down to many flights of stairs. And if you plan to live in your dream home forever, it's the perfect setup to grow old in as well.
With a single-story edifice, you'll be able to take advantage of the natural lighting and abundant ventilation that a very high ceiling provides. It also makes customizing your living space easier when you don't need to consider what goes on top.
But first things first. In order to get everything right the first time, we highly recommend that you finalize your floor plan prior to building. While a barndominium is basically energy-efficient and easy to maintain, making changes midway can be costly even if the modifications are minor.
10 Best Single Story Barndominium Floor Plans to Inspire You
The beauty of building a barndominium is that you have the option to make it compact and efficient, or spacious and party-friendly.
Have a look at these floor plans designed specifically for single-story homes. Each one caters to a unique set up so you will surely find inspiration no matter how unique your situation is.
Get lots of space from this 3-bedroom, 2-bathroom barndo. It has 1800 sq ft of living space which is a perfect size for a smaller family. An open-concept living room and kitchen sit between the 2 bedrooms on one end and the huge master bedroom on the other end. The spacious front and back porches come very functional for events or daily relaxation for the family.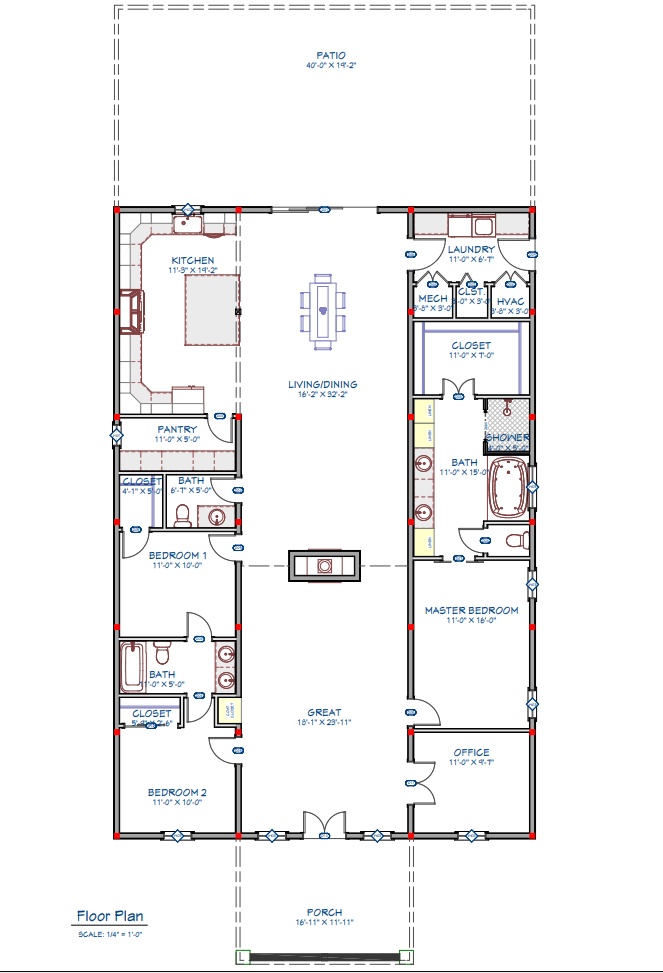 This floor plan is perfect for a small family and also accommodates a working-from-home setup with an office, which can also be turned into a storage, playroom, or recreational room. The front and wide back porches are great for relaxing and occasional get-togethers.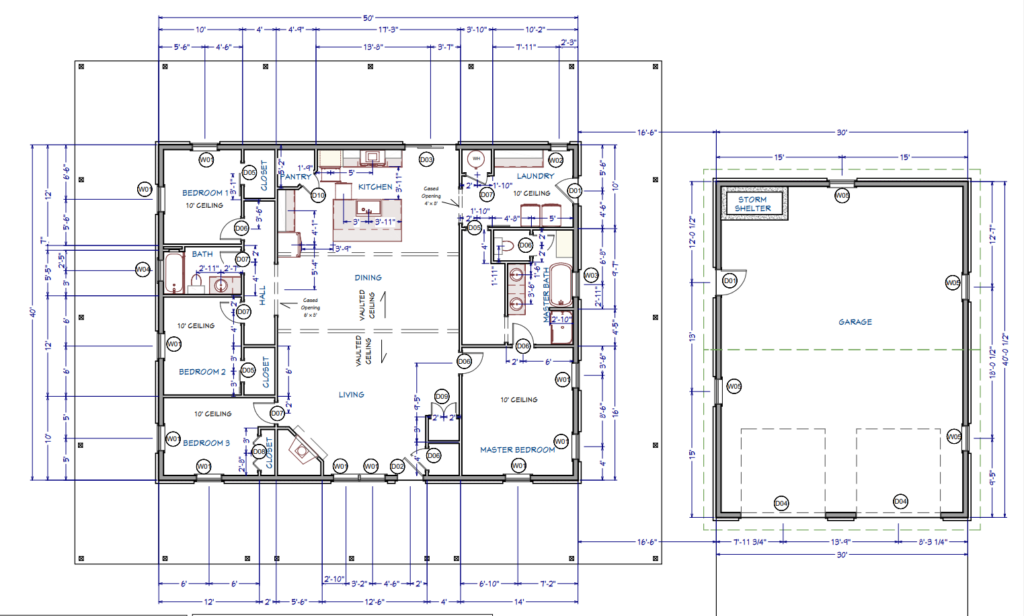 This 40×50 barndominium has 4 bedrooms and 2 bathrooms, wraparound porch. The 10″ vaulted ceiling and open-concept living area with a fireplace up to the kitchen area create an airy atmosphere. Each bedroom has its own closet. A huge detached 2-door garage is built a few steps from the living area.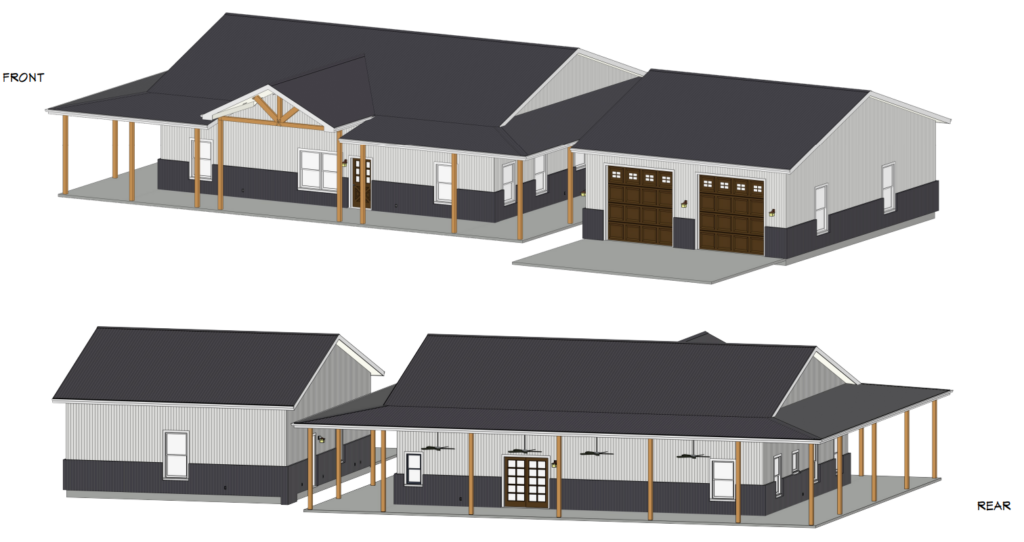 This 60' x 40' barndo is perfect for families who love to entertain. The front door opens up to a wide space and the living and dining rooms blend well together so any guest walking in through the door gets an impression of a wide, open space. The kitchen is easily accessible and spacious enough to conveniently cater to a party.
Two big bedrooms with their own bathroom and walk-in closet are situated side by side. This is ideal for a couple taking care of an elderly parent who needs close attention and privacy at the same time.
An extra bedroom is added for one or two children to occupy. They can share the extra bathroom that's strategically situated just outside the bedroom, but also in proximity to the kitchen so visitors have easy access too.
How to Build Your Own Barndominium & 200+ Floor Plans
Get started today with our program "Barndominiums Made Easy: How to Build Your Own Barndominium" and get 200+ barndominium floor plans included!
A variation of the above design, this floor plan also has a 60' x 40' living area. It is great for medium-sized families since there are 2 extra bedrooms instead of just one. These are big enough to accommodate 2-4 kids and can be converted into guest rooms when they grow up and leave the nest.
One shared bathroom is directly accessible from either bedroom to ensure privacy, while a half bath is thoughtfully added beside the kitchen for guests. And because the additional bedroom takes up some of the open space, a porch is strategically placed at the front entry. It's a clever way of extending the entertainment area.
Both large and multigenerational families will love this 80' x 40' layout. The front part of the house, occupying almost half of the total living area, is a huge open space that offers endless design possibilities. They can have multiple receiving and dining areas or designate one area as a family entertainment corner.
We love how it effortlessly leads to the hallway from which the kitchen and all bedrooms branch out, and how the layout ensures the privacy of each occupant even when there are guests around.
Another distinct feature of this design is the wide porch that stretches the entire length of the frontage. It allows for an equally wide or double front door, giving justice to the phrase "grand entrance."
This 80' x 40' barndo floor plan is specially designed for families who need to install a home office. It includes 2 large bedrooms with their own bathroom and walk-in closet and a smaller bedroom. All are separated from the open space in front by the strategic placement of the kitchen with its island.
A utility room, accessible from inside and outside, is added beside the office. It is perfect for a family running their own business. The parking area can be placed just outside the utility room if loading and unloading is part of the regular business activity.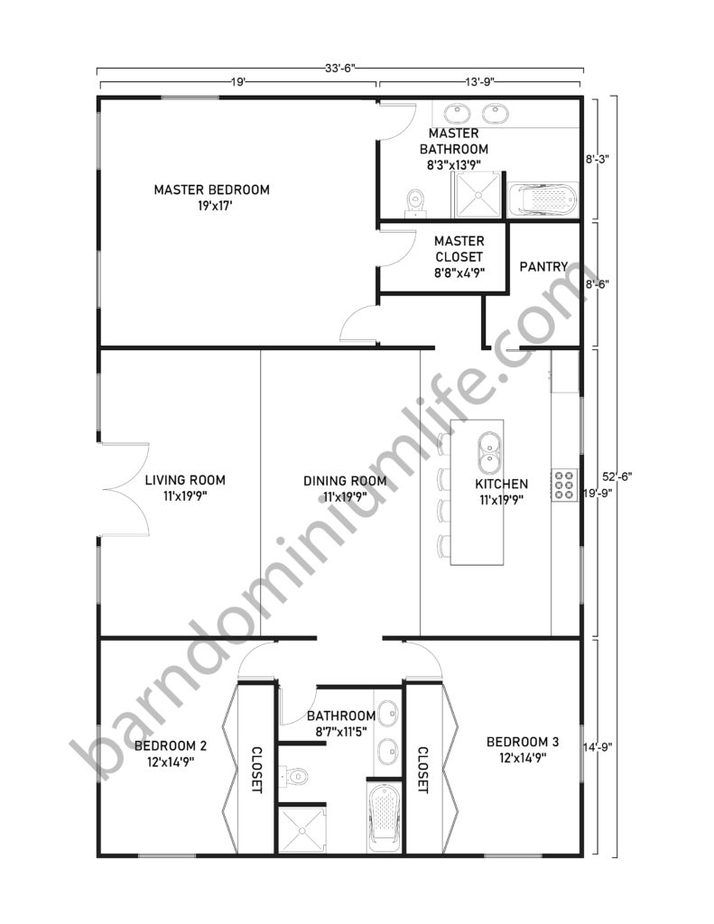 Couples dreaming of a home with their very own master's suite will fall in love with this concept. Occupying the entire west side of the abode, and almost one-third of the living area, the suite offers the luxury of a full bathroom and closet within the quarters.
On the opposite side are 2 bedrooms where 2-4 children can sleep. A shared bathroom is conveniently sandwiched in between the rooms.
How to Build Your Own Barndominium & 200+ Floor Plans
Get started today with our program "Barndominiums Made Easy: How to Build Your Own Barndominium" and get 200+ barndominium floor plans included!
If you have at least 3 children and still wish to have a master's suite, then this floor plan is for you. While it provides for 3 additional bedrooms, a sizable corner area is still reserved for the suite with its own master's bathroom and walk-in closet.
Two bedrooms share one bathroom, but one has its own so it may serve other purposes than for your kids. For example, if an elderly parent is living with you or if you often invite family and friends over to spend the night.
Note as well that in this layout, the front door opens to the dining room rather than the living room. It is ideal for some who prefer it that way.
As far as barndominiums go, square designs are not common. So, if you're looking for something unique, then you may just have found it.
The shape of this barndo is not the only thing that makes it stand out. Its layout is quite distinctive as well. All common areas are positioned to the left half of the abode, while the bedrooms are lodged to the right.
It's also interesting how the shared bathroom of the 2 bedrooms is placed in the center but towards the backside. This floor plan is indeed tastefully designed by a truly creative mind.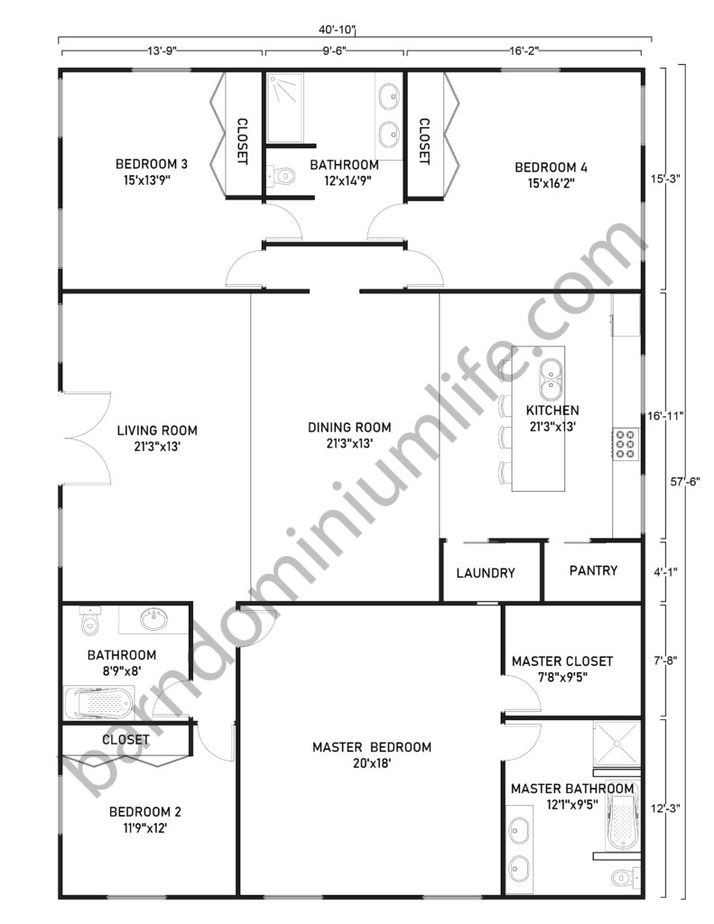 Another great option for large families, this floor plan thoughtfully provides a bedroom for a family member with special needs. Placed next to the master's suite, it has easy access to a full bathroom located right beside it. The bedroom itself is nearest to the front door, which facilitates effortless exit and entry.
Alternatively, this bedroom can be the sleeping quarters of a family member with unusual working hours. Being near the front door ensures that other members won't be disturbed.
Design Your Own Single Story Barndominium Floor Plans
If these single-story barndos have stimulated your creative juices, then you can try your hand at designing your own barndominium. Check out our custom design software so you can transfer the image in your mind to the screen of your device. This user-friendly software is easy to navigate and produces results in minutes.
How to Build Your Own Barndominium & 200+ Floor Plans
Get started today with our program "Barndominiums Made Easy: How to Build Your Own Barndominium" and get 200+ barndominium floor plans included!
Conclusion
You can browse our website and our Pinterest page for images to jumpstart the design of your customized home.
Need help with building your barndominium dream home? The Barndominium Life Program is chock full of information and valuable tips that will make your journey, from the floor plan to finishing touches, a success.