In Ohio, an increasingly popular trend in residential architecture is emerging, and it's called the "barndominium." These unique homes combine the rustic appeal of a barn with the comfort of modern living, and they are gaining recognition across the state.
Barndominiums offer a distinctive blend of traditional aesthetics and contemporary conveniences, and Ohio's diverse landscapes and strong rural communities provide an ideal setting for these homes.
In this article, we will explore what barndominiums are, why they are becoming a sought-after option in Ohio, the advantages of choosing them, and the essential factors to consider if you're thinking about building one in the state. We'll also discuss how we can assist you in finding a builder, kit provider, financing options, and floor plans, making your journey towards a barndominium in Ohio a well-informed and practical experience. Whether you're a farmer, nature enthusiast, or someone who appreciates unique living spaces, the barndominium trend in Ohio, along with our practical guidance, might be a fitting choice for your next home project.
Editor's Note: Looking to find a barndominium loan?
In this article, we will cover all the factors that come into play when building a barndominium in Ohio.
If you read through this article and would like some more information and inspiration for building a barndominium in Ohio, check out the ebook, Build Your Dream Barndominium by Don Howe. There, you will find many ideas that can help you plan out everything you need to know to start work on the barndominium of your dreams.
What Is an Ohio Barndominium and What Are Some of the Advantages?
A barndominium is a modern, custom home built out of a repurposed or brand-new barn or metal pole structure.
They are often designed in the country home style that works well with the reclaimed look of the exterior. If you are looking for a little bit of the country-chic life, they could be a fantastic option.
They are a wonderful blank canvas to hang your designer dreams on and can be customized in a variety of ways that are unique to your style.
Barndominiums are usually built out of metal structures that are both durable and easy to maintain.
Derived from the custom of farmers who built their homes within their agricultural structures, they are great for people living in rural areas. If you are looking to live the country life while still having the creature comforts and style of a modern home, a barndominium is a great choice.
Metal structures also have advantages beyond their lower cost.
Metal siding can be painted in a wide variety of colors and is incredibly easy to clean and maintain. Unlike wood slat siding or brick, it can stand the test of time as well as in climate weather. This keeps the costs low for both annual upkeep and repairs
One of the main advantages of building a barndominium in Ohio is the lower cost of entry.
As we will cover below, barndominiums cost much less to build than a traditionally constructed home. Because of this, there can be more money left over to include things you might not be able to afford otherwise.
Custom touches like built-ins, walk-in closets, and state-of-the-art appliances can all be included if you save money on your initial construction.
Cost of Building a Barndominium in Ohio
Building your own home is never going to be an inexpensive venture.
However, by building a barndominium in Ohio, you can offset some of the costs and save yourself some money in the short term as well as the long term.
This makes the prospect of building a custom dream home much more achievable for first-time homebuyers or people who would otherwise be unable to undertake a project like this.
When building your own home, you will figure out the cost per square foot. This method of budgeting makes it easy to plan the specifics as well as get a good idea of how much house you can afford. It also makes it easier to visualize what your home will be like with the budget that you have allotted.
The cost of building a traditional home in Ohio is quite a bit higher than a barndominium build.
The average price is between $190 and $240 per square foot. This is slightly lower than the national average, but depending on your needs and wants in regard to your home, it could be cost-prohibitive for most people.

However, building a barndominium in Ohio is quite a bit cheaper.
The average price for a barndominium build can be as little as $80 per square foot, though the average in Ohio is usually around $186 per square foot.
This lower cost means you can have more money left over in your budget for things like furniture, appliances, and custom cabinets.
These are the things that people dream about when they are thinking of building their own home, and it is nice to be able to afford them once the actual structure is built.
Ohio Barndominium Builders
When choosing a builder for your barndominium, there are quite a few factors that you are going to want to keep in mind. The builder you choose will have a huge impact on your project and can either make or break your experience. Because of this, taking a few things into consideration when making your choice is very important.
One of the most important things to know about a barndominium builder is their level of experience.
You want to choose a builder that has worked on metal structures and has a proven track record with this kind of construction. By picking a builder that has previous work experience to lean on, you can be sure your project will go as smoothly as possible.
Another thing to look at is a builder's reputation.
If they have many satisfied customers that they have worked with in the past, the odds are good that they will be able to deliver a quality product to you. The end result speaks for itself, and if they have consistently delivered on this front, they will be much more likely to give you the same satisfaction.
It can be difficult to search through all the different builders working in this type of construction. Luckily, we have put together a list of the best builders for a barndominium in Ohio to help you make the right choice.
Craig Moran Construction
Established in 2020, Craig Moran Construction is a relatively new company. However, they are incredibly dedicated to their community. They work with clients all over Ohio to build things like metal pole structures and other agricultural projects. Because of this, they could be a great option to help you put together the barndo you have been dreaming about.
Dutch Builders
Since 2008, Dutch Builders have been working specifically in the realm of metal buildings and pole structures. This sort of specialization is rare in the world of construction and can be a fantastic feature for a builder. If you are looking for a company that has that kind of focus, they are a great choice.
Extreme Post Frame
The builders at Extreme Post Frame have a myriad of experiences with custom metal pole structures. They will be able to build a barndominium in Ohio to your exact specifications based on their previous work and clientele. This makes them a great choice if you have a lot of custom touches you would like to add or a unique floor plan that you have been dreaming up.
Barndominium Kits Ohio- Ohio Kit Providers
If building a barndominium in Ohio from scratch is not something you want to do, you have other options as well. Barndominium kit providers are a great choice if you would like an easier construction phase for your dream home.
One of the major benefits of using a barndominium kit is that they come with everything you need. If you are champing at the bit to get your project underway, you may not want to spend a lot of time gathering materials. By ordering a prefabricated kit, you can get started as soon as it arrives and be confident that you will have everything in place and ready to go.
Barndominium Financing in Ohio
Barndominium Financing Request
Citizens National Bank
The lenders at Citizens National Bank have a personal connection to the land and community in Ohio. They have been working with clients on all kinds of agricultural construction projects for years. They also have the distinction of being the largest lender in the area as well as being an official provider for the Farm Services Agency.
Southern Hills Community Bank
Southern Hills has been working with farmers and other communities in the agribusiness in Ohio for many years. Their bankers are passionate about these types of construction projects and are eager to help you get started. If you would like to work with a bank that understands the ins and outs of the area, they are a great option.
Where to Find Land for a Barndominium in Ohio
Finding a piece of land on which to build your barndominium in Ohio is not easy. However, it is one of the most important steps. It will set the tone for your entire project as well as your life in your new home.
There are many places to find land for your barndo online. Aggregators and listings all over the web can help you find a plot that is both zoned for residential construction as well as ideal for your home. You will also have to secure financing for this piece of land. Any of the above agricultural banks will be happy to assist you in this process.
Barndominium Floor Plans in Ohio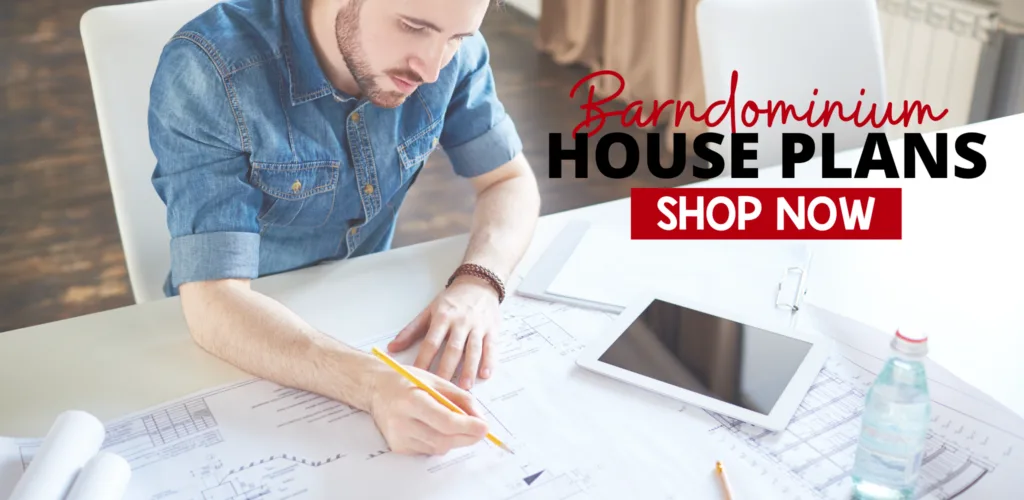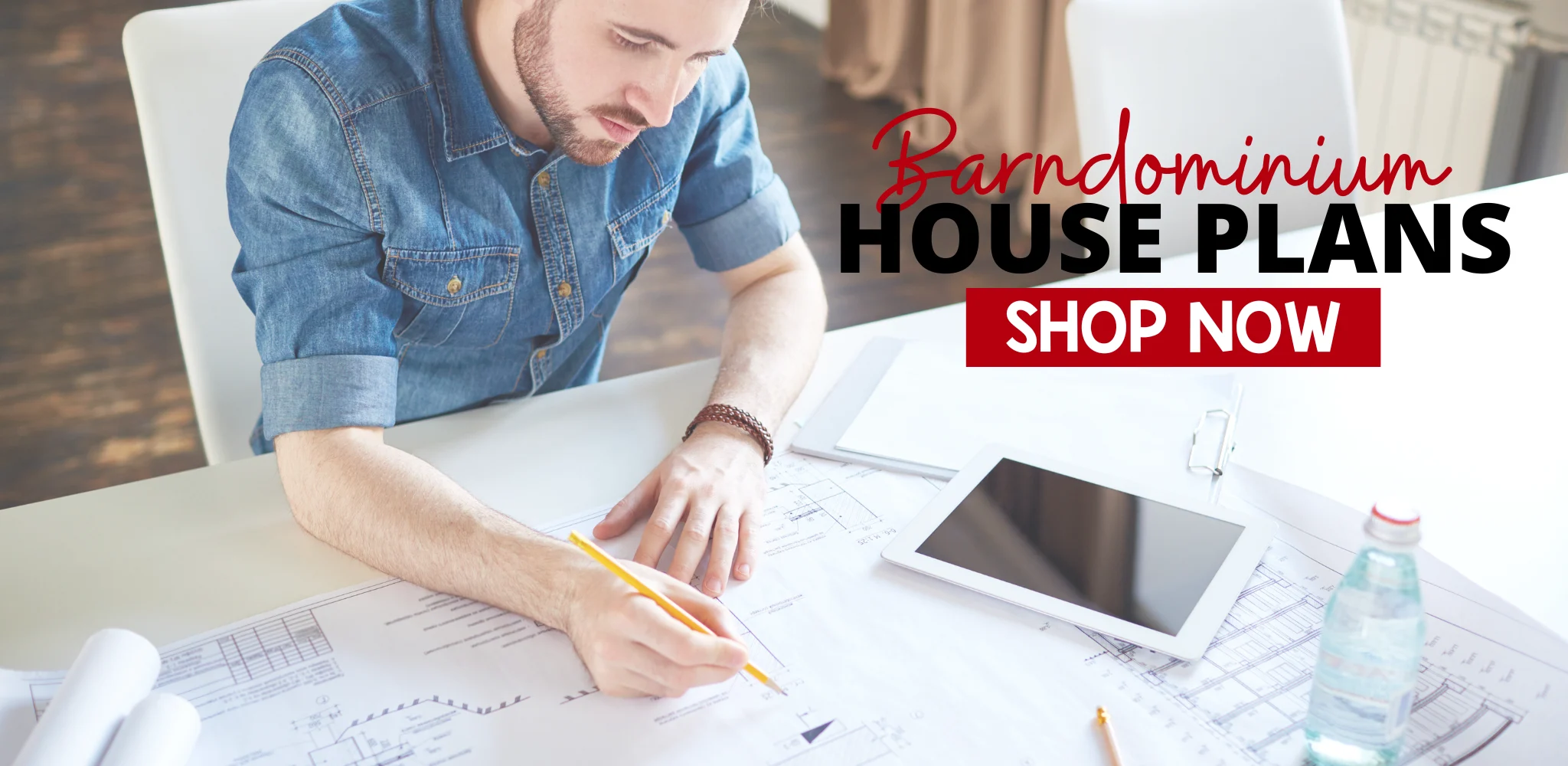 Don't want all the hassle of building a barndominium from the ground up? Then you may want to buy an existing barndominium in Ohio! With our Barndominiums for Sale Marketplace, you can browse to your state and find a barndominium for sale near you.
The beauty of buying an existing barndominium is that it can be really easy to customize the floor plan to your liking. The previous owners' setup is just a starting point! Also, by buying a barndominium in Ohio, you bypass the potential troubles of the building process – delays, dealing with contractors and subcontractors, and city or county bureaucrats trying to make your build process a nightmare.
Don't delay – find a barndominium for sale in Ohio now!
Conclusion
While there are many things to keep in mind when building a barndominium in Ohio, there is also a lot of help available. Trusting professionals and finding the right materials and plans is a surefire way to have a successful build. If you would like more information and ideas to help you along the way, check out the Barndominium Life Program!
Michael O'Connor is a seasoned barndominium writer passionate about creating unique and innovative barndominiums. With over 15 years of experience in the construction industry, Michael has established himself as a leading expert in barndominium design and construction.
His work has been featured in several respected publications, including Barndominium Life, where he frequently contributes articles on best practices and emerging trends in the field. Michael's ability to blend traditional techniques with cutting-edge technology and design concepts has earned him a reputation as one of the most knowledgeable writers in the industry.