Building your own home is a dream that only a few people achieve. It can be expensive and difficult, and most people opt to buy a home that is already completed instead. However, building a barndominium in South Carolina is an accessible alternative to this process. It is a much easier and enjoyable project and can save some money for more custom touches on your home.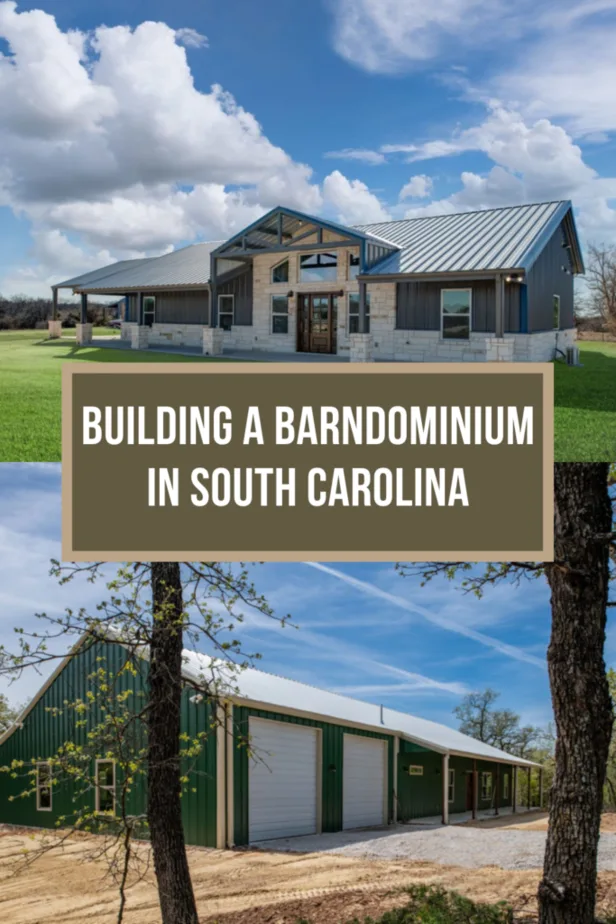 If you have looked into building your own home anywhere in the country, you have probably noticed that there are different laws, regulations, and options for each state. This can make things complicated and leave you with a lot of choices to make as far as where you are going to build and who you are going to hire to help you build your custom dream home.
Fortunately, we have put together this comprehensive guide to help you make the decisions you need to make in order to build a barndominium in South Carolina.
If you finish reading this article and would like more help with ideas and inspiration regarding building a barndominium in South Carolina, take a look at the ebook, Build Your Dream Barndominium by Don Howe. There, you will find a wealth of information that can help get you started on the road to building the home you have been designing in your head.
How to Build Your Own Barndominium & 200+ Floor Plans
Get started today with our program "Barndominiums Made Easy: How to Build Your Own Barndominium" and get 200+ barndominium floor plans included!
What Is a South Carolina Barndominium and What Are Some of the Advantages?
A barndominium is a custom-built home that has been designed from an existing barn or metal pole structure.
On the interior, they look and feel just like a modern custom home, but the exterior is perfectly matched to any rural or country landscape.
This is due to the agricultural feel of the barn or metal pole structure and can be a unique touch that you just can't get with a traditionally constructed house.
One of the major advantages of a barndominium over a traditional home is the durability and low cost of maintenance.
The metal siding that these structures are built from is easy to clean, can be painted in any color, and is durable in less than ideal weather such as ice or snow.
This gives them a distinct advantage over homes built with materials such as wood or brick. The metal is easy to clean and does not have to be replaced or painted nearly as often as wood slat siding or brick.
If you are looking to build a home and save on your yearly maintenance costs, a barndominium in South Carolina could be a great option.
The ease of the build is another great aspect of building this type of home.
Many barndominiums can be built in a matter of a couple of months as opposed to the years it may take to build a traditionally framed and constructed home. If you are a first-time home builder, you are going to want to make the process as easy as possible and a barndominium is a great way to do this.
There is even a wide variety of barndominium kit providers that will send you a prefabricated kit with everything you need already included. This helps make the process even easier if you are so inclined.
Perhaps the most important benefit of building a barndominium in South Carolina over a traditional home is the cost.
Since you can save on materials and construction, the overall cost of the build is much less.
This leaves the money available for things that you want to include in your custom home. Appliances, countertops, and custom cabinets are all extra expenses and if you can save on your initial construction, you can set aside more money for these extras.
Cost of Building a Barndominium in South Carolina
There are plenty of benefits to building a barndominium in South Carolina, but perhaps the most important one is the lower price.
Many people dream about building their own homes, but the cost can be prohibitive and can stop people from starting the process.
Luckily, the lower price tag of a barndominium makes them much more accessible to people who might not otherwise think they can make their dream a reality.
The price of building a home is usually calculated by the square foot. This lets you get a good idea of how much your construction project is going to cost based on how many houses you think you will want or need.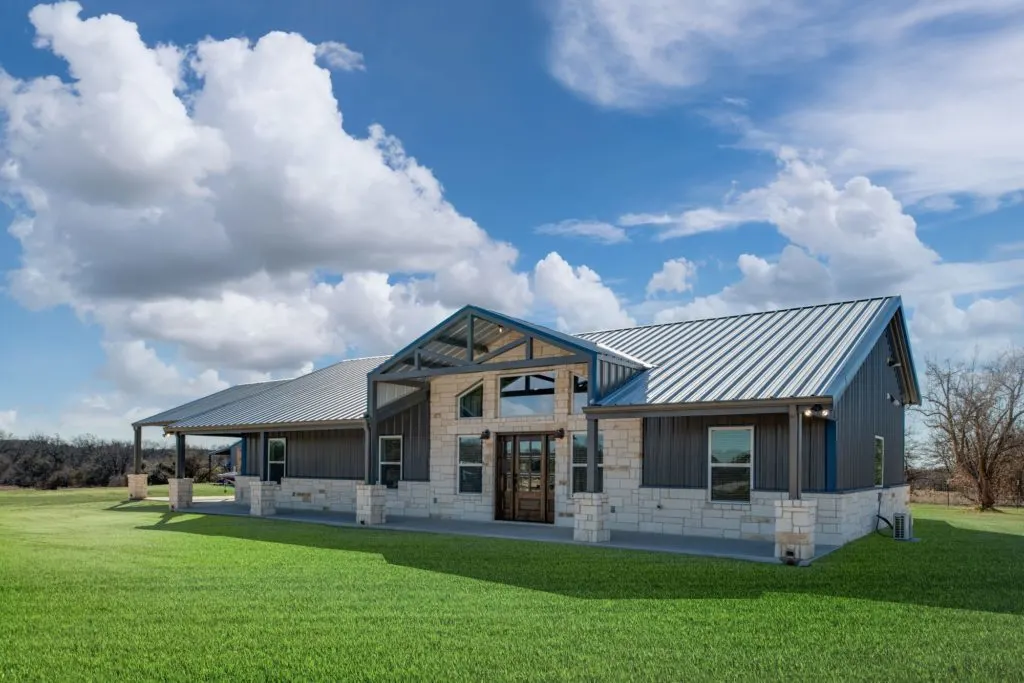 The cost of building a traditional home in South Carolina comes out to about $280 per square foot. This cost includes things like construction, materials, and more. It does not include some of the extra features that you might expect from a custom home like cabinetry, porches, or appliances.
Because of this, you may actually end up spending much more.
However, the cost of building a barndominium in South Carolina is much less.
At around $200 to $240 per square foot, it is about 57% as expensive to build a barndominium compared to a regular 2×4 framed home.
You can potentially have quite a bit of money left over for the things that make a house comfortable and specific to your vision. Having this extra money left in the budget can also cover future renovations or additions if you end up wanting to add those later on in your home's life.
Get a FREE 18 Month Barndominium Planner
There are 39+ steps that must be taken before groundbreaking. Learn them all in this FREE checklist, available for immediate download.
Barndominium Builders in South Carolina
When looking to build a barndominium is South Carolina, one of the most important considerations is figuring out who is going to build it.
There are many construction companies available to you and making the right choice will make all the difference in how smoothly your barndo project goes. Luckily, we have put together a list of some of the best barndominium builders in South Carolina.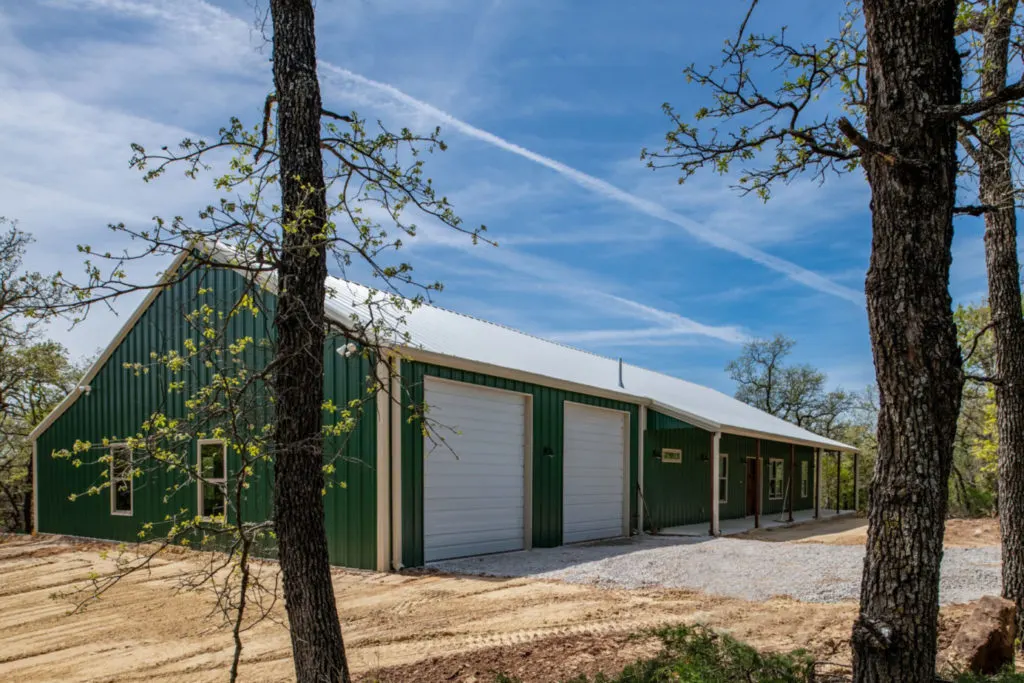 One of the things you are going to want to look for when choosing a builder for your barndominium in South Carolina is their experience.
While there is a wide variety of construction companies available, not all of them have the same expertise.
Finding a builder that has worked with barns and metal pole structures is key and will get you a better-finished product in the end.
Another important thing to look for in a builder for your barndominium in South Carolina is its reputation.
Finding a barndominium builder that is honest and transparent with their work will help you get the perfect final product that you have been envisioning.
A builder with a good reputation means that they have delivered many projects that the client was happy with and will be able to do the same thing for you.
Hoover Buildings
The builders at Hoover Buildings have a reputation for perfection when it comes to pole buildings and steel frame structures.
They have been working with clients since 1972 and have been working in South Carolina ever since. If you want a builder that has ties to the community and has been in business for a long time, they could be a great option for you.
National Barn Company
The National Barn Company has been working with clients to build quality barns and metal structures for nearly 30 years. This longevity is a great asset for someone who wants to hire a builder with experience.
They will be able to solve any problems that may arise and can see you through the entire build process. With a back catalog of over 15,000 buildings, you can be sure they know what they are doing.
Walts Buildings
For almost 25 years, Walts Buildings has specialized in post-frame construction and other pole structures. They have experience with building structures that can be used for all kinds of purposes and understand the thought and care that has to go into these kinds of buildings.
If you are looking for a builder that understands the design and execution of these buildings, they are a great option.
Barndominium Kit Providers in South Carolina
Not everybody wants to build their barndominium in South Carolina from scratch. If you fall into this category, there are a number of options for you, the best of which is to get a prefabricated barndominium kit.
There are many barndominium kit providers all over the country, and they can help you get all the materials you need in one place.
One of the major benefits of going with a barndominium kit provider is that you do not have to worry about getting all your materials. They will send you everything you need to get started and can get you a kit designed to your exact specifications.
Like this Post? Sign up for our email list!
Be the first to see new posts about the best barndominiums, construction guides, floor plans, and more! Enter your information below to become a BarndominiumLife VIP.
Barndominium Financing in South Carolina
One of the best resources for getting barndominium financing is by using BarndominiumLoans.com. They are a quote service that takes down your information and works behind-the-scenes with vetted lenders who are best for your location and financial situation.
Whether you have a perfect credit score or a subpar one, and whether you're located in South Carolina or South Dakota, you can submit your information to get a quote within 24-48 hours.
Barndominium Financing Request
AgFirst Farm Credit Bank
The lenders at AgFirst Farm Credit Bank are committed to their community and the people who keep it running. They understand the needs of borrowers and especially those in rural areas. They can help you get the financing you need to build your barndominium in South Carolina.
AgSouth Farm Credit
Serving 93 counties in South Carolina and Georgia, AgSouth is connected to the area. They have been trusted by borrowers for many years and work closely with you to get the financing you are looking for. If you want to work with a bank that knows the area and its needs, they could be a great choice.
Where to Find Land for a Barndominium in South Carolina
One of the things you need to take into consideration when building a barndominium in South Carolina is the piece of land you will build on.
The land you choose needs to be accessible to things like plumbing and other utilities. It also needs to be zoned and regulated for residential use.
Any of the agricultural banks above will be happy to help you get the separate financing you need to buy your plot of land. There are also many aggregators and listings online where you can find the perfect plot of land on which to start building your barndominium in South Carolina.
Barndominium Floor Plans in South Carolina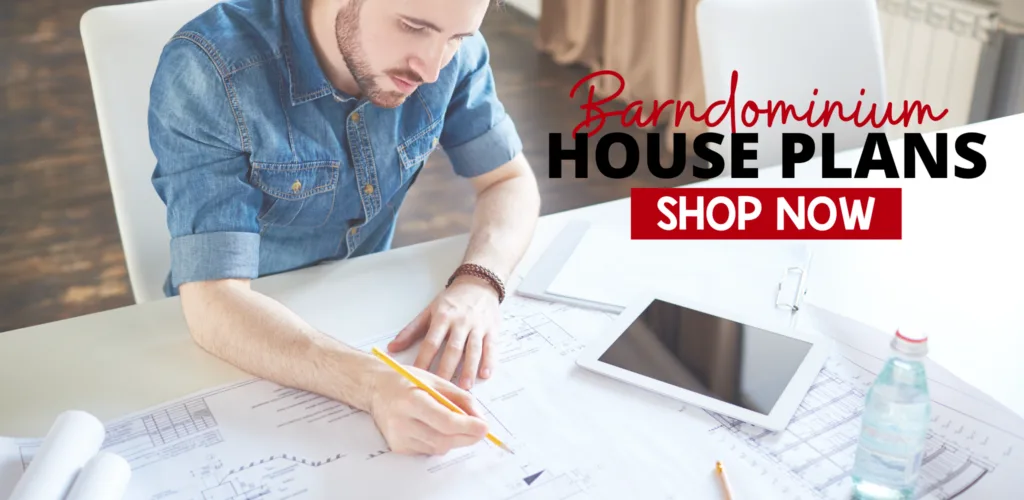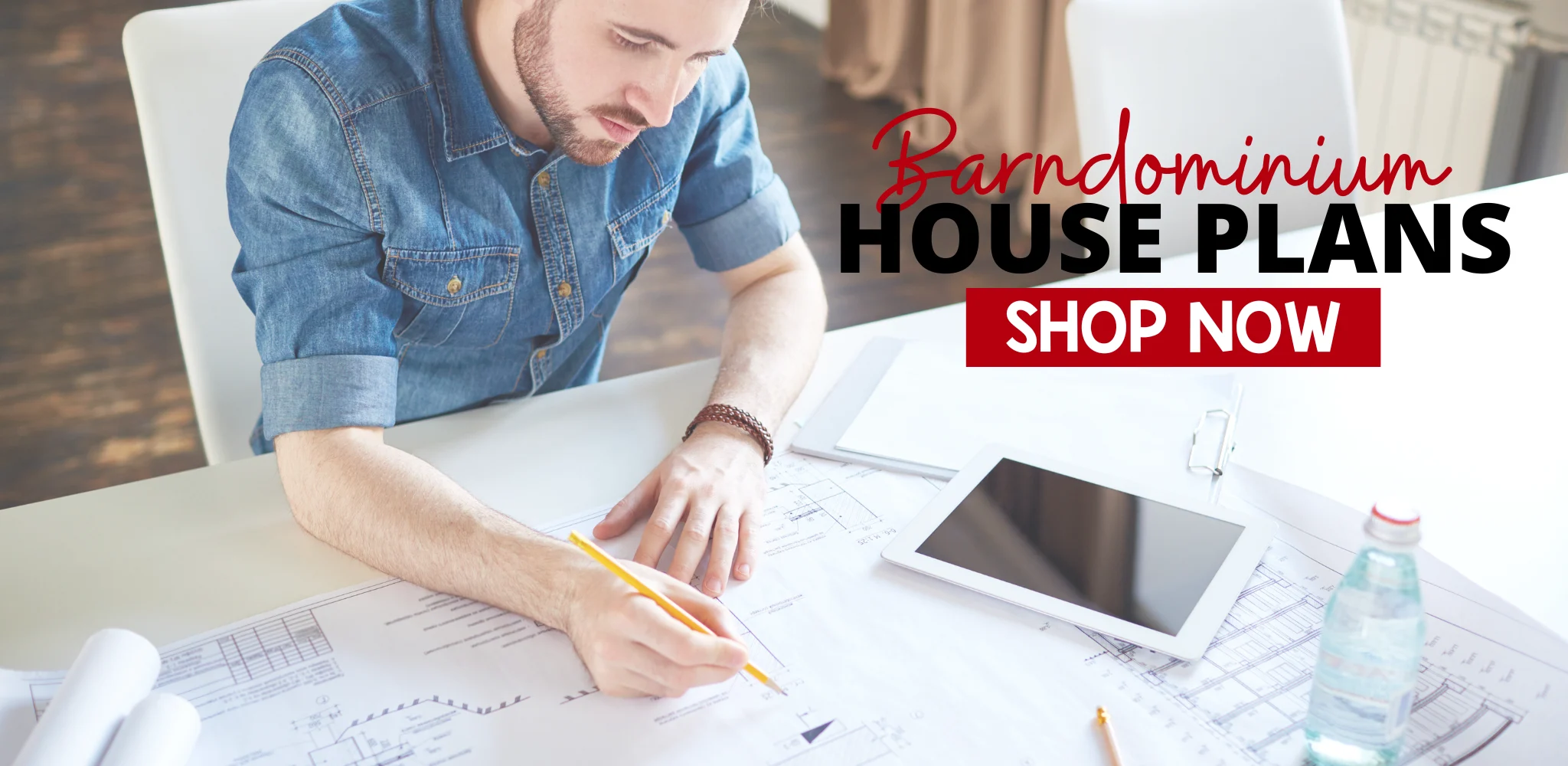 Don't want all the hassle of building a barndominium from the ground up? Then you may want to buy an existing barndominium in South Carolina! With our Barndominiums for Sale Marketplace, you can browse to your state and find a barndominium for sale near you.
The beauty of buying an existing barndominium is that it can be really easy to customize the floor plan to your liking. The previous owners' setup is just a starting point! Also, by buying a barndominium in South Carolina, you bypass the potential troubles of the building process – delays, dealing with contractors and subcontractors, and city or county bureaucrats trying to make your build process a nightmare.
Don't delay – find a barndominium for sale in South Carolina now!
Conclusion
If you want to build a home that will be uniquely yours and provide you shelter and good times for years to come, a barndominium in South Carolina is a great choice. With so many options and floor plans, if you can dream it up, you can make it a reality. For more ideas and tips, get the Barndominium Life Program!.
How to Build Your Own Barndominium & 200+ Floor Plans
Get started today with our program "Barndominiums Made Easy: How to Build Your Own Barndominium" and get 200+ barndominium floor plans included!
Michael O'Connor is a seasoned barndominium writer passionate about creating unique and innovative barndominiums. With over 15 years of experience in the construction industry, Michael has established himself as a leading expert in barndominium design and construction.
His work has been featured in several respected publications, including Barndominium Life, where he frequently contributes articles on best practices and emerging trends in the field. Michael's ability to blend traditional techniques with cutting-edge technology and design concepts has earned him a reputation as one of the most knowledgeable writers in the industry.