Building a custom home is a rewarding challenge that many people start the process of but very few actually finish. Often, this is because of roadblocks like finances, finding the right piece of land or the pitfalls of choosing the right builder. These difficulties can make it seem like the dream of building your own home is too far away to even begin. That's why building a barndominium in West Virginia is a great option for those who have been searching for the right time and circumstances to build their custom dream house.
With the popularity of different kinds of homes like converted vans, container homes and more, there has never been a better time to start the process of building a barndominium in West Virginia. Many builders and loan officers understand that people are looking for alternative ways to build their own custom home. Because of this, there are many more options available to you when the time comes to finally start your home building project.
If you have found yourself getting frustrated with the process of building a traditional home, a barndominium in West Virginia could be the answer you are looking for. That's why we have put together this comprehensive how-to guide on this exciting and unique project, so you can start thinking about how you will finally build the home you have always wanted.
If you finish this guide and find yourself wanting more expert tips and design inspiration, be sure to check out the ebook, Build Your Dream Barndominium by Don Howe. There, you will find floor plans, tricks and all kinds of ideas to help you get your barndo project going.
Get a FREE 18 Month Barndominium Planner
There are 39+ steps that must be taken before groundbreaking. Learn them all in this FREE checklist, available for immediate download.
What Is a Barndominium and What Are Some of the Advantages?
A barndominium is a custom home that is built from the shell of a metal pole structure like a barn, shop or stable. Using this structure as a shell around which you can build a modern, contemporary home is a great choice for people who want something unique and specific to their needs. Think of this type of structure as a blank canvas that you can use to create the home you have been dreaming of for years.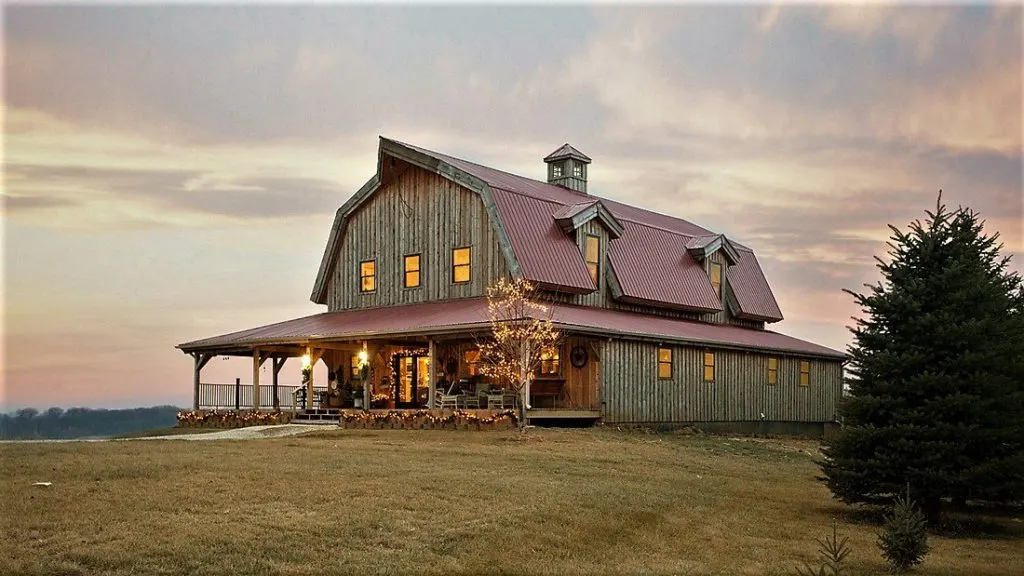 One of the biggest advantages of building a barndominium in West Virginia is the fact that it is quite a bit easier than building a traditional home. Metal pole structures are simple and manageable for builders and homeowners alike. Because of this, they can be built in a much shorter period of time than a home that is constructed using 2×4 wood framing. This can save you time and money on your initial construction and make the whole process more accessible for people who might not otherwise be able to build their dream house.
Barndominiums are also incredibly durable and relatively low maintenance. Their solid metal construction is built for longevity and is much less susceptible to things like rot and damage from water or ice in the winter months. Saving on maintenance and repairs makes building a barndominium in West Virginia a good option for people who wouldn't be able to afford extensive yearly repairs on traditionally built, wood-framed houses.
Cost of Building a Barndominium in West Virginia
When you are figuring out the budget for a home, the best way to do it is to decide on an affordable cost per square foot. There are many advantages to this kind of planning, including knowing how much house you can actually afford. It's one thing to decide how much you can spend on a given project, but it's quite another to know exactly how much square footage you can get for that number. This will help you decide how many bedrooms, bathrooms and living areas you can potentially afford and what to plan for when putting together the floor plan for your barndominium in West Virginia.
The cost of building a traditional home in West Virginia is, on average, $210 per square foot. This price includes the cost of the initial construction of the structure. It does not include things like garages, shops, attics or any other non-liveable space. It also doesn't include anything like insulation, painting, interior design or other extras that you will need to make the house liveable. This could definitely make the cost of the home go up per square foot.
A barndominium in West Virginia is quite a bit cheaper. At just $160 per square foot, you can end up saving a lot of money on your initial construction. Spread out over an entire 2,000 square foot home, you can have a lot more money left over in your budget for all the things you would like to include in your custom home. Appliances, custom cabinetry and electronics all cost money, and having room in your budget from the initial construction is a great way to be able to afford these things.
Barndominium Builders in West Virginia
One of the biggest decisions you will have to make when building a barndominium in West Virginia is the construction company that is going to build it. The construction business is incredibly varied in the quality of both work and customer service. Finding the right builder can be complicated and nerve-wracking. Fortunately, there are a few things you can keep an eye out for.
One of the things to look for in a builder is their experience in metal pole barns. Not all builders are going to have proven previous experience in this type of structure, so it is very important that you find one who knows the ins and outs. There are many companies that specialize in metal pole barns, so finding one of these is key.
You will also want to find a builder that is friendly and good with customers. Building a home is a deeply personal undertaking and it is important that you hire someone who has your best interests at heart. There are many places online where you can find reviews from former clients. Search through these reviews and find a builder who has consistently made their former clients happy and left them satisfied with their work. To help you get started, we have put together a short list of the best barndominium builders in West Virginia.
Extreme Post Frame
Extreme Post Frame has been building the kinds of structures you need for your barndominium in West Virginia for over 35 years. That kind of experience is perfect for a project like this and can take your barndo to the next level. If you want that level of professionalism and expertise, they might be a good choice for you.
Eastern Buildings
Eastern Buildings has an A+ rating from the Better Business Bureau and works to make sure you are as happy with your final product as you can be. This is so important, especially with a project like a custom home build. Working with a builder who takes your wants and concerns seriously is crucial.
How to Build Your Own Barndominium & 200+ Floor Plans
Get started today with our program "Barndominiums Made Easy: How to Build Your Own Barndominium" and get 200+ barndominium floor plans included!
Barndominium Kit Providers in West Virginia
If you are interested in building your own metal pole structure, a barndominium kit provider could be the answer you have been looking for. Barndominium kits are designed to come all in one package and are prefabricated. This means that all the parts come at once and you don't have to worry about sourcing materials for your barndominium in West Virginia.
Barndominium Financing in West Virginia
Barndominium Financing Request
Farm Plus Financial
Farm Plus Financial is an agricultural bank that offers competitive interest rates on loans for all kinds of farm projects. They have been working with all kinds of people on all kinds of projects for years and are sure to have a farm loan product that will work for your barndominium in West Virginia.
Midatlantic Farm Credit
Midatlantic Farm Credit knows what it's like to go through the process of finding a loan for your barndominium or other farm project. They want to work with you and have a vested interest in the success of your undertaking. If you want a bank that understands what it takes to get something like this done, they could be a good option.
Where to Find Land for a Barndominium in West Virginia
Before you can begin work on your barndominium in West Virginia, you first need to find a piece of land to build it on. Land can be found all over and is listed on a wide variety of online marketplaces. By doing a thorough search, you can find the plot that will work for you and your family.
Any land that you purchase for your barndominium in West Virginia will have to be zoned for residential use. This is incredibly important since not all land will be appropriate for a home build. You will also have to secure a separate loan for this piece of land. Any of the agricultural banks listed above will be happy to work with you on this step.
Barndominium Floor Plans in West Virginia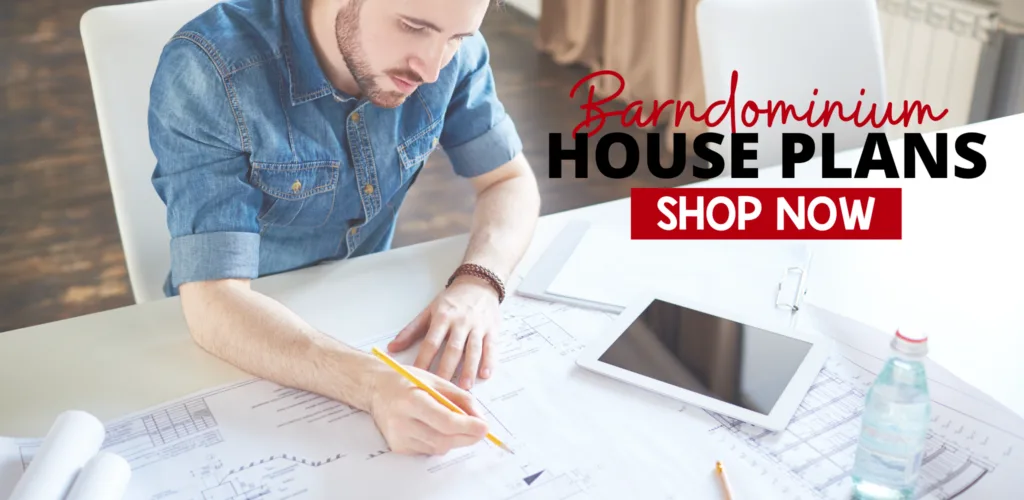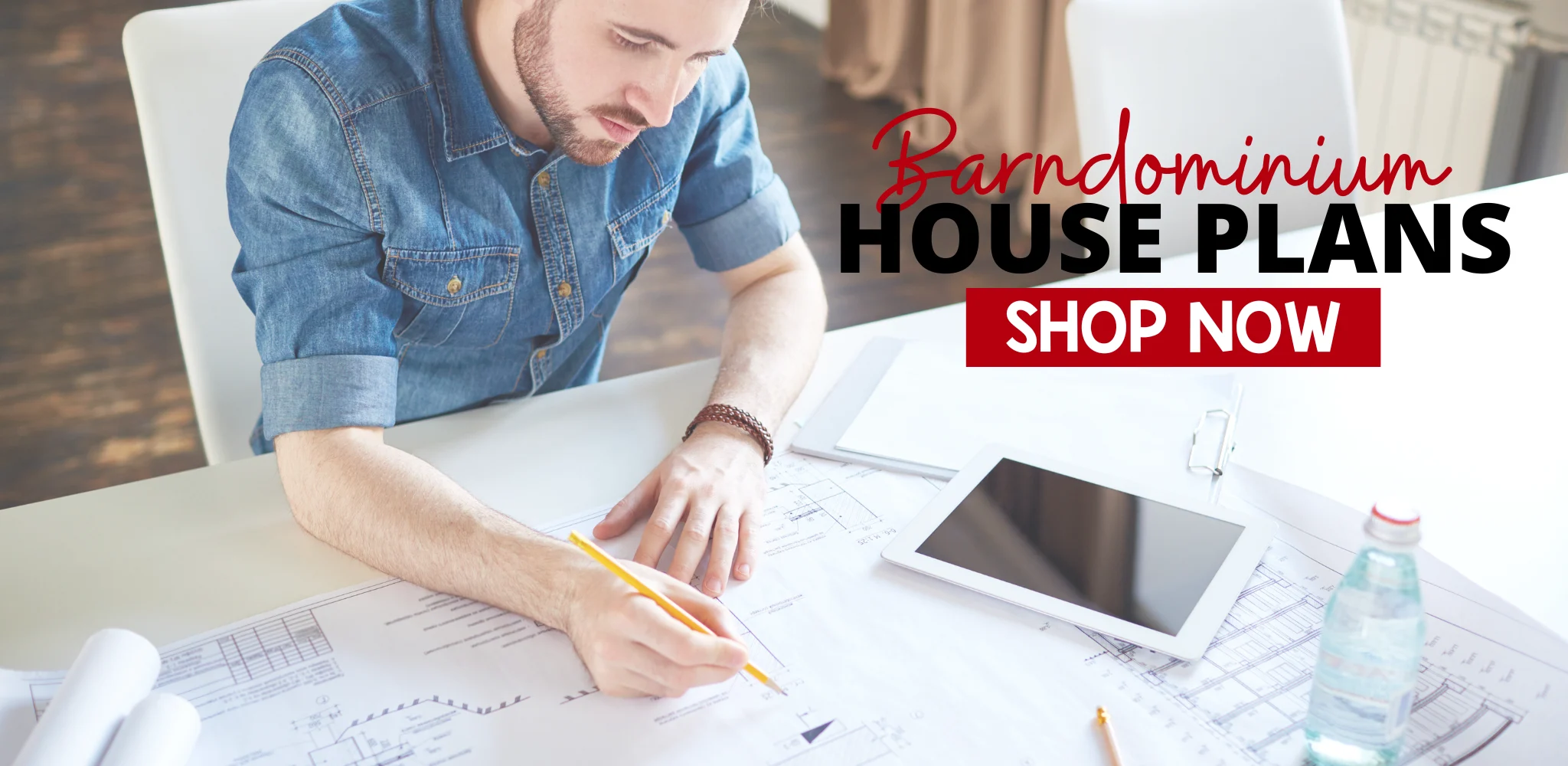 Don't want all the hassle of building a barndominium from the ground up? Then you may want to buy an existing barndominium in West Virginia! With our Barndominiums for Sale Marketplace, you can browse to your state and find a barndominium for sale near you.
The beauty of buying an existing barndominium is that it can be really easy to customize the floor plan to your liking. The previous owners' setup is just a starting point! Also, by buying a barndominium in West Virginia, you bypass the potential troubles of the building process – delays, dealing with contractors and subcontractors, and city or county bureaucrats trying to make your build process a nightmare.
Don't delay – find a barndominium for sale in West Virginia now!
Conclusion
By reading this how-to guide on building a barndominium in West Virginia, you are setting yourself up on the right path. If you would like even more expert advice and design tips from the pros, be sure to check out the ebook, Build Your Dream Barndominium by Don Howe.
Like this Post? Sign up for our email list!
Be the first to see new posts about the best barndominiums, construction guides, floor plans, and more! Enter your information below to become a BarndominiumLife VIP.
Michael O'Connor is a seasoned barndominium writer passionate about creating unique and innovative barndominiums. With over 15 years of experience in the construction industry, Michael has established himself as a leading expert in barndominium design and construction.
His work has been featured in several respected publications, including Barndominium Life, where he frequently contributes articles on best practices and emerging trends in the field. Michael's ability to blend traditional techniques with cutting-edge technology and design concepts has earned him a reputation as one of the most knowledgeable writers in the industry.