Building a custom home is a dream that not everyone gets to achieve. It can be difficult and costly and this can put some people off the idea. However, with the alternative housing movement in full swing, many people are finding that they can make their dreams come true much easier. One of the ways people are doing this is by building a barndominium in Arkansas.
Get a FREE 18 Month Barndominium Planner
There are 39+ steps that must be taken before groundbreaking. Learn them all in this FREE checklist, available for immediate download.
Building a barndominium in Arkansas is a fantastic way to design and execute the dream home you have always wanted. A barndominium is a simpler and more accessible construction project that more people can afford to make happen.
With this kind of low cost of entry and an easier build process, there are more options for an accessible custom home than ever before. If you have been considering building a barndominium in Arkansas, you are in luck. We have put together a complete guide to finding builders, barndominium kits and land, upon which you can make your custom home dreams a reality.
If you read this article and would like more information on the build process, as well as tips and tricks to make the whole process easier, check out the book, Build Your Dream Barndominium by Don Howe. There, you can get expert advice on everything from floor plans to interior design.
What Is an Arkansas Barndominium and What Are Some of the Advantages?
The word barndominium is a combination of condominium and barn. This is because they are modern, contemporary homes built out of new or repurposed barns or metal pole structures. Because of this, they are excellent choices for rural areas and agricultural communities. Their country home style and industrial look fit in perfectly against the backdrop of rural America.
One of the main advantages of building a barndominium in Arkansas is the simple design and construction. Unlike a traditionally built and framed up 2×4 home, a barndo is an easy structure to put up and can be done in a matter of weeks instead of months or even years. Many people find that this makes the whole process more accessible.
This means that they are a perfect project for someone who is a first-time home builder and may not be well-versed in the process of custom home construction. The point of entry is much lower and can be undertaken by someone who doesn't usually dabble in large construction projects. It also means that the process is less stressful and you can focus on what you want instead of what you can't do or can't afford.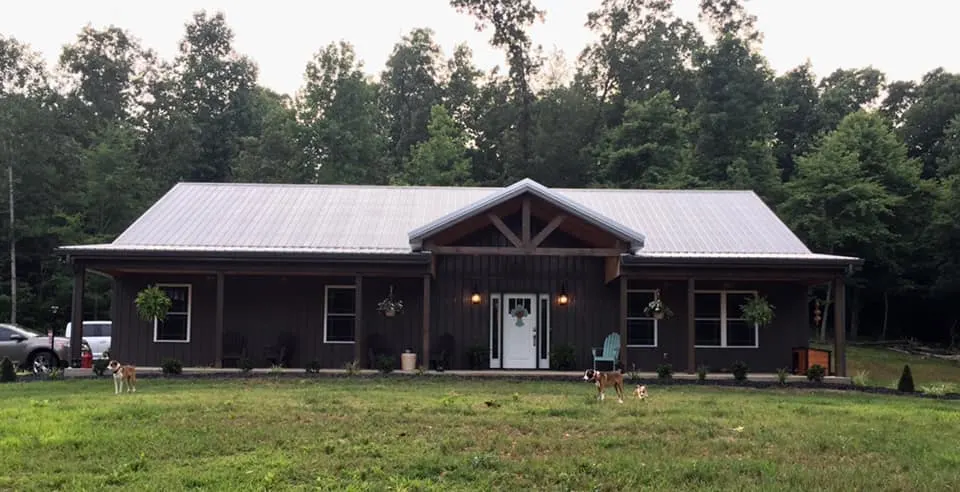 The other advantage of building a barndominium in Arkansas is the fact that the cost is much lower. Since construction takes a shorter amount of time, you don't have to spend as much on labor. This can be an incredible money saver and can free up more room in your budget for the custom touches and design elements that make building your own home worth the effort. Things like custom cabinetry, appliances and furniture must all be taken into consideration, and if you save money on the construction, you can afford more of these luxuries.
Cost of Building a Barndominium in Arkansas
One of the most prominent roadblocks when it comes to building your own home is the cost. To budget out a home build, the cost is usually calculated by the square foot. This makes it easy to plan out how many bedrooms and bathrooms your barndominium in Arkansas will have based on how much you want to spend. It is an easy way to determine your barndominium's floor plan and cost out the entire project.
On average, the cost of building a traditional home in Arkansas is between $200 and $310 per square foot. This will include things like material and labor, but does not include the extras like electronics or kitchen appliances. Because of this, you will also have to budget for all the things that most people pine for when they are dreaming of building their own custom home.
The cost of building a barndominium in Arkansas is quite a bit cheaper. At around $180 to $220 per square foot, a barndominium will allow for much more wiggle room when it comes to things like appliances, custom cabinetry and granite countertops. Odds are that if you are thinking about constructing your own home to your exact specifications, these are the things you have in mind. They are the custom touches that make the whole process of building your own house worth the effort and expense.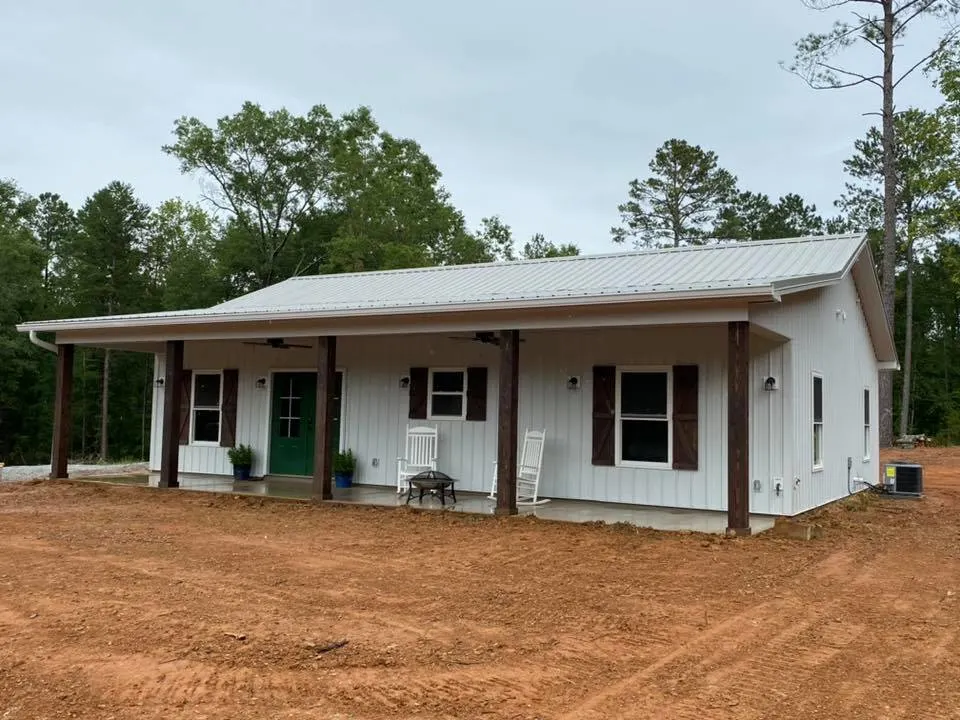 On top of the cost for labor and materials, you will also have to buy a plot of land to build your home on. This cost is not included in the per square foot calculation. We will discuss this aspect of building a barndominium in Arkansas in more depth below, including things like how to find land and where to get the financing for it.
How to Build Your Own Barndominium & 200+ Floor Plans
Get started today with our program "Barndominiums Made Easy: How to Build Your Own Barndominium" and get 200+ barndominium floor plans included!
Barndominium Builders in Arkansas
One of the considerations you will have to make when building a barndominium in Arkansas is what builder you are going to hire. This can be a challenging aspect of the home building process, since it is tough to narrow down all the options in such a saturated field like construction. However, there are a few features that you can look for in a builder that will set you on the right path and make sure you make the right choice.
One of the things to look for when searching for a builder for your barndominium is experience. There are a great deal of builders that specialize in pole structures and metal barns. Finding a company that has this niche experience can go a long way in making sure that your project goes smoothly. Not every construction company has a history of building this type of structure, so finding one that does is incredibly important.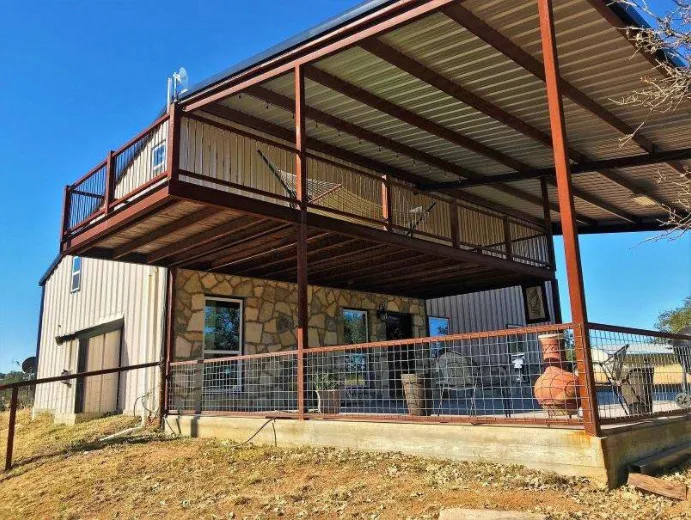 The other feature to look for in a builder is a good reputation. This is a little bit harder to narrow down as a client and will require some research. Many builders have reviews online where you can see how their previous clients felt about the jobs they did. Finding a builder who has many good reviews can be a good way to find a company that is honest and has integrity with their clients.
Luckily, we have put together a list of some of the best barndominium builders in Arkansas. By choosing from this list, you can be sure that they have the experience and reputation necessary to see your project through successfully.
DC Sparks Construction
DC Sparks Construction has a focus on being a partner with you through the process of building your barndominium. They have a passion for the industry and believe that their clients are their best asset. This means that you can feel reassured about their commitment to your project and have confidence all throughout the construction.
Rip Gresham Construction
Rip Gresham Construction has been working with clients all throughout Arkansas for years. They are licensed contractors with experience in both commercial and residential projects. This combination of experience means that your barndominium will be a perfect cross-section of the different projects they have worked on over the years.
ICC Builders
ICC Builders have extensive experience in the barndominium sphere. They have been working on creating living spaces in metal pole structures for a long time and are eager to share this experience with you. By understanding what it takes to build this specific type of structure, they can deliver exactly what you need in order to have a successful project.
Barndominium Kit Providers in Arkansas
If building a barndominium from scratch isn't your cup of tea, you can also order a prefabricated kit from one of many barndominium kit providers. A kit is a great way to build a barndominium in Arkansas and can solve a lot of problems encountered by first time home builders. By ordering a kit, you can save yourself a great deal of time and effort in sourcing materials.
Since barndominium kits come prefabricated, you will get everything you need in one package. This can be a major time saver and can also provide some peace of mind that you have received everything you need in order to get your barndominium in Arkansas up and running as quickly as possible.
Barndominium Financing in Arkansas
Barndominium Financing Request
Farm Credit Associations of Arkansas
The Farm Credit Associations of Arkansas are owned by people who are invested in the culture of Arkansas. Because of this, they could be a great choice to help you get the financing you need in order to build your barndo. They understand everything it takes to get this kind of project up and running.
AgHeritage Farm Credit
AgHeritage Farm Credit has been in business for over 100 years. With this kind of experience and connection to the people of Arkansas, you can be confident that they know everything there is to know about this type of construction. If you want to work with a bank that has longevity and experience like no other, they could be a great choice.
Where to Find Land for a Barndominium in Arkansas
On top of building your barndominium in Arkansas, you will also have to find a piece of land for it. This piece of land must be financed separately from the actual construction cost of the barndo. Because of this, working with the agricultural banks above is a great option. They will be more than happy to assist you in finding the perfect plot of land, as well as the money to buy it.
There are many places online to find land for sale. One of the things to make sure of is that this land is zoned for residential purposes as well as utilities. By using an aggregator that compiles land for sale, you can narrow down the search and find the perfect plot on which to build your barndominium in Arkansas.
Barndominium Floor Plans in Arkansas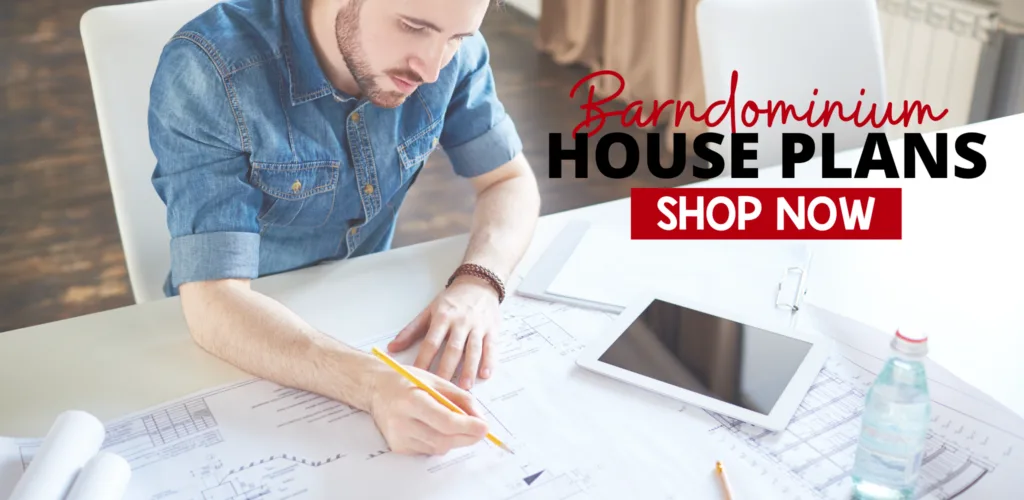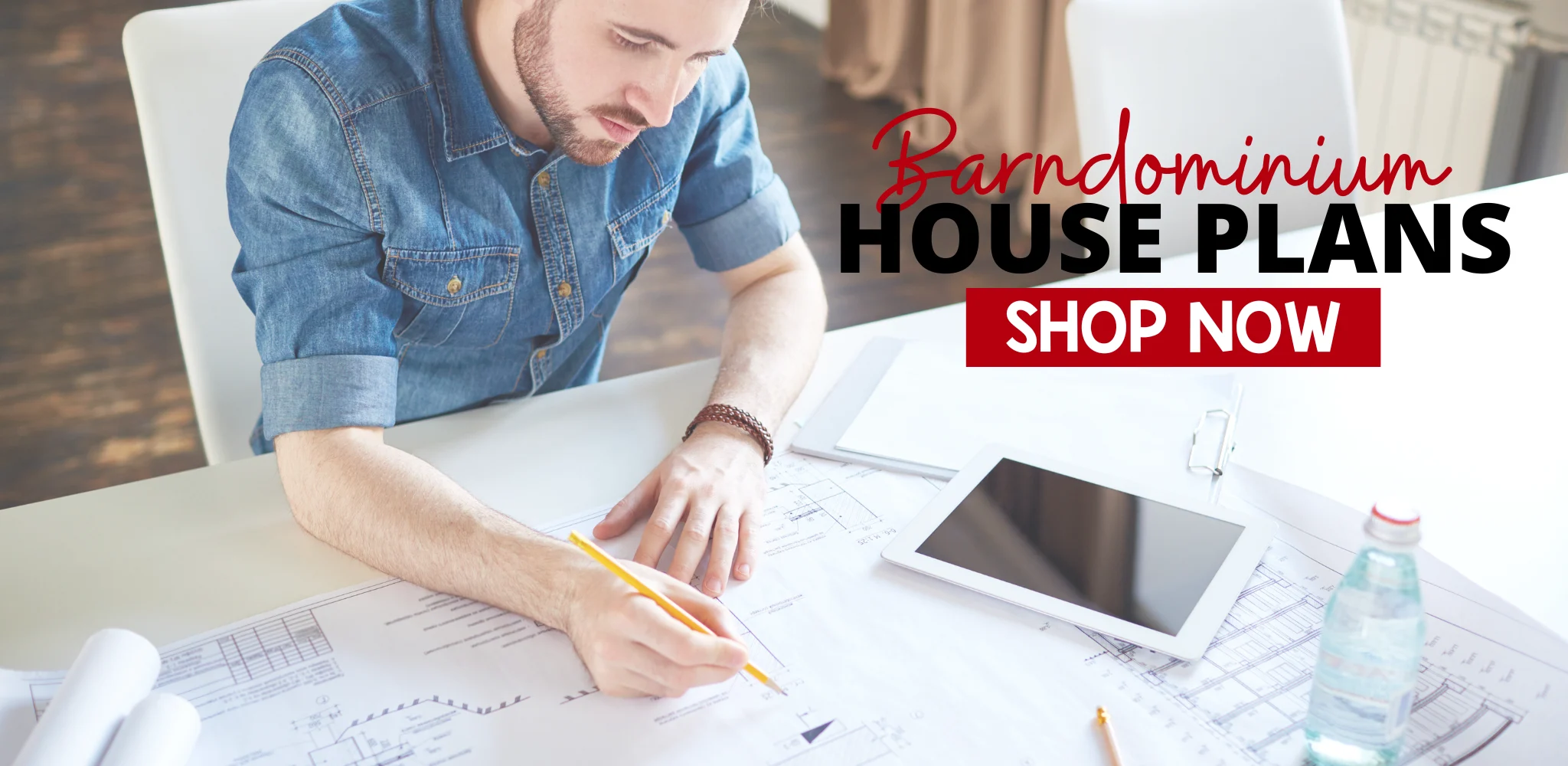 Conclusion
Hopefully, by reading this guide to building a barndominium in Arkansas, you have a good idea of everything you need in order to get started. If you would like some more tips, tricks and design ideas, check out the ebook, Build Your Dream Barndominium by Don Howe. There, you will find inspiration and floor plans to get you thinking and planning your very own custom barndo.
Like this Post? Sign up for our email list!
Be the first to see new posts about the best barndominiums, construction guides, floor plans, and more! Enter your information below to become a BarndominiumLife VIP.
Michael O'Connor is a seasoned barndominium writer passionate about creating unique and innovative barndominiums. With over 15 years of experience in the construction industry, Michael has established himself as a leading expert in barndominium design and construction.
His work has been featured in several respected publications, including Barndominium Life, where he frequently contributes articles on best practices and emerging trends in the field. Michael's ability to blend traditional techniques with cutting-edge technology and design concepts has earned him a reputation as one of the most knowledgeable writers in the industry.