Barndominiums are growing in popularity, and for good reason. With their practicality and design, and style, barndominiums are full of possibilities. If you are dreaming of building a barndominium, look no further than these 40×50 barndominium floor plans. They are both aesthetically pleasing and practical and full of some of your wishes in a home. From open-concept plans to multiple bedrooms, you will find just what you are looking for.
40×50 Barndominium Cost
It is important to think about how much a barndominium costs per square foot before deciding on the floor plan. Here you can figure out how much a barndominium per square foot costs as well as a barndominium cost calculator.
40×50 Barndominium Kits
If you're looking to start building your barndominium, one of the first things to do is to get a quote for the metal shell or barndominium kit. By using the quote service below, you'll get connected with a barndominium kit provider within a few hours at most. Prefabricated barndominium kits mean that the metal shell that makes up your barndo is produced off-site, then it's brought to you for erection and assembly. While some builders will help you order the barndominium kit, we suggest doing it separately to avoid a potential markup on the barndominium kit.
That's it! Using the tool above, you'll get connected with a kit provider for 40×50 Barndominium Kits.
40×50 Barndominium Floor Plans
We've put together 8 floor plans for 40 x 50 feet barndominiums. You may build your home based on one of them, or select the one you like best and move things around according to your needs.
40×50 Barndominium Floor Plans Open Concept with Porch
Some families prefer to have a porch where they can spend time enjoying the outdoors without leaving the comfort of their home. The following 4 designs incorporate a porch (or two) in an open-concept floor plan.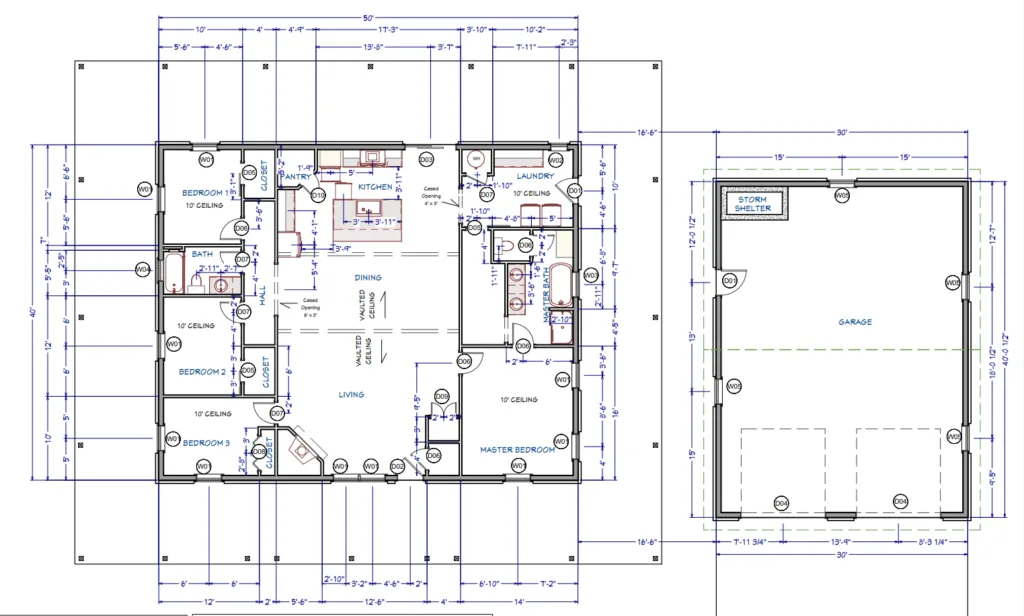 This 40×50 barndominium has 4 bedrooms, 2 bathrooms, and a wraparound porch. The open-concept living area with a fireplace, up to the kitchen area, creates an airy atmosphere. Each bedroom has its own closet, the master bedroom having its own bathroom while the other bath is shared by the 3 bedrooms. A huge detached 2-door garage is built a few steps from the living area.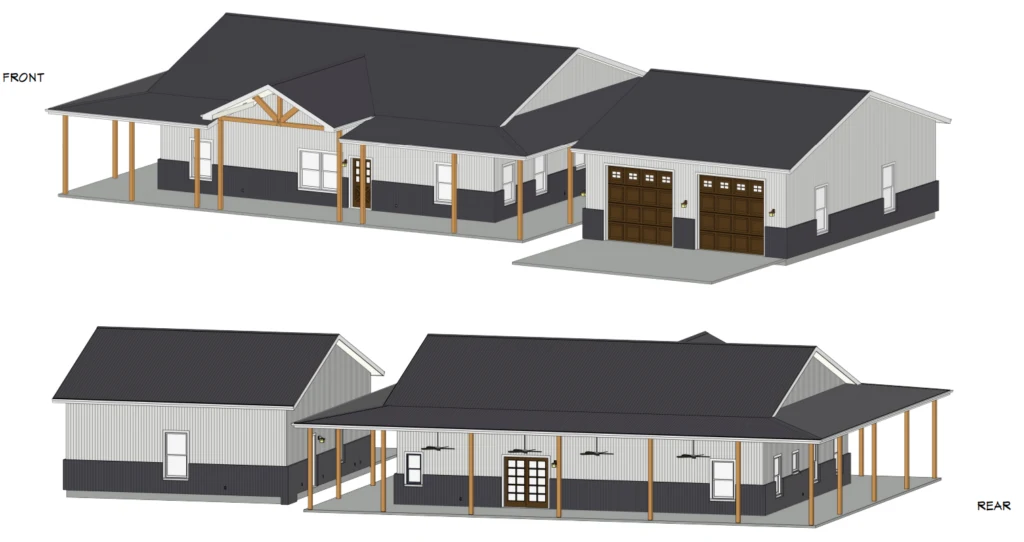 When you have a growing family, or even when you just love to have guests over, this floor plan works perfectly for you. 4 Bedrooms will surely have everyone at home comfortably settled with lots of additional space at the loft. The front and back patios are great spaces for outdoor relaxation or small gatherings.
The open concept design means no definite space is assigned to the living and dining rooms. It gives homeowners the freedom to adjust the size of these rooms at will. They may also add removable or temporary dividers.
In this floor plan, the front porch leads to the open space, which makes a residence with an average floor area like this seem larger. The expansive area takes up almost half of the house, which magnifies the illusion. Other features in this blueprint provide the same aura.
There are 3 bedrooms and 3 bathrooms in this barndo. The kitchen comes with a pantry and a utility room as well. With these amenities, a large family of up to 6 can live in comfort and style.
Perfect for a family of 4 running a small business, this barndo offers 3 bedrooms and 1 bathroom. Adjacent to the kitchen are a half bath, a closet, and a utility room that exits to the outside. This area provides storage as well as facilitates effortless loading and unloading of items.
The open concept of the living and dining areas may be used as extra elbow room for various activities associated with a family business, such as labeling and packing. A front porch is added, which could serve as an alternative loading bay on busy delivery days.
40×50 Barndominium Floor Plans with Shop Area
Need a large space for business or a hobby? If so, then these designs are perfect for you. They offer ideas on how you can incorporate a shop within your barndo.
In this blueprint, the floor space is maximized by adjoining the shop area to the living area. At the same time, separate entrances ensure privacy in both spaces. A 15×16-foot free space is allotted beside the shop for parking and storage of supplies, tools, and equipment.
The main door of the living area opens to the dining room, with the kitchen to the right and the living room to the left. A hallway leads family members from the dining room to the bedrooms.
This barndo is perfect for a family of 4. It affords the parents enough square footage for a master bedroom with its own master bathroom and closet. Meanwhile, there is ample space left for 2 more bedrooms which the kids can occupy, and a bathroom they can share.
This barndo is designed for a family of 4 that needs a shop area accessible from within the home. We love how the design for the shop is made flexible by placing its entrance beside the living room. It allows the family to transform the space into a multifunctional shared space.
It's also a brilliant idea to have the dining room and kitchen behind the living room. This ensures a smooth traffic flow among family members who are going about their own business in their designated spaces.
Sleeping quarters include a master bedroom with its own bathroom and closet, and 2 bedrooms with a shared bathroom. And before the front entrance of the home, a free space may be built as a carport or a parking pad depending on the family's lifestyle.
40×50 Barndominium Floor Plans with Porch and Shop Area
If you wish for the luxury of a porch and the functional benefit of a shop, you can have both with the blueprints below. Check them out and discover how it can be possible in a 40×50 feet space.
A dream barndo home for visual artists and furniture makers, this layout includes not just one but 2 porches: The first serves as the entrance to the shop area, ideal for displaying paintings, sculptures or furniture pieces. Meanwhile, the second is located on the front entrance, perfect for entertaining guests and clients.
We love how the floor plan makes up for the space taken up by these 2 porches. The open concept is applied to the living and dining areas, and there are only 2 bedrooms.
This design is as efficient as it is compact. It offers 2 bathrooms, both of which are accessible through the bedrooms. The shop houses a half bath and a utility room that is also accessible through the kitchen where a pantry is also thoughtfully added.
A variation of the previous design, this barndo also features one porch at the main entrance to the living area and another one at the shop's entryway. The open concept is likewise used for the living and dining spaces.
These are the 3 distinct differences you can see in this floor plan: First, there is only one bathroom, though one of the 2 bedrooms includes a walk-in closet. Second, a closet replaces the pantry in the kitchen. And third, there are free spaces beside both porches, which could be utilized for parking.
Additionally, this layout deviates from the previous one, which divides the property in two equal halves – the living area on the right and the shop area on the left. In comparison, this one situates the bedrooms, bathroom, and living and dining areas in front, while the kitchen and shop areas are at the back.
40×50 Barndominium Floor Plans for Large Families
These classic designs were created with multigenerational and big families in mind. Each one was well thought out to ensure every family member's convenience.
If you think a family of 5 or 6 won't fit in a 40×50-foot living area, then this floor plan will change your mind. It comprises one master's bedroom with bathroom and closet, 2 bedrooms with a shared bathroom in between, and 1 bedroom with an adjacent bathroom.
The front door opens to the dining room, with the living room to the left. To the right is the kitchen which conveniently includes a pantry and the laundry area. Truly, not a single inch of this barndo is wasted.
Another masterpiece in making the most out of every available space, this floor plan can also comfortably accommodate a family of 5. Compared to the previous one where all the bedrooms are located in the same wing of the home, the sleeping quarters here are laid out differently.
The master's bedroom, with its own bathroom and closet, is on the east. One bedroom is situated beside it, which could be used as a nursery or for a younger child. On the west side of the barndo, 2 more bedrooms are added, with a shared bathroom in the middle. These are suitable for teenage children who would appreciate more privacy.
Design Your Own 40×50 Barndominium Floor Plans
If these floor plans have convinced you that you can indeed have your own barndominium even with a limited budget or a large family, allow us to help.
The first step you need to take is to create a floor plan. You can copy the samples we provided above or just use them as inspiration to craft your own. Either way, it can be done using our custom design software which enables you to manipulate dimensions and home features just by adding your specific requirements.
As a supplementary resource, we recommend the Build Your Dream Barndominium e-book of Don Howe. It contains bright ideas and tips for planning, designing, and building a barndo of any size and style.
Conclusion
Owning a home is everyone's dream. A barndominium is one of the best options you have, especially if you're meticulous about details. You can be assured that there are many contractors willing to listen to your wishes, and then implement them accordingly.
And if you're eager for more ideas on designing a 40×50 barndominium, browse our website, and make sure to get the Barndominium Life Program. We are confident that the designs you find will make you look forward to owning one.