When thinking about building a barndominium in Michigan, there are many things you are going to want to consider. Even though barndominiums are usually simpler homes, they still require a huge amount of planning. It is always best to know as much as you can before beginning the process of building a Michigan barndominium.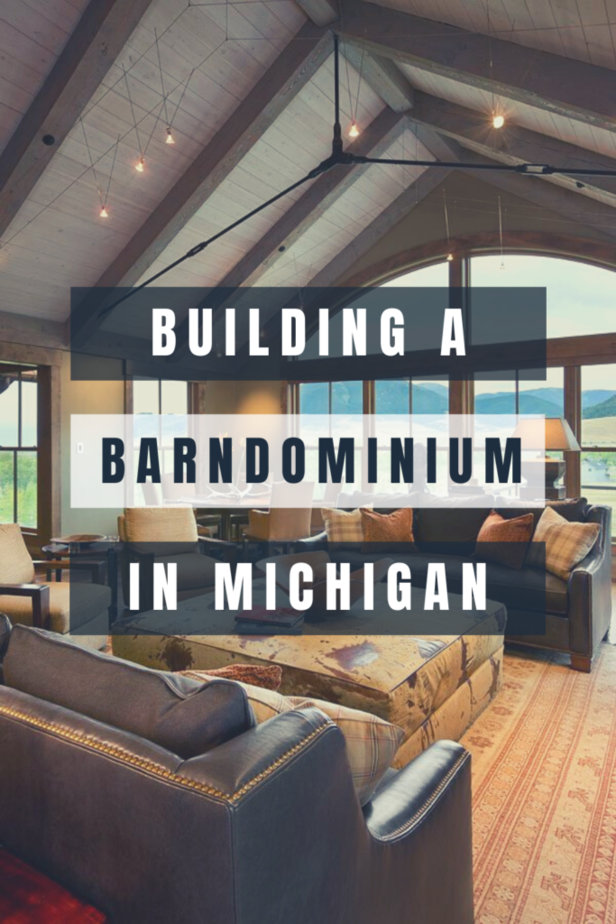 There are going to be differences between costs, laws, and planning for a barndo in each state. Luckily, this article will help you get started on the process of building a barndominium in Michigan and get you going on the right track.
If you have been considering building a barndominium in Michigan, a great start would be to check out the book Build Your Dream Barndominium by Don Howe. There, you will find all kinds of tips and tricks for streamlining the process and building the barndominium that you have been dreaming about.
What Is a Michigan Barndominium and What Are Some of the Advantages?
Barndominium is a portmanteau of the words barn and condominium. They are essentially repurposed barns that have been built up inside to be beautiful, modern-looking homes.
In general, barndominiums are highly customized and built to the exact specifications of their owners for a unique, one-of-a-kind look thanks to some pretty awesome barndominium floor plan designs.
Most barndominiums start as metal barn shells that would normally be used for agricultural purposes. They often use corrugated metal siding and roofs that are easy to clean and maintain and can be painted in colors limited only by your imagination.
Inside, though, they can be framed and insulated just like a regular house and can be as beautiful and cozy as any new home on the market.
There are many advantages to building a barndominium instead of a traditional house. One is that it is quite a bit cheaper.
Since barndominiums are usually built using kits or existing barns and are then built out from the inside, this can bring the cost down quite a bit.
Another advantage to a barndominium in Michigan is that they are incredibly unique.
Barndominiums are a great example of reusing something for an entirely new purpose and creating a beautiful custom home in the process.
Cost of Building a Barndominium in Michigan
The cost of building a barndominium in Michigan is quite a bit cheaper than it is to build a more traditional home. The prefabricated nature of most of the metal shells is a major cost-cutter as well as a massive time saver. Most of the metal shells can be put up in a relatively short period of time.
The cost of building a home is directly affected by the size of the house. The average home in the state of Michigan will cost between $90 and $150 per square foot to build.
These prices are accounting for the basic construction of the home and may not include any extra finishings or interior features that could boost the price.
Building a barndominium in Michigan is quite a bit cheaper.
Depending on any extras or special features you might want, they usually cost anywhere from $90 to $105.
If you can manage to keep your plans relatively simple, odds are you will be able to keep the cost of your barndominium to a minimum.
Saving this extra bit of money will allow you to have the funds to customize your barndominium in Michigan.
This is why so many barndominiums are so heavily customized and tend to have such a unique character. If this is something that is important to you, building a barndominium in Michigan might be a great option.
Barndominium Builders in Michigan
When looking for a builder for your barndominium in Michigan, there are quite a few things that you should keep in mind. It is incredibly important that you pick a builder that is reputable and able to deliver what you need.
Not all construction companies are going to be familiar with the ins and outs of building a barndominium.
The number one thing you should look for when choosing a builder for a barndominium in Michigan is transparency and communication. Nothing slows a project down like a mix-up in communicating your needs.
You are also going to want to pick a builder who has experience with barns and pole structures. There are different techniques and building strategies that go along with this type of structure. Picking a barndominium builder who has done it before is absolutely imperative to a successful barndominium build.
It can be difficult to narrow down the barndominium builder that will perfectly suit your specific needs. Luckily, we have assembled a shortlist of some of the best barndominium builders in Michigan.
KAB Construction

KAB Construction Is a barndominium builder in Michigan that has been accredited by the Better Business Bureau since July of 2020.
They have been building custom barndos for clients all over the state of Michigan. They understand the ins and outs of building a barndominium in Michigan and have state-specific knowledge that could be incredibly helpful.
Michindoh Builders
Michindoh Builders specializes in building custom barns and other structures that can serve as the basis for your barndominium in Indiana, Michigan, and Ohio. Their years of experience with all kinds of construction make them a great choice if you are looking for a complete build.
DC Builders
DC Builders Has built barns for homeowners all over the country in many different states.
They know the rules and regulations of the state of Michigan as well as a huge variety of other places.
This allows them to build structures that can withstand years of use and all kinds of weather conditions. This is more important for a barndominium in Michigan than any other state due to the heavy snow and ice in the wintertime.
Barndominium Kit Providers in Michigan
If you are not so sure about starting construction from scratch or repurposing an old barn for your barndominium in Michigan, a barndominium kit could be the answer. While there are still many considerations to make, it could greatly improve the ease of your new home's construction.
One of the best things about using a barndominium kit is that they come with everything you need.
You won't have to worry about sourcing materials from many different places or dealing with distributors all over the country. A kit will include all the necessary materials and hardware to construct a metal shell for your barndominium.
Many kits come with a huge variety of floor plans available as well as other customizable options.
By having a kit provider fabricate everything for you, you can be sure that your barndominium in Michigan is exactly to your liking. This is very important since customization is likely to be the reason you are building a barndominium in Michigan in the first place.
If you're looking for the top barndominium kit providers, use our kit provider directory.
Barndominium Financing in Michigan
Editor's Note: Looking to find a barndominium loan? CLICK HERE to get a quote ASAP.
Farm Credit
Since its Inception, Farm Credit has lent over 7.2 billion dollars worth of loans in the state of Michigan. As of 2018, they have worked with over 27,000 customers to help them obtain the financing they need to build their dreams.
Eastern Michigan Bank
If you want a heavily specialized, local bank, Eastern Michigan Bank could be the right choice.
They work in a specific area and are incredibly familiar with the laws and regulations that apply in Eastern Michigan. They pride themselves on being able to tailor your loan to match your specific needs and budget.
Where to Find Land for a Barndominium in Michigan
In order to build a barndominium in Michigan, you must first find a piece of land to build it on.
This can be one of the more challenging and expensive steps in the entire process.
However, there is a large amount of land available in many areas of the state that would be perfectly suitable on which to build a barndominium.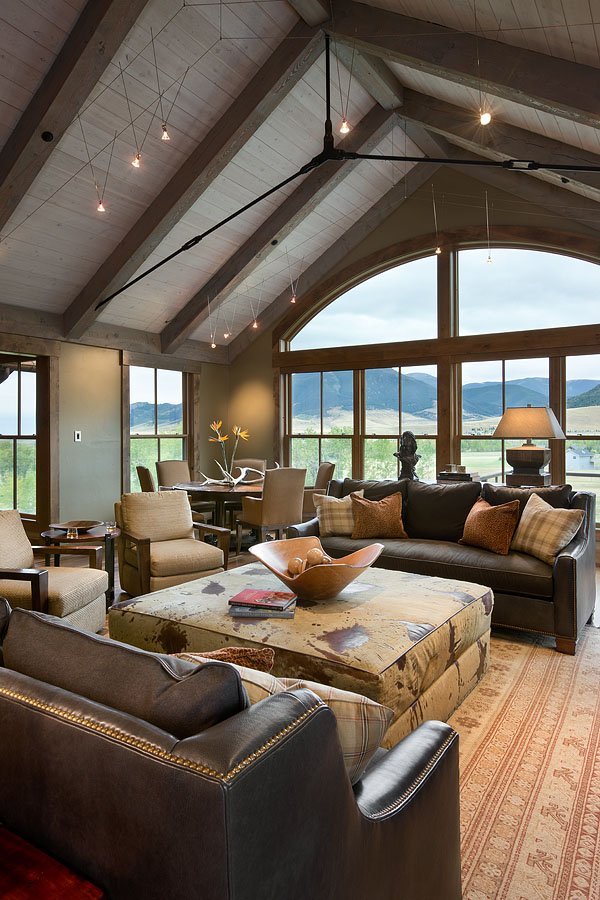 There are all kinds of aggregators and lists to find land for sale. However, you are going to want to check the zoning laws and the regulations of the area to make sure that it is legal to build a barndominium there.
You are also going to want to make sure that the piece of land will be able to accommodate power and plumbing, which will need to be installed.
You will also need a separate loan to purchase the land. Many of the banks listed above can help you secure this loan and be on your way to building your dream barndominium in Michigan.
Barndominium Floor Plans in Michigan
Coming up with the barndominium floor plan in Michigan is an essential step and will help you start to form your vision. Luckily, Barndominium Life has an extensive collection of floor plans for you to choose from based on your needs.
Conclusion
Building a barndominium in Michigan is a great way to get your custom dream home in a smaller, more affordable package. If you are someone who likes a unique style and wants to try something different, they are a fantastic option. To explore the many aspects and considerations that come into play when building a barndominium, get the Barndominium Life Program!