Rustic Barndominium Magic: 5 Breathtaking Homes That Capture the Essence of Old and New
In recent years, rustic home design has taken on a new meaning. It's no longer the strictly old-fashioned and traditional dwelling.
Today, rustic basically means that you incorporate natural materials into the building of your residence.
These include wood, metal, brick, and repurposed and rescued fixtures. The application can be all throughout the structure, or just parts of the interior and the exterior.
We've found these top rustic barndominiums that represent the traditional rustic style, the modern rustic variety, and everything else in between.
Get a FREE 18 Month Barndominium Planner
There are 39+ steps that must be taken before groundbreaking. Learn them all in this FREE checklist, available for immediate download.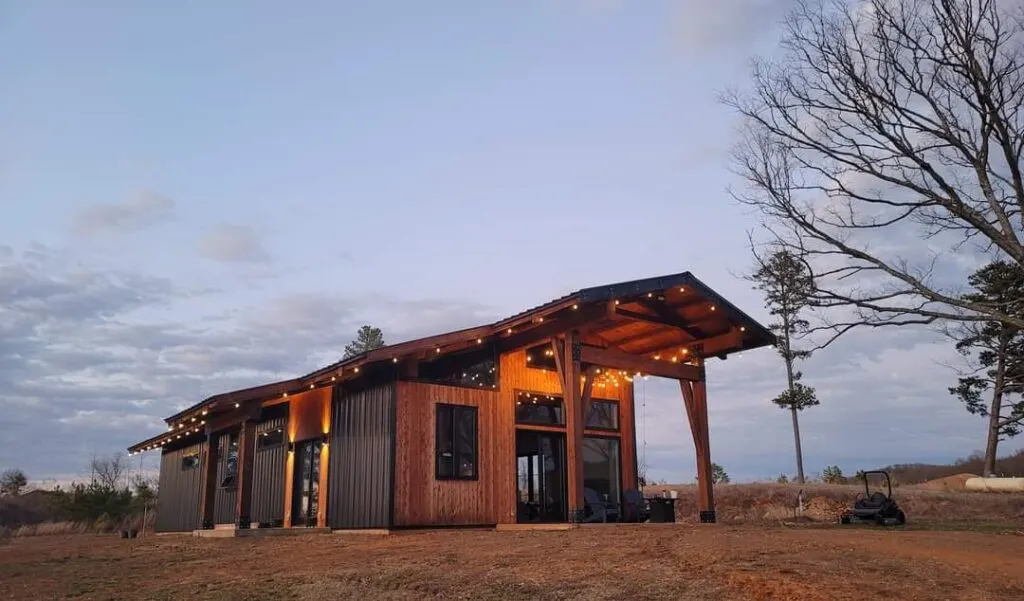 Using a combination of metal and wood for the exterior, this Arkansas barndominium exhibits a rustic feel that only an authentic farmhouse can impart. The beams and post are pine wood painted with a mountain cedar tint.
Beams are a structural feature meant to support roofs and upper floors. Aesthetically, keeping them exposed on a vaulted ceiling is one of the basic elements of the classic farmhouse style. Modern furniture in neutral color schemes ensures comfort for the occupants, while keeping with the aesthetics of the décor. The result is a fusion of classic and modern in this elegant farmhouse.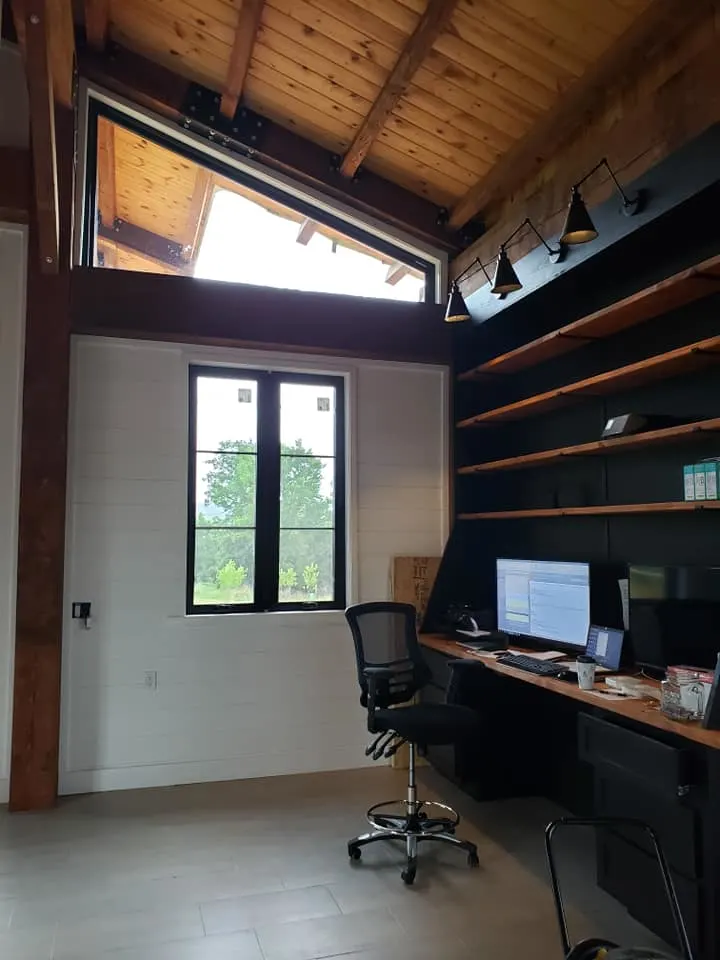 Near the main door is an office that doubles as a library. Exposed beams on the ceiling, built-in wall shelves, and a desk are all made of wood to maintain the rustic ambience.
Look at that beautiful pattern on the kitchen backsplash! The colors match the pillowcases on the sofa in the living area, providing a mid-century theme on accents that resonate throughout the home.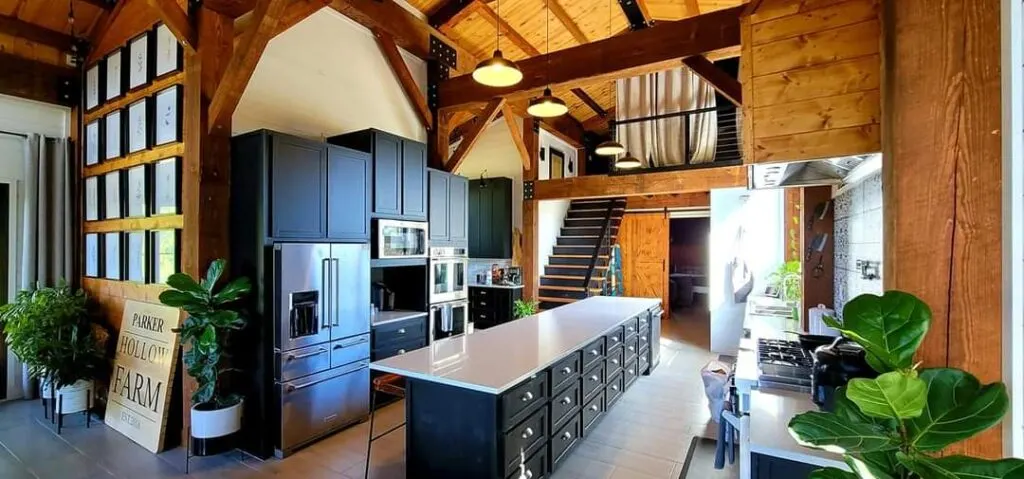 Amid the stainless steel kitchen appliances, wooden cabinets, and barn doors remind you that, yes, you are still in a farmhouse. We love how the brown wood breaks the monotonous outline of gray walls and white kitchen tiles.
The color scheme continues within the bathrooms of this barndo, with the floor and wall tiles matching the ones in the kitchen. And again, the wooden beams reinforce the rustic farmhouse ambience. But really, the restored bathtub and sinks are the bathrooms' tour de force.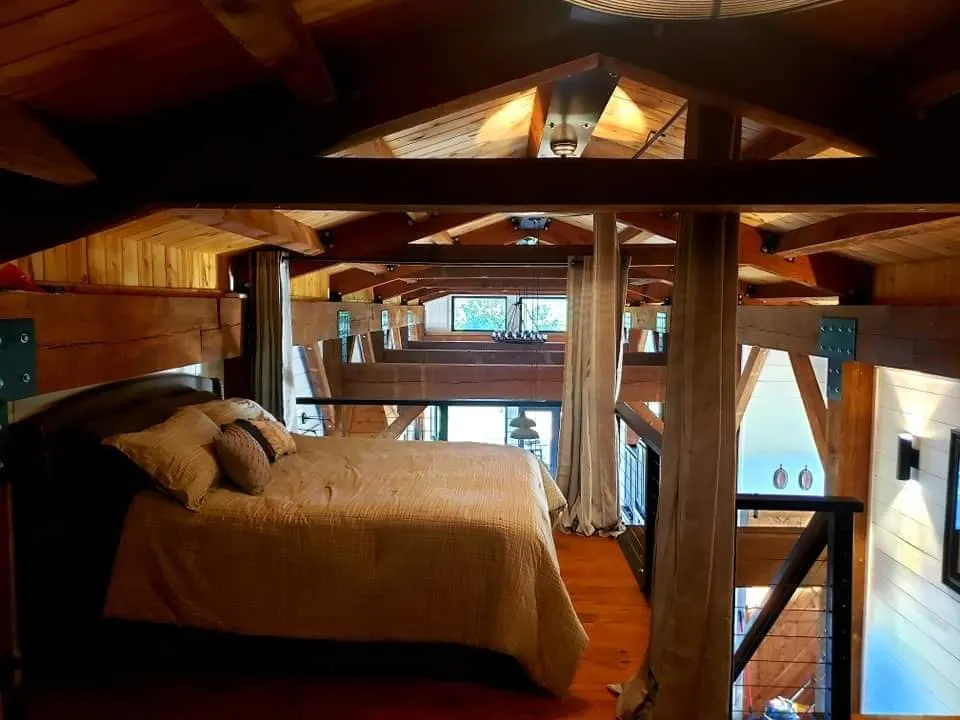 Another of this home's many pleasant surprises is the guest room on the loft. Aesthetics aside, a barndominium with a loft is a genius solution to having limited space. A barndo's basic structure provides very high ceilings, so why not maximize the upper part? In this case, the rustic farmhouse style adds to the visual appeal.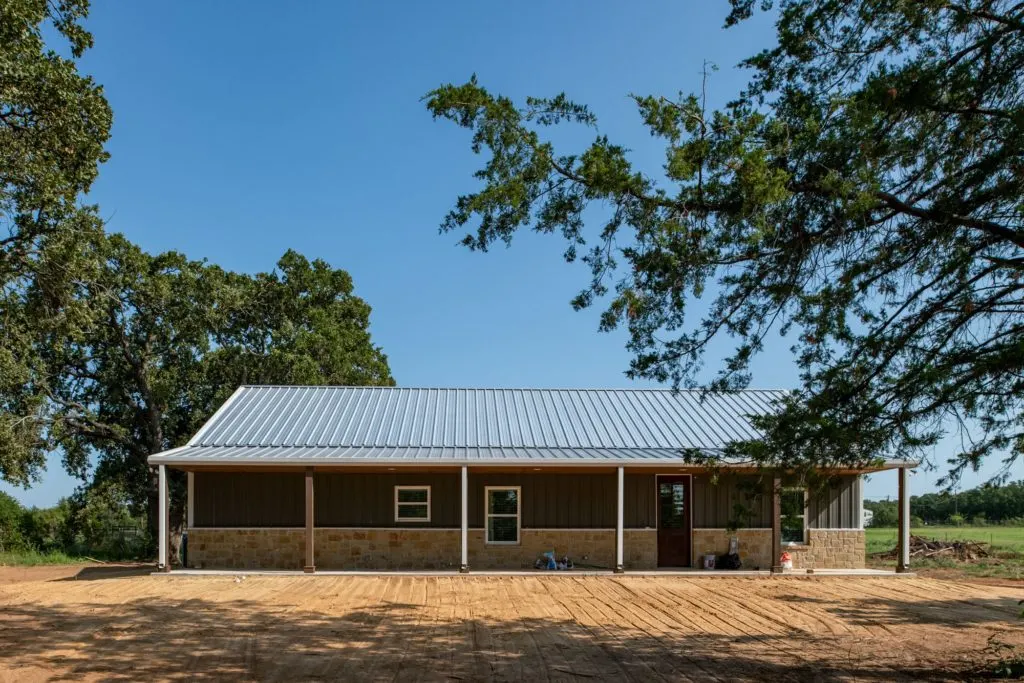 When used the proper way, metal can exude a rustic feeling to any structure, especially a home. The material is a natural element that has been used for centuries to build residential structures. Combined with wood, it renders a warm and inviting atmosphere to this barndominium.
Flanked by trees, this Texas barndominium features an exterior with a metal roof, brick walls, and wooden panels and support beams.
If you want a contemporary style abode with just a hint of rustic, then you will be impressed with the interiors of this barndo. The clean outlines of light gray walls and ceilings accentuated by white doors, door frames and moldings are contrasted with the dark brown main door, flooring and ceiling beam in wood which together scream elegant opulence.

Marble countertops and a backsplash of textured bricks in the kitchen contribute to the country feel of this otherwise modern home.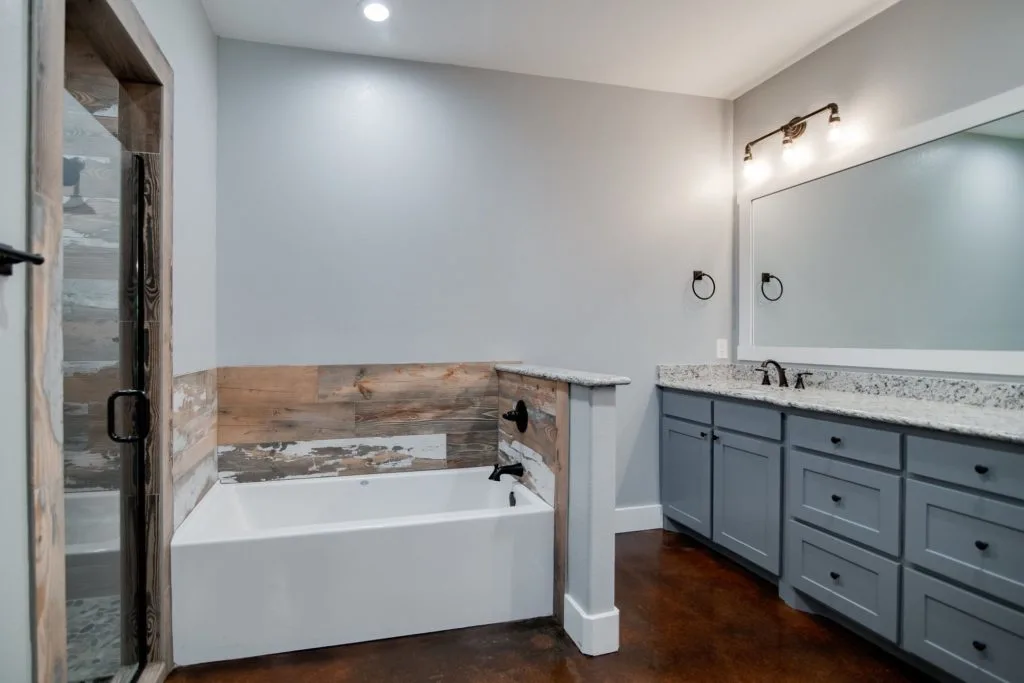 The luxurious master suite and bathroom also showcase a balance of modern with a touch of rustic. A barn door and wood panels above the bathtub and on the shower's door frame complete the look.
How to Build Your Own Barndominium & 200+ Floor Plans
Get started today with our program "Barndominiums Made Easy: How to Build Your Own Barndominium" and get 200+ barndominium floor plans included!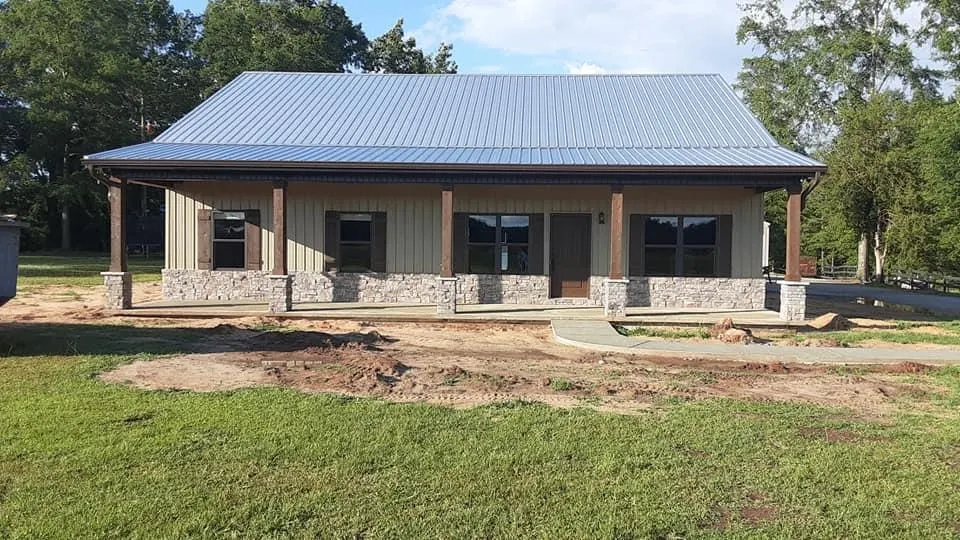 The façade of this Alabama barndominium conveys the serene air which can only come from a rustic-styled residence. Earth tones, wooden boards of batten cedar, textured bricks, and a blue metal roof that reflects the sky all come together to create a relaxed atmosphere.

Even the two-car garage is consistently rustic with its brown tints and bricked bottom.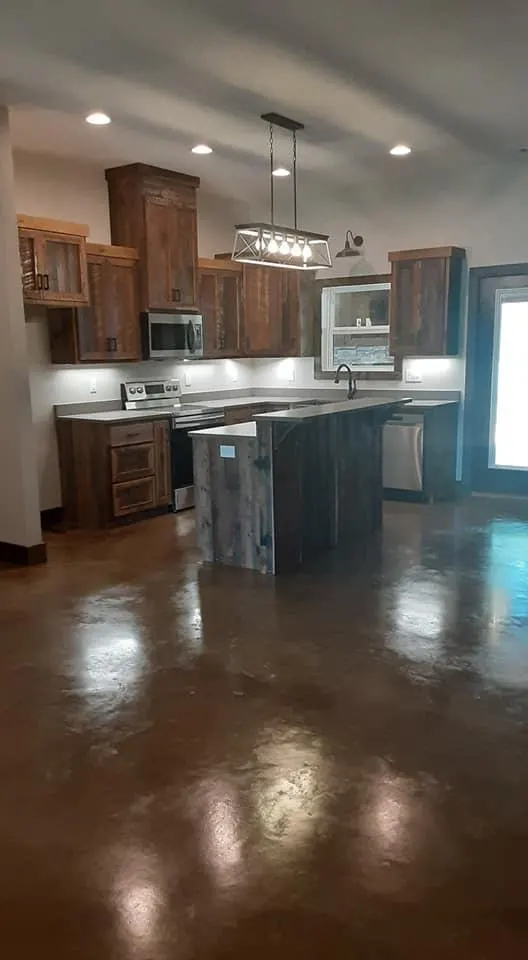 The open space concept applied to the living room, dining room and kitchen already gives you an overall view of the home's rustic design. The kitchen island, cupboards and cabinets are made of wood panels, overshadowing the stainless steel appliances to maintain the rural feel. A metal overhead lighting fixture and a mosaic marble countertop complement the style.
The back porch offers a wide space for get-togethers. It features a beautiful fire pit made of bricks with a TV installed in the covered recessed shelf on top. Painted interior drywall provides an elegant texture beside decorative barn doors.
One of the coziest bathrooms we've ever seen! Rescued and repurposed bathtub and sink are an original touch. So is the subtle artistry of the corrugated metal on the bottom part of the wall. Lanterns, overhead lamps and heavy metal fixtures tell you that the owners have meticulously designed their home to achieve a consistent rustic mood throughout.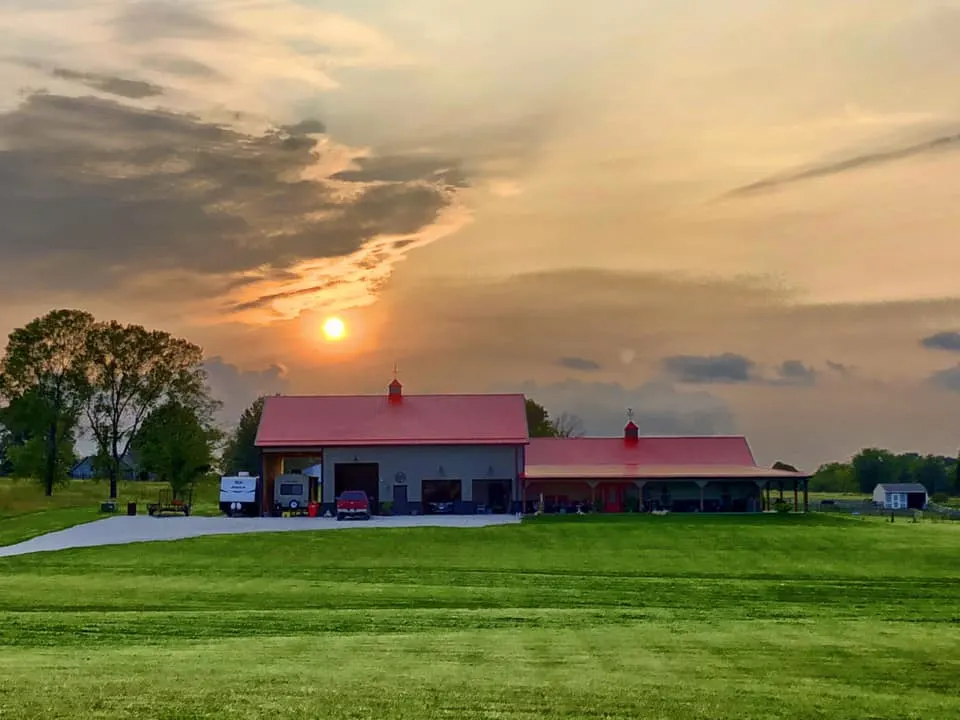 We love how the Wacker family was able to play with bright colors and still succeed at keeping the bucolic appearance of their Missouri barndominium exterior. Don't you just adore those pops of red beside the earth tones? Not to mention the wine barrel table and iron chairs and decors.
How to Build Your Own Barndominium & 200+ Floor Plans
Get started today with our program "Barndominiums Made Easy: How to Build Your Own Barndominium" and get 200+ barndominium floor plans included!
The living room displays a classic rustic vibe with wood panel flooring and a reclaimed wood fabrication on one wall, all in various shades of brown. A metal chandelier, white lampshades, and oversized cushioned sofa and armchairs in dark gray complement these features.
We absolutely love this winery wall! It's one of the best accents we've seen in an open-space concept. The homeowners produce homemade wine and Grand Marnier, a passion reflected in the display.
The master bedroom in this barndominium features a chic and elegant purple wall paired with equally chic purple bedding. Wood is found everywhere, from the bureau and mirror frame to the bed's head and footboard. And the sliding barn door, too!
The master bathroom continues the purple and wood scheme, reflected in the walls, vanity, cabinets and drawers.

Through the walk-in closet of the master bedroom, a pocket door leads to the laundry room. How convenient and practical is that!
This bedroom echoes the exterior's color scheme of earth tones with red accents. The attached bathroom bears the same theme. We love the sink made of an upcycled wine barrel.
For a family who loves to brew and entertain, it's no wonder that this outdoor bar would be designated as the highlight of their home. Wood and black wrought iron set the rustic tone. Against a backdrop of trees and grass, it's a bucolic scene straight from a country storybook.
This 2-story barndominium in Oklahoma is a masterpiece in rustic elegance. Large solid cedar beams are used on both the ceilings and the stair rails. Barn doors and kitchen island and countertops come in the same shade of brown.
Creativity and ingenuity also characterize this home. All cabinets are custom built, while the space beneath the stairs houses the pantry and a recessed area with a built-in desk.
In this barndominium, no detail is overlooked. Lighting achieves a unified look with a chandelier, table lamps and lighted wall fixtures.

An electric fireplace looks like a natural fire pit with its textured brick floor-to-ceiling structure. A TV shelf is cleverly added above the pit.
We love this combination of granite countertop, brick tiles and custom-built wooden cabinets. They blend well together and give the kitchen a warm and homey feel. The homeowners of this 2 Story barndo in Oklahoma built this barndo based upon the floor plan below.
Conclusion
Did our top rustic barndominiums list motivate you to adopt the same style for your dream home? If so, then feel free to browse our website and our Pinterest page for more ideas.
For more examples of floor plans, check out our Barndominium Photo Gallery. You might also want to try creating your own customized floor plan using our custom design software.
And if you're ready to build your barndominium, Don Howe's Build Your Dream Barndominium e-book has a valuable treasure trove of tips you can use right from the planning stage to when you are giving your home its finishing touches.
Like this Post? Sign up for our email list!
Be the first to see new posts about the best barndominiums, construction guides, floor plans, and more! Enter your information below to become a BarndominiumLife VIP.