Choosing your barndominium's color is an incredibly important decision to make. The color you choose will dictate the aesthetic of your home and how well it works with your trim. It will also determine how it sits against the surrounding landscape and its profile. Because of this, many people choose to build white barndominiums.
White is a fantastically versatile color that can have all kinds of purposes. On top of this, there are also many different shades of white to choose from. To give you an idea of what can be done, we have put together a collection of white barndos. This collection can help you decide if white is the right color for your custom home.
Get a FREE 18 Month Barndominium Planner
There are 39+ steps that must be taken before groundbreaking. Learn them all in this FREE checklist, available for immediate download.
Check Out These Amazing White Barndominiums
White is a great color for highlighting different aspects of your barndominium's design. If you want to have different shades or textures as accents, white can help them stand out. This is especially true for organic textures like rock or wood. White is very neutral and will not interfere with the different design elements you want to include.
This barndominium is a great example of what can be done with white and different textures. We love the bottom third rock siding that adorns the exterior of this home. It is a classic design touch and adds so much to the look of the barndo. As you can see, the white enhances the texture and makes it stand out very well.
White is a fantastic color if you want to use wood as trim or an extra texture. Because white is neutral as well as relatively organic, it works so well with natural colors. Wood in particular works with white and can add so much to the overall look of the home. White and wood is a classic combination that works every single time.
This is a great use of wood and white paint and we love how subtle it is. The wood pillars act as great little details that are both functional and incredibly nice looking. This is a wonderful way to make the most of all your necessary structural elements with white barndominiums. The secret to good design is to use the necessary pieces as advantages to benefit your overall look.
White barndominiums will give you an incredibly beautiful pastoral look that is highly desirable. If you are interested in having your barndominium work with the landscape, white is a good choice. It is a classic color that is neutral enough to make your home blend in. It will become a part of the surroundings instead of contrasting with them.
As you can see, this barndo sits in front of the beautiful blue sky wonderfully. The home becomes a piece of the overall picture instead of sticking out like a sore thumb. If you want an aesthetic that is natural and beautiful, this will do the trick. It will make everything fit in together and create a fantastic look.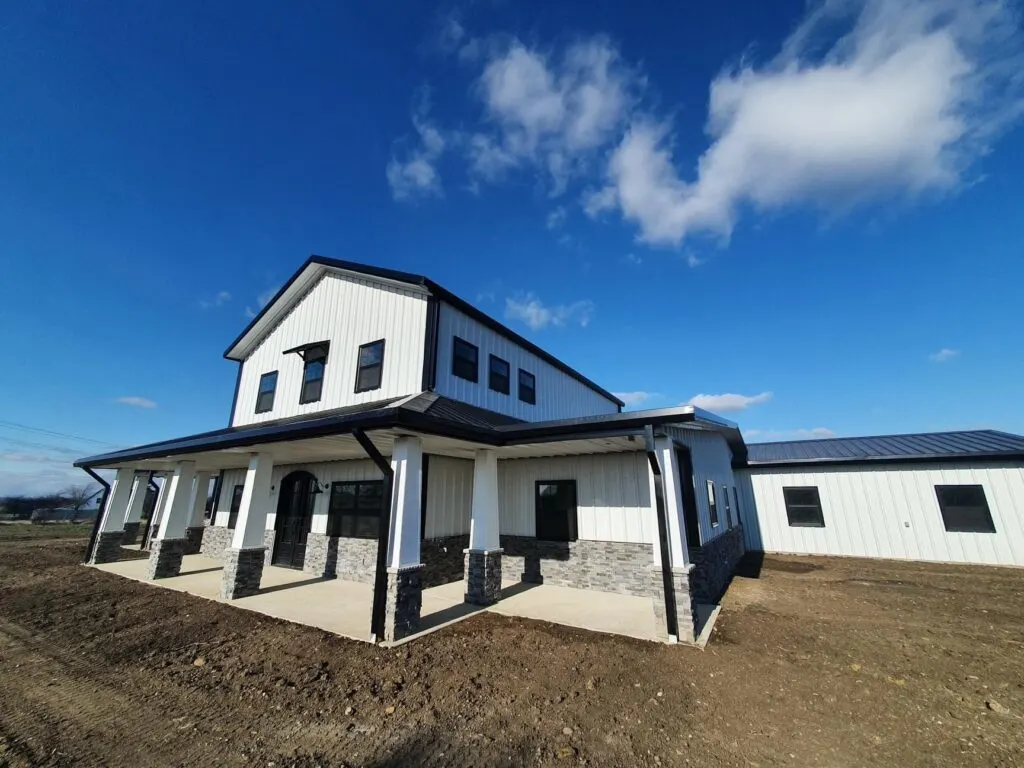 While white is known as a neutral color, it certainly doesn't have to be. It can act as a counterpoint to other, bolder colors. White barndominiums are a chance to make interesting choices with your trim and accent pieces. They will stand out even more against the clean, white backdrop.
This barndominium uses a bold black and white color scheme to create something incredibly striking. The dramatic lines and color choices of this barndo are so beautiful and we absolutely love it. The fact that the main color is white makes the black accents and trim pop so much more. We especially love the black gutter system that enhances the overall aesthetic of the home.
How to Build Your Own Barndominium & 200+ Floor Plans
Get started today with our program "Barndominiums Made Easy: How to Build Your Own Barndominium" and get 200+ barndominium floor plans included!
If you are thinking about white barndominiums, you have to think about the roof color as well. With a white barndo, the roof will be even more important. Like the trim, you can use the roof as your accent piece and it will be very interesting looking. This is especially true if you want your roof to have bold, striking colors.
The roof of this barndo isn't necessarily that dramatic but it is particularly eye-catching with the stark white. Even with the relatively muted color, you can see how much it stands out. On top of that, the roof and exterior look very nice against the beautiful sunset. This is a great example of using everything at your disposal to create a whole package.
Just like with your roof, lighting is another important consideration with your home. One of the major benefits of a white barndo is that it will take lighting incredibly well. If you want lighting that will make your home stand out, white is a great choice. The home will act as a projector screen that you can put almost any kind of color onto with your lights.
As you can see with this white barndo, lighting can completely change the look and feel of a home. Here, the lights act as their own accent pieces and highlight certain areas. The three main exterior structures are beautifully placed and use the soft glow to stand out. We love how this looks and think it can work for all kinds of barndominiums.
Conclusion
White barndominiums are so versatile and wonderfully utilized in so many different ways. If you want to try something unique or bold, white can be a great choice for your home. It reacts with all kinds of different colors for trim or accents and will always look clean and fresh. It will also help keep your home cool in the summer since white reflects heat instead of absorbing it.
If you would like more tips for designing and building a barndominium, check out the rest of BarndominiumLife.com. There, you will find helpful design guides like this one as well as floor plans and barndominium financing information for getting your own project built. You will also find featured barndominiums with in-depth looks at what they have to offer. These can inspire you and give you ideas for your own beautiful custom home.
Like this Post? Sign up for our email list!
Be the first to see new posts about the best barndominiums, construction guides, floor plans, and more! Enter your information below to become a BarndominiumLife VIP.
Michael O'Connor is a seasoned barndominium writer passionate about creating unique and innovative barndominiums. With over 15 years of experience in the construction industry, Michael has established himself as a leading expert in barndominium design and construction.
His work has been featured in several respected publications, including Barndominium Life, where he frequently contributes articles on best practices and emerging trends in the field. Michael's ability to blend traditional techniques with cutting-edge technology and design concepts has earned him a reputation as one of the most knowledgeable writers in the industry.