Right now, it serves as a single-family home. But soon, it will become the "man cave" to top all man caves.
The Southern Tennessee Barndominium features one bedroom, one bathroom, 960-square-feet worth of lower level living space, and a 340-square-foot upstairs loft. Constructed over a 40 x 60-foot area, the home also features a pair of 10 x 60-foot porches. Built to be a man cave and place to escape, it's currently serving as a single-family home while this family finishes construction on its permanent home. But as you can see from the photos below of this countryside beauty, it's more than able to serve any purpose that you see fit. Scroll on to see more of this luxury barndominium in southern-middle Tennessee and all the beautiful features that are packed into its footprint:
The front porch is stretched 60 feet across the front of the property. As you can see, it's a large enough space for a variety of furniture and outdoor equipment. It's also a great place to kick back in a rocking chair and enjoy those countryside views.
Get a FREE 18 Month Barndominium Planner
There are 39+ steps that must be taken before groundbreaking. Learn them all in this FREE checklist, available for immediate download.
Southern Tennessee Barndominium Rustic Interior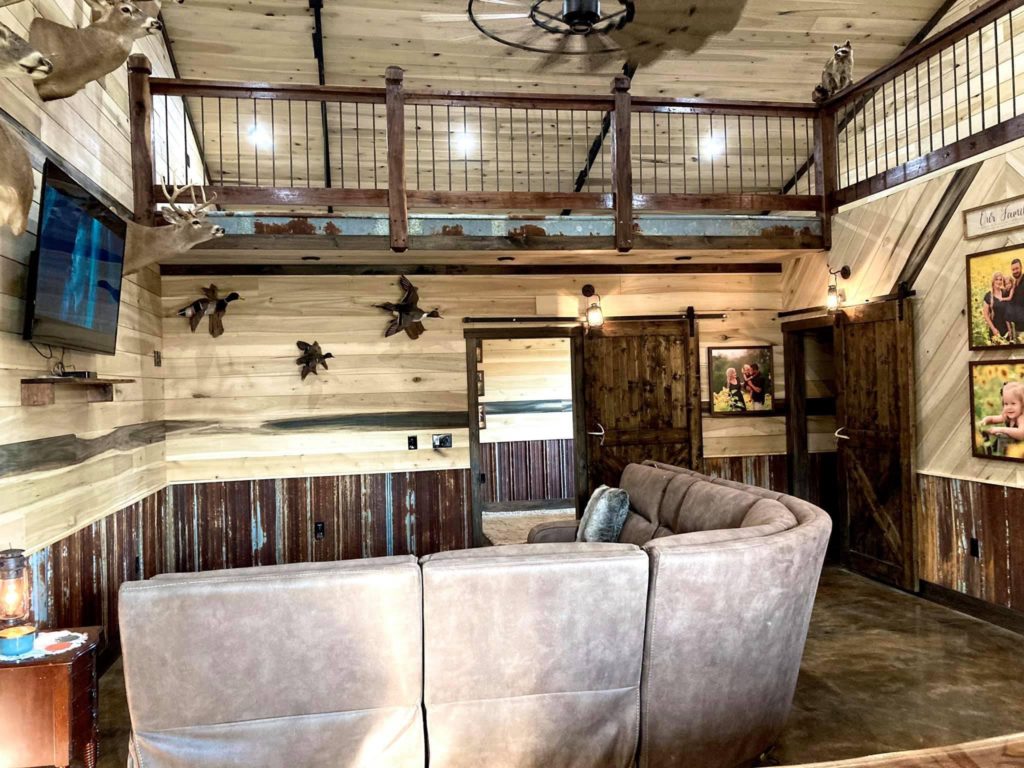 Step inside the barndominium into the living room. Don't you just love the wood finish and rustic interior?
A birds-eye view of the living area from the loft above it. It looks like a great place to cozy up after watching the sunset from a rocking chair on the front porch.
No details were spared when building the kitchen. Complete with stainless steel appliances, an island and rustic wood cabinetry that fits the property's overall theme, the kitchen is a highlight of this barndominium.
Another great view of the kitchen. The overhead light that illuminates the island is a nice touch and helps promote a welcoming environment.
Another view of the kitchen, this time from the overhead loft. You can really see how unique the island is. It certainly took some great woodworking skills to create this piece of furniture.
How to Build Your Own Barndominium & 200+ Floor Plans
Get started today with our program "Barndominiums Made Easy: How to Build Your Own Barndominium" and get 200+ barndominium floor plans included!
Even the door to the lower level bedroom is on point with the theme of this barndominium. Sliding farm doors give way to a spacious bedroom within the property.
We love the wood bed frame and how welcoming the bedroom is. Looks like a perfect place to hit the sheets after a long day. If this family after decided to rent this barndominium out as a bed and breakfast, we're guessing they'll have plenty of guests.
Even the comforter matches the theme of the barndominium. And we love the "his and hers" reading lights installed above the bed.
We can't imagine there's anything better than waking up to the birds chirping and seeing the sunrise out of this window. And the sliding shutters? What a nice touch!
This Southern Tennessee barndominium features one lower level bathroom. We particularly like the tile job in the bath and shower, especially the shelf that was built into the wall.
How to Build Your Own Barndominium & 200+ Floor Plans
Get started today with our program "Barndominiums Made Easy: How to Build Your Own Barndominium" and get 200+ barndominium floor plans included!
Another view of the bathroom. You can tell that it's designed down to every little detail.
Here's the staircase going upstairs to the 340-square-foot loft. The lantern light at the bottom of the stairs is particularly cool.
There's so much great woodworking on display inside this Southern Tennessee barndominium, and the stairs are no exception. This is just superior craftsmanship at its finest.
A look at the 340 square-foot loft, which can double as extra living space. Whether it be a sleeping area or a place to throw another TV and a couch, the options for this space are plentiful. What would you use it for?
Another look at the L-shaped loft space. What would you do with this space?
Like we said in the introduction, once this family's permanent farmhouse is constructed, this barndominium might earn the title of "world's best man cave." For more inspiration on barndominiums and how you can build your dream property, subscribe to the Barndominium Life YouTube channel or download the eBook, Build Your Dream Barndominium.
Like this Post? Sign up for our email list!
Be the first to see new posts about the best barndominiums, construction guides, floor plans, and more! Enter your information below to become a BarndominiumLife VIP.
Gail currently spends her free time geeking out about what's new and trending in the world of barndominiums.
She is the former executive editor of BarndominiumLife.com and loves working with the team and members of the barndominium community. She now contributes to the blog on occasion, but only when she feels like it!