When building a barndominium, the planning stage is one of the most important steps in the whole process. Having a solid floor plan will make all the difference when the time comes to actually start hammering nails. There are all kinds of 1 bedroom barndominium floor plans that you can use to come up with your own ideas or make your own. To help get you started, we have put together a complete guide to 1 bedroom barndominium floor plans so you can choose wisely.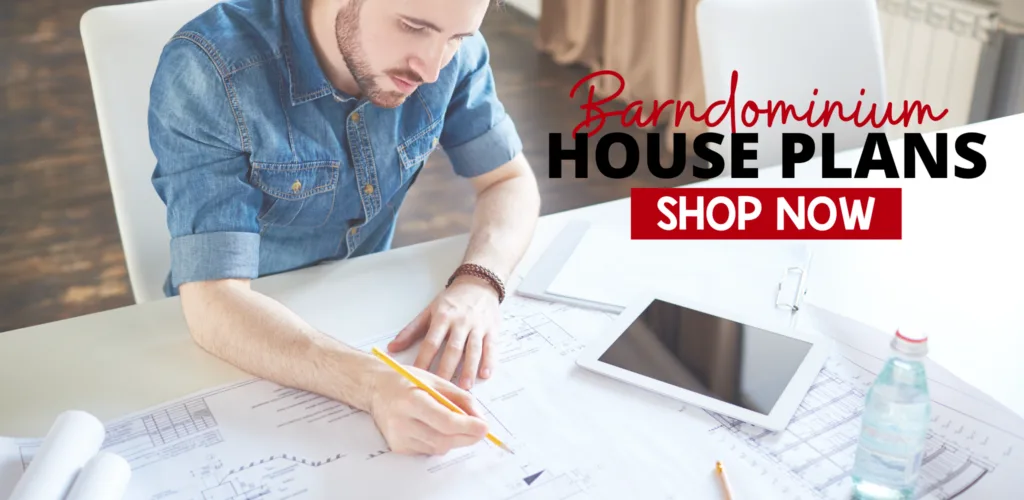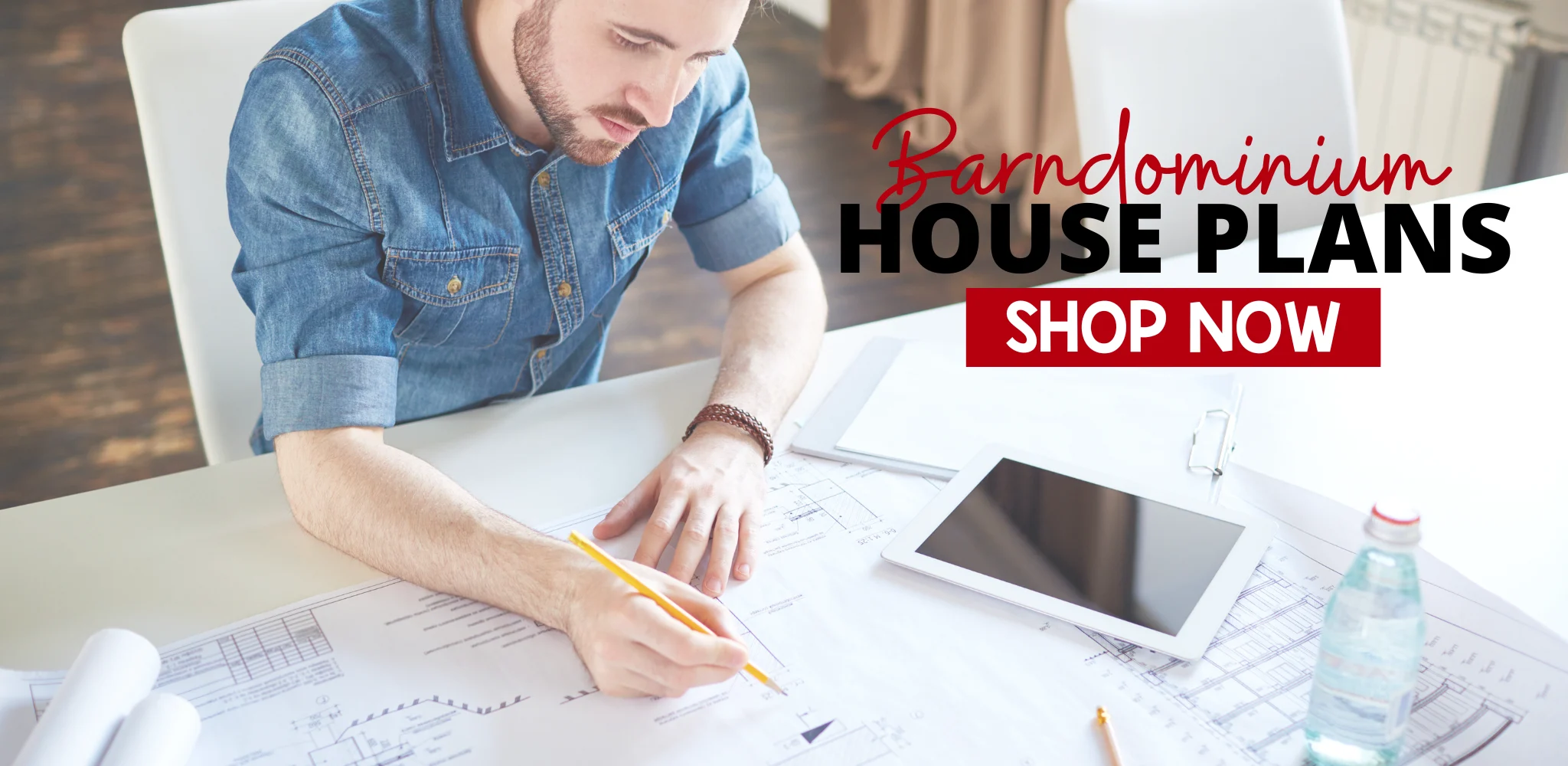 1 Bedroom Barndominium Kits
If you're looking to start building your barndominium, one of the first things to do is to get a quote for the metal shell or barndominium kit. By using the quote service below, you'll get connected with a barndominium kit provider within a few hours at most. Prefabricated barndominium kits mean that the metal shell that makes up your barndo is produced off-site, then it's brought to you for erection and assembly. While some builders will help you order the barndominium kit, we suggest doing it separately to avoid a potential markup on the barndominium kit.
When thinking about 1 bedroom barndominium floor plans, you should always consider your options with outdoor space. It is important to remember that you are not limited to the interior space. These plans include a fairly large front porch that is perfect for the entryway. They also include a side porch that you can utilize when you have get-togethers or parties at the home.
The interior is also very well equipped and perfect for gatherings. The large dining area is ideal if you are going to have people over and delineates the space nicely. This, plus the fact that the bedroom is in the back, makes for a great gathering area. If you are someone who loves having people over, this could be a great plan for you.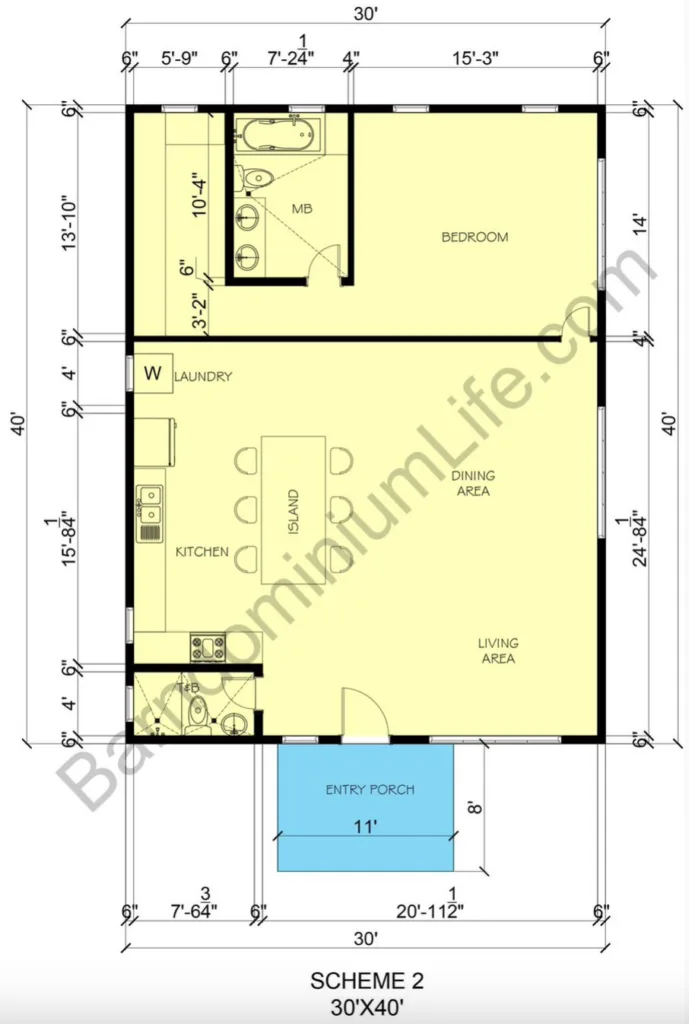 The entry of your home is very much a part of the impression it will make on houseguests. These 1 bedroom barndominium floor plans have an 11-foot entry porch that you can use as a first impression for your guests. Whether you want to decorate it with your own custom design elements or leave it stock, you can create something that says a lot about you. This will also increase the curb appeal of the home from the street.
These plans also include a half bathroom in the common area as well as a master bathroom. If you can have a bathroom for the rest of the people coming to the home, you can keep yours to yourself. This is crucial with a one-bedroom home and can be a challenge. These plans work nicely and give you everything you need.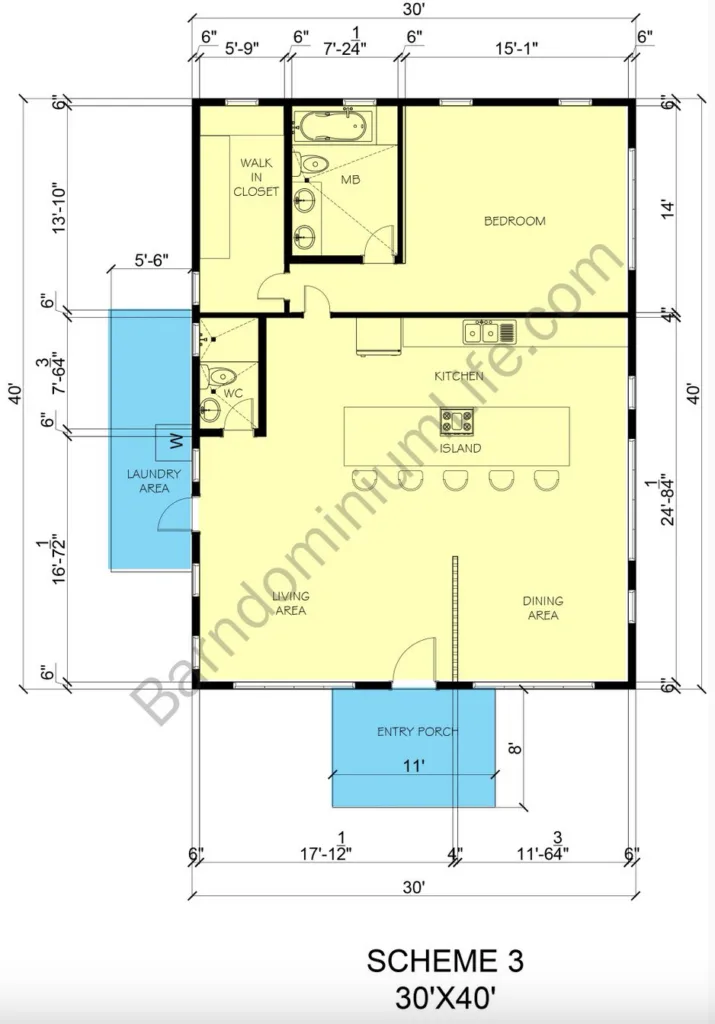 Even if you are only including one bedroom in your barndominium plans, that doesn't mean you have to sacrifice utility space. These 1 bedroom barndominium floor plans include a laundry room that is attached off the side of the home. It is incredibly important to include everything you need to make your home work for you, despite the fact that you have limited space.
These plans also include a large walk-in closet in the bedroom. When you are working with a small space, having enough storage room is essential. This walk-in closet helps you keep the rest of the home organized and gives you space to actually live in the home instead of struggling for storage.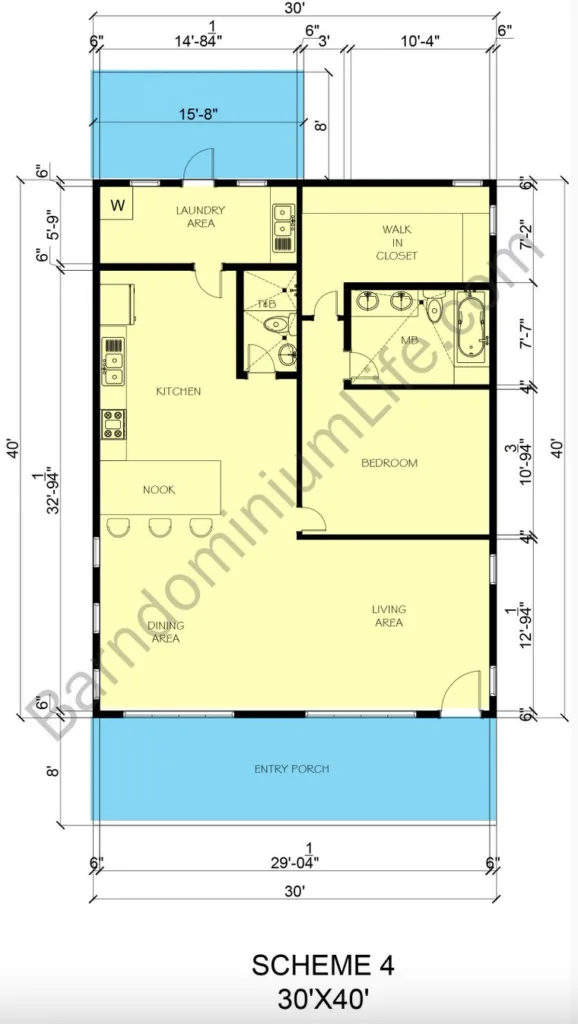 Depending on your needs as a homeowner, you may want to forgo some areas for others. These 1 bedroom barndominium floor plans are a great example of this. This plan does not include a dining area but instead includes a large laundry room space right off the kitchen, which can be incredibly useful.
When working with a one-bedroom layout, it is important that you know what your needs are and what you do not need. These plans have a walk-in closet and a laundry area, which admittedly takes up a lot of the floor plan. However, if you are someone who needs this kind of utility space, it could be well worth it in the long run.
One way to make 1 bedroom barndominium floor plans work for you is to think about how everything is laid out. For example, these plans split everything in half. One side of the home is dedicated to the common space while the other is dedicated to the bedroom space. This gives you plenty of room for both and ensures that the home works on many levels.
These plans also include a small porch off the laundry room, which is a great entry point into the house. Using this porch and the laundry room, you can create a nice transition from the outside to the inside. The laundry room can act as a mud room, which will help you keep the barndo clean, especially during the rainy months.
Having spaces within spaces is crucial when working with a small area. These 1 bedroom barndominium floor plans have the bedroom and walk-in closet off to the side. This leaves room for a dining area and living area, which can make a big difference with your gathering options.
This plan also has a unique dual-porch design that is great for utilizing the outdoor areas. When working with a small area, you need to be able to use your outdoor space efficiently. Having this large front porch and small back porch lets you make the most of the space you have.
One way to make the most of your one-bedroom layout is to have it be in a long and thin area. This helps you lay out everything in one line, which can be a great way to make use of your barndo. These plans have a long, narrow layout and a fantastic flow, which is perfect for gatherings and day-to-day living.
These 1 bedroom barndominium floor plans also have an outdoor utility area attached. It is important to remember that depending on your climate, you can use your outdoor space for all kinds of things. Utility areas for laundry or other purposes can be incredibly helpful.
If you are able, you can have a multi-purpose room in your 1 bedroom barndominium floor plans. These plans include a large laundry room off the living area. However, this space can be used for all kinds of things if you are creative and willing to make adjustments.
These plans also include a large walk-in closet and a master bathroom in the bedroom. There is also storage space off the utility room, which can be a great way to keep your barndo clean. Having these extra little areas is a great way to make the most of your space.
Conclusion
Designing your perfect barndo can be a challenge but is well worth it. If you want to keep things simple, you can still get a lot out of a little bit of space. With enough creativity and a little bit of imagination, you can come up with the perfect 1 bedroom barndominium floor plans for your home.
If you would like more guides like this one, check out the rest of BarndominiumLife.com. There, you will find more helpful tips and tricks from the pros. You will also find featured barndominiums, barndominium floor plans, and information on financing and insurance. Knowing as much as you can will help you get the best results for your dream home.
Michael O'Connor is a seasoned barndominium writer passionate about creating unique and innovative barndominiums. With over 15 years of experience in the construction industry, Michael has established himself as a leading expert in barndominium design and construction.
His work has been featured in several respected publications, including Barndominium Life, where he frequently contributes articles on best practices and emerging trends in the field. Michael's ability to blend traditional techniques with cutting-edge technology and design concepts has earned him a reputation as one of the most knowledgeable writers in the industry.