If you are looking to build your dream barndominum that has room for your family look no further than these 40×40 barndominium floor plans. They give you the space you need and allow you to add some of your dream features to your home without breaking the bank.
You have finally decided to build your dream barndominium and have decided on the size, but now it is time to think about what is important within the design. In your 40×40 barndominium, how many bedrooms and bathrooms do you need? Do you need extra room for the kids to play? Once yu consider these questions you are ready to build the barndominium of your dreams with one of these 40×40 barndominium floor plans.
40×40 Barndominium Cost
Prior to building your barndominium, you will want to consider how much a barndominium costs per square feet. This can help you build the right size barndominium for your budget. This barndominium cost calculator can help you come up with a general idea of the costs that you will incur.
40×40 Barndominium Kits
If you're looking to start building your barndominium, one of the first things to do is to get a quote for the metal shell or barndominium kit. By using the quote service below, you'll get connected with a barndominium kit provider within a few hours at most. Prefabricated barndominium kits mean that the metal shell that makes up your barndo is produced off-site, then it's brough to you for erection and assembly. While some builders will help you order the barndominium kit, we suggest doing it separately to avoid a potential markup on the barndominium kit.
That's it! By using the tool above you'll get connected with a kit provider for 40×40 barndominium kits.
40×40 Barndominium Floor Plans
Below are 8-floor plans for 40×40-foot barndominiums. They are ready to be executed and can also be customized according to your style, taste, and preferences.

40×40 Barndominium Floor Plans Open Concept with Porch
If you have a small family, then you can indulge in the luxury of adding a porch to your 40×40-foot living area. Having only 2 bedrooms makes this possible.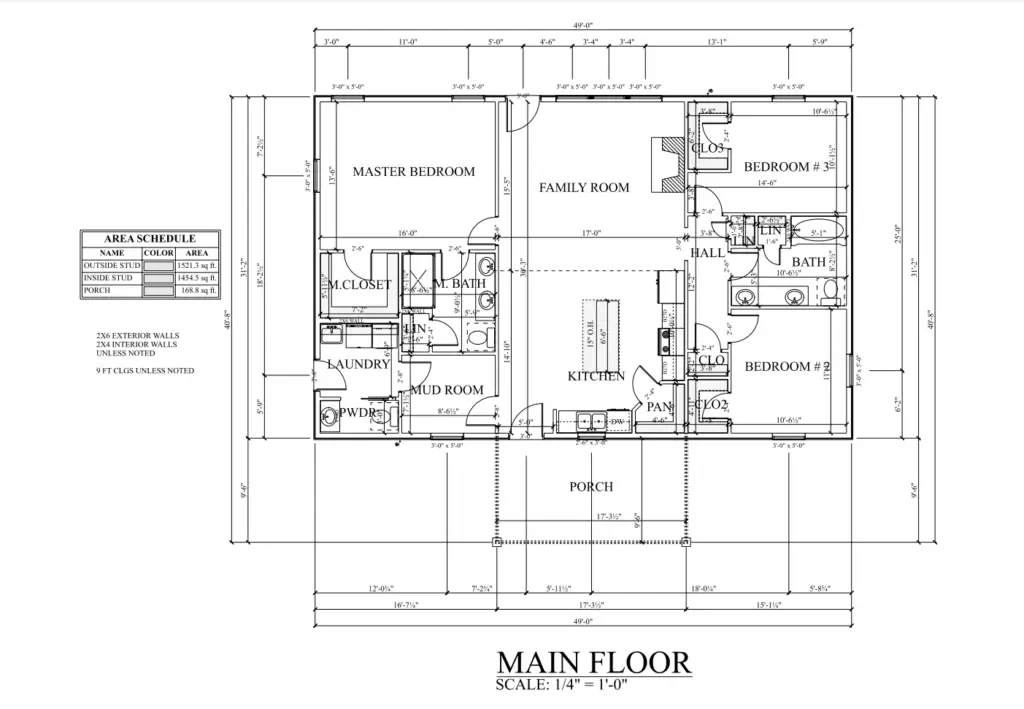 This floor plan features a cozy and functional layout that includes three bedrooms, two and a half bathrooms, a convenient mudroom, and a porch. The bedrooms are strategically placed to offer privacy and comfort to the occupants. The master bedroom includes a private ensuite bathroom, while the other two bedrooms share a full bathroom. The kitchen, dining, and living areas flow seamlessly, creating a spacious, open-concept living space. The mudroom provides a place to store shoes, coats, and bags. The back porch is perfect for outdoor entertaining or simply relaxing in the fresh air. Overall, this floor plan is designed for comfortable living.
Some families prefer to designate spaces for specific purposes. Others would rather enjoy a free zone where daily activities can blend and flow seamlessly. If you are in the latter camp, then you will love this barndominium.
Not only does the main door open to a wide-open space, but it is also preceded by a porch. And if you're a stickler for storage and organization, you get a utility room and a pantry beside the kitchen. Plus, an extra closet in the open space.
One of the 2 bedrooms comes with its own bathroom, while the other one has a bathroom beside it.
How to Build Your Own Barndominium & 200+ Floor Plans
Get started today with our program "Barndominiums Made Easy: How to Build Your Own Barndominium" and get 200+ barndominium floor plans included!
If you love entertaining, then this barndo design is perfect for you. The entire front area is a spacious living room and dining room in one. For the convenience of guests and privacy of the occupants, a half bath is added to the space. You can also extend your festivities to the front porch.
A utility room beside the half bath may be used as storage for party items, such as folding tables and chairs. It is outfitted with an exit door for easy loading and unloading of supplies. Even the kitchen is designed for hosting get-togethers. With a walk-in pantry and a large island that can seat 4, food prep and serving will be a breeze.
This design features 2 bedrooms, each with its own bathroom.
40×40 Barndominium Floor Plans for Medium-Sized Families
Wondering how you can fit in a living area of 40 x 40 feet when you are a family of 4 or 5? The floor plans below provide a layout where 3 bedrooms are accommodated by not including a porch.
This barndo offers a double-door main entrance that leads to an airy open space with wide windows. It is an ideal scheme when your home stands on land with a view of a breathtaking landscape.
Created for a family with two or three children, this 3-bedroom floor plan includes one bedroom with its own bathroom and 2 bedrooms with a shared bathroom.
The kitchen countertop ingeniously extends to an island on an L-shape that can seat 5. And while it doesn't come with a pantry, the deep utility room can be used to store food and kitchen items as well.
This blueprint is a testament to making the most out of limited space and keeping every occupant comfortable at the same time. It offers a master bedroom with a master bathroom and closet, plus 2 bedrooms with one shared bathroom.
Compact and laid out for easy navigation, the barndo situates common areas in front and sleeping quarters at the back. The main door opens to the dining room, with the living room to the left and the kitchen to the right.
We love how this floor plan maximizes the total floor area by placing the common areas on the right half of the home, and the bedrooms to the left half.
You walk into a spacious living room with the dining room right behind it and the kitchen farther in. All three common spaces are laid out in a linear fashion. When entertaining guests in the living room, privacy is ensured by keeping access to the bedrooms solely through the dining room.
Speaking of bedrooms, this barndo houses one master bedroom with a master bathroom and walk-in closet. One bedroom is big enough to accommodate two kids, while another bedroom is perfectly sized for one child. These 2 bedrooms share one bathroom.
How to Build Your Own Barndominium & 200+ Floor Plans
Get started today with our program "Barndominiums Made Easy: How to Build Your Own Barndominium" and get 200+ barndominium floor plans included!
40×40 Barndominium Floor Plans for Small Families
For a family of 3, owning 40 x 40 feet of space means having enough room to build a home with additional features. Here are some ideas you can replicate:
A masterpiece in design for a small space, this layout not only provides an open space with a closet but also offers a home office. And it doesn't stop there. It adds a pantry to the kitchen, too. As if these features weren't enough, there's a utility room as well, which comes with a door that exits to the right side of the abode.
The barndo comes with 2 bedrooms. The master bedroom is situated behind the kitchen and has its own bathroom plus a large closet. Across it is a smaller bedroom with an adjacent bathroom. Really impressive!
Another masterpiece in small space design, this floor plan includes a pantry and a laundry area in the kitchen. This section is the backmost part of a linear layout with the living room in front and the dining room in the middle. These shared zones occupy the left half of the barndo.
One-third of the whole floor area is dedicated to the master bedroom, which is furnished with the luxuries of a master bathroom and a walk-in closet. One bedroom and one bathroom adjacent to each other are positioned opposite the master bedroom. These rooms are designed in the right half of the house, accessible through the living room.
40×40 Barndominium Floor Plans for Large Families
Whoever said that a family of 5 can't fit in a home with 40 x 40 feet of floor area will be pleasantly surprised by this concept.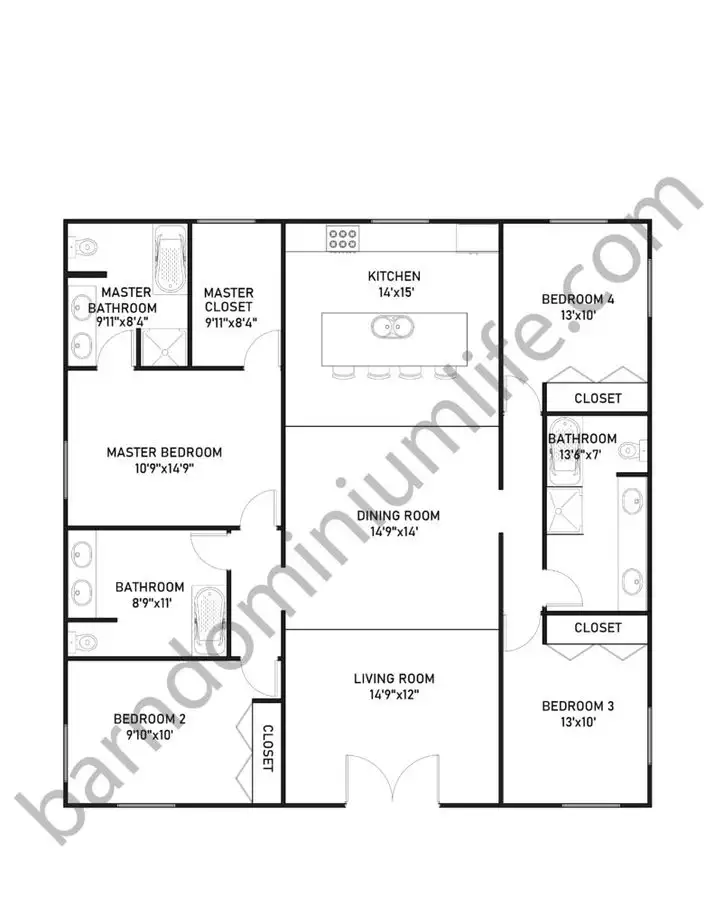 The secret formula of this floor plan is placing all the common areas in the middle while distributing the sleeping quarters on each side. This way, the living room, dining room, and kitchen look and feel more spacious than their size.
On the west wing is the master bedroom with the master bathroom and master closet. Next to it is one bedroom and a bathroom set side-by-side. On the east wing are 2 bedrooms with a shared bathroom sandwiched in between.
Design Your Own 40×40 Barndominium Floor Plans
Choosing to build your own barndominium is a wise move, arguably better than purchasing a ready-for-occupancy house.
You can use the above floor plans or create your own with our custom design software. Simply adding your specs to the template will prompt this user-friendly app to produce the specific design you have in mind.
How to Build Your Own Barndominium & 200+ Floor Plans
Get started today with our program "Barndominiums Made Easy: How to Build Your Own Barndominium" and get 200+ barndominium floor plans included!
Conclusion
Your dream home is just within reach. Allow us to hold your hand from start to finish. Design your own 40×40 barndominium using the tips you can find on the Barndominium Life Program. Get rich ideas on the infinite ways you can design the home you envision.