A fireplace can be the perfect touch to make your barndominium feel cozy, offer a visual centerpiece, and provide functional, comfortable warmth, all at the same time. The high ceilings and open floor plans that typically accompany barndominums provide lots of stylish opportunities for incorporating a barndominium fireplace. We are sharing 30+ amazing barndominium fireplaces that are sure to inspire you.
The Best Barndominium Fireplaces
Stylish LED Rosebud Barndominium Fireplace
Just because you want the charm and warmth of a fireplace doesn't mean you need to take a risk with a gas or wood fireplace. An electric fireplace like this is perfect to gather around on a chilly day but has easier installation, costs less to run, requires little maintenance, and doesn't come with safety risks.
This lovely fireplace takes full advantage of the very high 14-foot ceilings of this barndominium with a charming stone mantel that stretches all the way to the roof. The fireplace is wide and narrow, giving you plenty of room to cozy up and enjoy it while still leaving room on the mantel for a shelf and large flat-screen TV.
The LED display can give the illusion of fire, or you can turn it off when you'd rather enjoy the warmth.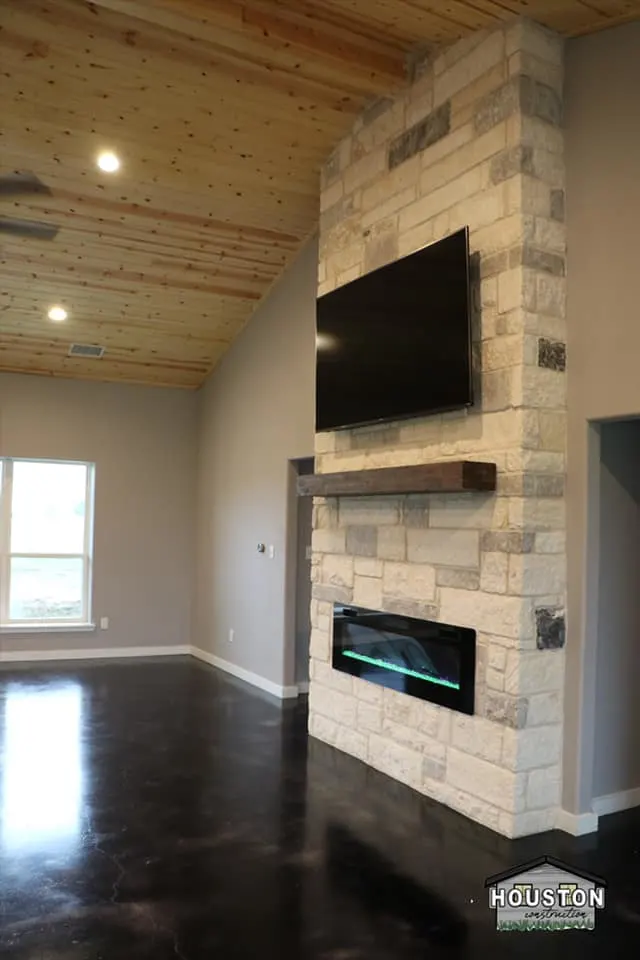 What could be more inviting when you get out of a pool on a chilly day than a warm, cozy fireplace? This outdoor fireplace is the perfect place to gather around when enjoying some time on the porch. It is built into a classic brick mantel that also has room for a big-screen TV safely sheltered under the porch roof.
This barndominium builder wasn't happy with just one fireplace, however. There is also a fireplace in the living area with a classic red brick mantel and a big screen TV. The mantel takes full advantage of the high ceiling, reaching all the way to the top. The brick paired with the exposed wood beams is a very classic effect.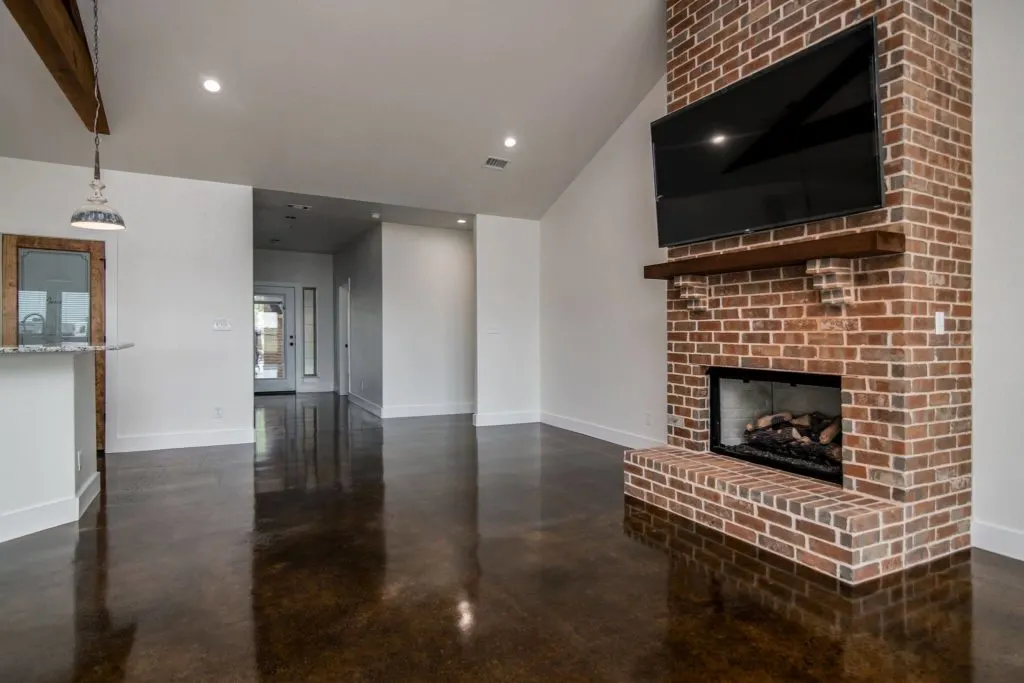 Modern Loft Barndominium Fireplace
When we think of fireplaces, particularly fireplaces within a barndominium, we tend to imagine a rustic feel. However, this stylish, modern barndominium offers a very different effect. The fireplace is safely housed behind a glass door that allows you to enjoy the look of the fireplace without any risk for children or pets approaching a low-exposed fire.
The mantel does not reach the ceiling but rather provides an attractive focal point for the living room. Narrow stone pieces in the mantel provide a sweet effect with a nod to the natural. Over the fireplace is a shelf with family pictures and knick-knacks and a big screen TV. The entire effect is to emphasize the open living area and the beautiful spiral staircase leading to the loft.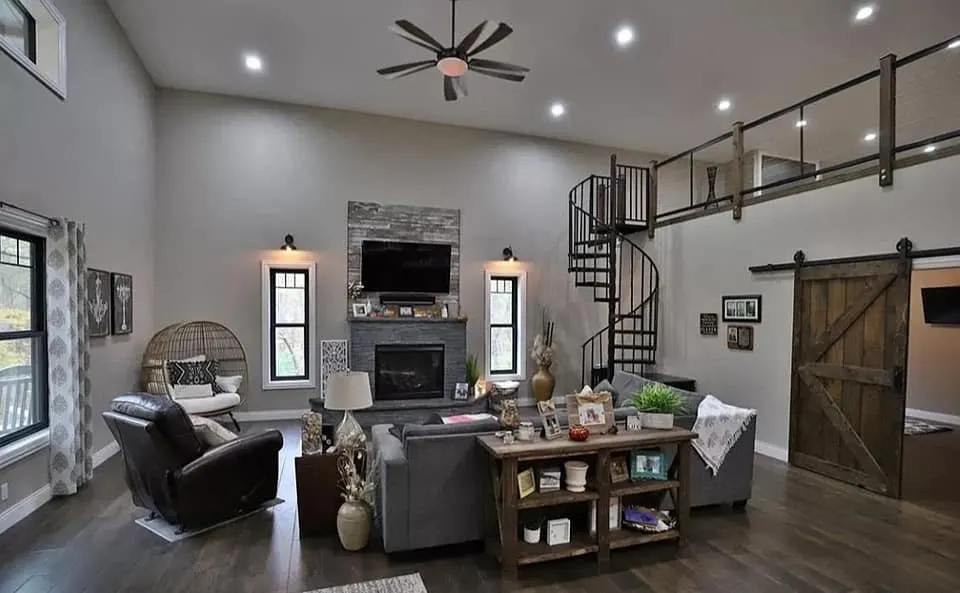 Simple, Clean West Texas Barndominium Fireplace
The fireplace can be the centerpiece of your barndominium without drawing too much attention to itself. This charming, clean barndominium features a simple fireplace set into a white stone mantel that matches the white walls, ceiling, and staircase.
It stands out without drawing attention to itself. A little ledge in front of the fireplace is topped with wood like the wood floors around it, helping it to blend even further. Over the fireplace is a simple shelf for knick-knacks, but the mantel could easily accommodate a big-screen TV if that was your preference. This barndominium fireplace is a stunning example of how a fireplace can fit into your home and improve the look without being an elaborate centerpiece.
Two Story Land Doctors Oklahoma Barndominium Fireplace
Many barndominiums take advantage of the high ceilings by including a second story. If you would like your fireplace to be functional in heating both stories, this fireplace which provides heat to both the ground floor and second story is a great inspiration.
This large fireplace fits into the corner so that it can serve as a centerpiece for the room without taking up excessive space. This homeowner chose to decorate the simple slat mantel with a Kudu head, but you could easily mount a TV there or use it for other decorations.
This fireplace is designed to not only look great but provide functional warmth throughout the home. The black mantel is a bold choice that works perfectly with black accents in the chairs around the bar and on the staircase. Since the rest of the house is painted white and it has light-colored floors, the black mantel does not seem too strong.
More Barndominium Fireplace Pictures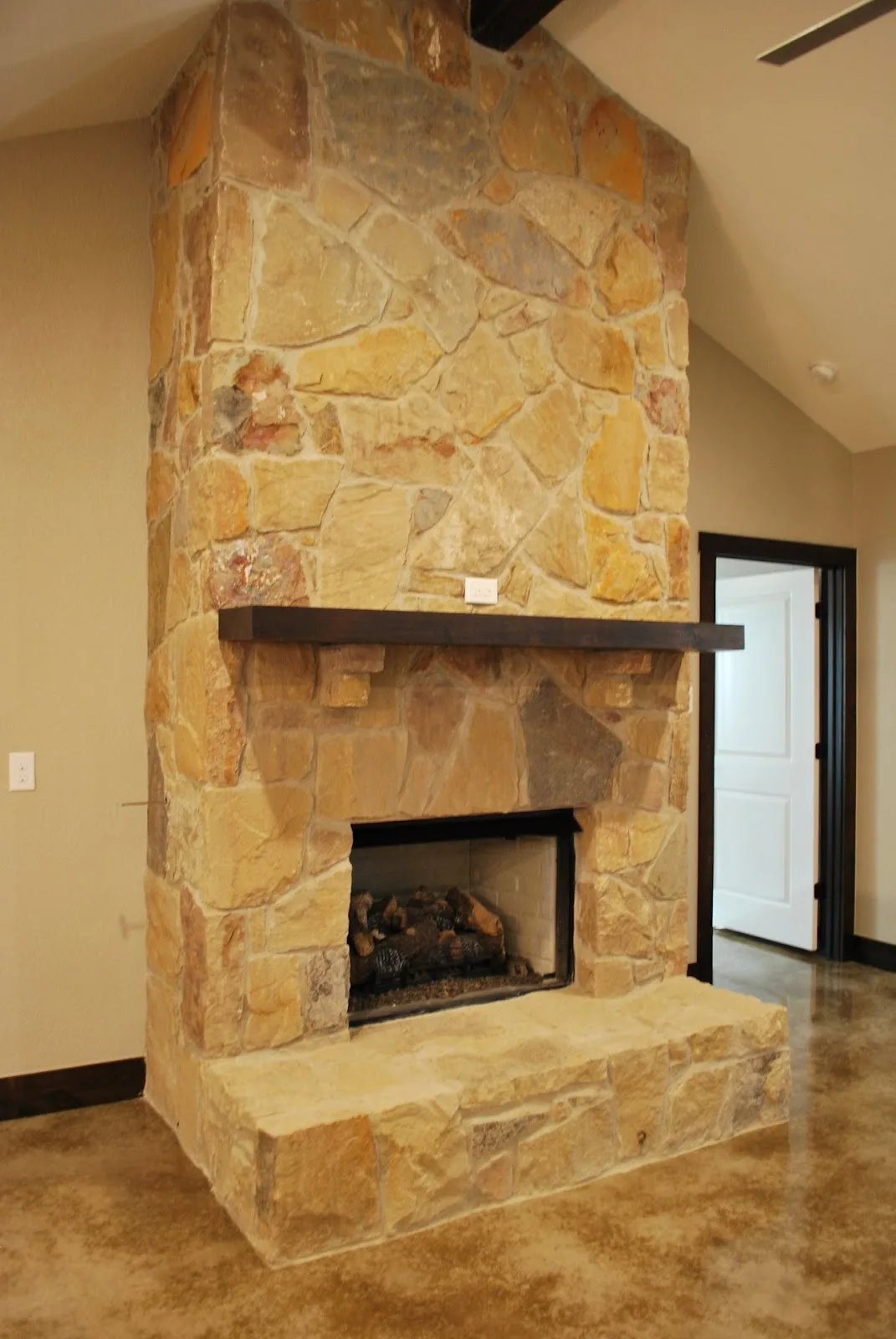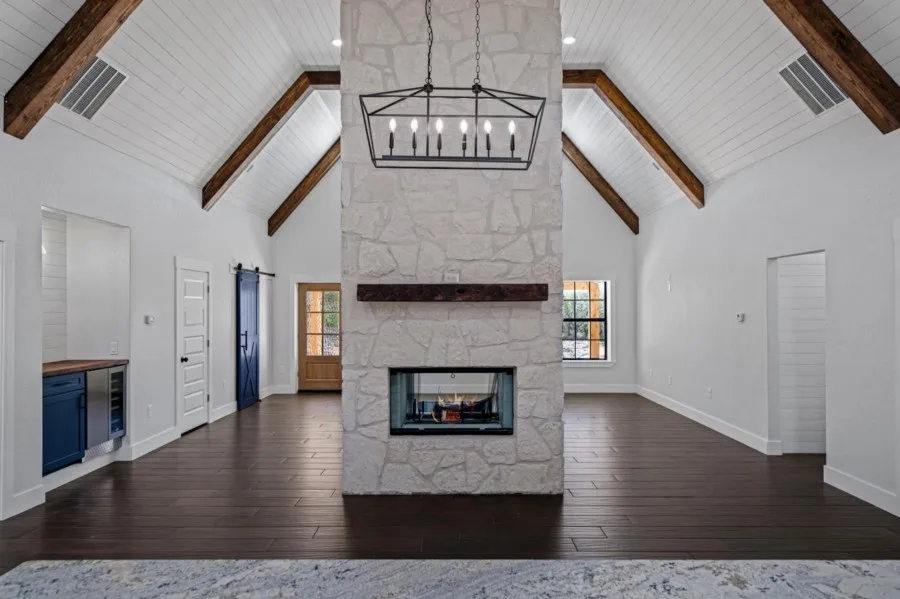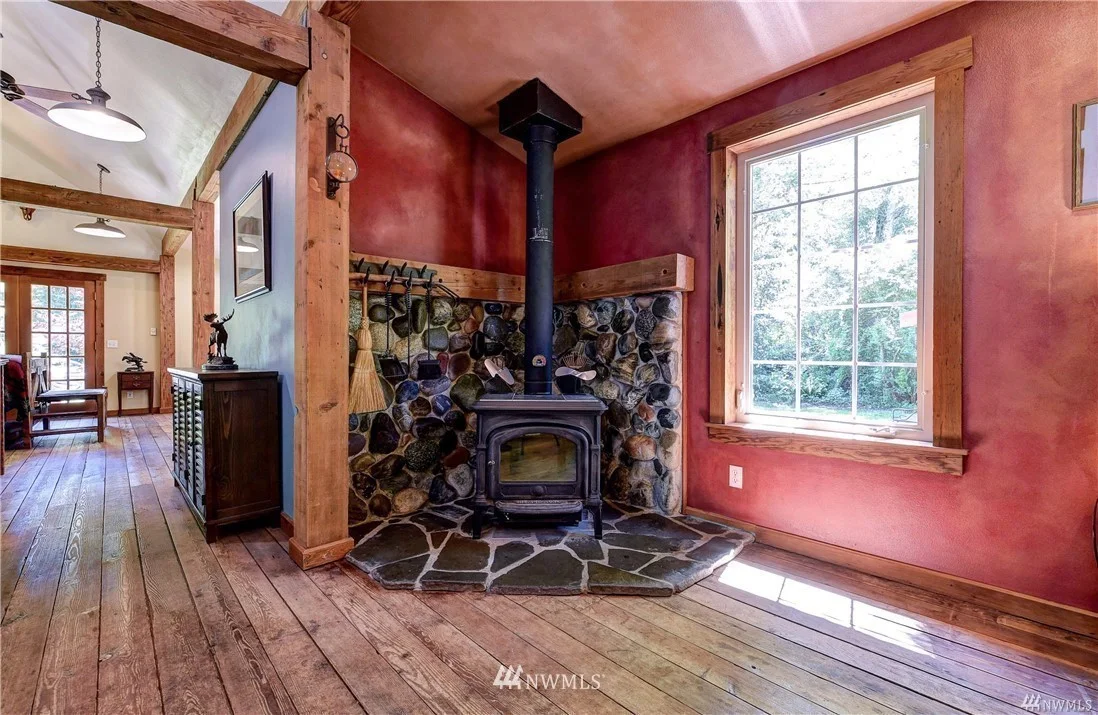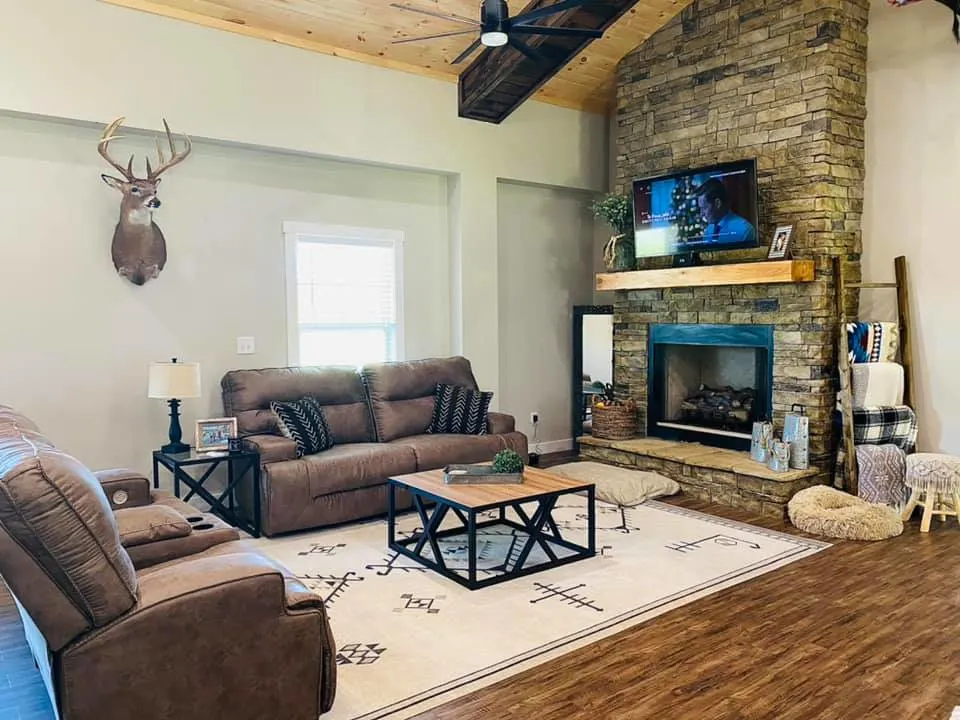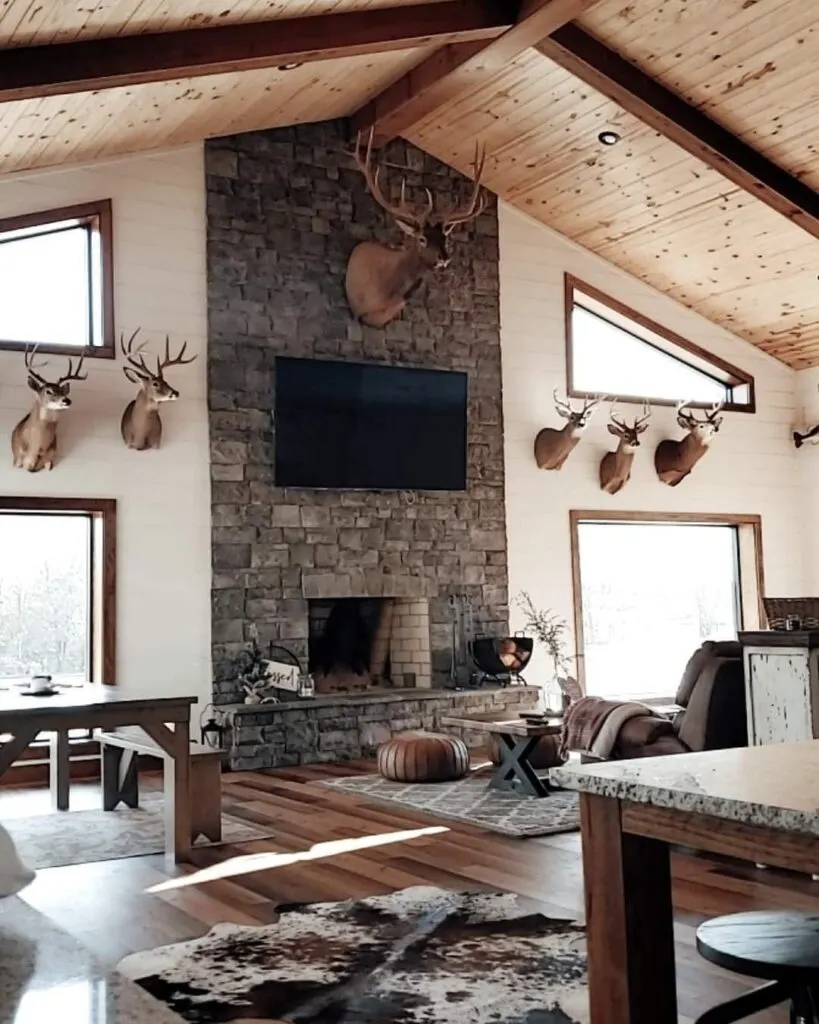 Build the Perfect Fireplace for Your Barndominium
A fireplace can be the perfect touch for your barndominium. If these five amazing barndominium fireplaces have inspired you, learn how to build the perfect barndo for your perfect barndo fireplace.
If you would like more guides like this one, check out the rest of BarndominiumLife.com. There, you will find more helpful tips and tricks from the pros. You will also find featured barndominiums, barndominium floor plans, and information on financing and insurance. Knowing as much as you can will help you get the best results for your dream home.
Like this Post? Sign up for our email list!
Be the first to see new posts about the best barndominiums, construction guides, floor plans, and more! Enter your information below to become a BarndominiumLife VIP.