Here's another piece of heaven in a home. This is the Rhome Texas Barndominium and we're excited to show you around it. It's one of the rare black and white exterior homes but the mostly-all-white interior has scattered pops of red and blue abound. From the exterior, black and white is very catchy, even from afar. It appears even more appealing with its pretty red door that's quite cute, too.
The entire house measures 62' x 45' big with 4 bedrooms, a playroom, and 3.5 baths. The wrap-around porch and a carport make the home even bigger. An even bigger plus is the outdoor fireplace and family pool.
Exterior
The classic black and white combination definitely isn't for everyone. The monochromatic scheme displays simplicity to some, plain and uninteresting for several, but can be a very exciting canvas for some others. Black and white make anything look chic and timeless. While it's charming on its own, a little stray from being monochromatic by adding pops of a color or two can make a big difference.
This barndominium looks simply noticeable with its red door. It actually looks very inviting from a distance, like it's already leading guests toward the entrance. This home in the middle of green space will make you feel relaxed and at ease.
Many barndominiums have a garage attached to their homes but the Rhome Texas Barndominium has a carport. While garages offer more protection from elements, adds more security, and added value to your property here's a more detailed comparison between carports and garages to help you decide which one is best for your home.
Making the property even more inviting and bigger is the wrap around porch. The thought might be overly simple. What's so special about a porch anyway? Well, its function doesn't stop at giving you an area to relax. It can also be another place in the house to socialize and entertain. There's even more to wraparound porches than what meets the eye.
Wrap-around porch, pool & outdoor fireplace
Another feature of this barndo that the family loves is their outdoor fireplace and pool. The porch and patio are great areas at home to gather people around. Having an outdoor fireplace makes these areas available all four seasons.
And what better way to beat the Texas heat than a dip in this pool! It could be one of the best features this home has to offer. The Rhome Texas Barndominium certainly looks a lot of fun to visit or live in, too.
Interior
The Open concept kitchen, dining, and living area
Now, we're all familiar with the open concept that barndominiums have. Certainly, this layout creates a lot more space. White is a great wall canvas and that pop of color from the fireplace looks really nice. Add in some rustic accents from the exposed wooden beams, and the wooden door to match its lovely flooring.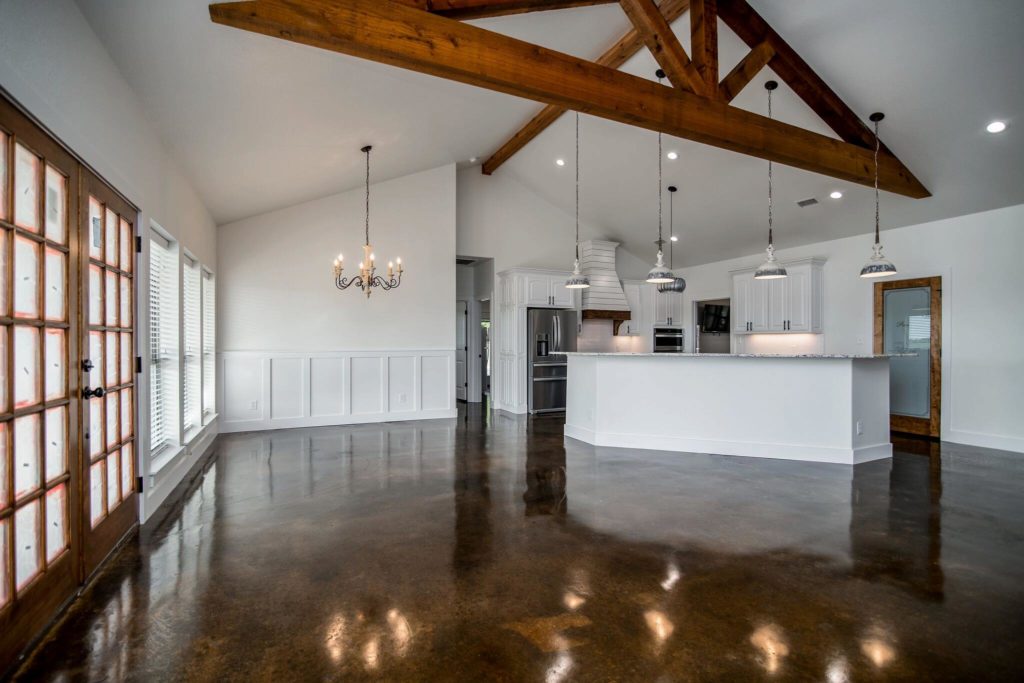 The Kitchen
Would anyone agree that this kitchen looks so perfectly neat? White makes it look so pristine while the pop of blue from the center island and lighting fixtures make this whole setup appear less dainty.
The Playroom
Putting the playroom near the kitchen is definitely a great idea. Moms spend a lot of time in the kitchen with the cooking and cleaning, and it's near the laundry area, too. Multi-tasking around the kitchen while looking after the little ones should be more convenient.
The Bedrooms
True, 4 bedrooms is a lot. Either the Rhome Texas Barndominium is owned by a big family, or they just love having people over for short stays. In either case, the rooms look very spacious and bright with its white walls and ceiling.
The Closets
Bathrooms
It's almost our own version of heaven to be living in this beautiful home. The perfectly laid-out features make it feel so warm and inviting, and it's an inviting space for both guests and full-timers.
Get more barndominium ideas from Build Your Dream Barndominium ebook by Don Howe.