A wraparound porch is a great way to get the most out of your barndominium's chosen landscape. Having a lot of room outside can save you some room inside and give you some extra space when you have company over. It also adds some beautiful extra decor to your barndo's exterior and provides a very attractive accent piece to the entire facade.
Unlike standard porches that only give you so much extra space, a wraparound porch is a classic look that can add a lot of square footage.
Being able to create a home that is completely your own is one of the major benefits of building a barndominium and a wraparound porch is a great way to personalize your home.
We have put together some floor plans below that feature wraparound porches, as well as some excellent extra elements. These should get you thinking about how you can utilize this wonderful addition for your own home.
Barndominium Floor Plans with Wraparound Porch Plans
Here are 8 floor plans designed with wraparound porches in all different configurations. No matter what kind of layout you are looking for, a wraparound porch will only enhance it and give you that extra space you need. This is one of the nice things about this addition. It won't get in the way of your other plans.
Barndominium Floor Plans with Wraparound Porch – Classic Designs
If you are looking for a classic, multi-bedroom option for your barndominium with a wraparound porch, these could be some great choices. The interior layouts are interesting and unique and give you a lot of room to work with on top of the extra space afforded you with the wraparound porch.
This 3 bedroom, 3 bathroom floor plan features some interesting design choices that really utilize the amount of space given. With an entire wing dedicated to bedrooms that are both 16×20 and far away from the living area, these are great choices for people who want a little bit of extra privacy.
The two larger bedrooms are separated by walk-in closets, bathrooms, and a hallway so you don't have to worry about noise transferring over. Plus, the smaller extra bedroom is a great feature right off the kitchen and living room, which is perfect for guests.
This plan also featured a walk-in pantry and closet as well as a utility room right off the kitchen, which is convenient for all sorts of reasons.
This barndo floor plan features a 4-sided wraparound porch that makes up a large portion of the home's square footage. On top of that wraparound porch, it also features 3 bedrooms, 1 ½ bathrooms, and a huge amount of utility and closet space. If you are interested in having a lot of places to put your belongings that are out of the way and hidden from plain view, this could be a good option for you.
This floor plan also features one access stairway onto the wraparound porch which provides a great opportunity for creating a more grand entrance to your barndominium that can be a real accent piece.
It also has a large 20'x34' living space that greets you after coming through this entryway, so you can create an incredibly elegant and ornate entrance for yourself and your guests.
Barndominium Floor Plans with Wraparound Porch – with Master Bedroom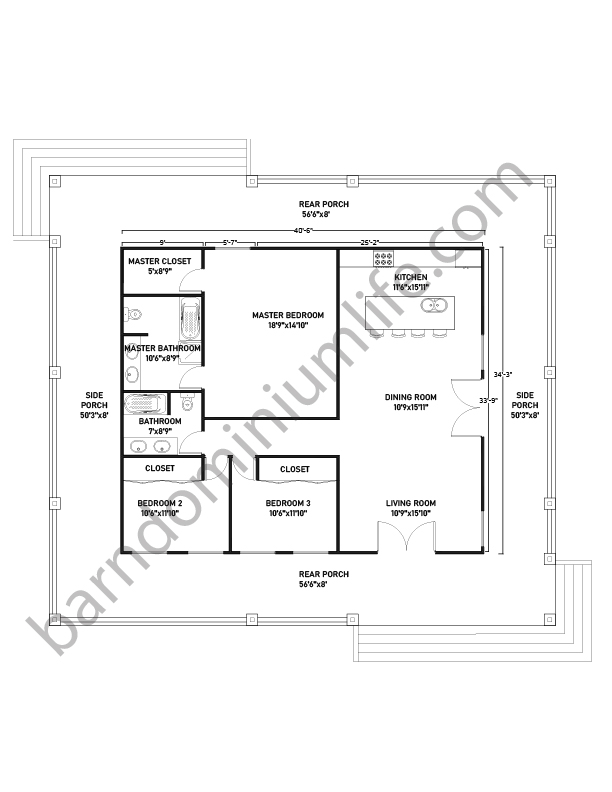 If you are interested in creating a master suite with your barndominium, this floor plan features an interesting wraparound porch plan plus a large master bedroom and bathroom. With 2 access staircases on either side, this is a floor plan that is very much meant to be used for gatherings and enjoying the yard.
By keeping the wraparound porch accessible on 2 different sides, you can be sure that everyone can enjoy the porch and the yard without feeling closed off.
This plan also accounts for a separate dining room, kitchen, and living room which is incredibly helpful for entertaining and keeping these spaces separate. The two front entrances also make for an open, accessible feel.
This floor plan with a 4-sided wraparound porch is a fantastic example of this classic addition. It features access points on each side of the porch so you can get to the house no matter which direction you're coming from. However, it only features one front entrance so you can still have that funneling effect which is incredibly important if you want to separate the areas of your home.
This floor plan also features a separate living room, dining room, and kitchen area for a nice, open flow that doesn't get interrupted with any unnecessary walls or structures.
It also manages to have 3 regular bedrooms and 1 master suite. However, don't worry about not having enough bathrooms. There are 2 others besides the master bathroom which is more than enough for guests and residents alike.
This 3 bedroom, 2 bathroom floorplan features another complete wraparound porch with 4 different access points. Just like the one previous, this is an open concept floor plan that is even more open and spacious.
By removing the 4th bedroom and 3rd bathroom, this floor plan has so much large, open space and can accommodate big parties and larger amounts of guests.
It has a nice, natural flow that is great for saving space and having rooms that are larger without sacrificing any space in the actual square footage.
This floor plan features 2 access points to the wraparound porch as well as an incredibly large master suite. The walk-in closet in the master bedroom is one of its defining features and is perfect for a couple who wants to share a space and keep all of their belongings stored away.
The open concept of the living areas makes this floor plan a wonderful option if you plan on doing a lot of entertaining or if you have a family.
On top of all that, the complete wraparound porch adds so much room and living space so you don't have to feel crowded when you have a lot of people inside the actual barndo.
Barndominium Floor Plans with Wraparound Porch – with Shop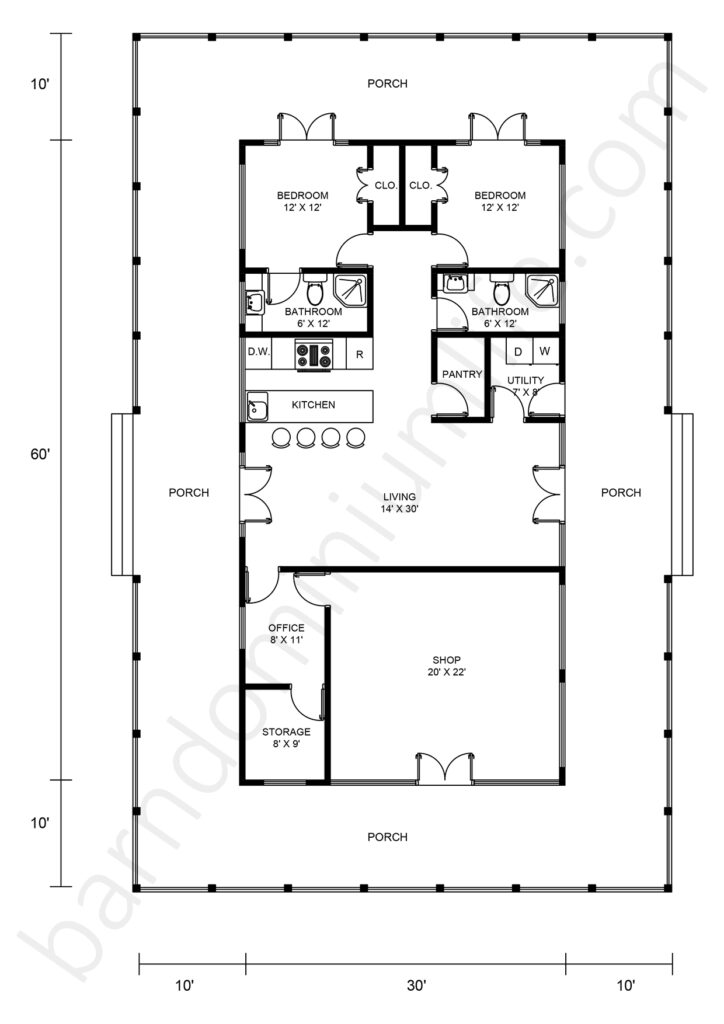 For people who want a little bit of extra workspace with their barndominium, this is a great floor plan. It not only features a complete wraparound porch with 2 access points, it also has a 20'x22' shop for all kinds of projects and storage.
The barndominium itself has one large living area as well as a home office and large storage space right off the shop. This is great for any kind of home business or production.
The wraparound porch on this floor plan is also incredibly wide with two different doors leading out. This makes it a great place to have all kinds of gatherings and get together.
This floor plan features a half wraparound porch with one larger side and one that is more narrow. This way, you get to utilize more of the square footage on the inside of the home.
It also has a garage as well as a workshop/utility room that can be multifunctional. The 3 bedrooms are located on the north side of the home and feature-complete separation from the rest of the home for maximum privacy.
This barndo floor plan also features a beautifully conceptualized home office with its own entrance from the wraparound porch that is perfect for getting some natural light or taking a break.
Design Your Own Barndominium Floor Plans with Wraparound Porch
If you're interested in designing your own barndominium with a wraparound porch, be sure to check out our custom design software. It's easy to use and only requires you to enter the specs you want in order to get a digital view of your own custom barndominium.
Conclusion
If you want to know more about building your own barndominium, be sure to check out the rest of Barndominium Life. Also, be sure to visit our Pinterest page for more tips, tricks, and design ideas. For the best resource on everything barndominium, be sure to get the Barndominium Life Program!