Today's featured Arkansas barndominium comes to us from just outside of Jonesboro in a small town called Imboden. This very recently finished barndo is a classic with a few surprising, creative features throughout. On the exterior, the home offers metal finishes with white siding and a black roof. The black continues in the window framing and front door. These colors really help the wood accents to pop on the front of this home. With 600 feet of porches, this Arkansas barnodominum has plenty of space for porch swingin' and chair rockin'. All in all, we are thrilled to show this one off.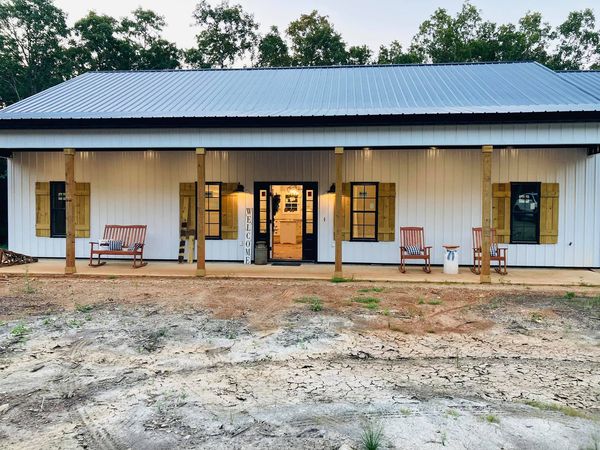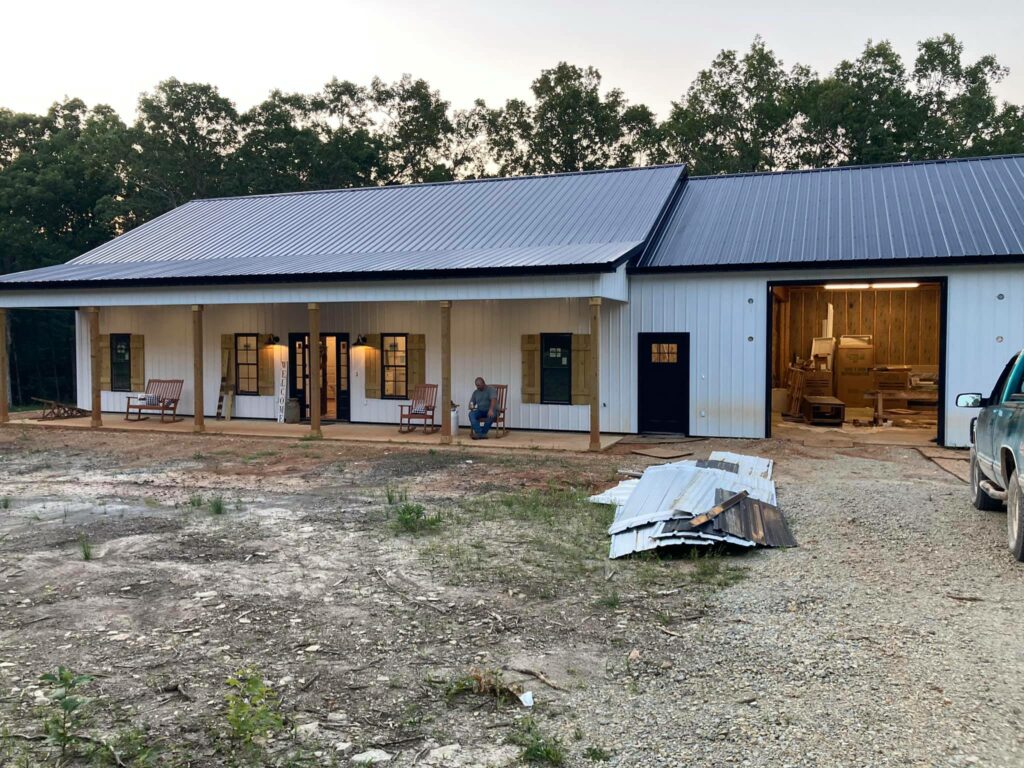 Get a FREE 18 Month Barndominium Planner
There are 39+ steps that must be taken before groundbreaking. Learn them all in this FREE checklist, available for immediate download.
Arkansas Barndominium: The Build
No two barndominiums are completely alike. In this build, the owners used wood framing and then chose to wrap the house in metal siding and roofing materials. The width of the building is 33′ and the length is 91′. Barndominiums are traditionally rectangular due to this being an inexpensive shape for construction. This home does have unique elements in the vaulted ceilings and ample covered porch space!
Arkansas Barndominium: Kitchen
On the interior, the kitchen displays a combination of grays, whites, and blacks which offer great contrast, especially paired with the dark wood flooring. Large lantern pendant lights over the island are a big statement piece for this kitchen. The granite counter tops are also a perfect pattern to tie the palate of this space together.
Open concept in this room means that the vaulted ceiling perfectly divides the kitchen and living rooms, which makes a great, symmetrical aesthetic. The large island is perfect for cooking large meals and entertaining guests.
How to Build Your Own Barndominium & 200+ Floor Plans
Get started today with our program "Barndominiums Made Easy: How to Build Your Own Barndominium" and get 200+ barndominium floor plans included!
Arkansas Barndominium: Living Space
The living space in this Arkansas home is definitely one of the most amazing rooms in the home. Stunning vaulted ceilings are paired with chunky baseboards and window trim. A shiplap accent wall also makes this room unique. Can't you imagine relaxing in this space? We can!
Another amazing element in this house is a pass-through mud room which offers extra counter space and storage for coats and other necessities. Mudroom storage is extremely popular in new construction right now, and for good reason: organizing the clutter! We are also loving the stained wood accent wall off the living area. Special touches like this give a warm feel to the home.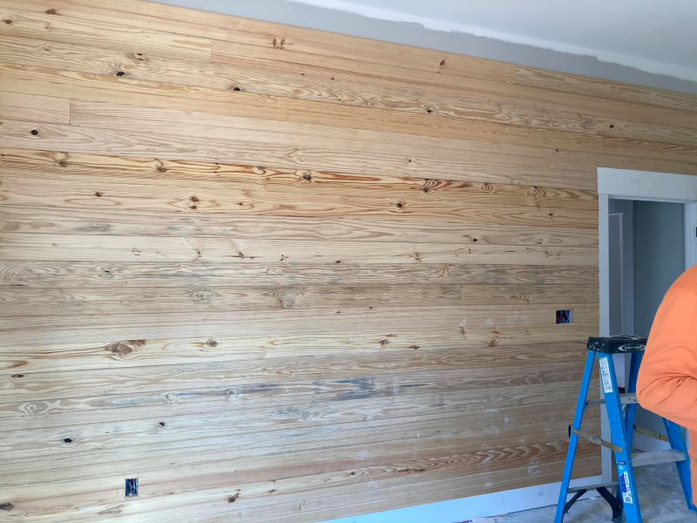 Arkansas Barndominium: Garage
A large garage finishes out this Arkansas Barndominium at 1,320 square feet. Large and oversized garage spaces are paramount to barndominium design, and we love showing off nice garages. One great feature of this garage is the extra tall garage doors for any large machinery or equipment that may need to be stored. The owners have plans to finish the walls in the space but haven't gotten to that task yet in their build.
Arkansas Barndominium: Back Porch
The covered back porch mimics the front porch in shape and size and gives a great space to sit and enjoy the nice wooded view. We love that the underside of the roof is finished with black metal to match the roof.
Are you ready to build your own barndominium? You're not alone! Many have worked their way through our book, and found success building their own dream barndominiums.
Like this Post? Sign up for our email list!
Be the first to see new posts about the best barndominiums, construction guides, floor plans, and more! Enter your information below to become a BarndominiumLife VIP.