When thinking about building a barndominium, there are probably a lot of misconceptions you are also thinking about. One of these is that barndos have to be small and aren't versatile enough for large families. This couldn't be further from the truth, and if you can create the right floor plan, you can accommodate as many people as you want to. To help you get inspired, we have put together this incredible collection of 7 bedroom barndominium floor plans that you can use to create the barndominium of your dreams.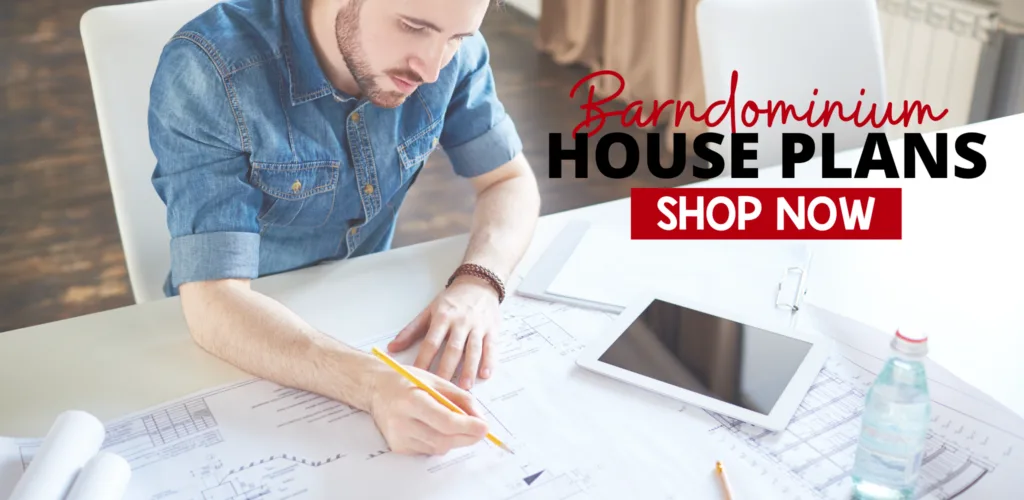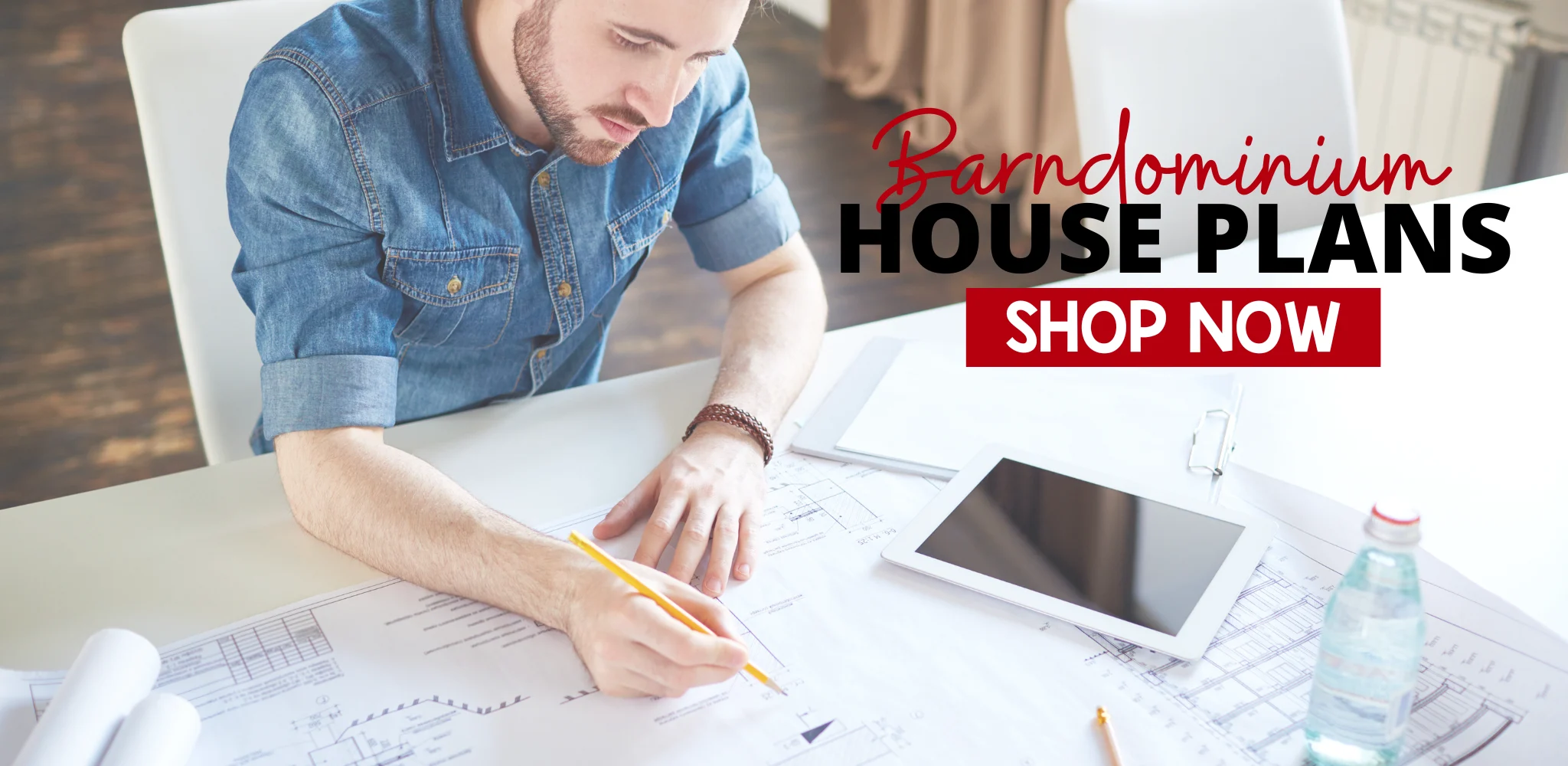 7 Bedroom Barndominium Kits
If you're looking to start building your barndominium, one of the first things to do is to get a quote for the metal shell or barndominium kit. By using the quote service below, you'll get connected with a barndominium kit provider within a few hours at most. Prefabricated barndominium kits mean that the metal shell that makes up your barndo is produced off-site, then it's brought to you for erection and assembly. While some builders will help you order the barndominium kit, we suggest doing it separately to avoid a potential markup on the barndominium kit.
One of the challenges you will probably encounter when designing 7 bedroom barndominium floor plans is how you are going to work in all the rooms. Fortunately, the use of hallways can be incredibly helpful and can help you integrate the bedrooms with the rest of the home. This plan has all the bedrooms in the back, which allows for the rest of the home to be used for common space. The hallways that separate these areas offer great privacy and excellent flow.
One of the things to consider when designing floor plans of this size is that not all the bedrooms have to be the same. This plan includes a massive master bedroom at the front of the home. This is perfect for a couple who might not want to sacrifice space for more rooms. With a little bit of imagination, you can make your floor plan work for your living situation.
How you spread out the bedrooms is essential with a large floor plan. These plans have all the bedrooms around the perimeter of the home. This allows you to make good use of the rest of the space in the middle of the floor plan. By keeping all of the bedrooms around the outside, you can create a beautiful living space that everyone can enjoy.
The common space in the middle of these 7 bedroom barndominium floor plans has an excellent flow. This is important when you have so many people living under one roof. By transitioning from the living area to the dining area to the kitchen, you can eliminate bottlenecks. This is especially effective since there are no walls separating these areas.
You might think that because you have to integrate so many bedrooms, you have to sacrifice other things. However, this couldn't be further from the truth and these 7 bedroom barndominium floor plans prove it. With all the bedrooms in place plus a home office, you can accommodate almost any living situation. You can also use the home office as another bedroom if need be.
One thing you do not want to sacrifice when designing 7 bedroom barndominium floor plans is utility space. These plans include a utility room as well as a mudroom that leads from the outside into the home. Making sure that you have these transitional spaces is crucial. Even with so many bedrooms, it's important to make sure your home is well equipped.
If you are going to have a lot of bedrooms in your home, it's important to consider the usability of the space. This means also making sure you have enough bathrooms. These 7 bedroom barndominium floor plans include three full bathrooms. This ensures that everyone can get ready in the morning and that there is enough space for everyone.
These plans also don't skimp out on common living space. The large, open floor plan of the kitchen and the living area is essential. It is essential to remember that having that many bedrooms means you will have a lot of people. Having some good common space helps everyone stretch out without being on top of one another.
When trying to fit seven bedrooms into a floor plan, you might think it's easiest to have them all be the same size. However, if you are willing to change up the sizes of the bedrooms, you can integrate them very creatively. These plans have the bedrooms throughout the floor plan, which is great for privacy's sake.
There is also a unique hallway system integrated within this floor plan. By separating some of the bedrooms using this hallway off the living room, everyone can have their own space. This ensures that no one feels too exposed in their bedroom. Plus, you still get the benefit of having direct access to the kitchen and the common living areas.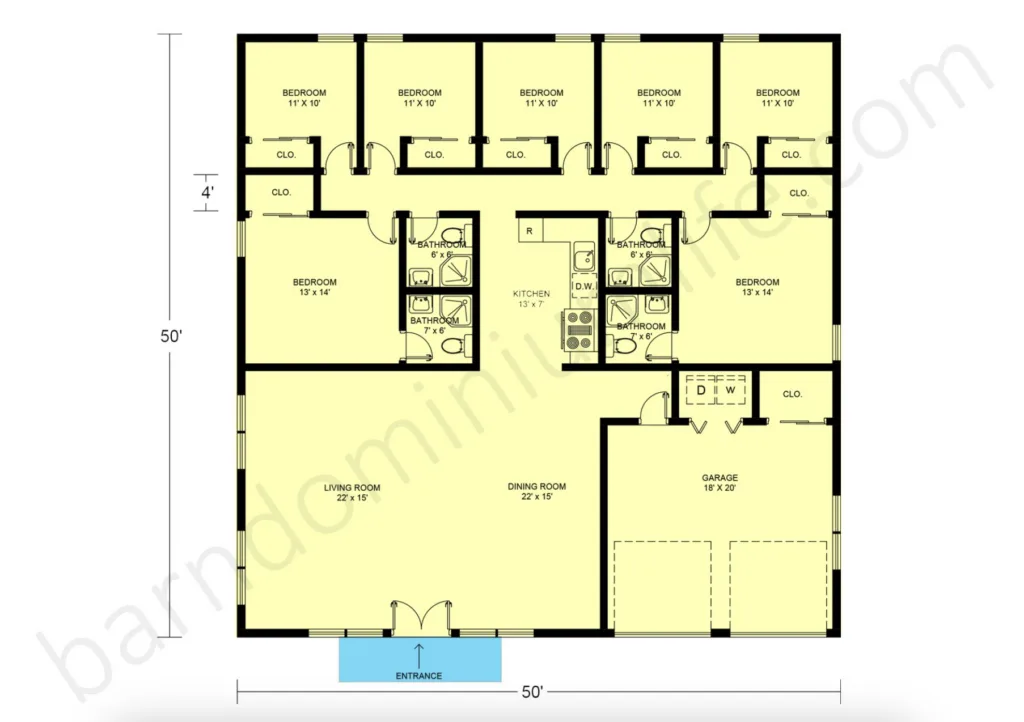 When designing 7 bedroom barndominium floor plans, it is crucial that you make sure you have enough storage space. Believe it or not, you can have this many bedrooms while also including a garage. These plans have a large two-car garage that connects to the home. The transition space also includes a utility room and walk-in closet for even more storage.
This unique design is accomplished by having a symmetrical bedroom setup. With two large bedrooms and five smaller ones in the back, there is plenty of sleeping space for everyone. Even with the garage attached, you can satisfy everyone's needs and give them their own space.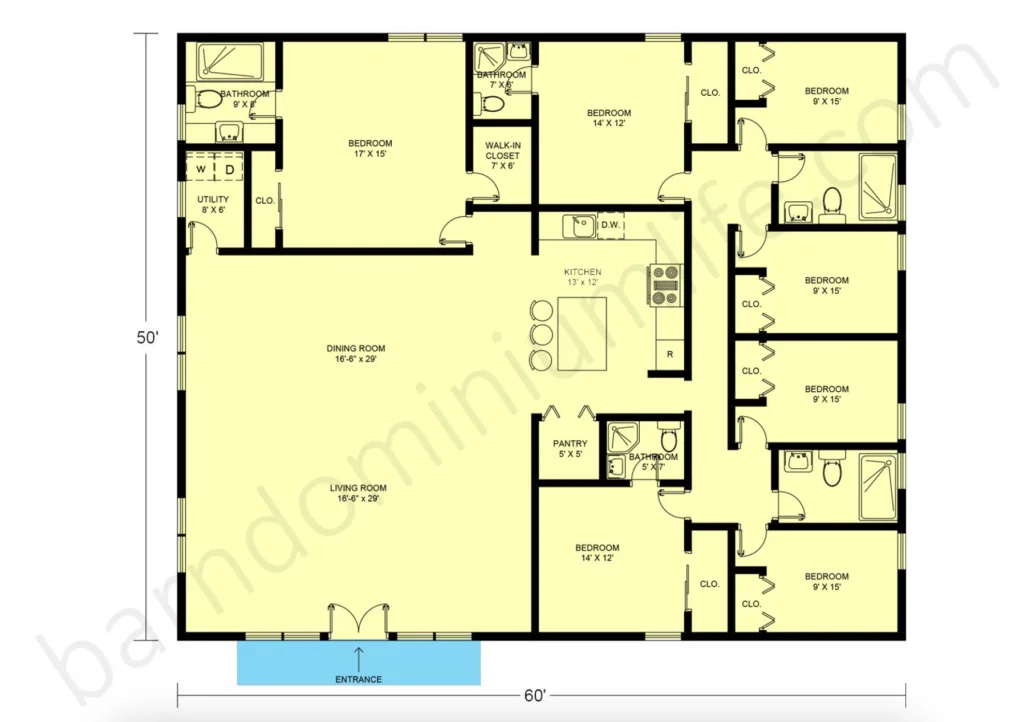 Using hallways is incredibly important when designing 7 bedroom barndominium floor plans. These plans have a fairly complex hallway system that helps facilitate the flow of the home. This can help you avoid crowding and separate all the spaces in a pleasing way.
These plans also have a large living and dining space in the front of the home. This, combined with the open floor plan kitchen, creates a large, open feel that is incredibly important with so many bedrooms. If you are going to have seven or eight people living in a home, you have to have enough living space.
When designing 7 bedroom barndominium floor plans, you have to consider your specific needs. If, for example, you feel like you would rather have larger bedrooms than living space, you can make that happen. This plan includes six 12×10 bedrooms in the back, which makes the common space smaller.
If you are going to make size decisions about your bedrooms, you have to know your family's needs. If you are the type of people who need more private space, it could be worth sacrificing the common area. Only you can know what your specific needs are and how they can be met with the design.
Conclusion
Designing 7 bedroom barndominium floor plans can be a challenge. However, with a little bit of creativity, you can create something that is truly original and suits all your particular wants and needs. By knowing what is possible, you can design your perfect dream home, no matter how big your family is.
If you would like more guides like this one, check out the rest of BarndominiumLife.com. There, you will find more helpful tips and tricks from the pros. You will also find featured barndominiums, barndominium floor plans, and information on financing and insurance. Knowing as much as you can will help you get the best results for your dream home.
Michael O'Connor is a seasoned barndominium writer passionate about creating unique and innovative barndominiums. With over 15 years of experience in the construction industry, Michael has established himself as a leading expert in barndominium design and construction.
His work has been featured in several respected publications, including Barndominium Life, where he frequently contributes articles on best practices and emerging trends in the field. Michael's ability to blend traditional techniques with cutting-edge technology and design concepts has earned him a reputation as one of the most knowledgeable writers in the industry.