When building your barndominium, the barndominium ceiling is one of the most overlooked design aspects of the planning stage. Not only is it super practical, but the barndominium ceiling can add a lot of character to the home. There are endless possibilities when it comes to the ceiling. In this article, we share barndominium ceiling inspiration and ideas that will help you give your barndominium the character that you are looking for!
Barndominiums are notorious for vaulted, covered ceilings. Unlike other housing styles, which largely choose the same material coverings and standard light fixtures for their ceilings, the barndominium community is all about mixing fresh design options into ceiling coverings. Other complications in barndominiums may lead owners to consider options like exposed ductwork. Either way, this article aims to highlight the most common barndominium ceiling choices and the pros and cons of each.
Vaulted Barndominium Ceiling
Since many barndominiums have very tall sidewalls and flexible roof pitches, vaulted and raised ceilings are very common. It is rare that one would find a barndominium with 8 foot ceiling heights and no vault. These raised ceilings give dimension and a high-end style to a home and barndominium owners love to capitalize on the space that they have. However, there are some cons to having vaulted ceilings, and if your barndo has a high ceiling, you can always fix it for a shorter ceiling at that stage in the build if that is something that interests you.
Pros
+Wide open space
+Creates a wow factor in entryways and great rooms
Cons
+Can be difficult to clean and paint, especially very high vaults
+Need a ladder to change air filters, light bulbs
+Can create echos
Pictured above is an excellent example of a barndominium that lands in the middle of this debate. While the ceilings aren't vaulted, they are raised to ten feet, which gives many of the benefits of a vault without some of the downsides. We are loving how the owner chose to raise the cabinets in the kitchen to match the raised ceiling height. This creates a high end look in this barndominium kitchen.
Classic Drywall Barndominium Ceiling
Although many barndominium ceilings come to a vaulted peak and use other materials, regular drywall materials are regularly used in barndominiums. Drywall is versatile and can accommodate any shape of ceiling, whether flat, peaked, or fancy tray ceilings. Many who want their ceilings to be white will opt for drywall in order to have a plethora of paint color and texture options. Notice in the second picture here, the owner chose a flat black paint to contrast with the white walls.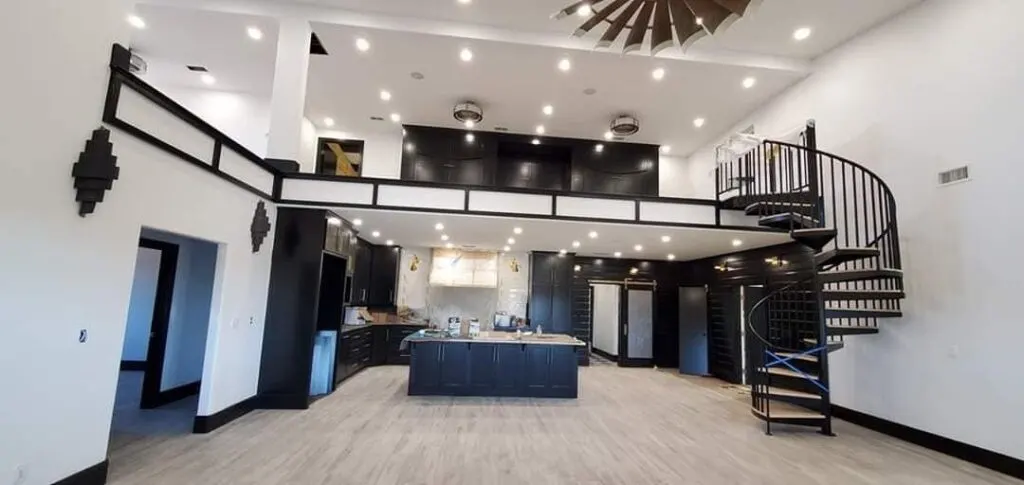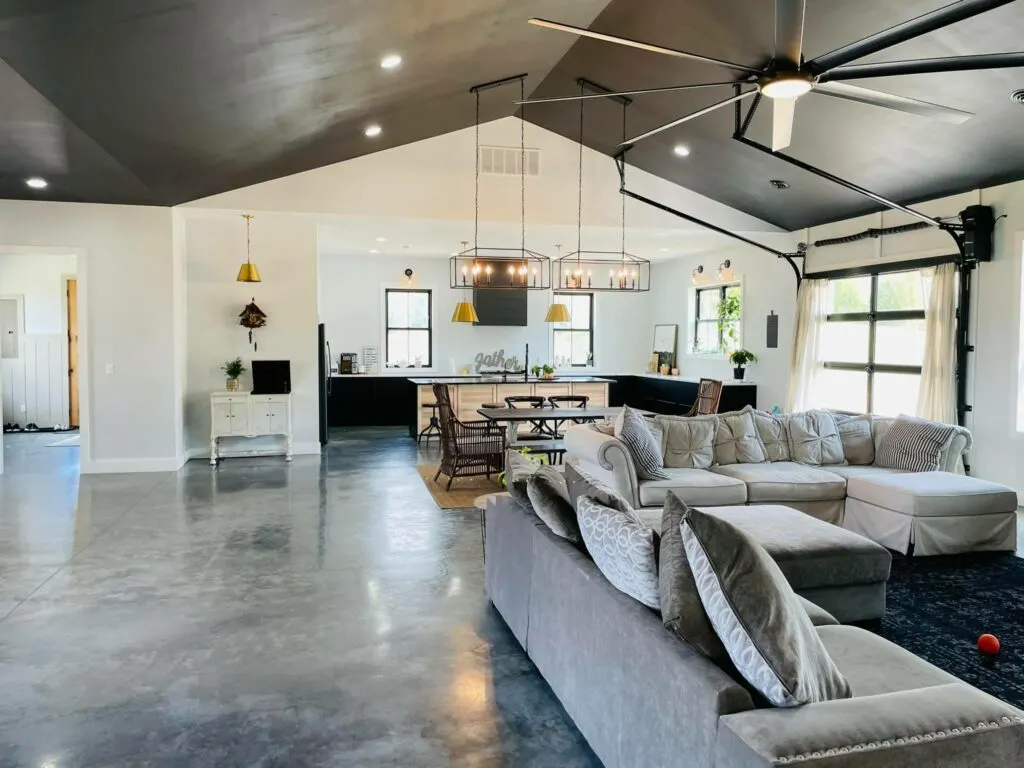 Wood Planked Barndominium Ceiling
Wood covered ceilings are also a fan favorite in barndominiums because of the rustic feel it brings to a room. Darker stains can pull a farmhouse or country feel, while natural stains can also complement a modern style nicely (notice the second picture). Some owners even choose to bring the wood down to cover the walls or an accent wall in the living space as well. Wood can be a less expensive option if the owner is willing to tackle the project DIY. Even though the wood materials would likely be more expensive than drywall and drywall finishing materials, hanging and finishing drywall is very expensive due to the skill level needed to complete the project. Hanging wood is far more simple, and therefore, could save money if the owner is willing to contribute the sweat equity.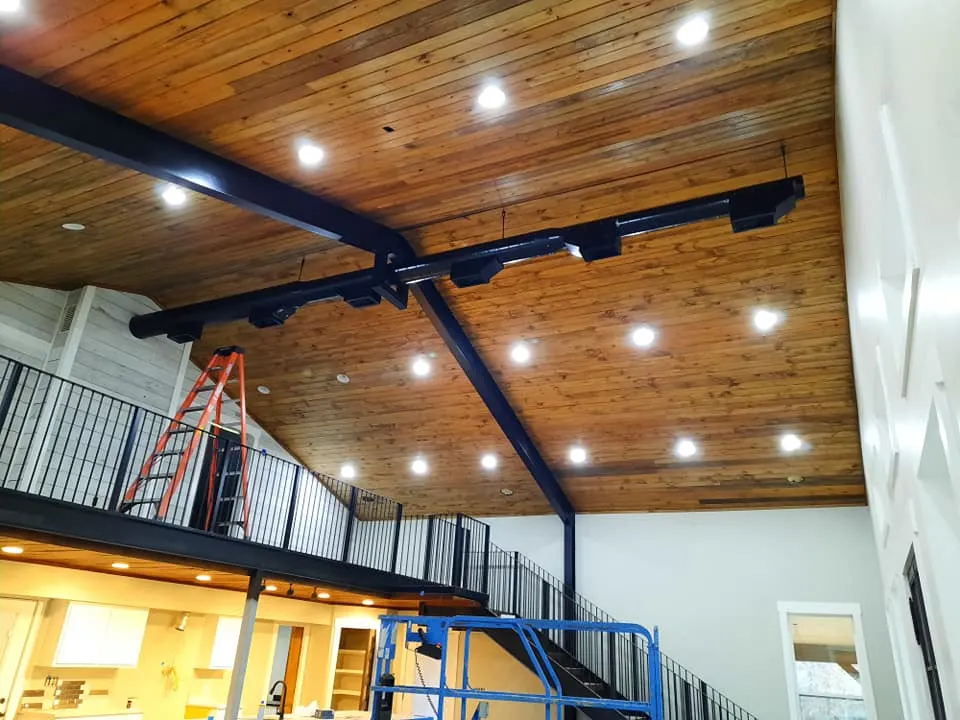 Metal Barndominium Ceiling
Metal coverings for ceilings in barndominiums are less common but can be a great feature in an industrial or farmhouse-style home. Metal is probably the least versatile of the options listed as it can be difficult to modify for lighting and the owner may be limited on paint colors. Some metal can be painted, and some cannot. I just love how the colors and wood beams in the first and second picture below accent the white/grey tones and other decor in the home. In the third picture, the owner chose a galvalume colored metal which pairs perfectly with the pine siding on the walls.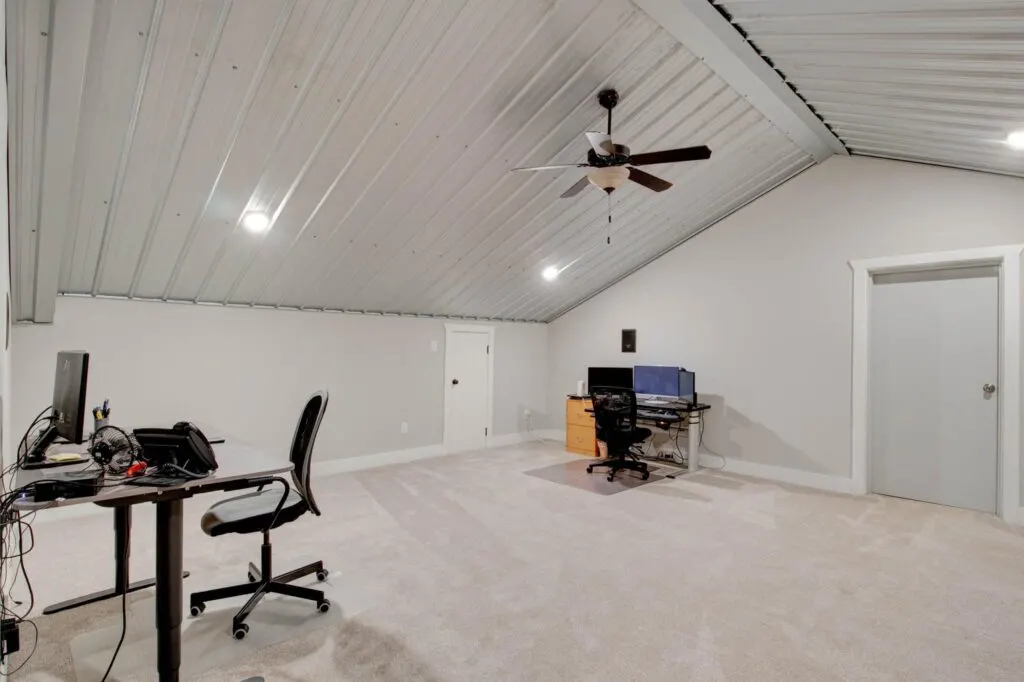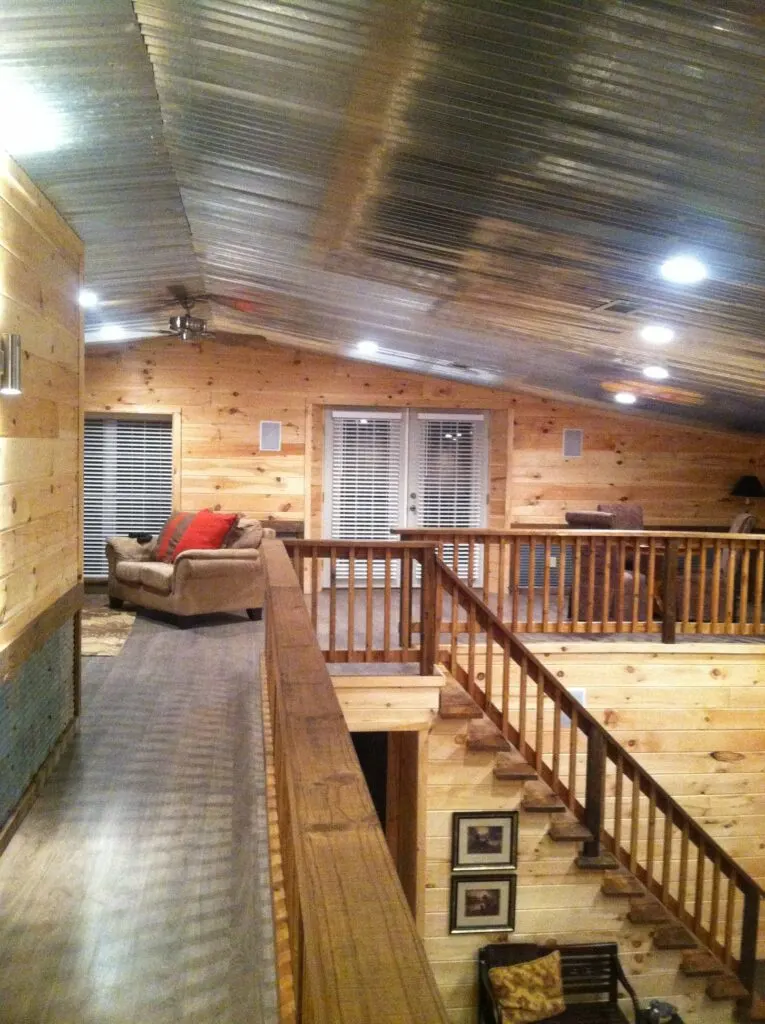 Exposed Trusses and HVAC Barndominium Ceiling
Unlike some of the other barndominium ceiling trends in this article, this one is really exclusive to barndominiums. Likely, exposed HVAC ductwork became more popular in barndominiums due to the lack of overhead attic space, and the lack of crawlspace below due to most of these homes being built on a slab foundation. Because of this, many owners have chosen to keep the ductwork exposed and fancy it up a bit, and we are here for it. The metal accents of the ductwork and the exposed metal trusses bring an industrial feel to the ceiling. We especially love how this owner below chose a stained wood plank on the ceiling behind the metal to keep the room feeling warm and inviting.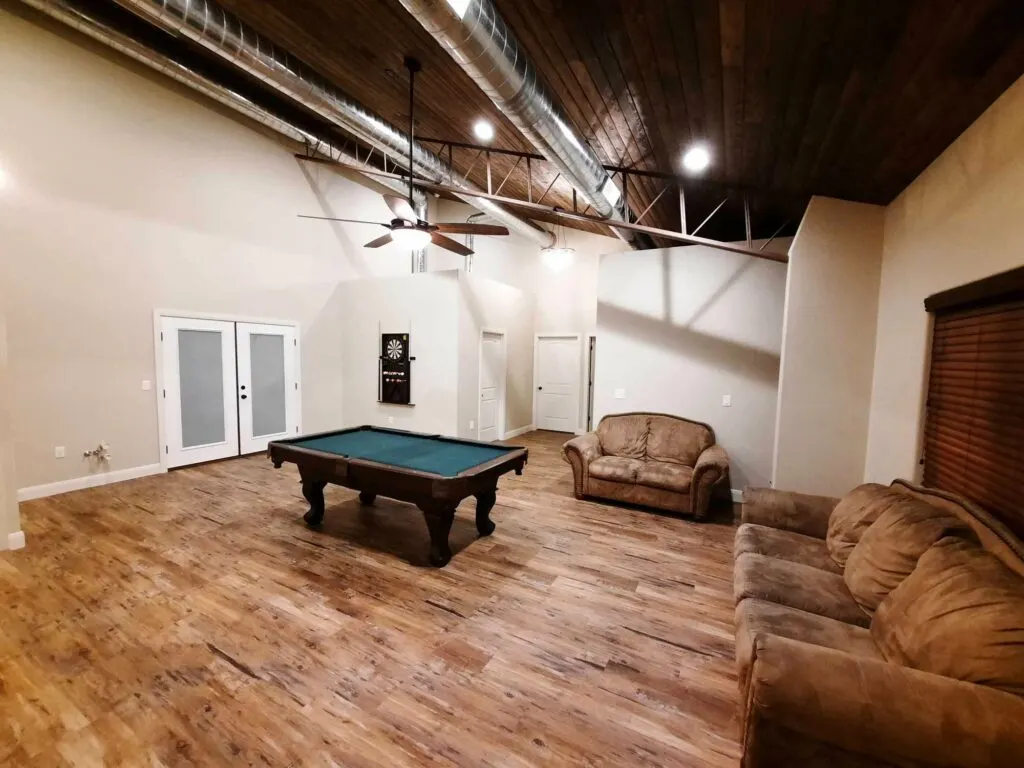 Wood Beam Barndominium Ceiling
Stained wood beams are very common in barndominium and traditional ceilings currently. Whether it is one large beam separating the kitchen and living room or several beams running the length of the great room, with the growing popularity of open concept spaces, wood beams on the ceiling have become ever more popular. Any wood accent in a home can bring in a warm feel and accent any rustic or country decor. If you are looking to save cost, you can consider using faux wood beams. These faux options are light weight for easy installation, less expensive, and can look very close to the real thing.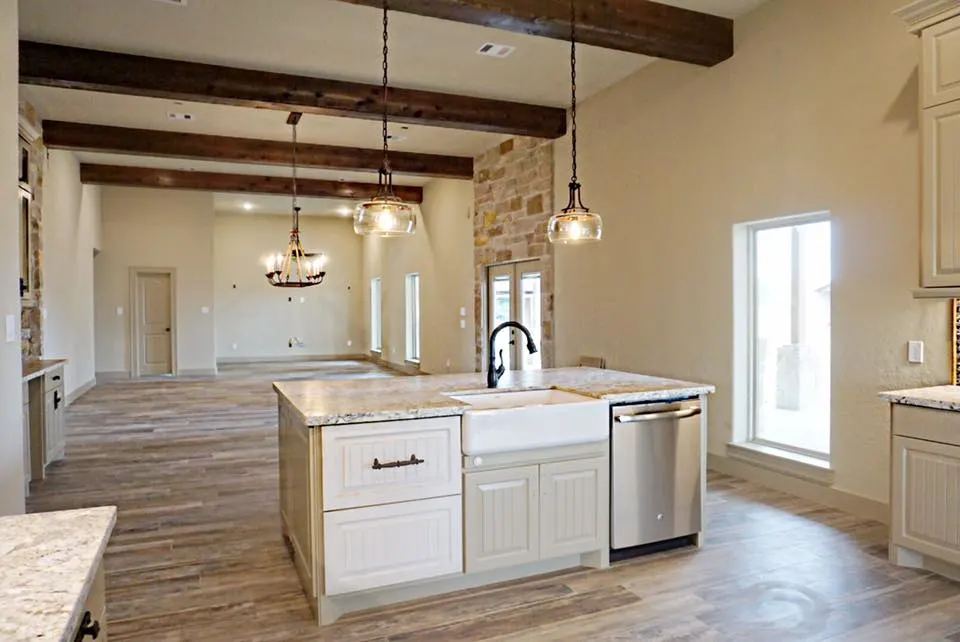 Covered Porches/Patios
Although these ceilings are on the exterior of the home, they are important to mention considering the majority of barndominiums have large porches and/or patios. Many owners cover the ceilings of their outdoor spaces with many of the similar coverings that we have previously mentioned. However, a much higher percentage of barndominium owners who choose traditional drywall for their ceiling coverings inside will choose something a little more creative outside for a wow factor. So, if you are considering keeping it simple on the inside, you may want to spice it up on the outside with one of these great barndominium ceiling options.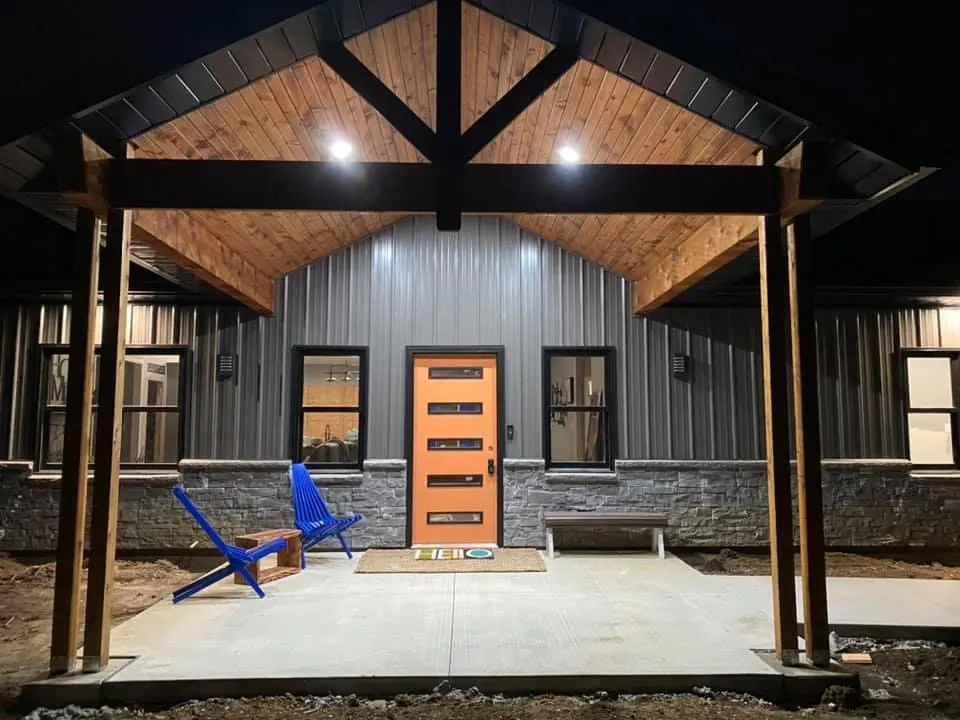 Whether metal, wood, or drywall; vaulted or flat, barndominium ceilings can be as plain or intricate as you want them to be, and there is plenty of inspiration out there to find the perfect fit for your home. Many of the barndominium ceiling coverings listed above draw attention to the ceiling which is great in most design aesthetics, but not necessary in others. Here at barndominiumlife.com, we celebrate all of the unique styles and designs of barndominiums around the world. We look forward to seeing which ceiling design you choose for your barndominium.
Get started with your own project today with our eBook "Build Your Dream Barndomium" by clicking here.
If you would like more guides like this one, check out the rest of BarndominiumLife.com. There, you will find more helpful tips and tricks from the pros. You will also find featured barndominiums, barndominium floor plans, and information on financing and insurance. Knowing as much as you can will help you get the best results for your dream home.
Like this Post? Sign up for our email list!
Be the first to see new posts about the best barndominiums, construction guides, floor plans, and more! Enter your information below to become a BarndominiumLife VIP.