Set in a picturesque North Carolina farm, our featured Charlotte NC Barndominium is a testimonial to the potential of combining durability and energy efficiency with glamor and comfort.
Farm owners in the planning stage of designing and building their forever home will be delighted to learn that having a rustic styled home with modern amenities is possible even on farmland.
This dwelling stands beside the chicken coop and sheepcote, with an unobstructed panorama of the nearby lake and countless trees. It houses a master bedroom and a guest bedroom, both supplemented by their own bathroom.
Even if your countryside property is not on a farm, this stunning abode will inspire you to construct your own barndominium according to your family's rural lifestyle. For more pictures and updates, you can also follow @hickorynutfarmbarndominium on Instagram.
Still in doubt? Let our photos do the talking!
Charlotte NC Barndominium Pictures that Paint a Thousand Magnificant Words
A serene lake, clear blue skies, towering trees, and a carpet of green grass make this setting a dream retirement destination. And for the McGinnis family, that's exactly what it is.
If one should judge a home by its front porch, then we may be forgiven for anticipating that what lies behind the front door of the McGinnis barndo is a tastefully designed abode that is nothing short of spectacular.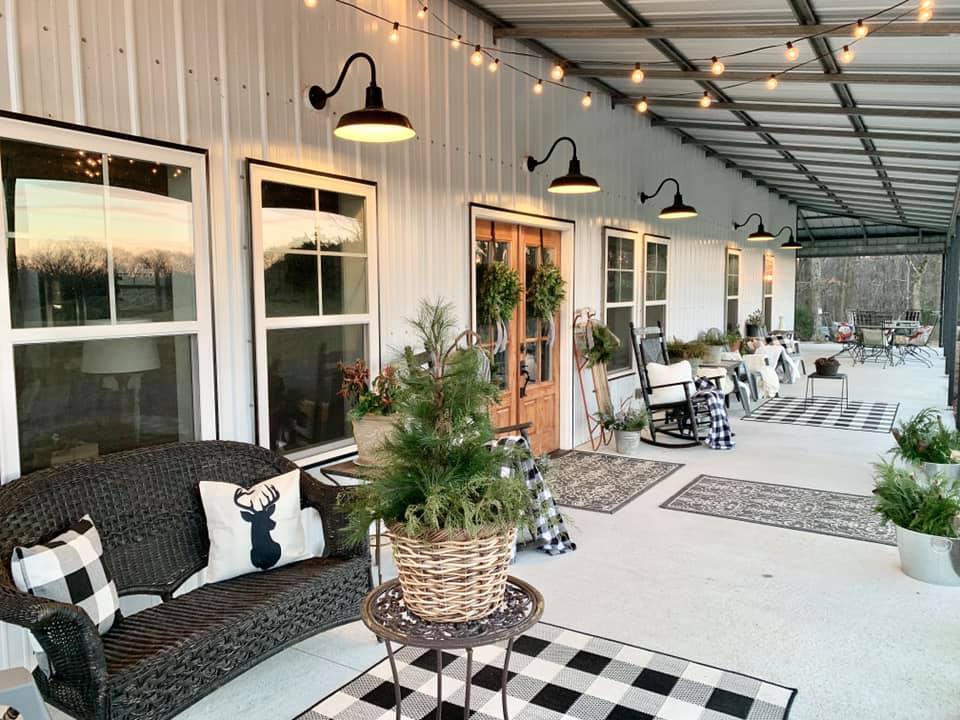 Stark white flooring, walls and windowsills contrast with black furniture, lighting fixtures and rugs. Earth toned accents and green plants balance the basics with warmth.
Nothing exudes an air of rest and relaxation better than the twin rocking chairs flanking the entrance to the dwelling.

Open Concept Farmhouse Style in a Charlotte NC Barndominium
And the view that greets you does not disappoint. Rather, it exceeds expectations.
Using the open concept, this barndo combines luxury and homeliness in this wide space that sees the living room to the left, dining area to the right, and kitchen in the middle towards the back.
For a seamless transition, the colors of the exterior are maintained indoors.
Notice how the fireplace draws attention to the living room, and a vintage display table stands behind the couch. Such subtle additions define the territory.
We love the unique ornaments that adorn the walls of this brando, like this giant clock in the dining area.
Taking advantage of a barndominium's high ceiling, the McGinnis kitchen features lighting fixtures hung from long metal cables above the island.
This time, stainless steel breaks the black-and-white scheme in the form of appliances, sink and the condiments caddy on the kitchen island.
A hallway leading to the bedrooms maintains the motif with white walls, a decorative black metallic overhead light, and a black-over-white patterned rug.

Luxurious Charlotte NC Barndominium Master Suite
Designed for comfort, this master bedroom bathes in sunlight, courtesy of expansive windows on two walls.
The side door exits to a porch where the owners can relax while enjoying fresh air and the fantastic landscape that surrounds their 25-acre property.
Within the suite is a master bathroom complete with modern-day amenities, like this his-and-hers sink including their respective mirror, lighting and cabinets.
Charlotte NC Barndominium Guest Room and Bathroom
Guests are welcome to stay overnight in the McGinnis farmhouse. They are afforded the same comforts which the owners enjoy.
The rustic style guest bedroom offers a view of nature, while the bathroom that accompanies it is not only spacious but also comes with cabinets, drawers and caddies for storage and organization.
Fun fact: Mrs. McGinnis painted the shiplap black herself.
Deck The Halls for this Charlotte NC Barndominium for Autumn and Christmas
Come fall, bright yellows and oranges herald in the changing seasons in this barndominium's front porch and living and dining areas.
Black bats guard the front door, and black witch hats amp up the merriment of Halloween.
And, of course, Christmas won't be the same without the living room, kitchen and front porch bedecked in reds and greens.
Bonus Photos! Charming Charlotte NC Barndominium at Night
Don't you just love that white façade against the dark evening sky?
Design Your Own Rustic Style Barndominium
If the McGinnis farmhouse has swept you off your feet, know that you can build your very own dream home as well, using the highly flexible barndominium structure.
It all starts with a floor plan. Brainstorm on various ideas with your family, and then draw the blueprint. It's easier than you think! We offer a user-friendly custom design software where you can add your specs to a template, and then get a visual of the floor plan you created.
Conclusion
If you still don't know how to start designing your future barndo, feel free to browse our website and our Pinterest page. And check out the Build Your Dream Barndominium e-book of Don Howe for tips on customizing your abode.