And when we say "build," we mean no general contractor, buy a nail gun at Harbor Freight, acid stain the floors yourself kind of build. Today's featured owner-builder, Todd Gibson, decided one day to extend his farm shop to include living quarters for "myself and a dozen guests if necessary." and his number one goal was for it to be "CHEAP." So with this goal in mind, Todd set out to build a barndominium himself and grab every bargain he could along the way. Here are his best tips.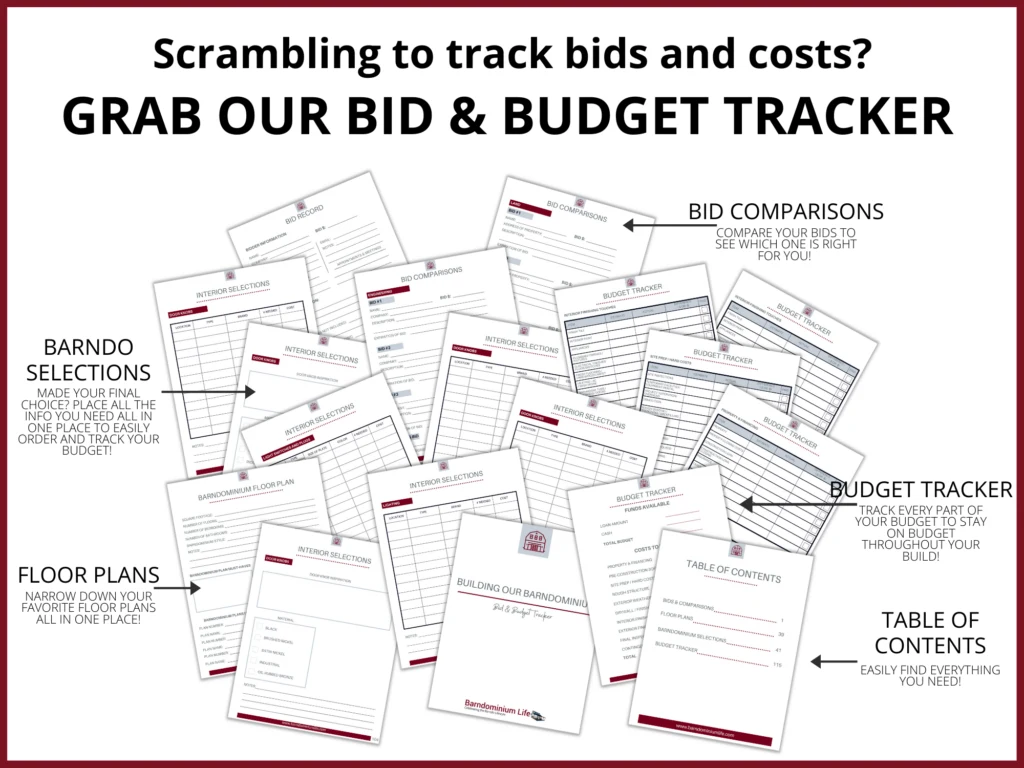 How to Build a Barndominium Cheap: Exterior
After deciding on a width of 42 feet (to match the existing width of the structure) and a length of 40 feet, Todd called his local metal fabricator to pour the concrete and erect the metal structure. Although this ate up 1/3 of his 60,000 dollar budget, this was part of building his bardominium that he knew he could not do on his own. A plumber was called to set the rough in plumbing, and then the crew came in to pour the foundation, frame, and finish the metal siding. Windows and doors for the structure were purchased at a scratch and dent discount store which helped save thousands. Phase one of the build went very fast.
Get a FREE 18 Month Barndominium Planner
There are 39+ steps that must be taken before groundbreaking. Learn them all in this FREE checklist, available for immediate download.
How to Build a Barndominium Cheap: Interior
Eagle brand acid stain was used for the concrete floors, and the total cost came to about $350. Although there was a lot of clean up and elbow grease involved, finishing the floors was not an overwhelming undertaking. However, one valuable lesson that was learned was to always read labels and make sure there is good ventilation when putting a sealer over the stain. If not, someone could get faint from the fumes. Many who want to build a barndominium dream of the perfect stained concrete floors, and Todd was able to pull it off himself.
Next, the floors were covered thoroughly, and a foam insulation contractor was hired to spray 2″ of closed cell insulation on the ceiling and 4″ of open cell on the walls.
How to Build Your Own Barndominium & 200+ Floor Plans
Get started today with our program "Barndominiums Made Easy: How to Build Your Own Barndominium" and get 200+ barndominium floor plans included!
This carried a heavy price tag in relation to the total cost ($5,900); however, Todd says that his results "were extraordinary" and even during the cold Arkansas winter, his home could hold heat all night without the system running.
After spray foam, Todd tackled framing by picking up a "For Dummies" book and buying a $64 nail gun at Harbor Freight. Lumber was purchased from a local lumber yard at contractor pricing. Todd says that before this, he had never built anything in his life, let alone build a barndominium; however, he ended up borrowing tools from friends and learning countless valuable lessons along the way.
A 8 foot opening was cut into the owner's existing metal shop to make space for a kitchen and laundry room. Traditional bat insulation was used against the shop walls to keep the living quarters well insulated.
Find a more detailed step-by-step article for building a barndo here.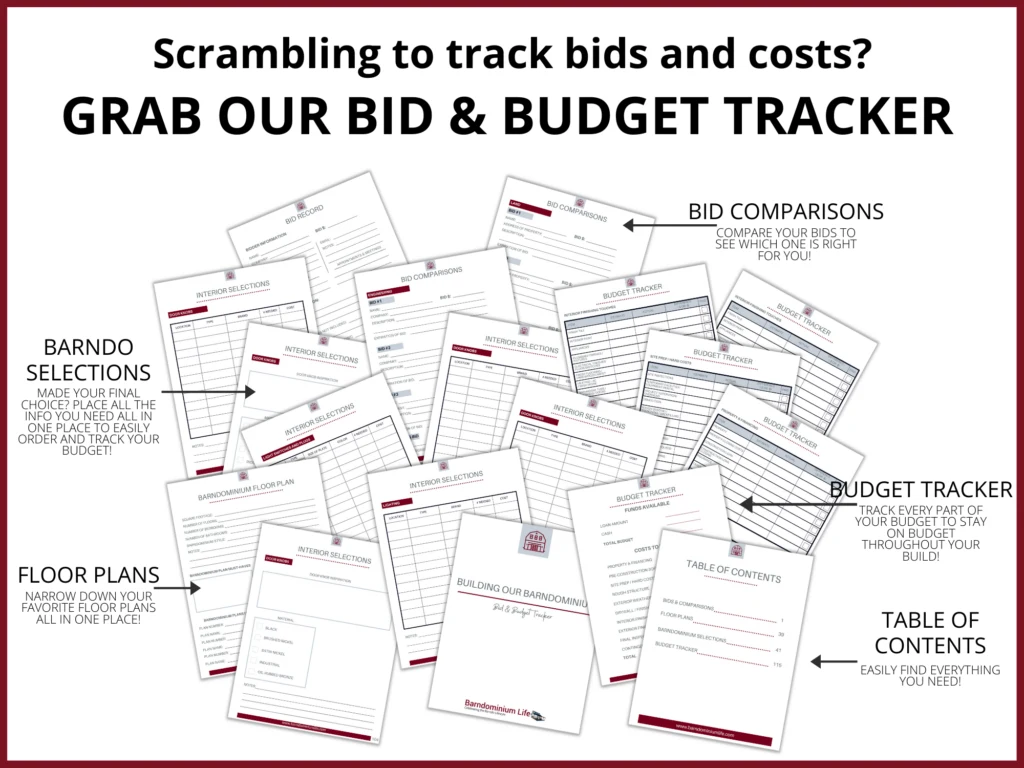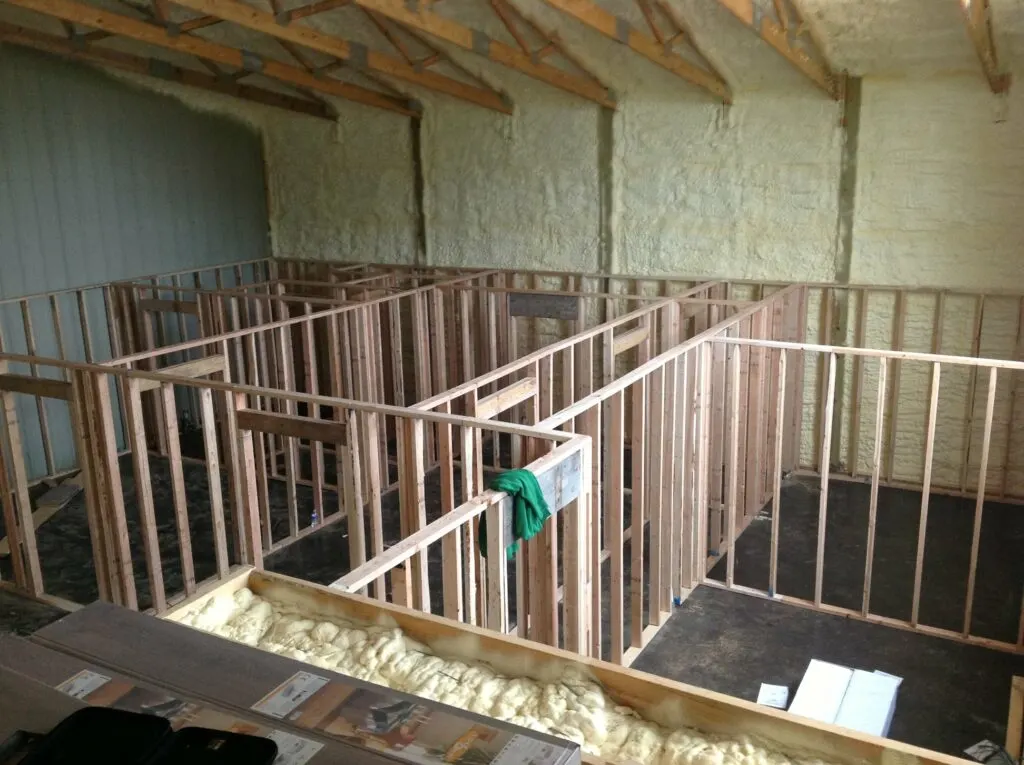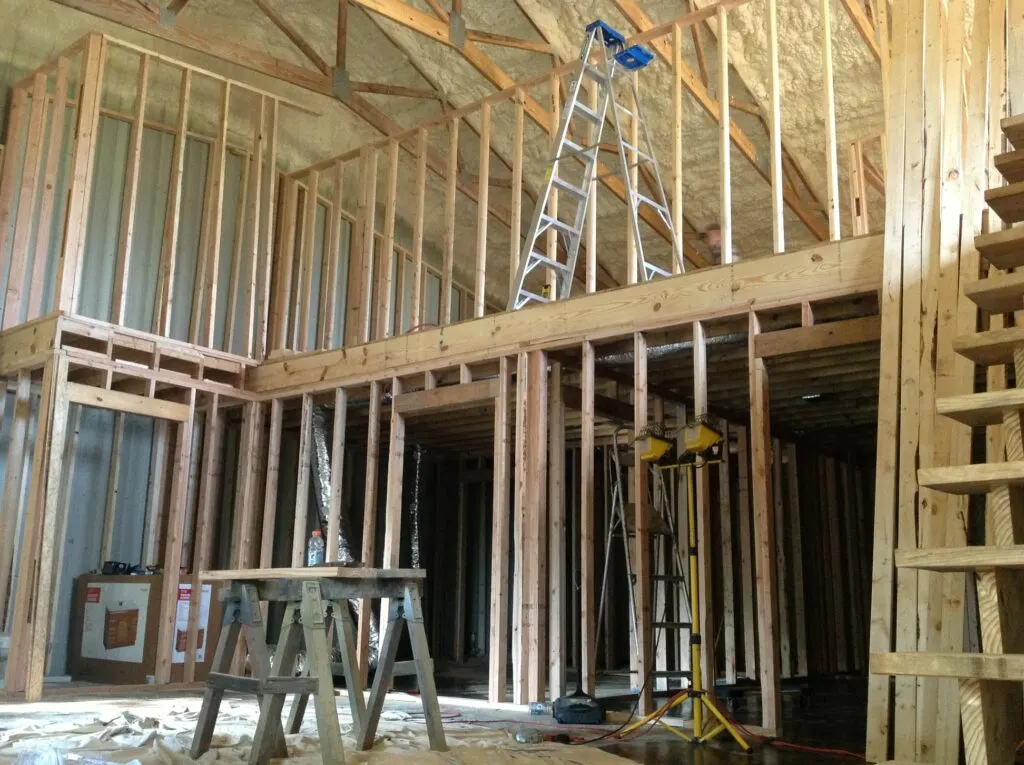 How to Build a Barndominium: Interior Finishes
When finishing the interior, our owner-builder bargain shopped online for good deals each step of the way. Pine wood was used to cover all of the walls of the living quarters, and scraps of this wood were used for the trim. A load of thin corrugated metal was purchased from a big box store to cover all of the ceiling. If you have ever attached metal to a ceiling, you will agree with Todd that this is "not for the faint of heart," since metal is meant to be laid instead of hung.
Flooring upstairs was purchased from Lumber Liquidators on sale for a fraction of the original price. The handrails were repurposed from the owner's home, and the vanities in the bathrooms were purchased off of Craigslist. Faux stone for the fireplace was installed for around $1,000.
For a breakdown of common costs in a barndominium build click here.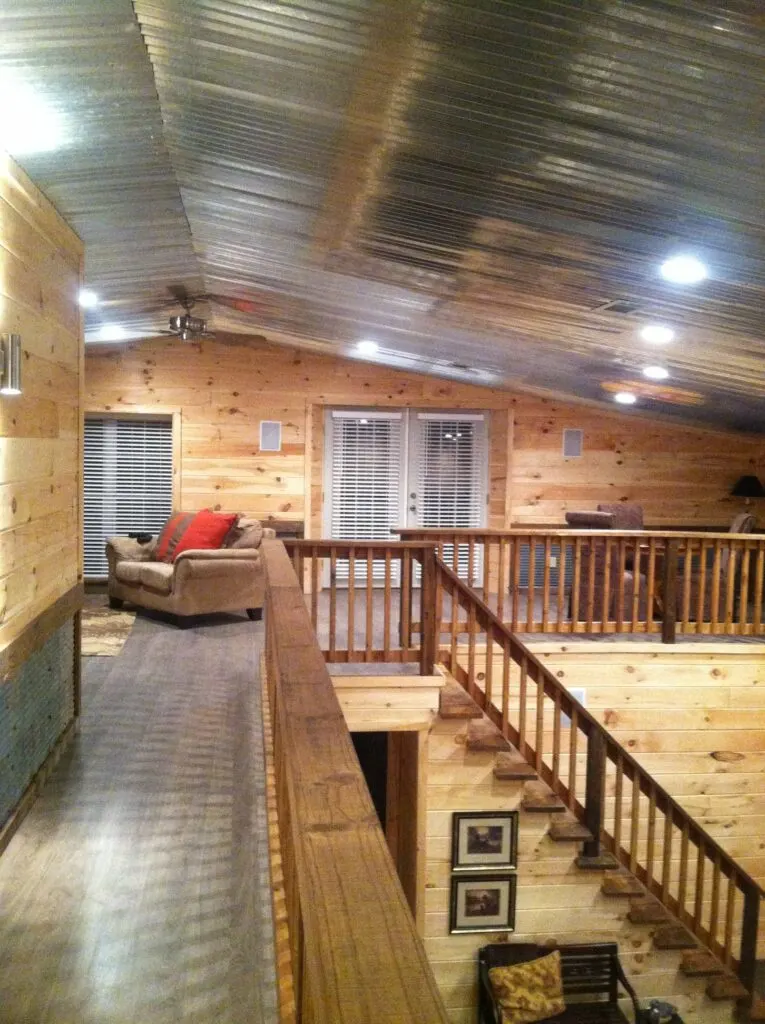 After everything was said and done, Todd's barndo came in around $70,000. This was a few thousand over his budget, but he was able to build a barndominium with his own hands (and lots of help). His end product is full of character and rustic charm. Although the materials were purchased cheap, they do not look cheap. In fact, the pine wrapped walls and stone fireplace leave this space looking rather high-end. With the end product, it is hard to imagine that this barndo was built for so cheap and without a crew of trained professionals.
Ready to get your hands dirty and build your own barndominium for cheap? Check out our book to start your journey:
Find out if your state is one of the cheapest to build a barndominium in —>Click here