A stock tank pool is the best alternative for people who want a swimming pool but don't want to spend the money on an in-ground pool.
They are also great for families living in areas where it is impossible to install an in-ground pool, as these can be installed almost anywhere and are easier to maintain.
The great thing about having a stock tank pool is its versatility and DIY appeal. Interested in finding out how to heat a stock tank pool? In this article, we will cover everything you need to know.
Make sure you have the necessary parts on hand, and get your DIY-game on!
How to Build Your Own Barndominium & 200+ Floor Plans
Get started today with our program "Barndominiums Made Easy: How to Build Your Own Barndominium" and get 200+ barndominium floor plans included!
How to Heat a Stock Tank Pool?
Now that you know how to make a stock tank pool, you can customize it however you like. Heating a stock tank pool converts it into a hot tub on the go. Just keep in mind that, like making one, you will need some handiness to heat a stock tank pool.
Prepare the Pool Parts
From what we have researched, using an outdoor propane hot water heater and mounting it to the side of your home or a sturdy fence is the most efficient method to heat your stock tank pool.
An alternative would be to use either an electric heater or a spa heater, but the materials needed to connect the parts together may vary. Either way, you would need some sort of heating mechanism to connect to your stock tank pool.
Typically, you would need the following components:
Water heater
Water circulation pump
Water spigot/fittings
PVC tubing
Swimline adapter
Sealant
For this DIY project, you will need the following tools:
Hole saw
Screwdriver
Pliers
Cordless drill
Heavy-duty utility knife
Choose your Water Heater
By comparison, an in-ground pool heater using 400,000 BTUs will consume four gallons of propane per hour to heat a standard nearly 20,000-gallon pool.
It will, however, require a much smaller propane water heater to heat a stock tank pool that only uses around 800 gallons of water.
You can expect to spend between $150 and $350 on an outdoor propane water heater for your stock tank pool. Price variations will depend on the temperature the water heater can reach and how long it may take to reach that temperature.
Consequently, getting the smaller propane water heater will be less expensive, but expect it to take two hours to raise the temperature of a standard stock tank by 10 degrees. A large option can heat up to 100 degrees in less than two hours.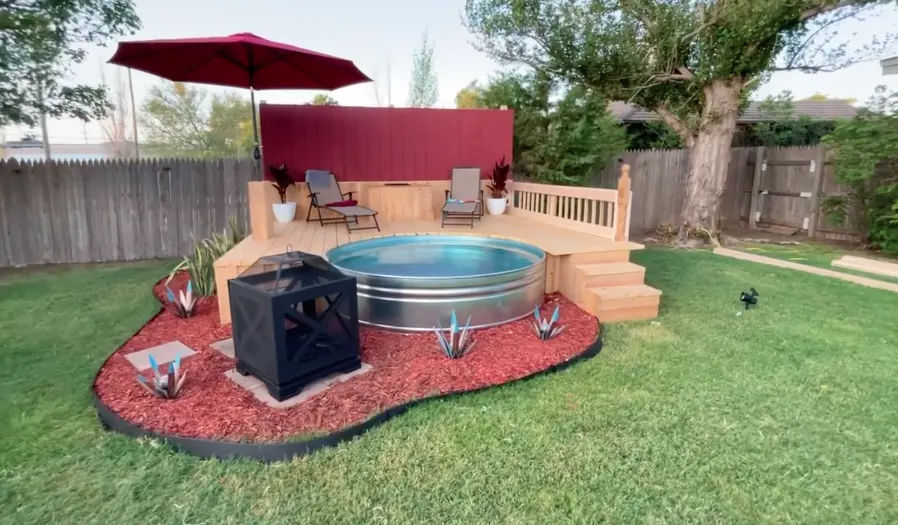 Install the Parts
The installation of the necessary parts is fairly straightforward once you have all the necessary components.
Install the propane water heater and pump on a sturdy wall or fence.
Drill the holes for the necessary fittings.
Connect the hoses to the water heater and pump.
Once everything's installed, you can now proceed to heat your stock tank pool:
Turn on the heater, with the water and gas set to maximum and the heating set to "full." There may be an "eco" option depending on the brand that may burn more gas but will heat your pool faster.
Speed up the heating process by placing an insulating pool cover over the stock tank pool while it is heated.
After a couple of hours, depending on your heater's power and the size of your pool, you are almost done! You can finally use your stock tank pool as a hot tub.
For a clearer visual of the whole process, check out this handy DIY stock tank tutorial.
How to Build Your Own Barndominium & 200+ Floor Plans
Get started today with our program "Barndominiums Made Easy: How to Build Your Own Barndominium" and get 200+ barndominium floor plans included!
Quick Reminders
As you install your heater, consider getting an outdoor power strip to facilitate the connection of the necessary parts to electricity when necessary. It is never a good idea to use indoor power strips outdoors.
You might also want to insulate your stock tank pool while you're at it. The use of proper insulation assists in maintaining a comfortable pool temperature and increases the pool's thermal efficiency.
You can insulate a stock tank with a simple DIY project, using carpet padding, foam board, or wrapping a thick decorative sleeve around the pool.
Final Thoughts
Stock tank pools are a great way to enhance the aesthetics of any barndominium, whether it is a naturalistic barndominium or a more modern barndominium.
The versatility of stock tank pools extends beyond aesthetics and extends to functionality. This allows you to upgrade it as you would a regular pool but at a lower cost and more energy efficiency.
Now that you know the steps on how to heat a stock tank pool go ahead and try it out! One of the great perks of owning a stock tank pool is that you can customize it to your liking, and you can transform it into a makeshift hot tub when you wish.
Like this Post? Sign up for our email list!
Be the first to see new posts about the best barndominiums, construction guides, floor plans, and more! Enter your information below to become a BarndominiumLife VIP.
Noah Edis is a passionate staff writer at Barndominium Life, a leading online resource for all things barndominium. With years of experience in the writing industry, Noah has made a name for himself as a skilled storyteller and a knowledgeable authority on the topic of barndominiums.
Noah's interest in barndominiums began when he stumbled upon the concept while researching alternative housing options. Intrigued by the rustic charm and functionality of these converted barns, he soon became obsessed with the idea of living in one himself. He spent countless hours researching the construction, design, and decorating aspects of barndominiums, and soon became an expert on the topic.
As a staff writer at Barndominium Life, Noah enjoys sharing his knowledge and passion for these unique homes with others. He has written numerous articles covering a wide range of topics, from the history of barndominiums to the best ways to decorate them. Noah's writing is informative, engaging, and always on-trend, making him a valuable asset to the Barndominium Life team.
Noah is a graduate of the University of British Columbia, where he earned a degree in English Language and Literature. When he's not writing about barndominiums, he can be found exploring the great outdoors, trying new restaurants, or spending time with his family and friends. Noah is dedicated to his craft and is always striving to improve his writing skills and knowledge of the barndominium lifestyle.
Connect with Noah on LinkedIn