There's nothing like a refreshing dip in your own pool to cool down on a hot day. Imagine how much fun you could have with friends and family in your very own backyard pool!
You can choose between vinyl, fiberglass, concrete pool, or even an above-ground stock tank pool. With a pool at home, you'll never have to go far for some summer fun.
Despite being the most popular type of pool, in-ground pools can be really expensive! To install an in-ground pool, you would have to shell out an average of $35,000, but you may have to spend north of $65,000 if your pool has extra features.
So, if you're planning to keep your dream home on budget, you must find an alternative without losing that pool you would still love to relax in. If you have a barndominium, a stock tank pool is also a great way to elevate it!
Although pool owners will have different opinions, stock tank pool owners will tell you, that it's a great pool choice. Before deciding if this is a worthwhile addition to your home, let's cover what a stock tank pool is, its benefits, and factors to consider.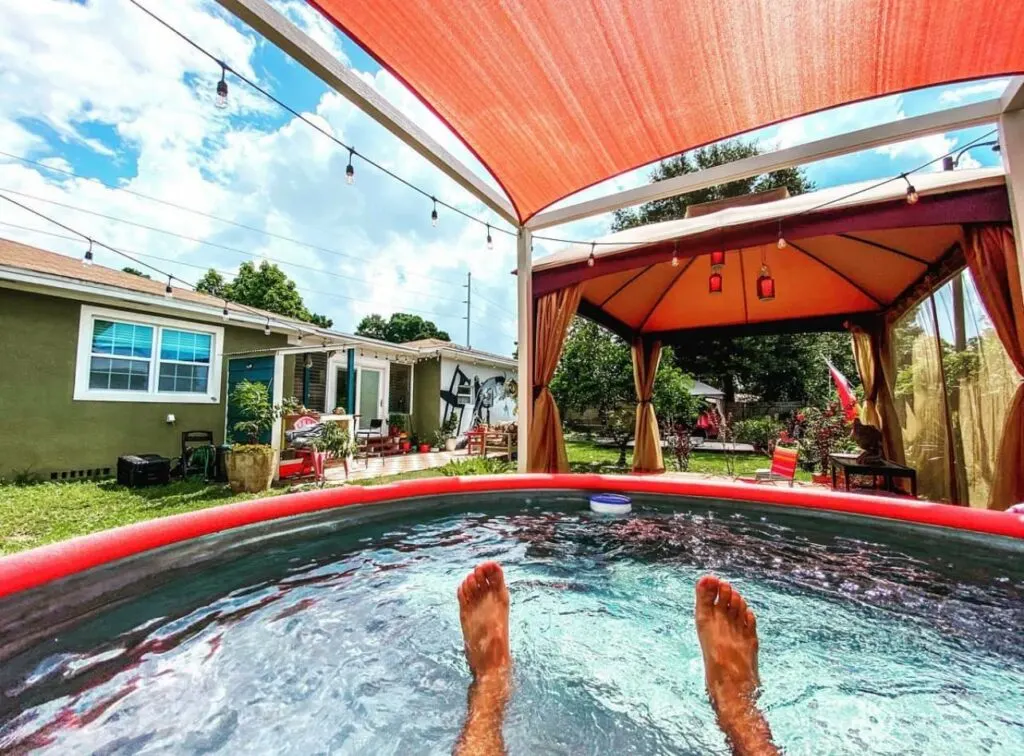 What is a Stock Tank Pool?
As the name implies, a stock tank pool is a swimming pool made from a metal stock tank. Originally designed to provide water for livestock, these often six-foot wide and two-foot deep metal farm fixtures have been modified into backyard pools.
They are ideal for a quick refreshing soak during the hot summer months. Increasingly becoming a social media trend, a stock tank pool can transform ordinary backyards into the "backyard oasis" trendy homeowners on a budget are looking for.
Despite their limited size and shape variety, stock tank pools are a great pool option for sprucing up your backyard since they can be customized to fit any space.
Why Should You Get a Stock Tank Pool?
The following are some of the major benefits of owning a stock tank pool, along with some factors to consider before getting one:
Affordability
Are you wondering how much does a stock tank pool costs? Stock tank pools are among the most affordable types of pools, with a new galvanized metal stock tank costing between $200 and $450.
As far as installation is concerned, it requires little to no professional assistance, which can even be accomplished purely as a DIY project for the summer. Check out our Stock Tank DIY guide to get started.
There isn't much that you need to do except for getting some extra wood boards or installing them on a small deck. You might need a small filter that will probably cost you around $100, and then you can start enjoying your new stock tank pool.
How to Build Your Own Barndominium & 200+ Floor Plans
Get started today with our program "Barndominiums Made Easy: How to Build Your Own Barndominium" and get 200+ barndominium floor plans included!
Low Maintenance
It's not just expensive to install an in-ground pool, but also to maintain it! Swimming pools can cost up to $1,000 to run a year, consuming around 2,500kWh of electricity.
Pool pumps cost a lot, but heating can be costly too, depending on the type of heater you use.
On the other hand, a stock tank pool only requires a small pump that will produce much less energy. This can save you a considerable amount in the long run.
You may wonder, "Can you heat a stock tank pool?" Yes, from electrical heaters to propane heaters and even a spa heater, stock tank pools can be altered to your preference and be converted to a hot tub during the colder seasons.
Much like a barndominium in a cold climate, also a metal structure, proper insulation allows metals to redirect heat to the inside, resulting in greater energy efficiency.
Customizable
Adding a stock tank pool to your backyard setup is one of the many ways you can customize your backyard setup.
Stock tank pools are built to be placed outside, so their galvanized metal is more durable and rust-resistant than you may think, particularly if they are properly maintained.
There are many ways in which you can dress up your stock tank. You can choose to finish it in a minimalist style, allowing the metal edge of the tank to shine through.
Alternatively, you can paint it bright colors or floral patterns to fit your aesthetic, or you can place it on your patio decorated with lush greenery. The possibilities are endless!
Factors to Consider
Would a stock tank pool be a good fit for your home? Ultimately, it will depend on your needs.
Though you may be able to customize your stock tank pool setup, the pool itself is limited to round or oval shapes. This is usually only a few feet deep and up to eight feet in diameter.
And while you can have a nice soak and play in it, you can't swim like how you could with other types of pools.
Due to chlorine water and the fact that they are not necessarily designed for this purpose, stock tank pools also have a shorter life span of up to 10 years. Although considering their cost and ease of installation, it's not bad at all.
Final Thoughts
When you need a quick soak in the summer or want to convert it to a hot tub in the winter, stock tank pools can last all year long as a great pool alternative.
With its low installation cost, easy maintenance, relocation, and flexibility, stock tanks may be the perfect pool option for your home.
Stock tank pools are great options, especially in tight urban spaces.
Like this Post? Sign up for our email list!
Be the first to see new posts about the best barndominiums, construction guides, floor plans, and more! Enter your information below to become a BarndominiumLife VIP.
Noah Edis is a passionate staff writer at Barndominium Life, a leading online resource for all things barndominium. With years of experience in the writing industry, Noah has made a name for himself as a skilled storyteller and a knowledgeable authority on the topic of barndominiums.
Noah's interest in barndominiums began when he stumbled upon the concept while researching alternative housing options. Intrigued by the rustic charm and functionality of these converted barns, he soon became obsessed with the idea of living in one himself. He spent countless hours researching the construction, design, and decorating aspects of barndominiums, and soon became an expert on the topic.
As a staff writer at Barndominium Life, Noah enjoys sharing his knowledge and passion for these unique homes with others. He has written numerous articles covering a wide range of topics, from the history of barndominiums to the best ways to decorate them. Noah's writing is informative, engaging, and always on-trend, making him a valuable asset to the Barndominium Life team.
Noah is a graduate of the University of British Columbia, where he earned a degree in English Language and Literature. When he's not writing about barndominiums, he can be found exploring the great outdoors, trying new restaurants, or spending time with his family and friends. Noah is dedicated to his craft and is always striving to improve his writing skills and knowledge of the barndominium lifestyle.
Connect with Noah on LinkedIn