Building a barndominium is a fantastic way to get the home of your dreams. Odds are, you have thought about what it takes to get a project like this done. If you have started planning, you have probably only gotten so far in your quest to build the perfect barndominium. Perhaps you have it sketched out on the back of a napkin. However, the question remains: Where do you find a great barndominium architect?
The truth is, you find one the same way you'd find an architect for a custom home project. You would conduct a thorough search based on experience, cost, creativity, and, most of all, a willingness to adapt your hand-drawn plans for your dream barndo to a final blueprint. In this article, we have put together a complete guide to finding a barndominium architect. Knowing what to look for and how it works can give you a head start on your project.
Why Hire an Architect That Specializes in Barndominiums?
When thinking about building a barndominium, it is crucial that you get the right help. Not every tradesperson and contractor will know about barndominiums. However, this is usually okay and won't make too much of a difference. With a barndominium architect, though, it is very important that they are experienced.
You need to hire an architect that specializes in barndominiums because they will be able to visualize it. When they are putting together the blueprints, they can see what you are going for. They will have worked on barndominiums in the past, which gives them the upper hand. If you want a successful blueprint, you need to hire a specialized barndominium architect.
How Do I Find a Barndominium Architect?
Finding a barndominium architect can be a challenge. This is especially true because barndominiums are still relatively new on the scene. Finding a quality architect can be difficult, but even more so for a specialty building. However, there are some things you can do to make the right decision.
These include:
Determine whether or not you even need an architect
See if a reasonably priced well-rated home design software will do what you need
Search for an architect by asking friends and business associates for recommendations
Conduct a search through the American Institute of Architects website.
Choose several candidates and schedule a time to meet with them.
Assess the fee and the terms of payment.
Read the contract carefully.
Decide whether you have good chemistry and a similar vision
What Do I Look for When Hiring a Barndominium Architect?
We'll admit that it's not easy to find a local architect who has experience in designing a barndominium's living space. However, if you can find one recommended by a friend or associate and explain that they are mainly there to render your design into something that tradespeople can work from in the way of blueprints — an interior design not constrained by load-bearing walls or predefined hallway locations — they will generally be able to see the possibilities.
Most architects who have done so love working with barndominium owners-to-be says a respected architect.
"Casual, low maintenance, and always ready for an impromptu gathering," is how architect Peter Stuhlreyer of Designhaus describes a typical barndominium. "What we have found, as designers of many barndominiums, is that the client is far more relaxed about design decisions and material choices, so the projects are really organic, spontaneous, and enjoyable."
What Stuhlreyer says is true. Barndo owners love the unique features of a barndominium.Like the garage-size roll-up glass doors that let in a maximum of sunlight when down and allow seamless flow of people from outdoors to in and vice versa during parties, for instance.
For many owners, it's what attracted them to the idea of a barndo in the first place.
But getting back to the question of where to find an architect willing to work with you to produce your vision. Go through the steps outlined above and then visit with each one until you find one that seems to understand your vision. An initial consultation is often free, but best to ask before you show up and start a consultation meter running.
Benefits of Hiring a Barndominium Architect
While it is possible to simply build your barndo from a kit, you will have to do some planning. This means that you have to make sure that everything is in proportion and easy to read. When working with your contractor, having a plan that has been worked on by a barndominium architect is crucial. They will be the bridge between your ideas and the reality of the project.
Working with a barndominium architect is also a great way to get exactly what you are looking for. A barndominium architect will be able to turn your ideas into a workable floor plan and blueprint. Having this expertise at your disposal is crucial. It will ensure that you get everything you want out of your new custom home.
How Much Does it Cost to Hire an Architect?
A survey of 1,000 homeowners indicates an average hourly fee of between $60 and $125 an hour. So, the final costs will depend on how much new input you'd like from your chosen architect on your design and the time involved in rendering whatever you come up with to the final blueprint stage.
"An architect can turn your vision into an actual plan," says HomeAdvisor.com. "They are not only skilled at structural and spatial relationships, as well as planning, but they also are familiar with applicable building codes and zoning regulations. They work as your agent and can also help you in bid evaluation and selecting a contractor."
Essentially, this means that they can be helpful in those areas if you're well-heeled enough to have them conduct those types of transactions for you.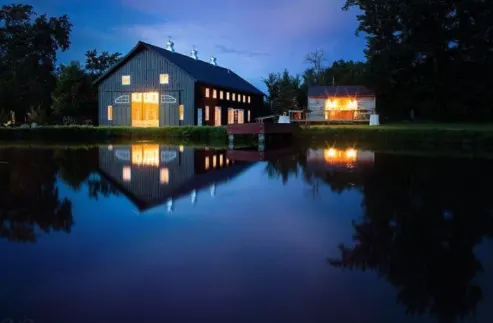 Can I Hire a Draftsman Instead of an Architect?
You can do that if you pretty much know what changes you might want and can show him or her a more-or-less finished sketch. The cost for those services should be less than an architect. Blueprints are typically created by a draftsperson using CAD software. But the average cost for a 1000 sf barndo blueprint could still be as much as $1200-$1500.
Still, that's less expensive than meeting with an architect. So, where can you find a draftsperson with CAD design equipment capable of turning out your blueprints? Just type in "where to find a draftsman near me." and Google will work its usual magic, bringing back the names and locations of several candidates. Go through much the same process as above, interviewing and asking questions before you agree to let them render your design.
Can a Barndominium Architect Help Me With a Floor Plan I Bought?
Barndominium floor plans are everywhere these days. A simple Google search will bring up a vast number of floor plan images. From there, you can easily create your dream layout. However, to get a set of floor plans rendered correctly into four or five sets for your construction foreman to use on the job site — well, it's not impossible. Just highly unlikely. Even if you are lucky enough to find a set, that's perfect for you, requiring no changes.
Because of this, you will almost always need a barndominium architect to help you modify the plans. In some cases, you can work with a draftsman to do this. However, it helps if they are familiar with barndos. They will be able to create a workable draft that you and your contractor can use during construction.
Barndominium Architect Near Me
Barndominium architect in Alabama
Barndominium architect in Alaska
Barndominium architect in Arizona
Barndominium architect in Arkansas
Barndominium architect in California
Barndominium architect in Colorado
Barndominium architect in Connecticut
Barndominium architect in Delaware
Barndominium architect in Florida
Barndominium architect in Georgia
Barndominium architect in Hawaii
Barndominium architect in Idaho
Barndominium architect in Illinois
Barndominium architect in Indiana
Barndominium architect in Iowa
Barndominium architect in Kansas
Barndominium architect in Kentucky
Barndominium architect in Louisiana
Barndominium architect in Maine
Barndominium architect in Maryland
Barndominium architect in Massachusetts
Barndominium architect in Michigan
Barndominium architect in Minnesota
Barndominium architect in Mississippi
Barndominium architect in Missouri
Barndominium architect in Montana
Barndominium architect in Nebraska
Barndominium architect in Nevada
Barndominium architect in New Hampshire
Barndominium architect in New Jersey
Barndominium architect in New Mexico
Barndominium architect in New York
Barndominium architect in North Carolina
Barndominium architect in North Dakota
Barndominium architect in Ohio
Barndominium architect in Oklahoma
Barndominium architect in Oregon
Barndominium architect in Pennsylvania
Barndominium architect in Rhode Island
Barndominium architect in South Carolina
Barndominium architect in South Dakota
Barndominium architect in Tennessee
Barndominium architect in Texas
Barndominium architect in Utah
Barndominium architect in Vermont
Barndominium architect in Virginia
Barndominium architect in Washington
Barndominium architect in West Virginia
Barndominium architect in Wisconsin
Barndominium architect in Wyoming
If you would like more guides like this one, check out the rest of BarndominiumLife.com. There, you will find more helpful tips and tricks from the pros. You will also find featured barndominiums, barndominium floor plans, and information on financing and insurance. Knowing as much as you can will help you get the best results for your dream home.
Like this Post? Sign up for our email list!
Be the first to see new posts about the best barndominiums, construction guides, floor plans, and more! Enter your information below to become a BarndominiumLife VIP.
Michael O'Connor is a seasoned barndominium writer passionate about creating unique and innovative barndominiums. With over 15 years of experience in the construction industry, Michael has established himself as a leading expert in barndominium design and construction.
His work has been featured in several respected publications, including Barndominium Life, where he frequently contributes articles on best practices and emerging trends in the field. Michael's ability to blend traditional techniques with cutting-edge technology and design concepts has earned him a reputation as one of the most knowledgeable writers in the industry.