Today's featured home is another one of HL Custom Homes creations! This Mineral Wells Texas barndominium may look simple on the outside, however, the interior design and well thought out layout is sure to impress!
Get a FREE 18 Month Barndominium Planner
There are 39+ steps that must be taken before groundbreaking. Learn them all in this FREE checklist, available for immediate download.
Exterior
This Mineral Wells Texas barndominium is a large rectangular structure that features neutral vertical siding and a darker roof to provide a bit of contrast.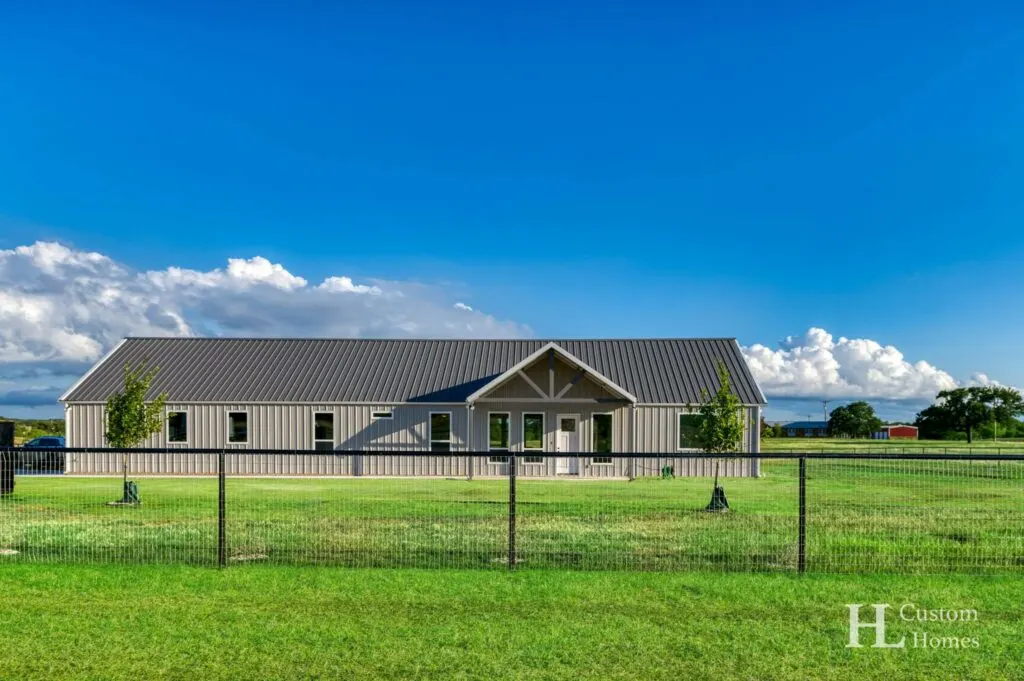 Found in Mineral Wells, Texas, today's featured barndominium is set on a luscious parcel of land sprinkled with trees. The property is fully fenced-in, which is perfect for both children and pets to explore safely.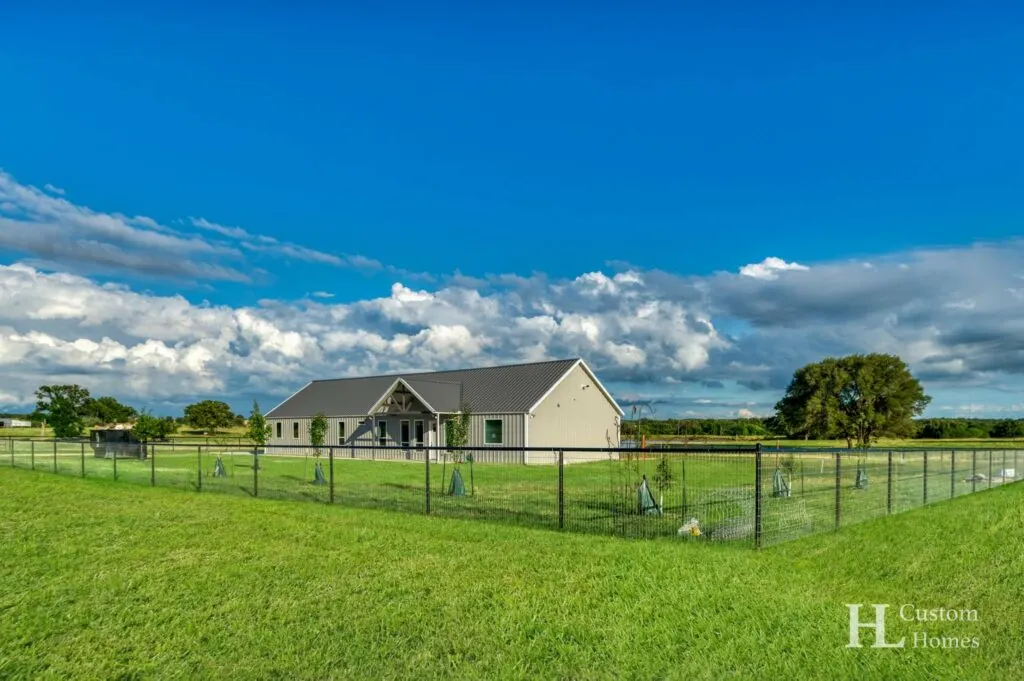 The front porch is accented with a peaked covering. The area is ideal for decorating during holidays or leaving as is to maintain the simple yet polished exterior.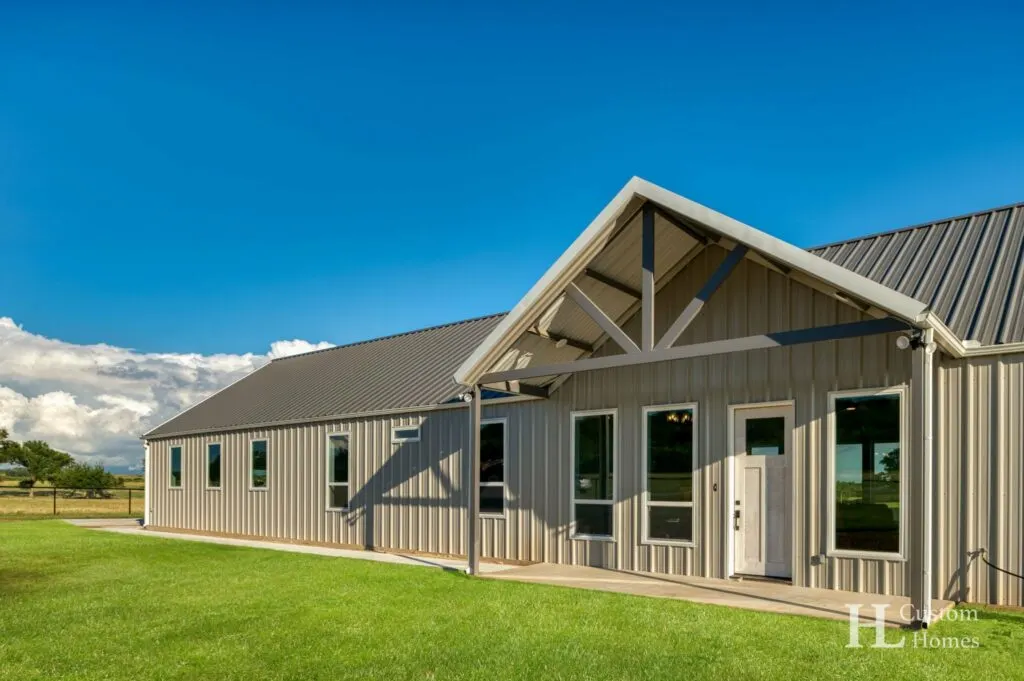 Along the front of this Mineral Wells, Texas, barndominium, there are several large windows that allow tons of natural light to flood the interior.
The rear porch found on this Mineral Wells Texas barndominium is both practical and beautiful! The expansive area not only offers a lovely view of surrounding nature, but it can also be quickly transformed into an outdoor living room, outdoor dining room, and more! Completely covered and outfitted with two ceiling fans, occupants can enjoy the outdoors regardless of the weather.
A portion of this Mineral Wells Texas barndominium is a large garage/shop space. Attached to the property, this allows for plenty of additional storage for vehicles and more.
How to Build Your Own Barndominium & 200+ Floor Plans
Get started today with our program "Barndominiums Made Easy: How to Build Your Own Barndominium" and get 200+ barndominium floor plans included!
Interior
Making our way inside this Mineral Wells Texas barndominium, we can see that, once again, HL Custom Homes takes its time when carefully designing and planning its stunning barndominiums. The simple color choices perfectly suit the Mineral Wells Texas barndominium and provide a calm and serene setting.
Immediately upon entering this Mineral Wells Texas barndominium, we find ourselves in the main living area. The peaked ceilings and large windows keep the room bright and airy!
A small seating area and harvest table fill the space without making it feel cluttered. The beautiful hardwood floors stand out next to the neutral walls. Both features combined are a reminder that sometimes less is more!
Towards the rear of the property is the main living room, also filled with large windows. The room's focal point is the shiplap fireplace with custom storage.
The large windows not only provide a ton of natural light to fill the space, but it also allows for an excellent view of the back porch and beyond.
This Mineral Wells Texas barndominium is outfitted with a stunning yet classic kitchen. Simple white cabinetry pop against the textured backsplash and matte black finishes. The island is a soft blue which ties into the rest of the home's color scheme, whereas the simple white countertop keeps the kitchen feeling crisp and clean.
Located off of the main living area is a separate laundry room. Not only does this space keep the washer and dryer out of sight, it also provides additional storage and even a pet wash station!
In this Mineral Wells Texas, barndominium, the master bedroom is located directly off the living room. The massive windows cover the entire back wall of the room and keep the space as bright as possible. Simple color choices and a large fan make the room calm and relaxing.
Attached to the master bedroom is a stunning master ensuite. This bathroom is functional and luxurious and features his and her sinks and ample storage.
The master ensuite also features a separate shower and soaker tub. The corner shower area is beautifully tiled, whereas the tub space tucked under a large frosted window is the perfect spot to unwind and relax after a long day.
No master bedroom is complete without a closet, and this is an envy-worthy one! Customized with built-in cabinetry, this walk-in closet is perfect for organizing clothes, shoes, and accessories (or cats!)
This Mineral Wells, Texas barndominium features one guest bedroom. Being a vacation home, this is the perfect addition for overnight guests.
The guest bathroom is both beautifully designed and practical. Featuring a gorgeous tiled bathroom, this guest bathroom is sure to impress visitors!
Once again, HL Custom Homes has shown just how far barndominiums have come regarding design and decor. This Mineral Wells Texas barndominium is just another example of how this style of home can be customized to fit any need and want!
If you would like more guides like this one, check out the rest of BarndominiumLife.com. There, you will find more helpful tips and tricks from the pros. You will also find featured barndominiums, barndominium floor plans, and information on financing and insurance. Knowing as much as you can will help you get the best results for your dream home.
Like this Post? Sign up for our email list!
Be the first to see new posts about the best barndominiums, construction guides, floor plans, and more! Enter your information below to become a BarndominiumLife VIP.