This spacious Shouse is located in Missouri and we think it is the perfect place to call home. You can't help but notice the massive wrap-around porch and shop. Once you see it you will want to make sure to include it on your shouse floor plans.
Ronnie Miller's Missouri Barndominium Shop has a 30×50 living quarters as well as a 50 x 70 ft shop! It's not only about how much room there really is but also what one wants in terms of design and style!
After checking out the photos of this shouse build, you will start dreaming of exactly what you will want to do with a shouse of your own with specs like these. Let's dive into everything this shouse has to offer.
Missouri Barndominum Front Exterior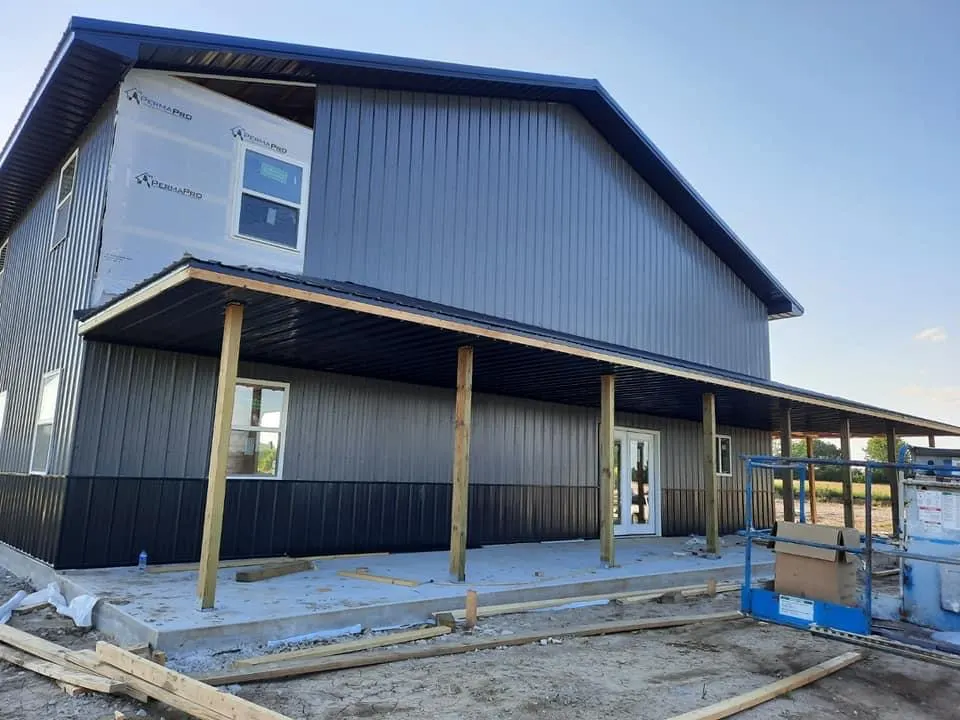 We love the location of this home. It has so much space with some of the most epic views of open space. This shouse screams, "let's relax" as it is out in the country with plenty of room to make it your own.

With an inviting gray exterior and block bottom trim, it's a great backdrop for when the landscaping is completed! We love the addition of the pillars on the front of the house. Once done, they will add so much character to this home. I can just visualize all the green grass surrounding this shouse while sitting out under the 10 ft wide covered porch with plenty of shade each morning or evening while watching everything that nature has to offer.
Get a FREE 18 Month Barndominium Planner
There are 39+ steps that must be taken before groundbreaking. Learn them all in this FREE checklist, available for immediate download.
Missouri Barndominium Outside View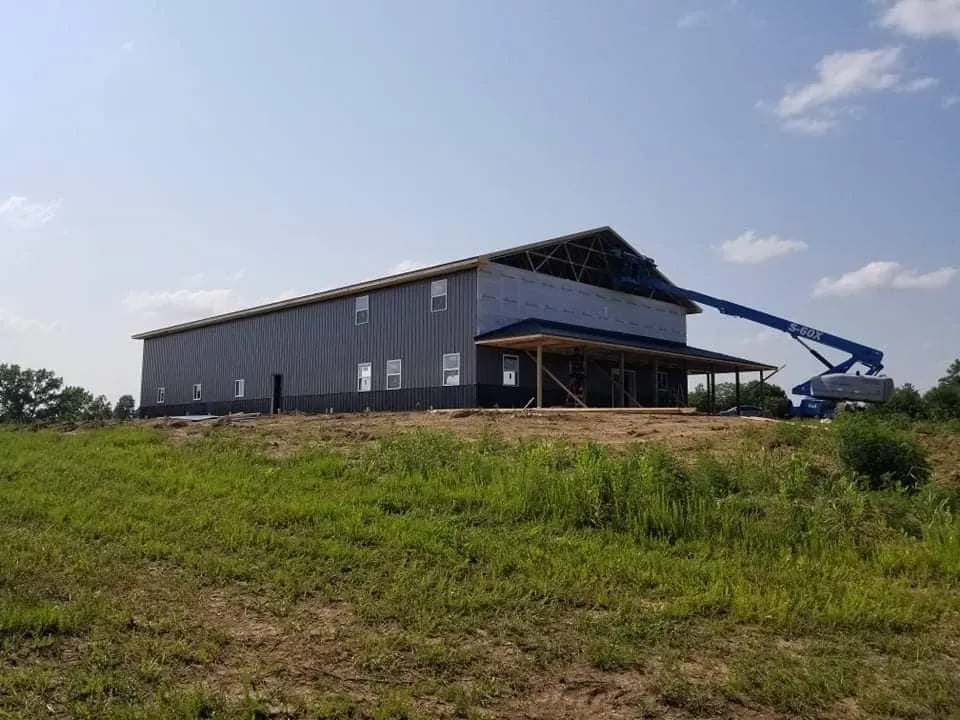 This Missouri Barndominium shouse has such amazing views. I mean just look at all the greenery that is all around the home! You'll have plenty of space to enjoy the outdoors whether it's gardening, riding ATVs, or relaxing in your sun. I can even see a pool or a pond on the property. Can you imagine the kids or grandkids fishing in the stocked pond?
How to Build Your Own Barndominium & 200+ Floor Plans
Get started today with our program "Barndominiums Made Easy: How to Build Your Own Barndominium" and get 200+ barndominium floor plans included!
Missouri Barndominium Open Floor Interior
While this shouse is still being built there is much to be left to the imagination. From the framing of this shouse you can just imagine a really open floor plan with high ceilings.
With a floor plan that is 30x 50 and the view, you will want to consider adding some large windows to really take advantage of the views. The porch adds an additional space for playing and relaxing.
Typically a shouse of this size will consist of 2 bedrooms and 2 bathrooms with a nice size kitchen and living room with laundry within the home. It is perfect for a small family or one that spends most of their time on adventures, and by the size of the shop, we can only imagine all the adventures this family will go on.
We love the idea of creating this open floor plan into a 3 bedroom with the master on one side of the home and two kids bedrooms on the other side with a shared jack and Jill bathroom. With a large open concept dining and kitchen area to bring the family together in the middle of the home.
Within the living room, we can only imagine a modern fireplace to sit around and play games during the Missouri winter months.
We love open floor plans because they have so many possibilities. Open floor plans allow you to design exactly what your family needs:
Your own kitchen design
Pantry options
Cabinet storage
Linens closet
Number of bathrooms
Bedroom
The open concept is one of the best things about this shouse. With high ceilings, you can really use your living space to its fullest potential. If having your family all together in one area then this build is perfect for hosting all the family parties and holiday gatherings. You will love the ability to have everyone together in one room with space that keeps flowing.
Storage
We are in love with this Missouri Barndominium shouse for the storage it provides. It has so much storage that you can fit your RV or boat on your property in your shop. With four different doors, it's easy to dream up all sorts of adventures that you are about to go on. We also love that you can easily access all your cars, boats, and ATVs that are parked there! Having access for both yourself and any guests who come over makes these dreams, even more, a reality.
Just look at how big that shop is!
Final Thoughts: Ronnie Miller Missouri Shouse
Looking for a house that will allow your family to hang out and spend time together all in the same room then this open floor plan concept is perfect for just that. The shop has the space and potential to house all the tools and vehicles during bad weather when you need shelter from the Missouri snowstorms!
For more inspiration, visit Barndominium Life where you will find helpful tips and tricks on how best to design an efficient workshop and home in any location.
Like this Post? Sign up for our email list!
Be the first to see new posts about the best barndominiums, construction guides, floor plans, and more! Enter your information below to become a BarndominiumLife VIP.
Gail currently spends her free time geeking out about what's new and trending in the world of barndominiums.
She is the former executive editor of BarndominiumLife.com and loves working with the team and members of the barndominium community. She now contributes to the blog on occasion, but only when she feels like it!