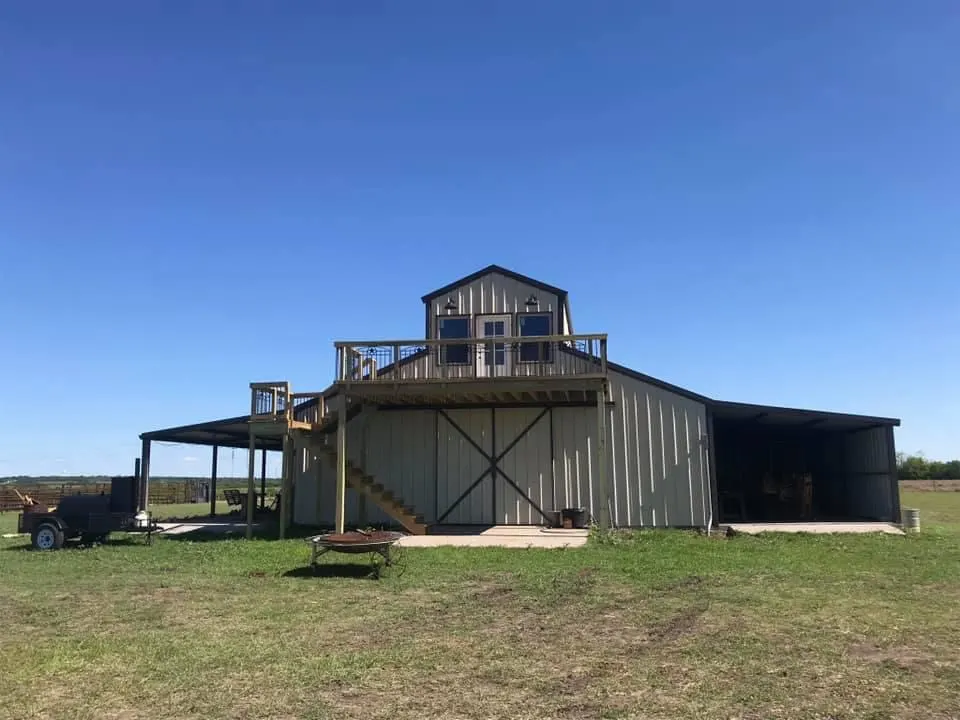 Today's featured home on Barndominium Life is this unique and rustic Texas barndominium built and owned by Andrea Kae. Andrea had so much fun building this home and making it personal and stylized and it really comes through in the final design. There are so many amazing details to this barndo and so many things that are incredibly striking just at the first glance. This is a barndominium that really shows just how much you can make a home like this uniquely your own and we can't wait to share it with you.
Exterior
One of the first things you notice about the exterior of this Texas barndominium is the balcony. This is something that you just don't see that often in barndominium floor plans and looking at this one really makes us wonder why it isn't more common, especially in places that have beautiful views and connections to nature. By installing this porch balcony, the designers of this barndo have created a whole new space for gathering and enjoying the outdoors together.
The balcony features this smaller entrance into the home that we think is absolutely magical. There is something about this little building that screams "treehouse" to us and that is one of the beautiful things about this type of home. You are not bound to the traditional methods of construction that you might be if you were going to build a more standard-looking home. You are free to do whatever you want and can add things like this that really make the building pop.
When you see the landscape that the porch of this Texas barndominium looks out on, you really get a feel for why Andrea decided to include it. Imagine waking up every morning and being able to have coffee out on this porch and gaze out into this incredible landscape. Plus, we can see some of the amazing little details like the Texas stars that are incorporated into the ironwork on the railings. These small things all add up to become something altogether amazing.
Interior
Living Area
On the inside of the porch entrance, we get our first glimpse of some of the woodwork that adorns this Texas barndominium. We should let you know that this entire barndo is full of intricate wood plank work like this and we will get to that later on in this feature. For now, though, we need to appreciate the windows that let in some of that excellent natural light.
The living room area of this Texas barndominium just screams country cabin and we adore it. The cozy, handmade feel of the interior of this home is what makes it so special and really brings a sense of home and a welcoming feel. We love the simple shelves and the rustic, custom cabinetry as well. This is a great example of how the interior of your barndominium can be whatever you want it to be.
Here, we get a better look at some of the amazing choices that were made when designing this Texas barndominium. We absolutely love the vintage corrugated metal ceiling and think it just screams Texas style. Plus, we also get a better look at that amazing woodwork on the walls. The intricate interplay of the colors and the textures really make this barndo something incredibly special. We can see that there was a lot of thought put into it and even more effort in the building stage.
Kitchen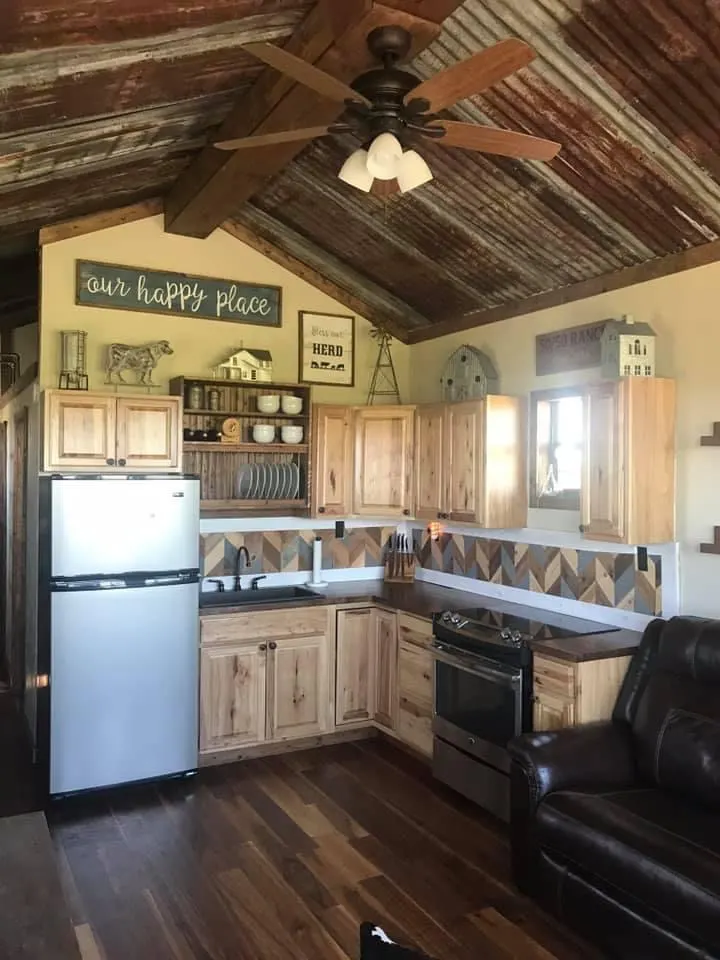 Getting a glimpse at the kitchen, we can see that the richness of all the wood really comes together to create something amazing. We love the dark wood of the flooring. Having darker colors closer to the bottom of a room will make it look a bit bigger and this is done to great effect here. The light, natural wood of the cabinets looks both rustic and modern as well. Plus, we can't talk about the kitchen without talking about the intricate design of the backsplash. That is clearly the centerpiece of the kitchen and is done so beautifully.
Bedroom
The bedroom features more of that beautiful woodwork and we just love the different colors and the way they all come together. In a bedroom, you really want warmer, darker colors if at all possible and that has been done here incredibly well. Without being too dreary, the designers of this Texas barndominium have managed to keep the bedroom cozy and warm-feeling and we love to see that.
Bathroom
The bathroom in this Texas barndominium follows through with the look of the entire house. Just look at that amazing sink. The wood in this barndominium is so rich and deep and it really works well to bring a sense of welcoming and comfort that we haven't seen before. This entire Texas barndominium is an amazing exercise in craftsmanship and wonderful design.
Michael O'Connor is a seasoned barndominium writer passionate about creating unique and innovative barndominiums. With over 15 years of experience in the construction industry, Michael has established himself as a leading expert in barndominium design and construction.
His work has been featured in several respected publications, including Barndominium Life, where he frequently contributes articles on best practices and emerging trends in the field. Michael's ability to blend traditional techniques with cutting-edge technology and design concepts has earned him a reputation as one of the most knowledgeable writers in the industry.