There's nothing we like more than a beautiful barndominium (and chatting about them in our Barndominium Life Community), and the Odom family Florida barndominium home in Chipley, Florida couldn't be more gorgeous. Mark Odom shared the beautiful images you'll see below.
Chipley, Florida Barndominium
The Odom family's home is what indoor-outdoor dreams are made of! With eye-catching accents at every corner, this home lacks for nothing. Though not originally intended as a barndominium, it definitely fits the bill! The exterior of the home is made up of 100% stained cedar, with a galvalume roof and black gutters.
Built by Mark Odom, a certified building contractor, electrician, plumber, roofer, and contractor, the home truly is made-to-order.
The interior of the home is 2,800 square feet, with a screened-in porch and room clocks in at 1,150 square feet, and, of course, the carport at 750 square feet.
Exterior
We love the look of a clean, simple home, with pristine landscaping and plenty of yards to explore!
With a beautiful stone-walled garden, the Odom Family Florida Barndominium, carport, and detached garage, with mature pine trees in the backyard offers the perfect family home, whether it's enjoying the Florida weather and the sounds of nature or family gathering for a cookout and ride along with the golf cart!
An elevated covered side entranceway keeps you dry when the Florida summer rains pour down, and the front door lets in plenty of light.
The front door, also covered, is welcoming.
Oh, and the barn out back? It includes a mother-in-law suite.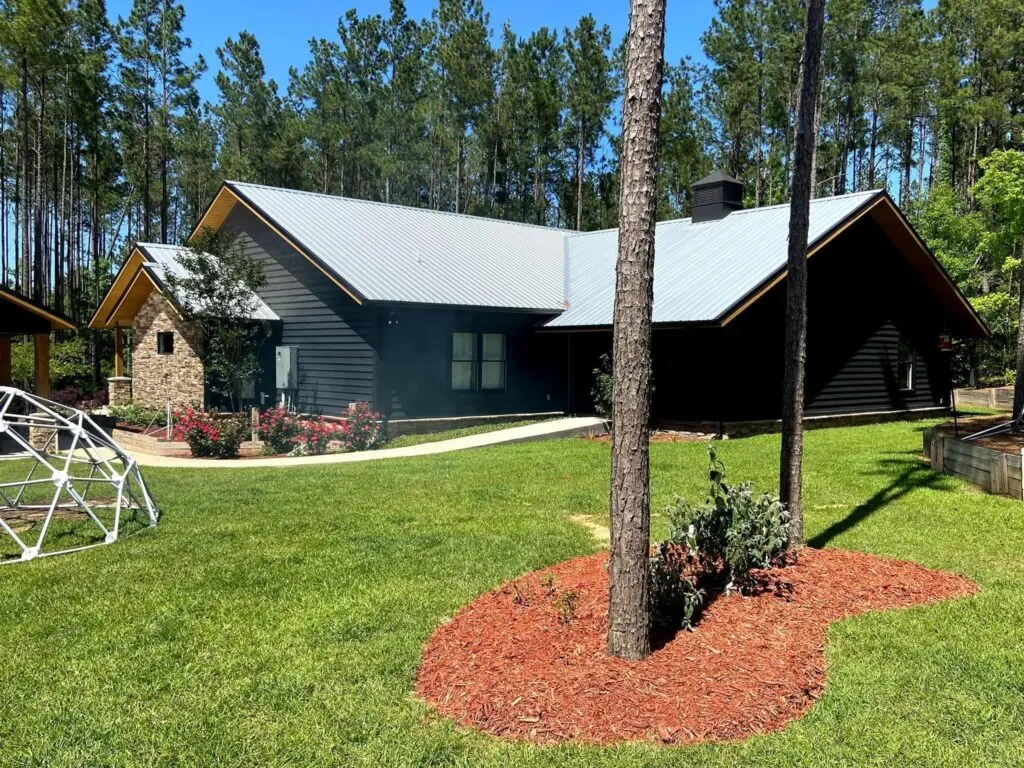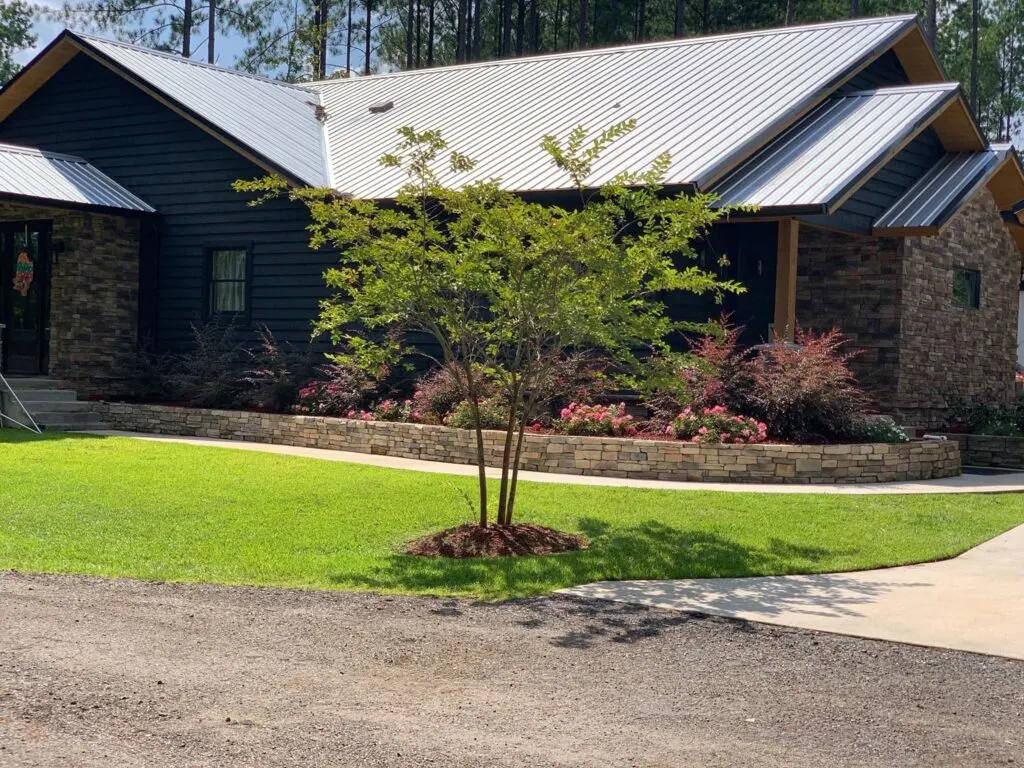 Interior
Upon entering the home, the beautiful granite-covered kitchen island – 66 by 168 inches – instantly stands out, with lantern lighting and a huge, roomy stovetop and hibachi grill. With the potential for seating more than 10 people, the island is the heart of the kitchen.
From wall to wall, the kitchen is 27 by 36 feet; truly a chef's dream.
Just a few feet away are roomy cabinets, a large sink, dual ovens, and a large microwave.
With recessed lighting and stainless steel appliances, the kitchen is bright, airy, and sparkles.
To the left of the kitchen is access to the master bedroom.
To the right of the kitchen is a spacious laundry room, so it's easy to keep track of your clothing while preparing a meal or relaxing.
The laundry room features a sink and plenty of cabinets to keep supplies at the ready.
Adjacent to the kitchen is the living room; both are covered with rustic wood flooring, and four glass doors offer a window to the outside.
With a built-in fireplace, and spacious cabinets and shelving, the living room offers a brilliant focal wall inside the home.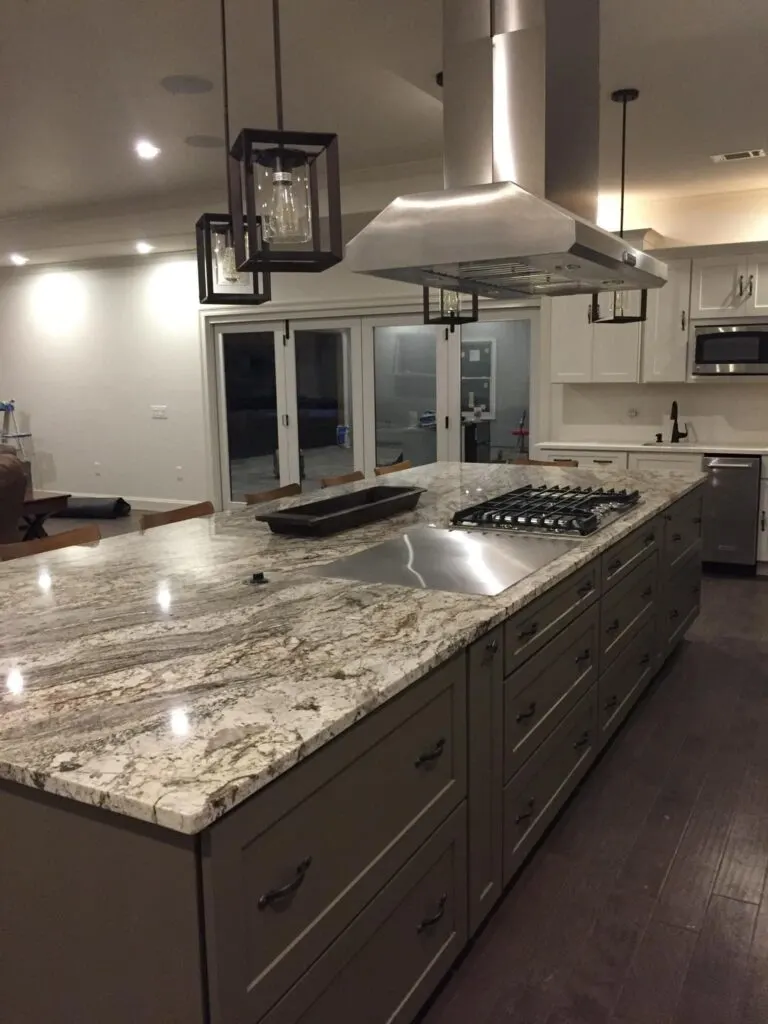 Master Bedroom, Bath and Closet
The master showerof the Odom Family Florida Barndominium features floor-to-ceiling tile, built-in cubbies for products, a waterfall showerhead, a corner seat, and a handheld showerhead. Perfect for scrubbing the day away, this roomy shower is a dream come true.
The master bedroom features a walk-in closet with carpeting, an island, and plenty of space for everyone's attire.
Additional Bedrooms and Bathrooms
Behind the living room, there are two bedrooms and bathrooms. With soft carpeting, crown molding, recessed lights, and ceiling fans, the bedrooms are perfect for children of all ages – including those who need a desk setup – or for a guest room or man cave.
The hallway features a built-in nook for studying or working.
With a cozy tub, the bathroom features beautiful tiles with a built-in cubby for shower supplies.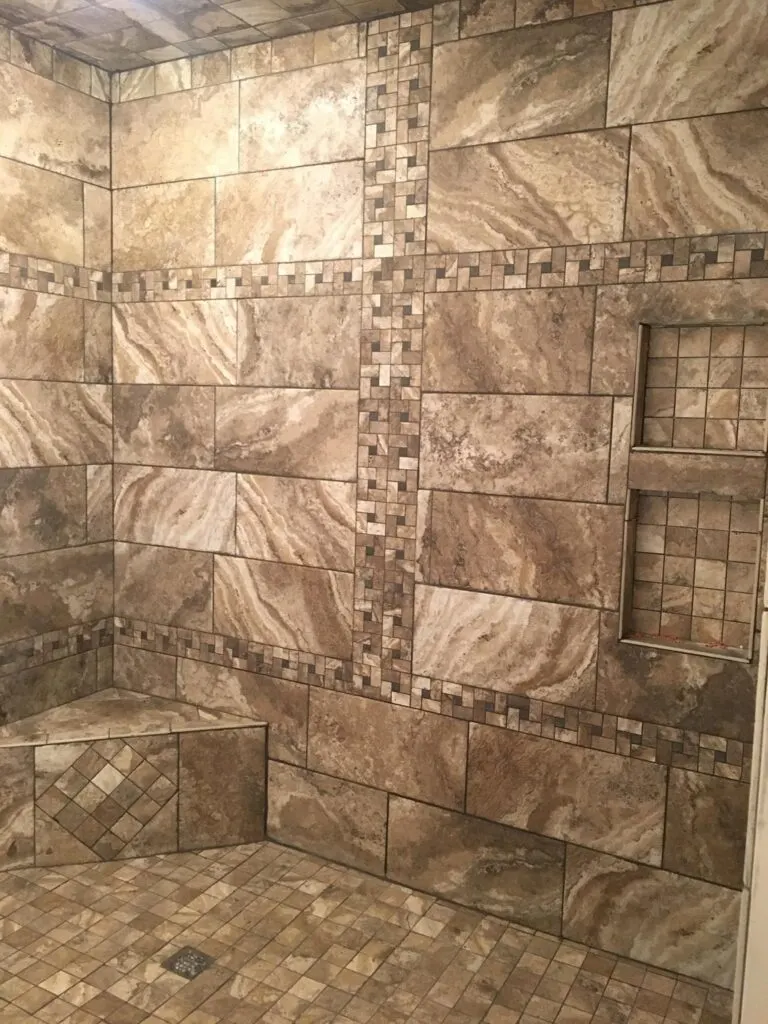 Indoor/Outdoor Room
Adjacent to the living room is a huge, open-air, tiled indoor/outdoor room.
With tiled flooring, space for seating, a gym, and playing games, this room is a great way to beat the heat and enjoy the year-round Florida weather.
Heat lamps and a built-in fireplace offer coziness when the temperatures dip, making this room an ideal place to spend cool winter evenings.
Floor Plan
We love the simplicity and open floorplan of the Odom family Florida barndominium; with two bedrooms to one side, a covered porch, and a spacious living room, this home offers plenty of space for the whole family!
Conclusion
We love the ability to create our own home! If you're looking to join the barndo-life, and want to know where to start, Don Howe created this great eBook to help guide you through the process! This book will jumpstart your creativity before you start looking for a builder or kit provider.
How to Build Your Own Barndominium & 200+ Floor Plans
Get started today with our program "Barndominiums Made Easy: How to Build Your Own Barndominium" and get 200+ barndominium floor plans included!
Gail currently spends her free time geeking out about what's new and trending in the world of barndominiums.
She is the former executive editor of BarndominiumLife.com and loves working with the team and members of the barndominium community. She now contributes to the blog on occasion, but only when she feels like it!