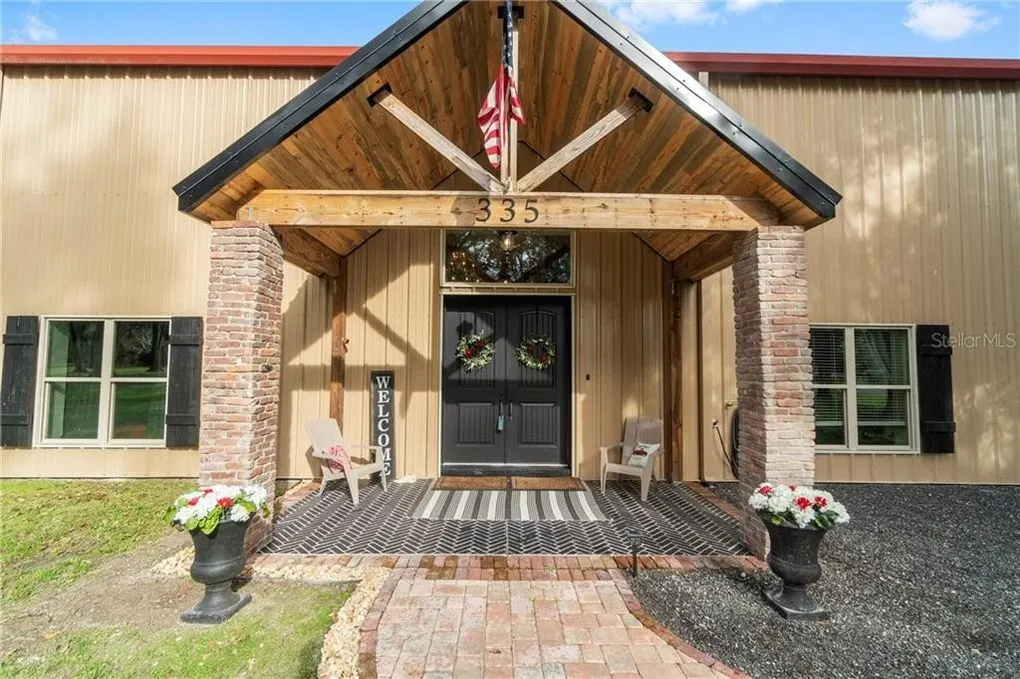 Here at Barndominium Life, we see a lot of homes and have the pleasure of getting to feature some truly amazing barndos. However, rarely do we get to take a look at homes that are quite as opulent and incredible as this Ocala, Florida barndominium. This barndo is absolutely amazing and is more or less unlike anything we have ever seen before. The designers of this barndo have taken the form to a whole new level and we can't wait to show you some of the surprises this barndominium in Florida has in store.
Exterior
The exterior of this Florida barndominium has an amazing color scheme that contrasts so perfectly with the surrounding landscape and works so well. As you can see, the front facade is incredibly inviting and warm. We love the pillars that flank the front porch cover and think they are a great addition to the style and feeling of the entire home. We also love that the windows are low and they make the exterior cut a sharp profile that is very unique.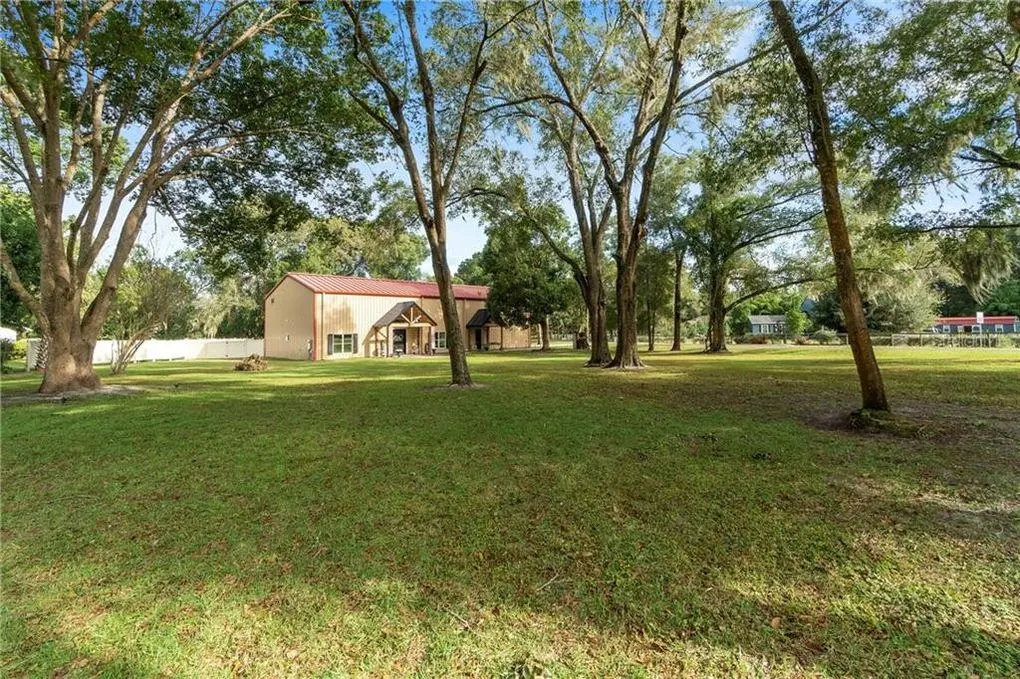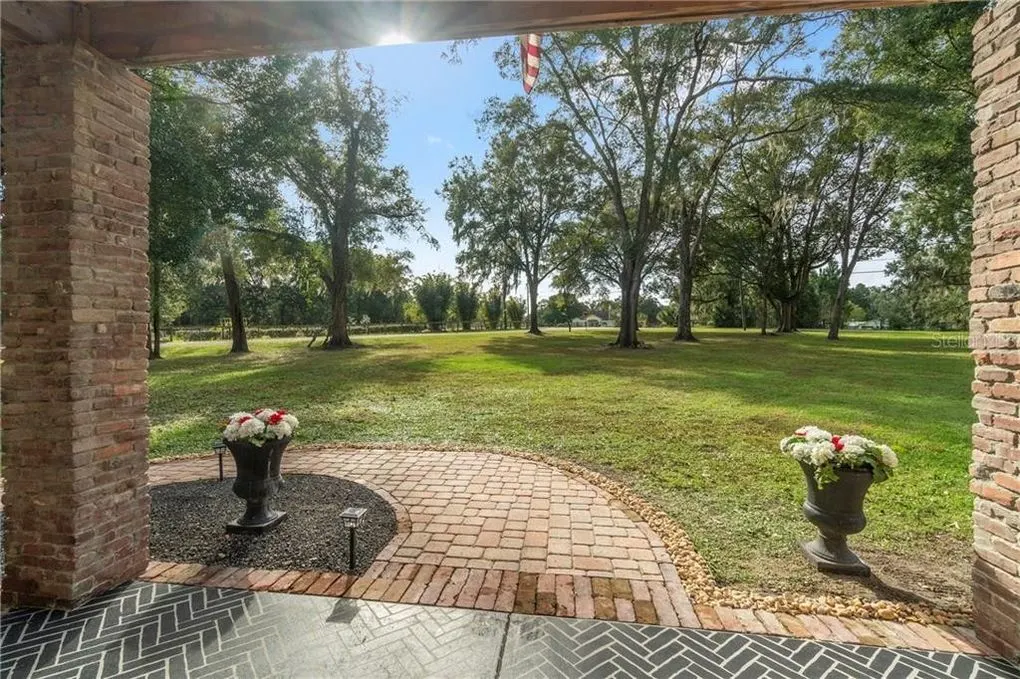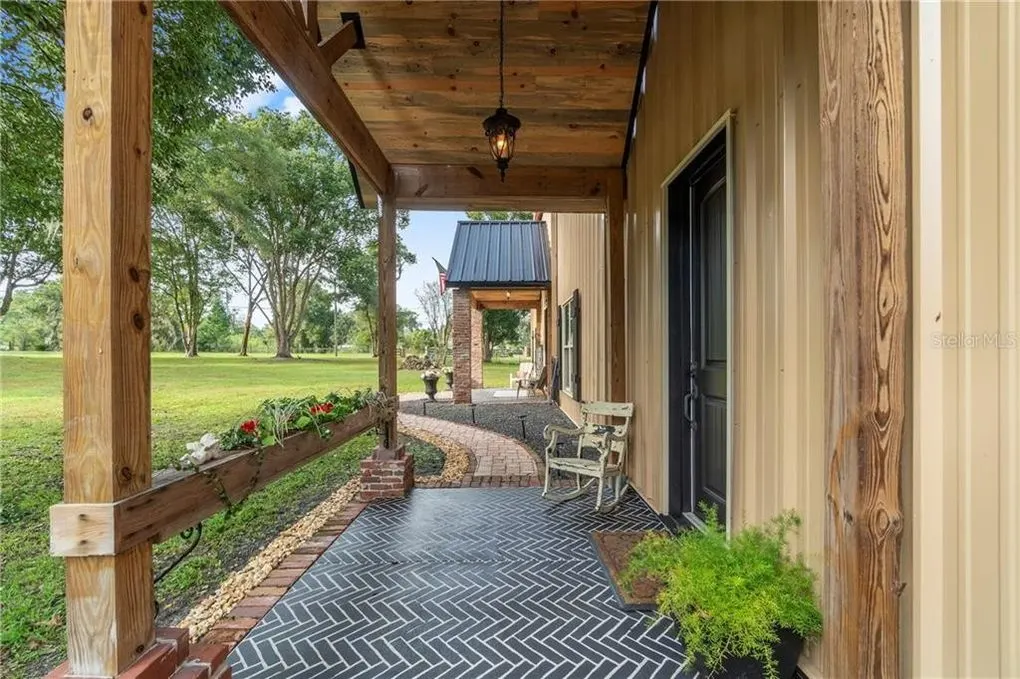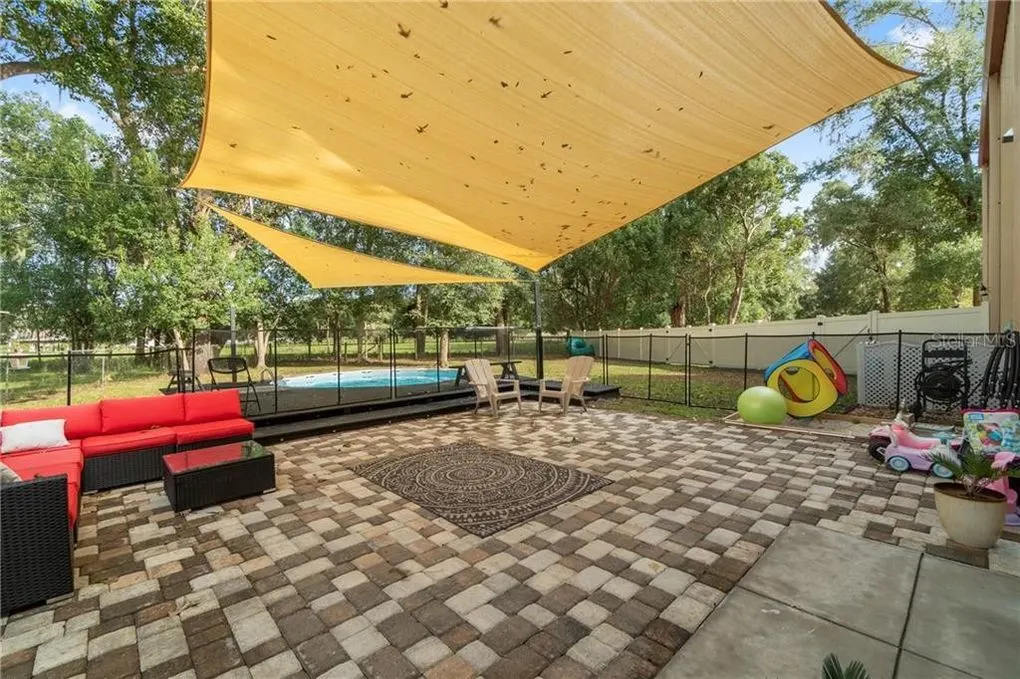 This Florida barndominium is also unique because it has an amazing covered pool area. We love the patchwork flooring in this area and think it fits in so well with the colors and patterns of the rest of the exterior. If you are going to live in Florida, a pool is absolutely necessary and the owners of this barndo have thought of everything when it comes to comfort and style.
Interior
Living Area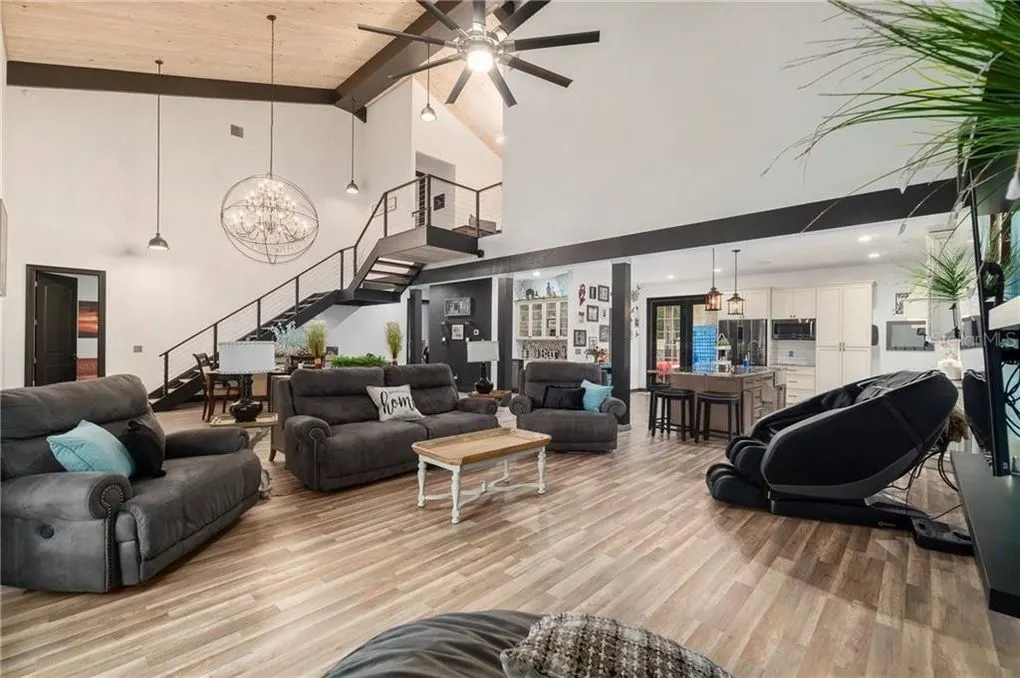 The exterior of this Florida barndominium is very beautiful, but the inside is almost unbelievable. We love how much room has been worked out with the floor plan of this barndo and think it is such a wonderfully well thought out and designed interior. The way the second floor is blocked off instead of being in a loft style is very unique for barndominiums and the trim underneath it cuts an amazing delineation between the two floors.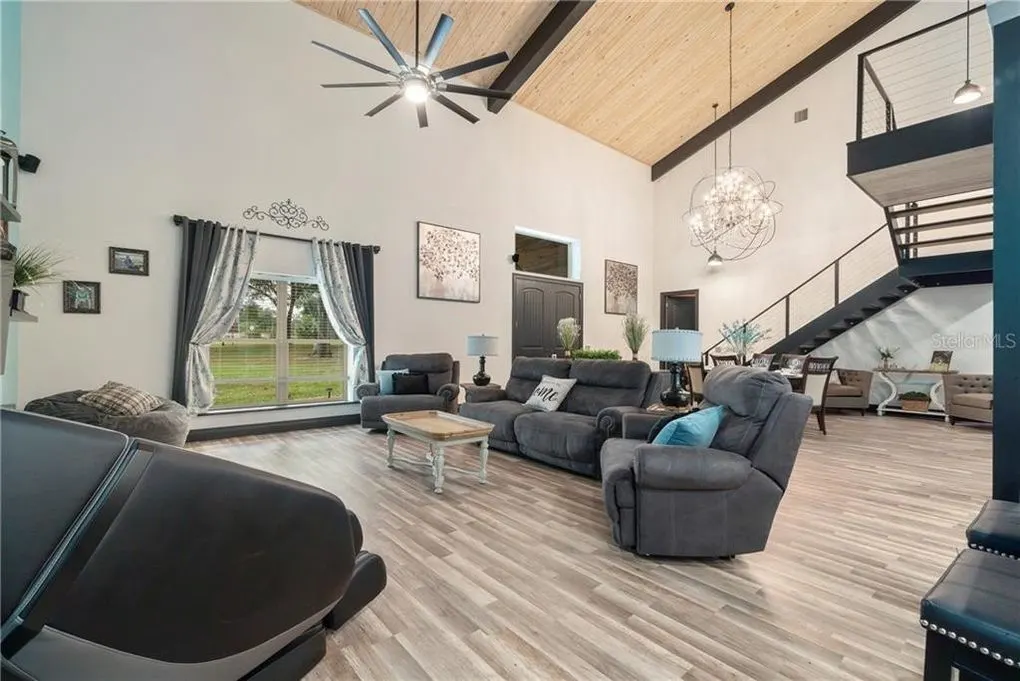 The living room features a beautiful mint green accent wall which draws the eye and helps bring the whole living area together. The open floor plan in this bottom floor is very well designed and has a way of connecting all the spaces and making this Florida barndominium look wide open and comfortable.
One of the most appealing and interesting features of the interior of this Florida barndominium is the grand staircase that leads to the second floor. We love how the dining area fits underneath this staircase and the height that is achieved by sealing off that second tier. Plus, the elegant chandelier that hangs over the dining room table gives off a degree of class and opulence that is just so beautiful. We love everything about this downstairs area.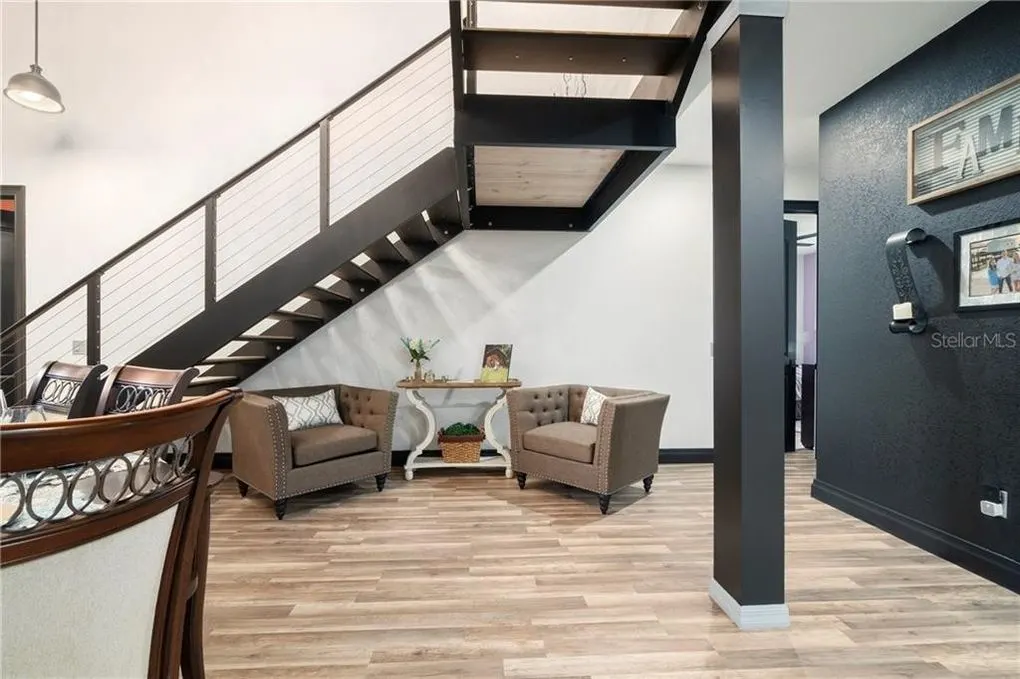 Kitchen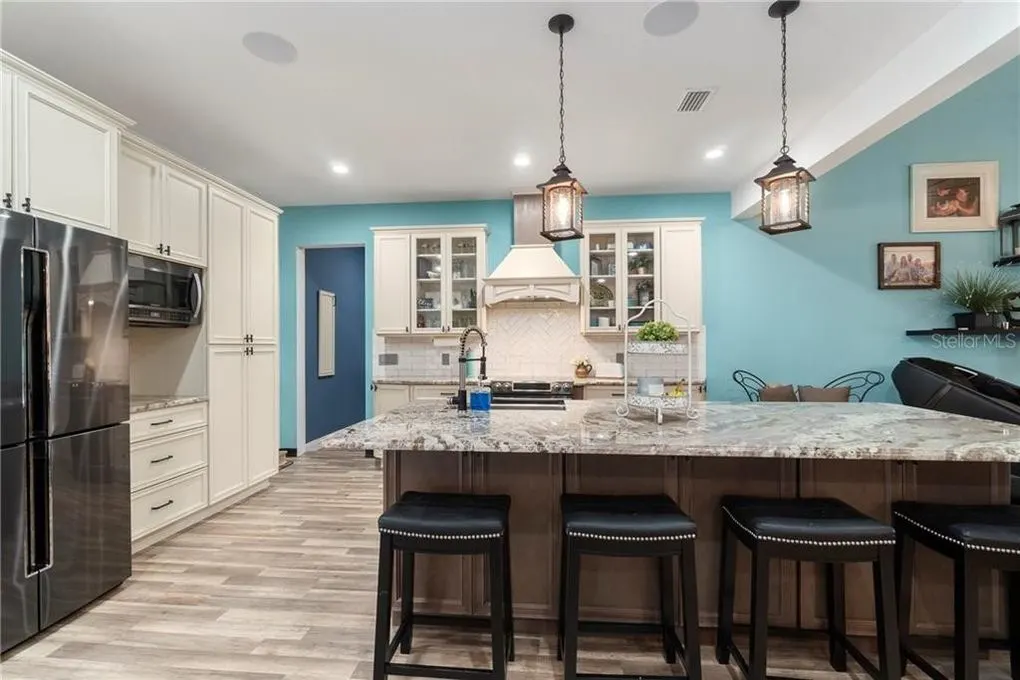 The kitchen also features a nice, open design that is perfect for both function and aesthetics. It has more of that mint green accent color that works so well here and makes the kitchen look absolutely adorable. The white subway tile backsplash brings a clean look to the kitchen as well as the amazing marble countertop. The kitchen in this Florida barndominium is all class and so incredibly well designed.
Bedrooms
The bedrooms in this Florida barndominium match with the amazing design of the rest of the home. Each bedroom has its own distinct look that is perfectly coordinated and wonderfully done. Everything from accent colors to intricate woodwork is utilized in the bedrooms and this brings a level of separation and individuality to the rooms. This is essential in a house that is meant for a family and we think it is done so well and so tastefully here.
Bathrooms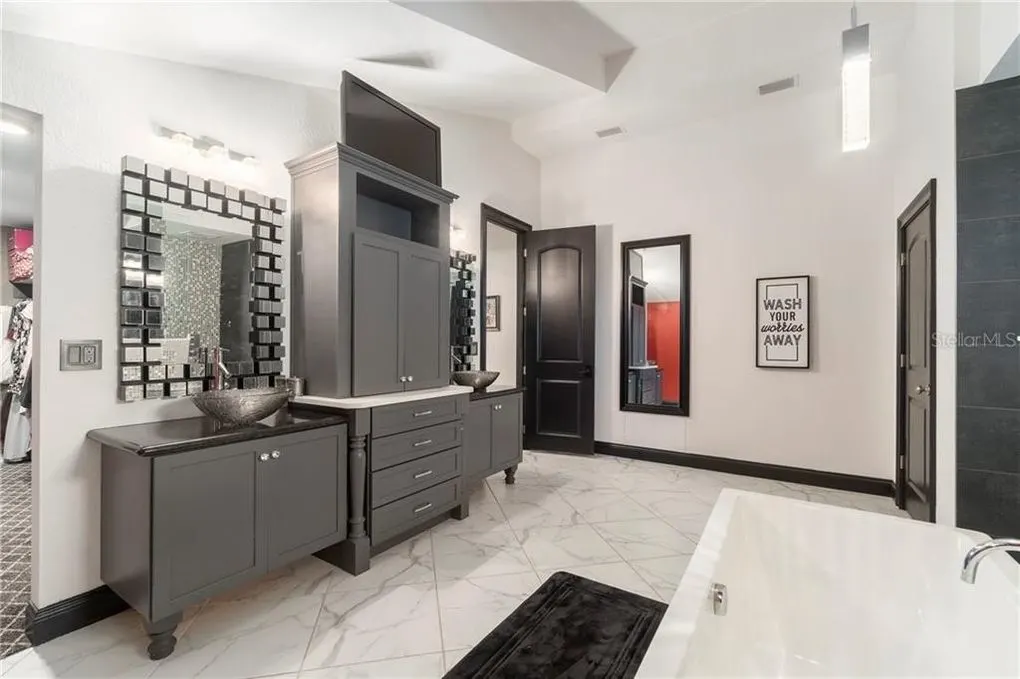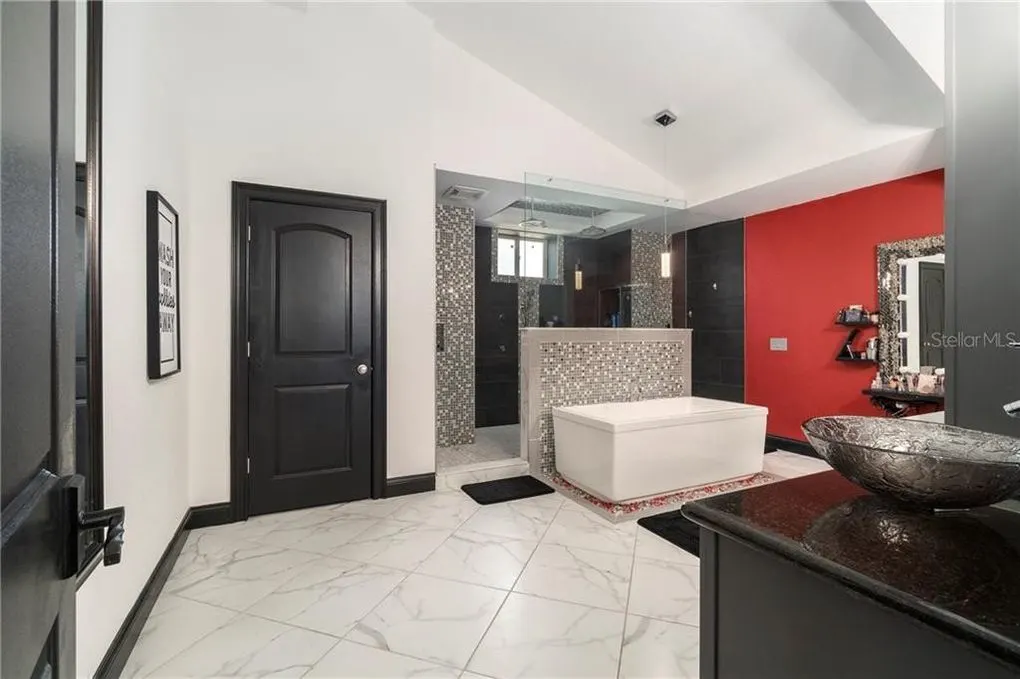 Each bathroom in this Florida barndominium also has its own style and design choices. Everything from the beautiful tile work in the showers and flooring to the unique vessel sink is meant to compliment everything else and it does such a great job of balancing out looks and feels to create a unique experience in every corner of the room.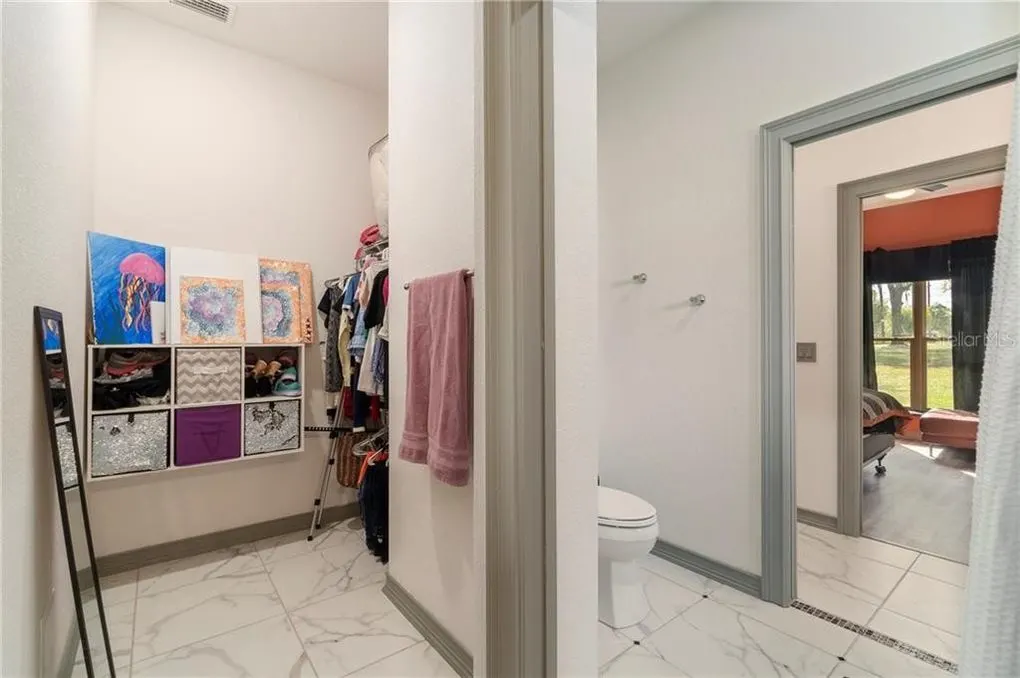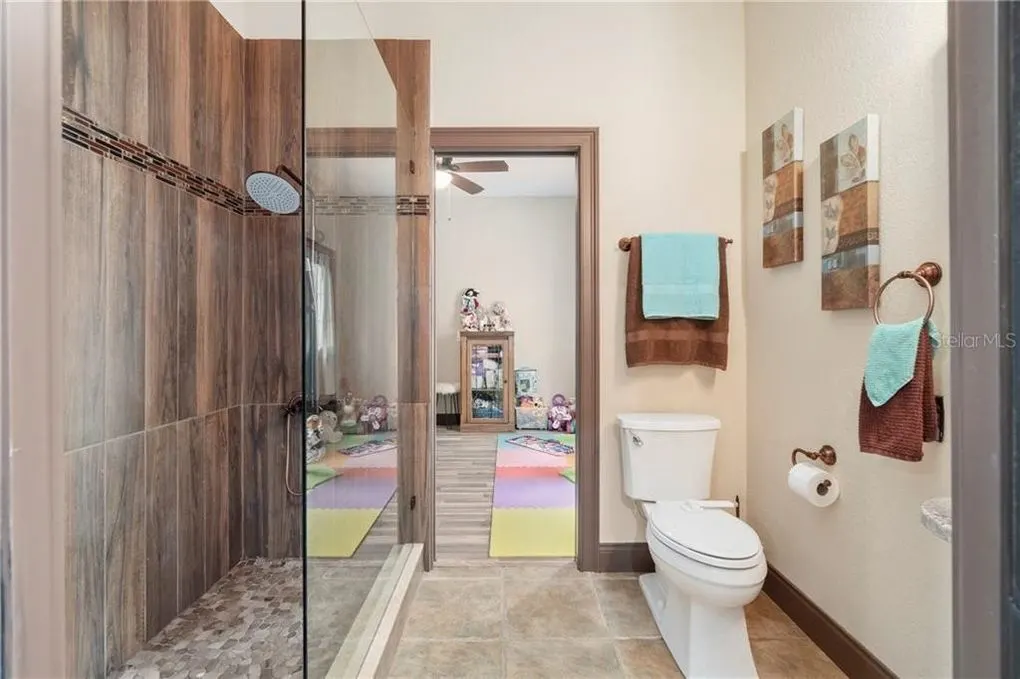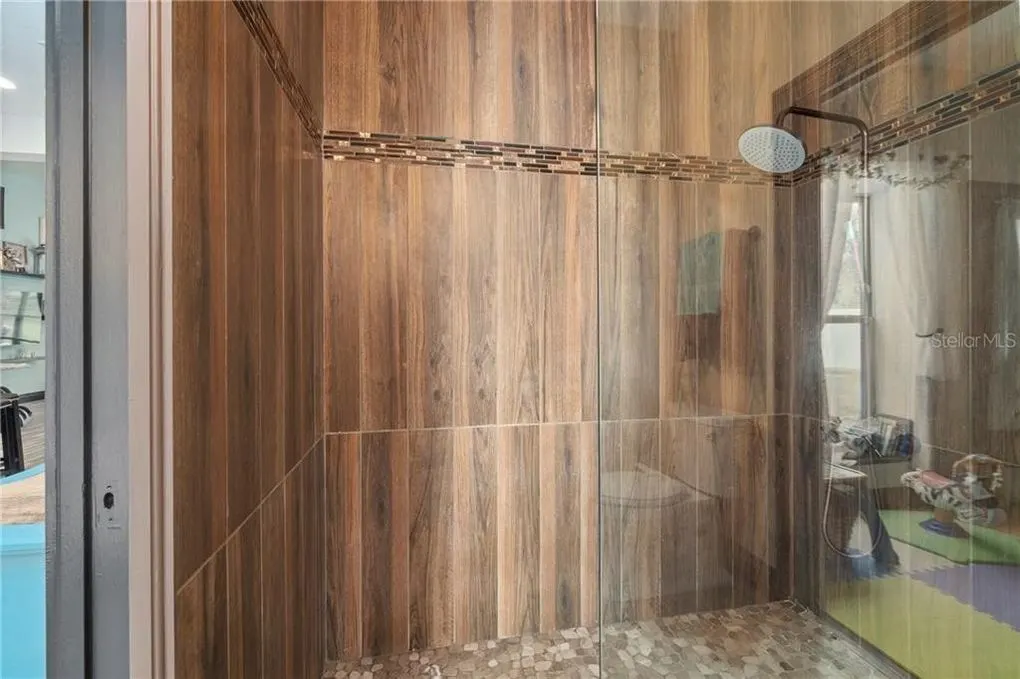 We absolutely love the wood print tile in this shower, as well. The way it contrasts with the mosaic tile on the floor and the all glass doors bring about echoes of mid-century modern style without feeling kitschy or dated. That is something this Florida barndominium does incredibly well. It mixes different looks but manages to make them all compliment each other instead of clash.
Extra Spaces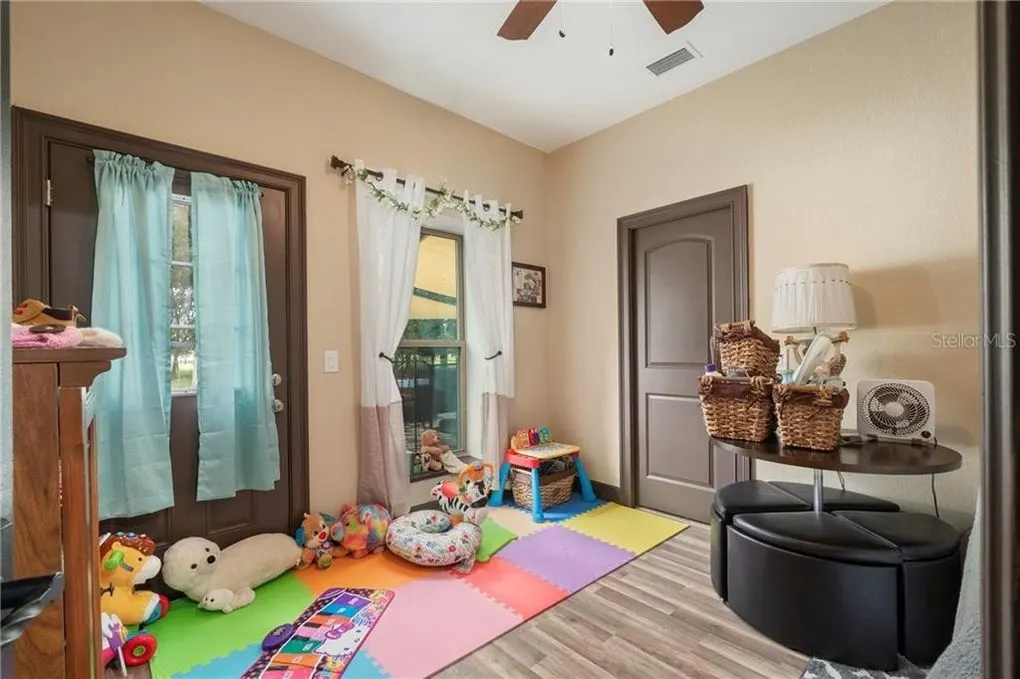 This Florida barndominium also has a wide variety of extra spaces available for many different purposes. This massive walk-in closet is a wonderful addition for any family that has kids and wants to keep everything organized. We also love the adorable playroom that helps keep all the toys separate from the living area.
The huge garage off the side of this Florida barndominium is another fantastic feature. There is so much space everywhere you look in this home and that is because it is so well put together and planned out. This barndo is a perfect example of what can be done if you know how to design a space and you take the time to use everything to its fullest potential. We think it is just amazing.
Michael O'Connor is a seasoned barndominium writer passionate about creating unique and innovative barndominiums. With over 15 years of experience in the construction industry, Michael has established himself as a leading expert in barndominium design and construction.
His work has been featured in several respected publications, including Barndominium Life, where he frequently contributes articles on best practices and emerging trends in the field. Michael's ability to blend traditional techniques with cutting-edge technology and design concepts has earned him a reputation as one of the most knowledgeable writers in the industry.