Your barndominium's floor plan is one of the most important things you will come up with in the design process. Making sure that your barndominium has the right flow and the right feel as well as all the things you would want out of a custom home is incredibly important. Without having the right floor plan, you will not be able to get everything you want from your barndo and this can defeat the whole purpose of the project.
In this guide, we have put together some amazing examples of a 40×100 barndominium floor plan to help get you inspired. By going through these examples, you can start to get a good feel for what you want out of your own design. You might even find the perfect floor plan here and from there on out, your work is done!
40×100 Barndominium Floor Plan – Things to Consider
Your Land
One of the first things you will need to consider when putting together your 40×100 barndominium floor plan is the piece of land you are building on. Your land will have its own unique set of characteristics that you will have to keep in mind as you put your design together. Your land will have a big influence on things like what you can fit and how it will be laid out. Making sure that your floor plan factors in land requirements like drainage and utilities will help you keep things in compliance as you finish your build.
Your Family's Needs
The needs of your family should be one of the other early things you consider when putting together your 40×100 barndominium floor plan. The layout of your home will have a big impact on your lifestyle, so it's important that you think about it as you put it together. For example, if you have someone in your family who needs to keep irregular hours for a job, it is best to keep the bedrooms towards the back of the barndominium. That way, the noise of the living areas won't interfere with someone trying to sleep in one of the rooms. Think about your needs and how you can make life easier with your 40×100 barndominium floor plan.
Storage
Storage is another important thing to think about when putting together a 40×100 barndominium floor plan. If you are going to be living in a place for a long time, having areas where you can keep your belongings without making the house look cluttered is crucial. By factoring in storage into your floor plan, you can be sure to have the space you need to actually do your living. Built-in shelving units are a great way to save room and include the storage space you need, so they should be factored into your floor plan as well. They can also be an excellent, craftsman-like touch for your overall aesthetic.
Traffic Flow
The flow of traffic is an important factor in your 40×100 barndominium floor plan. There are all kinds of configurations you can put together that can either help or hinder your particular way of living. Deciding on whether you want an open or closed concept floor plan is a very important choice. An open concept keeps the kitchen and living areas connected and can give you more space for something like a kitchen island. However, the closed concept will give more separation between those two areas if that is something that you think you might want or need for your particular family.
This amazing 40×100 barndominium floor plan is a great example of thinking about the needs of the people living there. With four bedrooms and three and a half bathrooms, it has enough living space for everyone and two rooms that are located way in the back of the barndo. Both of these bedrooms have their own master bath that is perfect for someone who might need to keep different hours than the other people in the house. It also features a large utility room and plenty of storage, including a walk-in pantry. On top of that, the massive living area and front porch provide plenty of social space.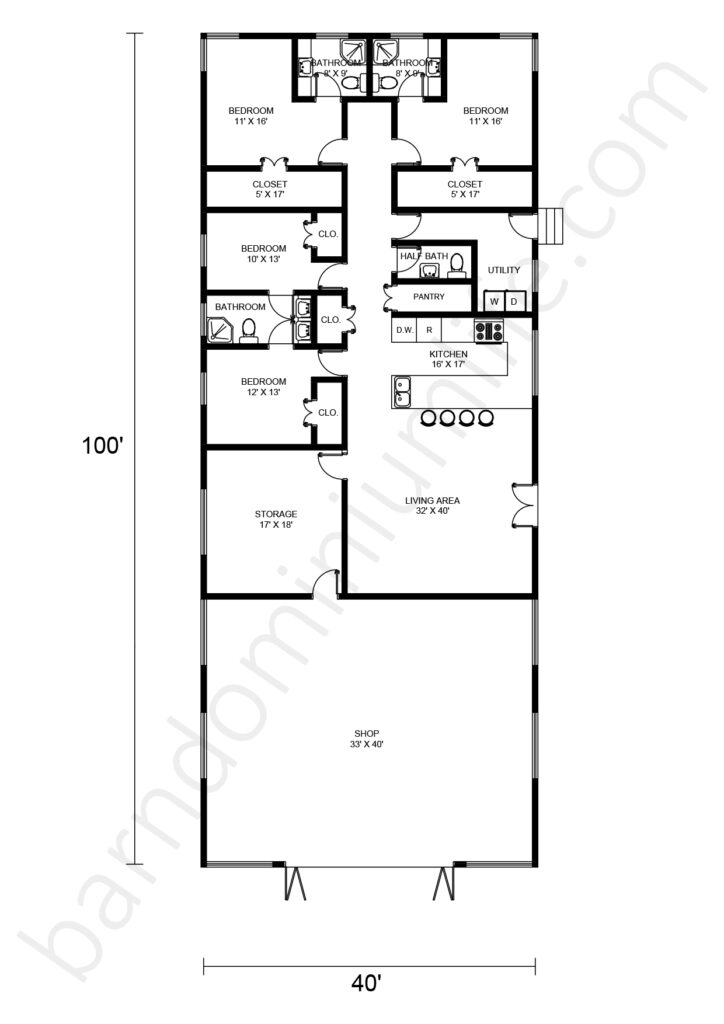 This four bedroom 40×100 barndominium floor plan is perfect for people who might run their business out of a shop or need a lot of storage room for things like RVs or boats. The massive 33×40 shop takes up a large portion of the floor plan but that doesn't mean there isn't enough room in the rest of the house. The living area is almost the same size and it features that nice, open concept kitchen with an island that has a cleverly placed sink on the edge. Not to mention, all the storage space included in the dedicated 11×18 storage room and the utility space off the side.
This three-bedroom 40×100 barndominium floor plan is a great choice for someone who needs the kind of office space that might normally be reserved for a master bedroom. The huge 14×17 office sits right at the front of the house and provides an excellent nerve center for everything in the home. With a bathroom right across the hall, there is enough thought put into the traffic flow of this floor plan to make it a perfect choice for all kinds of families. It also features three large bedrooms and three bathrooms as well as a wonderfully open layout of the living area and kitchen.
If you are running your business out of your home, this three-bedroom 40×100 barndominium floor plan is one of the best choices for you. With a 25×40 shop that makes up ¼ of the barndominium's floor space, there is more than enough room for you to do your work without having to rent out a whole different workspace for your business. It also features a large living area and a kitchen off the side that sits right behind an 11×12 storage area directly off the shop. The three bedrooms in the back are large enough for almost anyone and the two master bedrooms feature large 5×17 closets.
One of the nice things about putting together a 40×100 barndominium floor plan is that you have a lot of room to play around. This means that you can include things like breezeways that you might not otherwise have the space to utilize. A breezeway is an outdoor area that splits different parts of the house and is covered for the best possible shelter and coverage. This floor plan has the breezeway separating the living areas of the house with two of the bedrooms and bathrooms. This is a great way to get the most out of your living space both inside and outside.
This 40×100 barndominium floor plan has both a breezeway and a shop for the best possible use of space. On top of these features, it also has a large utility room and three bedrooms on either side of the breezeway space. The living room and kitchen are fully connected with a large island and a bathroom directly off the closet. Both back bedrooms also have their own walk-in closets that are big enough for anyone to be able to store their belongings and still have room left over.
If you don't need as many bedrooms, this 40×100 barndominium floor plan example is a great option for you. It takes that space that would normally be taken up by the bedrooms and turns it into a porch and extra room space. This floor plan features both a home office and a rumpus room as well as a living area that is big enough to have company over any time. This is an incredibly unique floor plan that could be a great choice if you want to build something different that will be unlike all the other homes in your neighborhood.
Just like the previous plan, this two-bedroom 40×100 barndominium floor plan takes the extra space made available by taking out one of the bedrooms and turning it into a shop. The 35×40 shop utilizes more than a third of the floor space but there is still plenty of room in the living area and the two back bedrooms. If you have a lot of recreational vehicles or would like a lot of shop space for work, this could be a good floor plan for your needs.
Conclusion
Finding the right 40×100 barndominium floor plan can be difficult if you don't know what to look for. Hopefully, by seeing these examples, you can start thinking about what you and your family need out of a home. Maybe you even want to use one of these for your own 40×100 barndominium floor plan.
If you would like even more floor plans as well as some tips and tricks from the pros and some in-depth guides, be sure to get the Barndominium Life Program and find more information as well as some featured barndominiums that can get you thinking about your own custom home and what can be done with these unique buildings.