Building a barndominium is one of the best ways to create a home you can love and make your own. The whole point of building a custom home is to have your personality shine through and express your personal style. Often, this means giving yourself enough room to include your entire vision. If you want a home that takes your breath away, a vaulted ceiling barndominium is your best option.
A vaulted ceiling barndominium can give your barndo a sense of space and luxury that can't be beaten. Higher ceilings bring the whole space together and make the interior of the home look even bigger than it actually is. Knowing what you can create with vaulted ceilings can help give you some inspiration and create the look you are going for. To help get you started, we have put together some vaulted ceiling barndominium examples that can give you some inspiration.
What is a Vaulted Ceiling?
When building a home, you have a lot of different options when it comes to the style and design you choose. This is especially true with a barndominium due to their versatility and adaptability to different designs. A vaulted ceiling is a ceiling that follows the line of the pointed roof and doesn't cut off at the bottom. Instead of installing a false ceiling below the angle of the pointed roof, it goes all the way up.
One of the main benefits of a vaulted ceiling is the way it can make the interior of your home look bigger and more airy. This can be especially helpful with a barndominium since sometimes they are built a little bit on the smaller side. A vaulted ceiling can help you make the most of the space you have and create an illusion of luxury that can take your home to the next level. Seeing some examples of a vaulted ceiling barndominium will help you decide if it is the right choice for your home.
8 Incredible Vaulted Ceiling Barndominium Examples
A vaulted ceiling barndominium can give you all kinds of options for design, material, and colors. However, it is important to see what is possible with this ceiling design and what you can make happen. Getting some inspiration from other vaulted ceiling barndominium examples can help you find your perfect balance.
Vaulted Ceiling Barndominium #1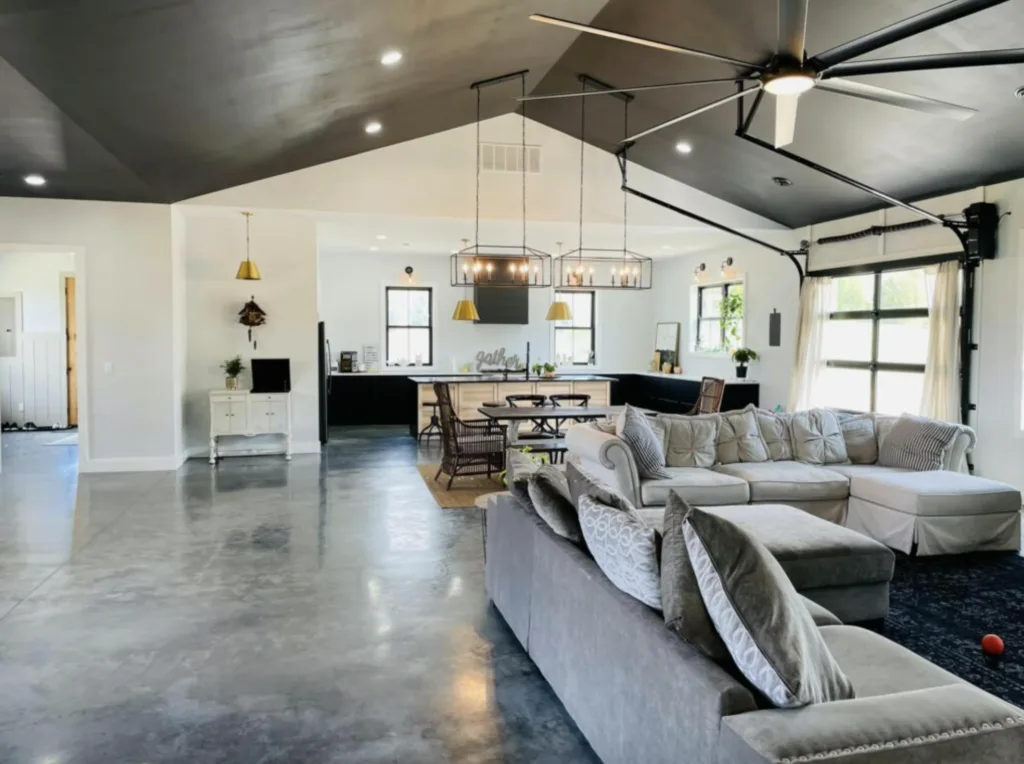 One of the great things about having a vaulted ceiling is that you can use it as a blank canvas. If you want to use the ceiling as an accent, you have a lot of color and material options. This vaulted ceiling barndominium has a plain black finish that helps make the modern design feel cozier. This is an excellent contrast and brings the whole space together along with the trim.
Vaulted Ceiling Barndominium #2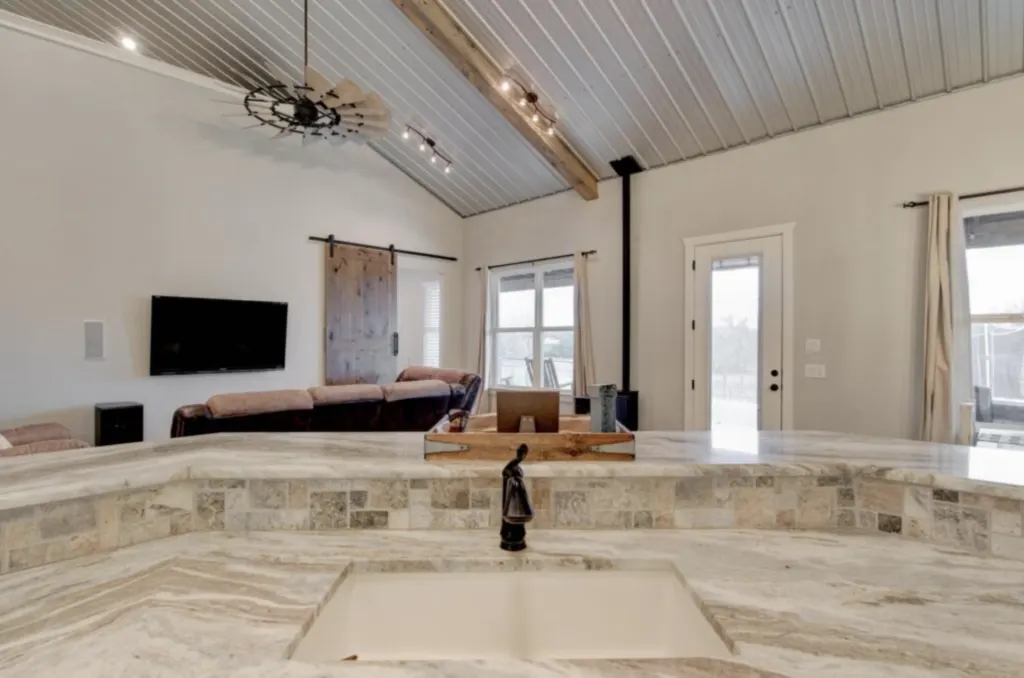 When building a barndominium, you want to decide how much of the original building you want to keep. The vaulted ceiling is an excellent opportunity to show some of the industrial features of the steel building. This barndo designer decided to leave the corrugated steel visible in the ceiling. This creates a modern, sparse feel that lets the rest of the barndominium shine and become an accent piece.
Vaulted Ceiling Barndominium #3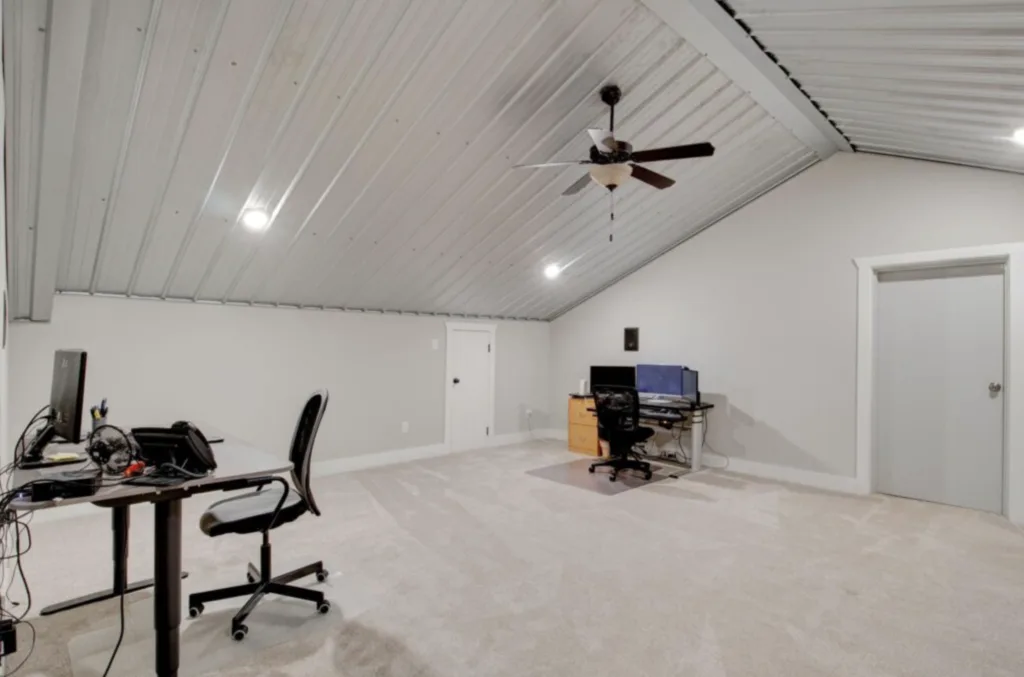 If the space in your barndominium is going to be at a premium, you want to do everything you can to maximize it. Vaulted ceiling barndominiums get the added benefit of extra space that can be used for all kinds of purposes. Even if you leave the space open in other parts of the home, you can create nooks and smaller rooms elsewhere. This barndo, for example, has a small office in the space between the ceiling and the top of the roof.
Vaulted Ceiling Barndominium #4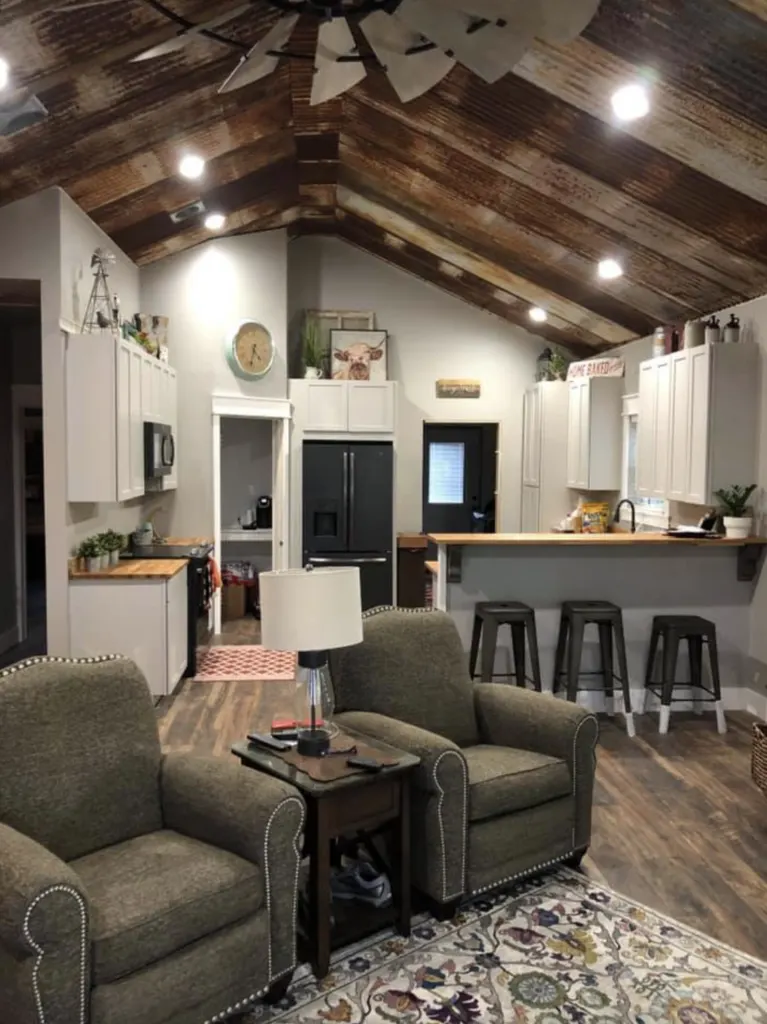 It is important to remember that you don't have to be limited by anything with your barndominium. Using different colors and textures can create something that is truly unique and amazing. This vaulted ceiling barndominium has wood paneling with rustic colors and textures on the ceiling. This creates an incredible, cozy space while also looking as large and opulent as possible.
Vaulted Ceiling Barndominium #5
Integrating spaces in the areas under your vaulted ceilings can be a great way to make room for yourself and your guests. This vaulted ceiling barndominium has an entire bedroom in this space that is reminiscent of an attic bedroom. This leaves more space on the bottom floor for kitchen or living areas, which can be crucial in a smaller barndo. Depending on the size of your home, this could be a great way to make space.
Vaulted Ceiling Barndominium #6
If your vaulted ceiling barndominium has a loft layout, you can really make the best use of that area. You can even use the ceiling to create a modern, industrial feel that can take your home to the next level. This barndo uses the bare corrugated metal in combination with the loft layout. The result is a modern industrial aesthetic that is incredibly popular these days.
Vaulted Ceiling Barndominium #7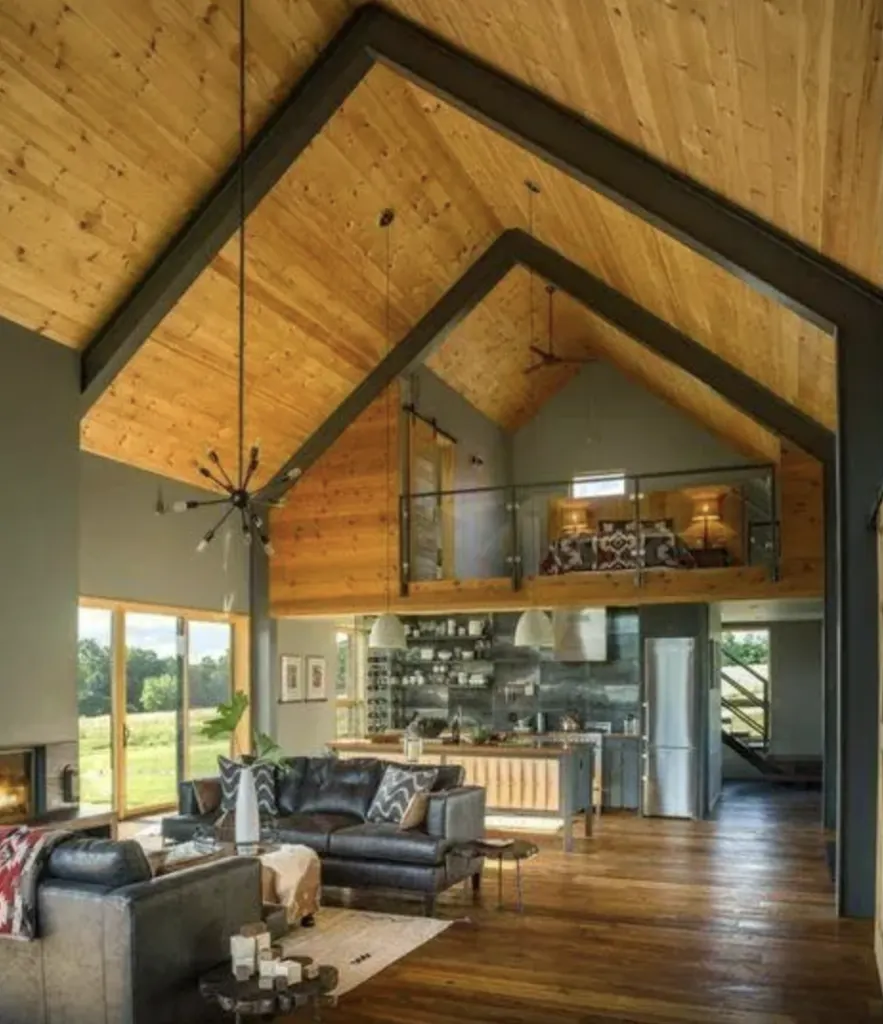 A vaulted ceiling barndominium also gives you some great, unique options for small, interesting spaces. This barndo, for example, uses the vaulted ceiling to have a small space upstairs that doesn't take up much room at all. This way, the owners get access to another area without giving up the large feel of the vaulted ceiling.
Vaulted Ceiling Barndominium #8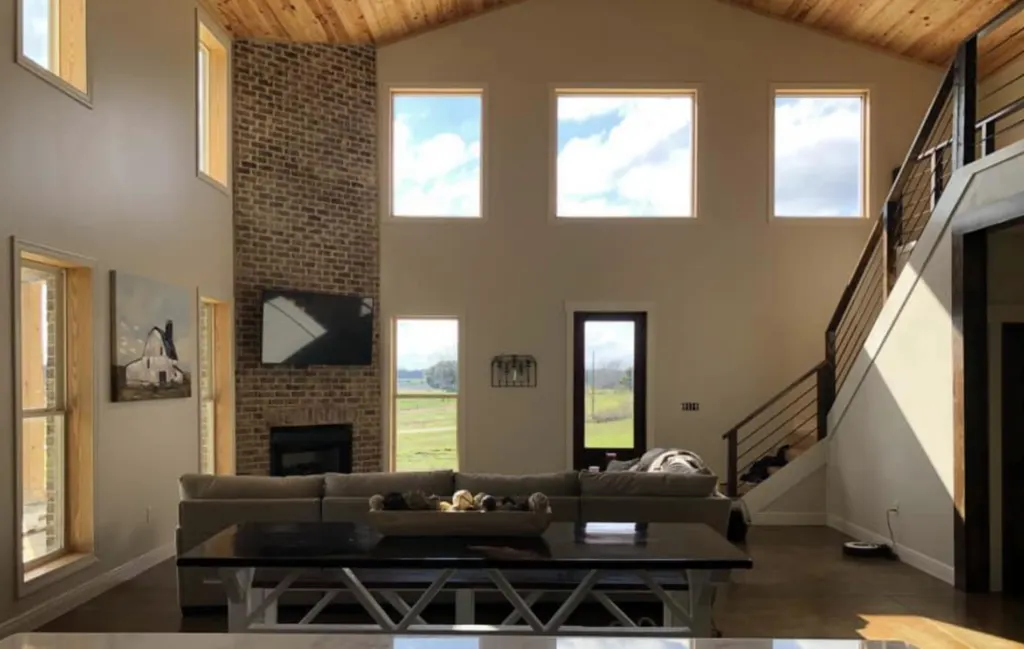 While a vaulted ceiling barndominium is a great opportunity to make the ceiling an accent piece, don't forget that you also have more room on the walls. This barndo takes advantage of that extra room by adding some windows. There is nothing better in a home than natural light, and having the ability to incorporate more of it is always a good option.
Conclusion
A vaulted ceiling barndominium is a fantastic opportunity to make the absolute most of the space you have. Whether you are building a small barndo or a large one, you can use the extra space for living areas or as an accent piece. Knowing what is possible with this design is a great way to come up with your own unique ideas and create something truly beautiful.
If you would like more guides like this one, check out the rest of BarndominiumLife.com. There, you will find more helpful tips and tricks from the pros. You will also find featured barndominiums, barndominium floor plans, and information on financing and insurance. Knowing as much as you can will help you get the best results for your dream home.
Michael O'Connor is a seasoned barndominium writer passionate about creating unique and innovative barndominiums. With over 15 years of experience in the construction industry, Michael has established himself as a leading expert in barndominium design and construction.
His work has been featured in several respected publications, including Barndominium Life, where he frequently contributes articles on best practices and emerging trends in the field. Michael's ability to blend traditional techniques with cutting-edge technology and design concepts has earned him a reputation as one of the most knowledgeable writers in the industry.