Our DIY Barndominium Part 7: Lessons Learned While Building
This is not your average update from us during our barndominium build, and that is because the last two weeks have not been so average. I could focus on detailing the progress, and I will do some of that, but I thought it would be more beneficial to give you the real, raw truth about what we have come up against in the last two weeks, and how we are navigating through it. Hopefully for those who are considering building, you may be able to avoid some of the mistakes we have made!
Follow More Progress on Instagram @morgan.homebuild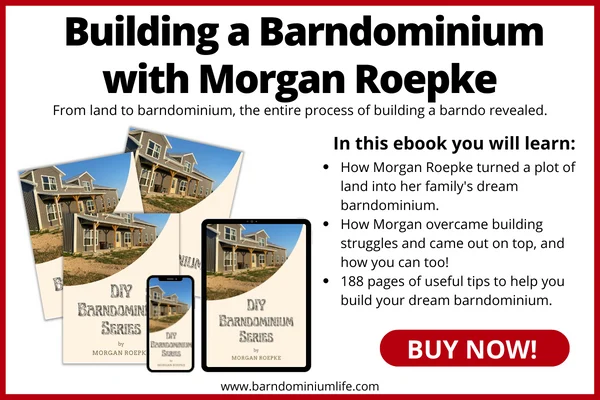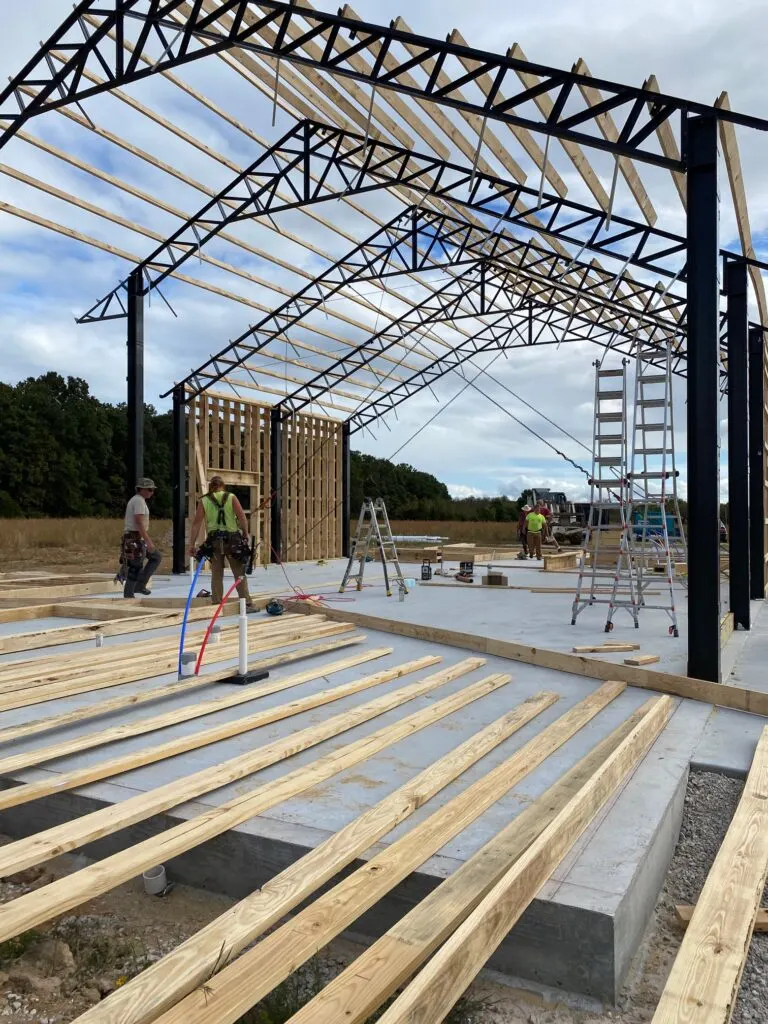 This photo represents the work that was completed and documented in our last progress article, Our DIY Part 7: Building the Barndominium. Click the link above to check out that article and others in the series as well!
Lessons Learned While Building
Building a home is a massive project. There are a million moving parts all trying to work together seamlessly. Things will be on backorder, material costs will change, and drafts and plans will be inconsistent at times. That is the nature of the beast. As we have pushed forward with our build, there are three lessons that we continue to learn over and over again!
1. Plan, Plan, Plan!
The first, and most important, lesson learned while building is that you have to plan and prepare long before breaking ground. To some this may seem like a no-brainer. However, it is extremely time consuming to plan a home. It can also be frustrating to pour so much work and time into something that isn't tangible until long after the work is put in. That being said, any amount of time spend calling subs, organizing, budgeting, and pouring over every detail of the plan will pay off big time in the long run.
Even though my husband and I spent endless hours planning our home, we still had inconsistencies to straighten out after construction started. If we didn't know exactly what we wanted and what it was supposed to look like, this would have been exponentially more difficult to resolve.
2. Double Check All Progress Thoroughly
Those who have journeyed through building a barndominium can testify how tedious the process can become at times. Even though we had meticulously chosen each exact room size and thought about the design and function of each space, there are occasions where the contractors interpret the plans differently or just make mistakes.
The next lesson learned while building is that you need to double check everything. Just because things "seem" right or look okay, doesn't mean that they are exact. This may mean going out with a tape measure whenever the crew is gone for the day. It may mean asking a ton of questions. It may be uncomfortable or make sub contractors frustrated, but in the end, you will be confident that everything is as it should be moving forward.
In our situation, we found out that there was some major inconsistencies with the engineering of our metal and the finalized house plans. This affected our dormers in the front of the house and our living space/back porch areas. Those were both really important parts of the home for us! Unfortunately, we didn't figure this out until the concrete was poured. Because of this, we had to make some changes and have negotiations with our metal company in order to get things looking great. All of this could have been avoided if we were more diligent to catch the problem earlier.
3. Hire People You Trust
Hiring a quality people is one of the most important lessons learned while building. This can be extremely challenging and is very difficult to do when you are in a hurry. Getting at least 3 bids for each job is one way to compare not only price, but personality of your contractors. Comparing bids keeps contractors honest because you can compare how much each company is charging for materials and then for labor. Having many conversations with a sub contractor (or general contractor) before hiring them will help you to feel like it is a good fit.
Finding the perfect fit is really important. As mentioned above, we have had some serious pitfalls in our construction. However, the company that we chose to work with has done everything they can to make us happy customers, even when things were difficult. Even when we were in the midst of difficult changes in our plans, they were super honest and accommodating, and this has made us glad we chose to work with them. We have been so glad that we chose to hire honest people along the way.
Our Current Progress: Framing, Windows, Doors
Since the last update on our build, our building crew has been hard at work framing the exterior of the home. They have prepared all sides of the home for metal siding on the outside, a metal roof, and wood framing on the inside.
Recently, all of our windows and doors were delivered (eek!), and so most of those are also installed. For many of the rooms in our home, we chose 3×5 twin windows, where there are two 3 foot by 5 foot windows right next to each other. Watching these windows be installed has been one of our favorite parts so far!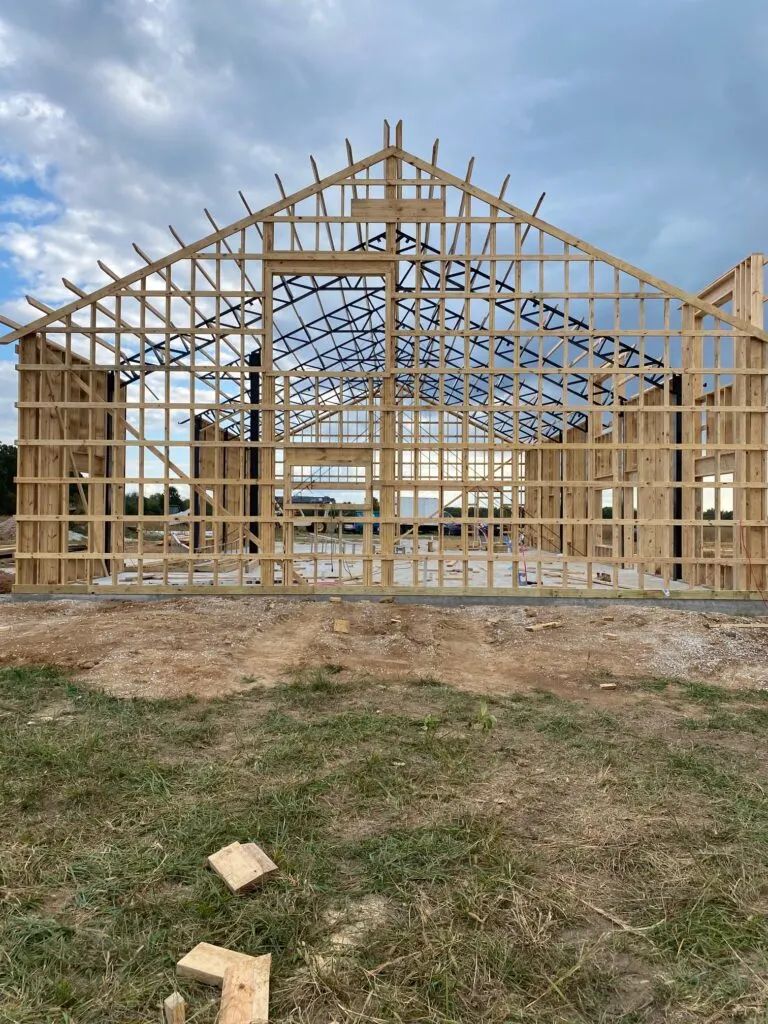 Our Current Progress: Dormers and House Wrap
One of the final framing elements (and the most complicated) has been the dormers on the front of the home. These dormers also each include a 6ft x 5ft window opening. We are loving our window symmetry and our extra long front porch.
After the framing was mostly finished, the crew began to wrap the house in Tyvek in order to prepare for siding installation, which has begun, as you can see in the pictures below.
Our Current Progress: What's Next?
We aren't quite finished with our exterior, so to finish up, we will begin to see our charcoal grey siding wrap around the house and galvalume colored roof go on very soon. All of the rest of the windows will soon be installed, and our current building crew will finish up by constructing our covered back porch. Our exterior will be looking much more complete very soon!
Follow More Progress on Instagram @morgan.homebuild