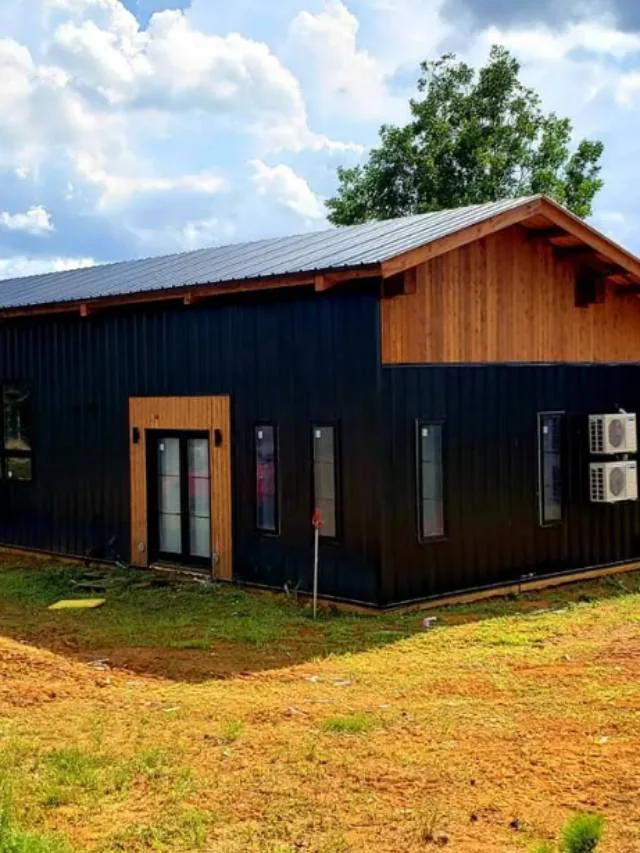 Passing along a nice road, you see this awesome decked-out barn with amazing curb appeal. You've just encountered a barndominium. A what? In this article, we will explore the barndominium definition closely in terms of its origin, features, cost, and benefits.
As the population continues to grow and more people move to cities, the demand and prices for housing continue to increase. As a result, the average price of a house in the United States has now exceeded $400,000, a 15% spike over last year. A number of alternative housing options have popped up, including barndominiums, as a solution to this.
An alternative home is not only a cost-saving option, but it is also a sustainable choice that offers many design possibilities. As "barndos" are designed for both living and working, they can simplify our lives by providing us with a well-rounded, multi-purpose space.
Now, let's go through the barndominium definition so you can see just what these alternative homes have to offer.
What Is the Barndominium Definition?
Simply put, while the name barndominium is a cross between a barn and a condominium, in reality it's totally different than a condo. It's a type of residential metal structure consisting of one or more open-plan living areas and a large garage or workshop space. Many barndominiums have a rectangular foundation, allowing you to customize the barndo floor plan to your exact preferences.
Barndominiums are becoming increasingly popular in rural areas as an affordable alternative to traditional housing, allowing owners to combine the functions of a home and workspace. Nowadays, barndos are also becoming increasingly popular in the city due to the many benefits they offer.
A barndominium may be right for you if you prefer an open floor plan reminiscent of the rustic feel of a barn. When you're looking to build your own barndo, be sure to consider the size, location, and features that matter to you.
How to Build Your Own Barndominium & 200+ Floor Plans
Get started today with our program "Barndominiums Made Easy: How to Build Your Own Barndominium" and get 200+ barndominium floor plans included!
What Is the Barndominium Origin?
Barndominiums have been around for many years, though their exact origin is a bit of a mystery.
The barndominium was allegedly invented in Europe in the 1950s. However, Amish communities have been building multifunctional homes since the 1800s that incorporate their farms, workshops, and housing into a single structure.
It was Karl Nilsen, a real estate developer in 1989, who coined the term "barndominium," according to a New York Times article. Nilsen proposed planned communities that combine horse stalls with homeowners' residences as the ultimate dream for horse lovers.
Rather than building a separate stable, Nilsen proposed building a barndominium. He proposed placing the living quarters on top of a stable. Although the project never took off, the concept of a modern house that combines living and working areas has gained popularity in recent years.
What Are Typical Barndominium Features?
A barndominium is an open, expansive metal structure. Their large and spacious nature makes them resemble a barn. A modern barndo is equipped with all the comforts associated with a modern home.
Barndominiums are a unique type of home with several distinct features that enhance their appeal.
Here are the key features of a barndominium:
Metal Construction — Barndominiums are usually made from metal, which makes them durable and long-lasting.
Open Floor Plan — Originally designed to combine homes and farms, barndominiums provide a highly flexible floor plan.
Farmhouse Appeal — Barndos are a popular choice for those who wish to have a rustic chic feel of a barn with modern amenities.
Multifunctional Rooms — Living and working spaces can be combined, and rooms can be configured according to your work and recreational needs.
Barndominium Kits — Barndos are highly accessible because they can be purchased as prefab kits, which saves money on materials and construction time.
How to Build Your Own Barndominium & 200+ Floor Plans
Get started today with our program "Barndominiums Made Easy: How to Build Your Own Barndominium" and get 200+ barndominium floor plans included!
What Is the Barndominium Price?
The price of a barndominium varies depending on a number of factors, such as size, design, location, amenities, and construction costs.
Roughly, you can get a barndominium for about $20 per square foot or as much as $140 per square foot. In other words, construction costs will likely fall within the range of just $20,000 to $200,000, depending on the amenities that you would like to include.
There are even barndominiums that sell for more than $300,000 in the high-end market. There are many options available when it comes to barndominiums, including adding an extra room or constructing luxurious features such as a bar, a home theater, or even a swimming pool.
Even so, these prices are still considerably less than the average cost of an American home.
For a more accurate estimate of what it would cost to build your dream barndo home, you can check out our Barndominium Cost Calculator.
What Are the Barndominium Benefits?
As the popularity of barndominiums continues to grow, more and more people are beginning to see the benefits of this unique style of home.
Here are the benefits of a barndominium, in brief:
Cost Savings — Compared to traditional homes, barndominiums are significantly less expensive to build.
Reduced Energy Costs — Thanks to their metal construction, barndos provide insulation to save on bills.
Convenience — Barndominium kits are an easy way to construct a barndo home without having to waste time and materials.
Customizability — Open plan layouts may be utilized for a variety of purposes and design styles, such as rustic or contemporary.
Durability — Barndos are constructed from a strong steel material that can withstand mold, rot, and harsh weather conditions.
Barndominium Definition: Conclusion
Barndominiums are an affordable and unique home alternative. By reading this article, we hope that you have gained a better understanding of what a barndominium is, as well as whether it is a suitable home for you.
Learn more about barndominium living on our blog page, which includes floor plans, ideas, state guides, and more.
If you would like more guides like this one, check out the rest of BarndominiumLife.com. There, you will find more helpful tips and tricks from the pros. You will also find featured barndominiums, barndominium floor plans, and information on financing and insurance. Knowing as much as you can will help you get the best results for your dream home.
Like this Post? Sign up for our email list!
Be the first to see new posts about the best barndominiums, construction guides, floor plans, and more! Enter your information below to become a BarndominiumLife VIP.
Noah Edis is a passionate staff writer at Barndominium Life, a leading online resource for all things barndominium. With years of experience in the writing industry, Noah has made a name for himself as a skilled storyteller and a knowledgeable authority on the topic of barndominiums.
Noah's interest in barndominiums began when he stumbled upon the concept while researching alternative housing options. Intrigued by the rustic charm and functionality of these converted barns, he soon became obsessed with the idea of living in one himself. He spent countless hours researching the construction, design, and decorating aspects of barndominiums, and soon became an expert on the topic.
As a staff writer at Barndominium Life, Noah enjoys sharing his knowledge and passion for these unique homes with others. He has written numerous articles covering a wide range of topics, from the history of barndominiums to the best ways to decorate them. Noah's writing is informative, engaging, and always on-trend, making him a valuable asset to the Barndominium Life team.
Noah is a graduate of the University of British Columbia, where he earned a degree in English Language and Literature. When he's not writing about barndominiums, he can be found exploring the great outdoors, trying new restaurants, or spending time with his family and friends. Noah is dedicated to his craft and is always striving to improve his writing skills and knowledge of the barndominium lifestyle.
Connect with Noah on LinkedIn