When building a barndominium one of the key elements that you will want to plan is the barndominium doors. Doors come in a variety of styles and can make a huge impact on the overall design and feel of your home. There are so many options that are available that it is hard to know which doors are right for you. In this article, we help you understand all the things you should consider when it comes to your door selection in your new barndominium.
Barndominium Doors
Doors are gateways into new worlds. We use them all the time but often do not give doors much thought. That, however, is a mistake. Doors give visitors to a home a lot of information about the people who live there without saying a word.
An all-glass door expresses light and an open feeling; a steel door with strong bolts promises tight security. Doors can express their style of decorating and make visitors feel welcome. But these aren't just the gateways into our homes – they also separate and define our interior spaces and can limit or expand spaces depending on your choices.
Choosing barndominium doors that are right for you isn't hard when you have a guide like this to help you navigate the waters. Below you'll find information on choosing a door and a gallery of interior and exterior doors. You can find out more about doors and everything else about building a barndo in our Build Your Dream Barndominium ebook, available on Amazon.
Location, Location, Location
This probably seems like a strange title for something to consider about barndominium doors, but the location is very important. A standard 36" door will need 9 square feet of floor space in order to swing open. In that 9 sqft, you cannot have anything else on the floor or on the walls behind the door.
If space is at a premium for you, a traditional door might not be the best option. Barn style or farmhouse sliding doors, such as this one into a kitchen pantry, can save you the floor space of the swinging door, but it still limits your wall space. You cannot place anything on the walls behind this sliding door, and you'll still need to keep at 6-foot floor area clear.
Pocket doors are another option. These doors slide into a specially designed frame that sits between the drywall, where your framing is located. Since this style of door is hidden within your walls, you'll need to plan carefully and speak with your framer to make sure the proper pocket door frames are included in the framing. You don't want to pull down drywall to insert the frame! One advantage to pocket doors is the only floor space you lose in the 3-foot doorway. Due to the hidden framing, you'll have to be careful putting things up on the walls around the door, or the nails might scratch the actual doors. Pocket doors require a special kind of latch for an opening which is available at the big box stores and elsewhere. For some people, this is an ideal solution.
Hinges Matter!
Whether it's the interior doors or the exterior doors, where those hinges go matters greatly, sometimes builders and architects don't think things through.
In one home we know of, an exterior door hasn't been open since it was installed because the builders adjusted it to accommodate a staircase not originally in the plans. The problem with that adjustment was this exterior door now swings outward instead of inwards, which means it would be very easy to break through – just take the door off the hinges.
Double-check where your hinges will be because that will determine how your door swings. And make sure your exterior door hinges are on the inside!
During the Build, Get a Temporary Door
Whether you are hiring it out or doing the work yourself, doors are needed during the building process. Stuff is banged and bumped all the time, especially through the restricted spaces of a doorway. So do yourself a favor and buy the cheapest, most basic exterior doors you can find for the building process.
That way, when the sawhorse or toolbox is smashed into the door, you don't have to replace your custom-ordered, three-thousand-dollar wooden door. Spend the extra $100 or so for a temporary door you can bang up during the build.
How to Build Your Own Barndominium & 200+ Floor Plans
Get started today with our program "Barndominiums Made Easy: How to Build Your Own Barndominium" and get 200+ barndominium floor plans included!
Installing the Barndominium Doors
Contractors will know how to install doors of all kinds, but if you are doing it yourself, the first place to look is the manufacturer's website and instructions because it can be tricky to install them.
Those will outline what you need to know for your specific door. In general, the basics of door installation are the same. You can find out more through a simple internet search. And it's always a good idea to have a friend help you. Trust us, installing doors alone can be a challenge.
Choosing the Exterior Doors
When you think about your exterior doors, there is a lot to consider.
It's always a good idea to have at least one set of double doors in a home so it's easy to move a giant sectional, king-sized bed, appliances, or other large items into your space.
You'll also want to consider how you want the doors to swing into your space. Do you want your front door to open into the coat closet or block a window? How much privacy do you need or want? And don't forget about security. Having glass by the deadbolt could be a point of entry depending on the kind of locks you select.
What your exterior door is made of will depend on the location of your home. A wet and snowy location is not the best for an all-wooden door. And you might need to consider if having a storm door if it's going to be exposed to the weather. You can find out more about the materials of doors at any door manufacturer's website, such as Jeld Wen, Anderson, or Pella.
Choosing the Interior Doors
The interior barndominium doors are where things can get fun. Here, you can let your style show and express yourself to the hilt. Materials, styles, how they hang… Scroll down for our gallery to be inspired!
These double sliding glass doors let in lots of light and visually extend the room into the yard. If you look closely, you'll notice these doors have blinds built right into the glass – see those extra handle-looking things on the frame? This is a perfect solution to control light without needing separate window coverings and you'll never have to dust mini blinds!
This laundry room's three-panel shaker-style door is stunning in its color and simplicity. The dark color pops against the soft gray walls and white trim.
This home's flat or slab door is the ultimate to showcase the natural beauty of wood. The grain here speaks for itself, and no painting is needed. A slab door like this may cost a little more than paneled doors, but you can't argue with the statement it makes.
These bedroom sliding doors feature mullions and muntins to make that lovely window within the window look. Some doors, are removable to suit your changes in style.
These wooden exterior doors do not need a storm door because of the covered porch. You can see just how stunning they are from both the inside and the outside. Paired with the windows, natural lights flood the main room of this home.
Closets have doors too! This family chooses a set of swinging double doors, which will allow them full access to the closet area.
Note also the entry door to the room and the closet doors cannot bang into each other. Good planning!
The single window of this door looks back into the home from a screened-in covered porch seating area, and the barn-like details in the door add a lovely touch. We are in love with the handle!
Note the hinges here are on the exterior of the door – not something we would normally see. However, since this space is an enclosed area, it's fine.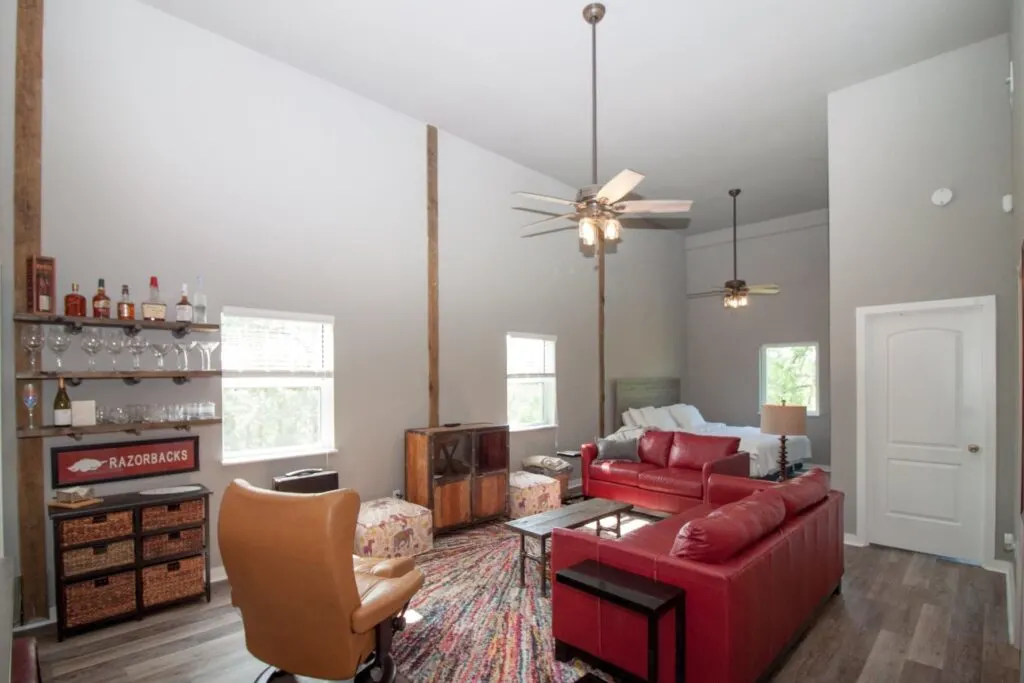 Interior doors can be four-paneled, six-paneled, three-paneled, or slabs. Here, you see an example of an arched door, which adds a decorative element to this while keeping a simple aesthetic.
Wavy textures in the glass of this exterior door allow for privacy without additional window treatments. The wood panel at the bottom prevents feet from breaking the glass and puts the door glass in line with the windows. Textured glass is one way to allow the light through while maintaining privacy. Glass can come textured or you can purchase special window clings to give you the same effect, while allowing you to change your mind.
This five-panel shaker-style pantry door matches the kitchen cabinets, while the black hardware makes everything pop.
Garages will need the main door as well.
Here you can see three different examples of doors right next to each other. Although different, the color and style match so well that you would probably never notice the differences until they were pointed out. Note the doors cannot swing into each other, meaning someone can walk through one door to the other with ease.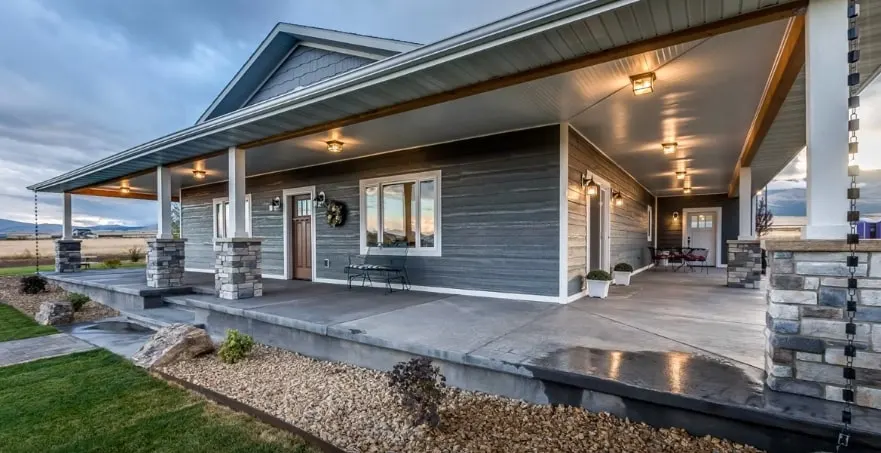 Barndominium doors come in so many styles you are sure to find one that matches you and your lifestyle perfectly. Find the barndominium doors that fit your style and make your guests feel welcome and say, "Wow!"
Need help planning your barndo? Buy our ebook Build Your Dream Barndominium, available on Amazon. Or, continue the conversation on our community blog to learn all about Barndominium life and get your questions answered.
If you would like more guides like this one, check out the rest of BarndominiumLife.com. There, you will find more helpful tips and tricks from the pros. You will also find featured barndominiums, barndominium floor plans, and information on financing and insurance. Knowing as much as you can will help you get the best results for your dream home.
Like this Post? Sign up for our email list!
Be the first to see new posts about the best barndominiums, construction guides, floor plans, and more! Enter your information below to become a BarndominiumLife VIP.
Gail currently spends her free time geeking out about what's new and trending in the world of barndominiums.
She is the former executive editor of BarndominiumLife.com and loves working with the team and members of the barndominium community. She now contributes to the blog on occasion, but only when she feels like it!