If you are a builder or craftsperson, the odds are good that you have dreamed about having your own shop to work in for a long time. There are so many obstacles in the way when trying to run a business, and your workspace is one of the biggest ones, especially if you work with large equipment or machinery. A two car garage is probably not going to cut it for you and you might have to rent out a space with other craftspeople or commute to a space far away from home. All of these options can cut into your precious work/life balance and make running your business all the more difficult.
That's why building a shouse with a loft is such a great option. Not only can you get the space you need for your business, you can also have a unique home that fits your personal style and has an amazing flow. A shouse with a loft can take your life to the next level and make things so much easier on you if it is designed well and takes all of your needs into consideration.
To help you get started thinking about your own shop house, we have put together this list of floor plans for a shouse with a loft. By looking at these floor plans and considering your own needs, you can come up with the perfect design for your business and your family.
Floor Plans for a Shouse With a Loft – Things to Consider
When you are putting together the plan for your shop house with a loft, you will need to consider quite a few different things. Planning your layout is a great way to put together a perfect combination of style and function and make sure that all of your needs are met. By factoring in all the different aspects of your life, you can build yourself the perfect shouse with a loft that makes everyone happy and brings everyone together while you are still able to do your work out in the workspace.
Your Work Requirements
If you are considering building a shop house with a loft, you will want to make sure that your workspace is exactly as you want it. While your family's needs are important, you need to be able to do your work and give yourself the space to get it done without intruding on other people in the residential portion of the home. Make sure that your shop is big enough and that you have enough space for all of your equipment.
You might want to factor in this equipment when putting together your floor plan. For example, if you have loud compressors that run during the day, consider where they will be installed in the shop. Make sure they are far enough away from the residential portion so as not to bother people who are in the house while you are working. Thinking of these things as you put together your floor plan will make living in the shouse with a loft much easier.
Your Family's Needs
Your business is incredibly important, but be sure to keep your family's needs in mind as well. Your shouse with a loft should be able to house everyone comfortably and should be able to have a direct barrier between the residential portion and the shop portion. The kind of access you have to the shop from inside the house will also have a lot to do with how comfortable and convenient it is. This is very important for not only your comfort, but also your family's.
You should consider this especially when putting together the layout of your bedrooms and living areas. If, for example, you have a very different schedule than the other people in your home, you will want to make sure that the bedrooms are situated very far away from the shop. This will allow you to do your work either early in the morning or late at night without disturbing the people who are trying to sleep in the house.
Storage
Storage is a crucial aspect of your shop house with a loft. Being able to have the storage you need for your business as well as for your home can help you keep it organized and easy to live in. Consider this when thinking about closet space in the house and utility rooms in the shop. You need to have space to store materials and tools when they are not in use so the whole space doesn't get cluttered.
For the inside of the residential portion, built-in shelving units are a great option. They can help you keep the space organized without having to add a lot of units that can take up precious floor space. They also give the home a unique, craftsman-type look that is incredibly desirable.
Get a FREE 18 Month Barndominium Planner
There are 39+ steps that must be taken before groundbreaking. Learn them all in this FREE checklist, available for immediate download.
Traffic Flow
One of the main purposes of putting together a floor plan for your shop house with a loft is the traffic flow. The flow of your home will determine how comfortable it is to be in and how easy it is to get around in. If you would like an open concept, you can make sure that there are no walls separating the kitchen from the main living area. This will give you a lot more living space and allow you to socialize with guests while you are working in the kitchen. Many people who have a shop house with a loft go with this option because it saves space and gives you a nice, open feel.
Floor Plans for a Shouse With a Loft – Get Inspired With These Floor Plan Ideas
Putting together your floor plan can be difficult, but it can also be incredibly rewarding and exciting. If you are having trouble thinking about what you would like your floor plan to be like, it is always best to get some inspiration from elsewhere so you can get some ideas. To help you along, we have put together some floor plans for a shouse with a loft so you can start thinking about your own needs and how you want your shop house with a loft to look.
40×60 Shouse With a Loft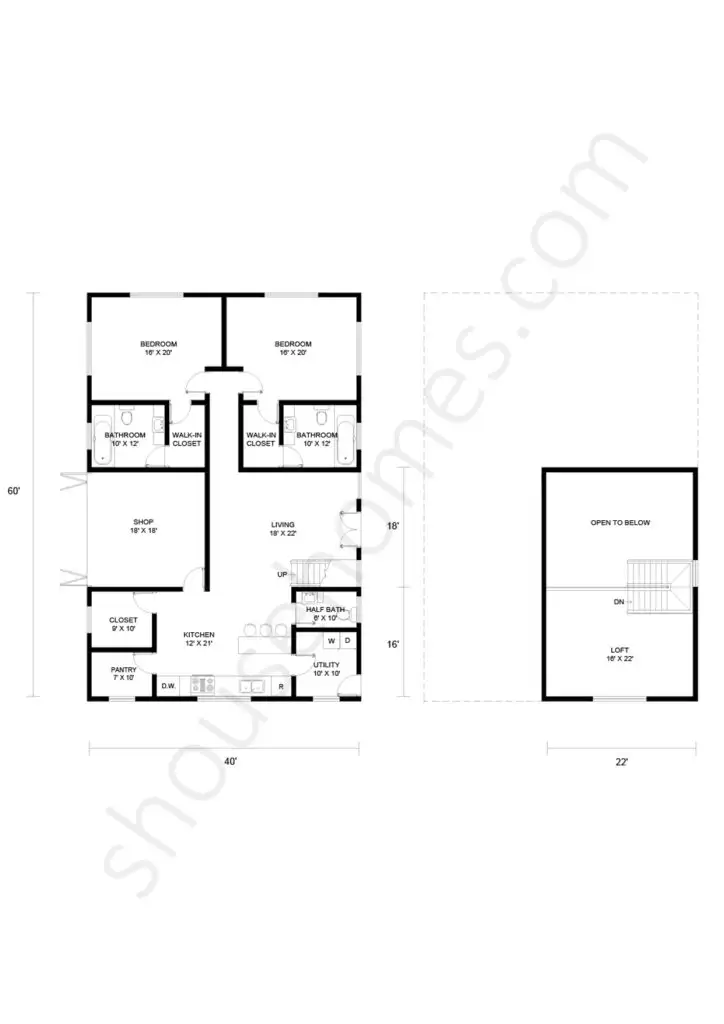 This 40×60 shop house with a loft is a great example of separating your shop from the rest of the home without sacrificing the connection to the living space. The large 16×22 loft can be used for a separate living space or can even be a bedroom. The fact that it is situated looking right out onto the living area makes it a great choice for people with kids who want a play area away from the rest of the house. With an 18×18 shop with its own large doors, you have plenty of space to work as well.
30×70 Shop House With a Loft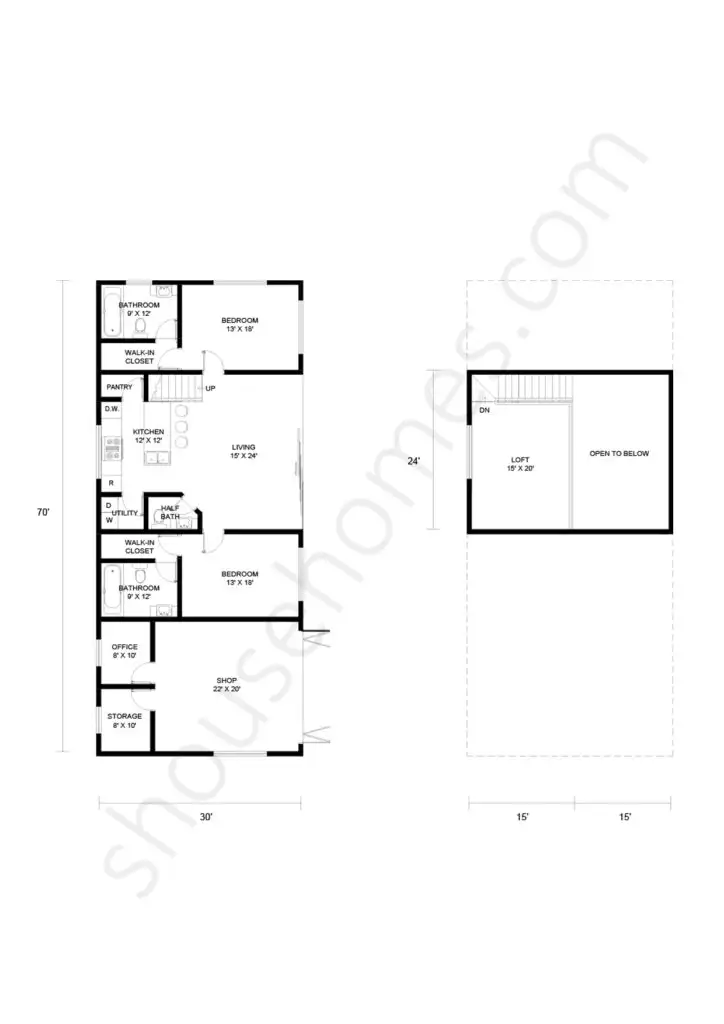 This shop house with a loft layout is great for people who need to dedicate a large amount of space to their work. With a 22×20 shop that includes both an office and a large storage unit, this is a great choice for those who need a lot of room to get their work done. It also features a large 15×20 loft space that looks out into the living area and a huge walk-in closet in the master bedroom that connects to a bathroom.
30×40 Shouse With a Loft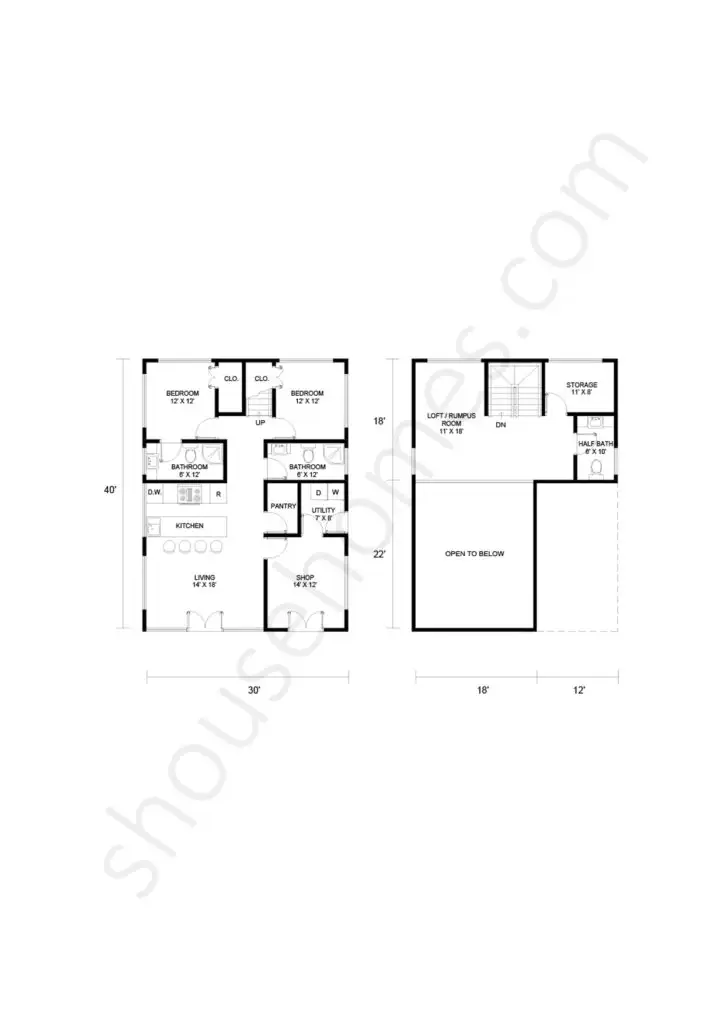 If you want your shouse with a loft to have a lot of room for activities and perhaps even a guest space, this could be the one you are looking for. With a large loft/rumpus room space that includes both a half bathroom and a large storage unit, you can maximize this space in all kinds of ways. It also includes a 14×12 shop with a utility room that connects to the living area. This is a great option if you want to be included with the goings-on in the house while you work.
How to Build Your Own Barndominium & 200+ Floor Plans
Get started today with our program "Barndominiums Made Easy: How to Build Your Own Barndominium" and get 200+ barndominium floor plans included!
60×60 Shouse With a Loft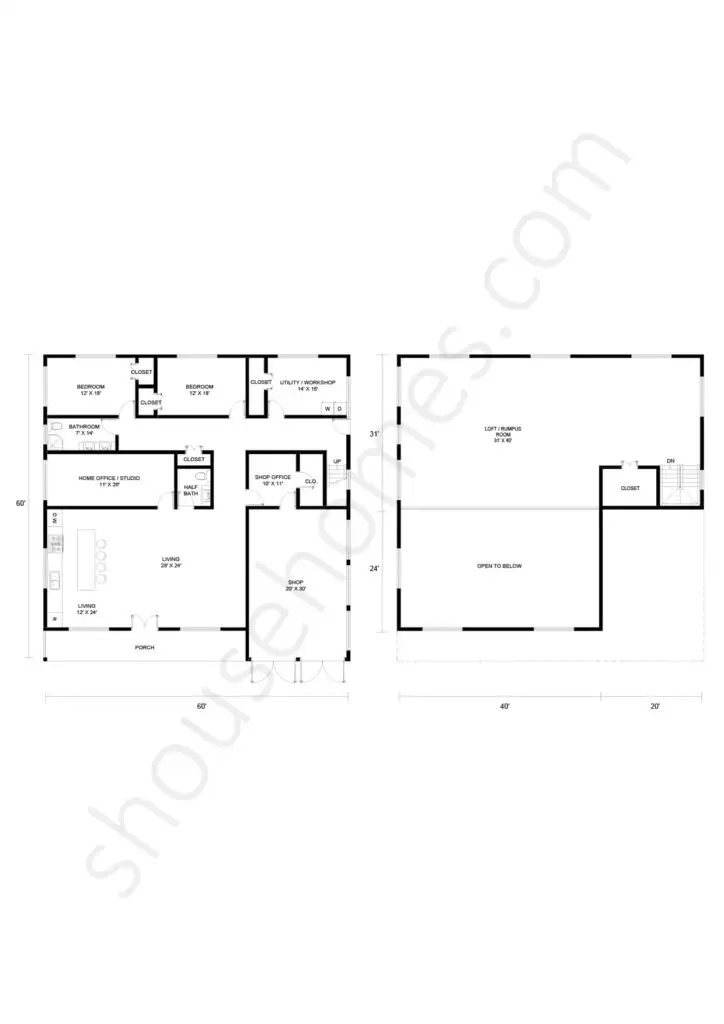 This 60×60 shouse with a loft includes a lot of extra spaces for things you want to do in your home for both work and family activities. With a 20×30 shop and a massive 31×40 loft, this layout is perfect for those who want to spread out in the house and have enough room for everyone. It also includes a home office/studio and a separate utility room or workshop on the same side of the house as the bedrooms.
30×40 3 Bedroom Shop House With a Loft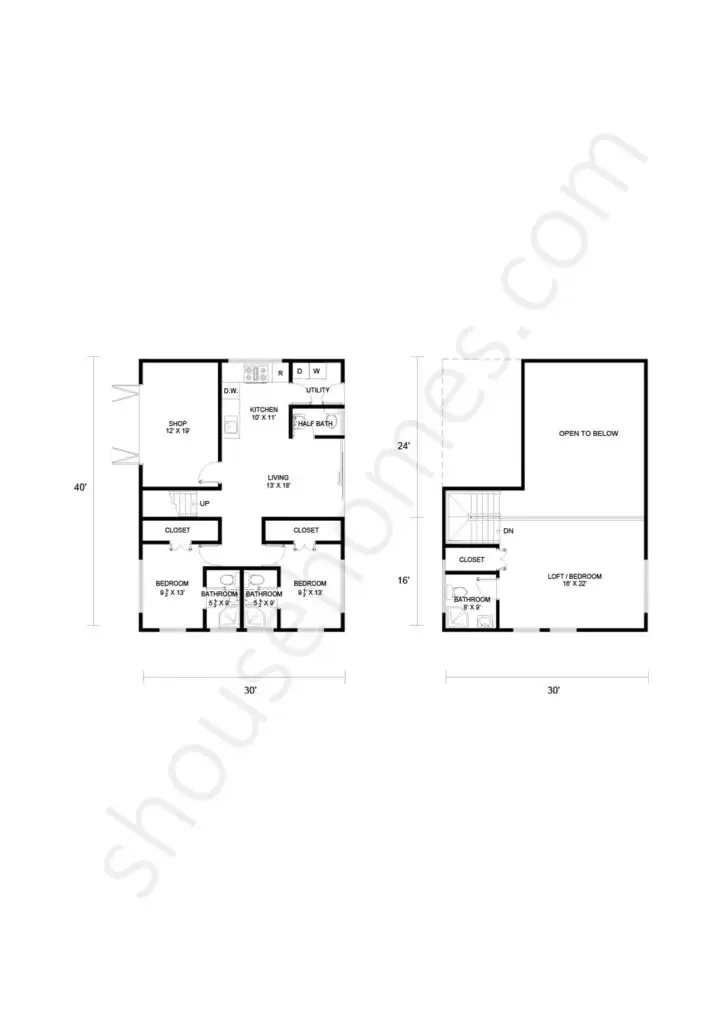 This cozy layout makes the most out of the space it has with two bedrooms and a 12×19 shop. If you wanted, you could also turn the 16×22 loft into another bedroom for three sleeping areas in a relatively small space. It also features an open concept living room and kitchen as well as a utility room for a washer and dryer and two huge closet spaces in the bottom bedrooms.
40×50 Shouse With a Loft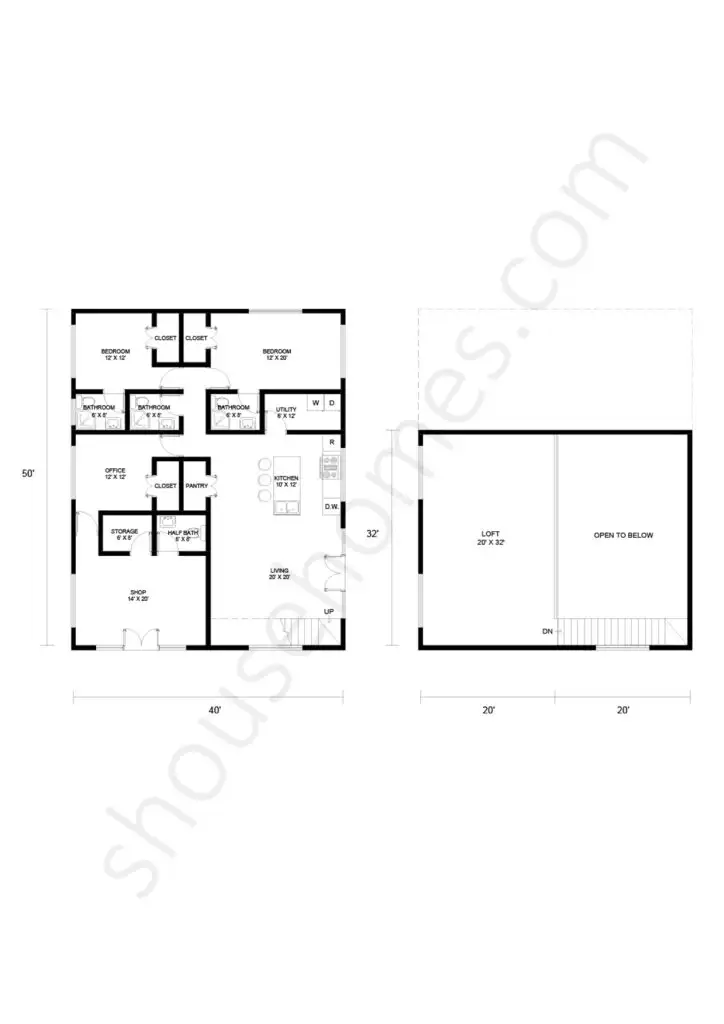 If you need a lot of functionality in your shouse with a loft, this floor plan could be a great option for you. With two bedrooms and an office in the 14×20 shop space, this floor plan also features a huge 20×32 loft space that is perfect for a rumpus room or extra living space. By utilizing bathrooms right next to each other in the back space, this plan also makes good use of plumbing and other utilities.
40×50 2 Bedroom Shop House With a Loft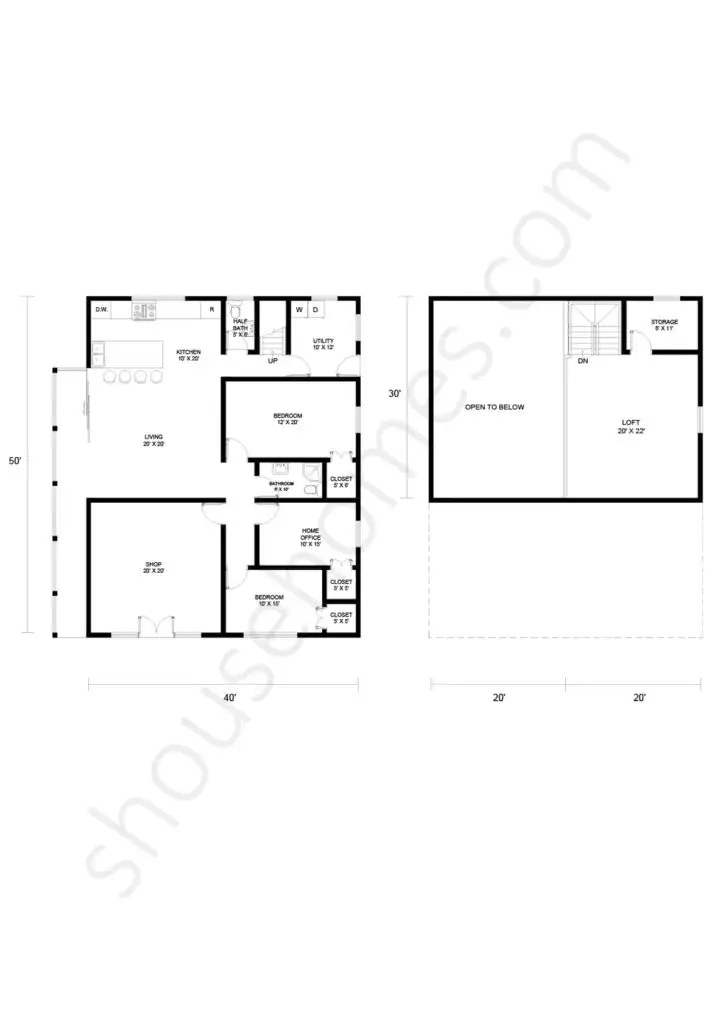 This shop house with a loft is wonderfully designed with large, open spaces and enough room for everyone to live their lives without being on top of each other. The open concept living area and kitchen are offset by a combination of bedrooms and a home office that could be used as a spare bedroom as well. The 20×22 loft also has enough room for a separate living area as well as an 8×11 storage area so you can keep things neat and tidy.
40×40 2 Bedroom Shop House With a Loft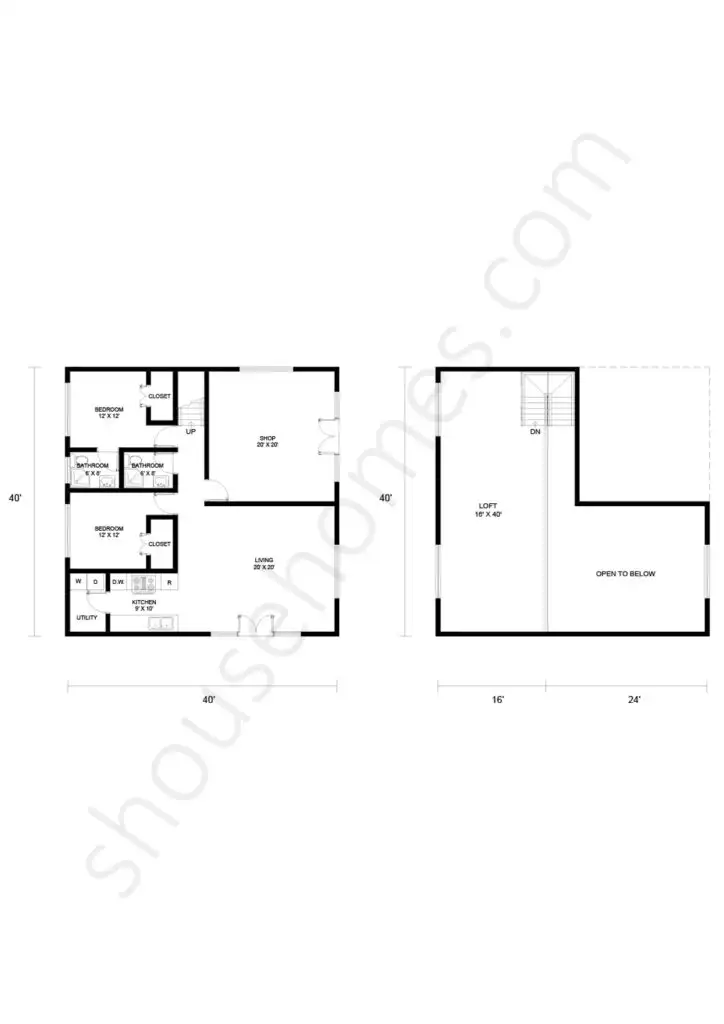 This unique floor plan for a shop house with a loft features a large 20×20 shop that leads straight into the living area for a nice connection to the indoor space. It also features a huge loft space that spans the entire length of the home at 16×40. This loft space could also easily be utilized as two separate living or sleeping areas with a little bit of creativity.
There are so many shouse ideas to use for inspiration when it comes to your shouse floor plan. These shouse floor plan ideas can help inspire you even more!
Conclusion
Hopefully, by reading this list of floor plans for a shouse with a loft, you have gotten some good inspiration for your own shop house. The key to a project like this is to look at it from every angle so you can be prepared every step of the way.
If you would like even more floor plans like these, be sure to check out the rest of Barndominiumlife.com. There, you will find helpful tips and tricks from the pros as well as featured shouses so you can get inspired for your project.
Like this Post? Sign up for our email list!
Be the first to see new posts about the best barndominiums, construction guides, floor plans, and more! Enter your information below to become a BarndominiumLife VIP.
Gail currently spends her free time geeking out about what's new and trending in the world of barndominiums.
She is the former executive editor of BarndominiumLife.com and loves working with the team and members of the barndominium community. She now contributes to the blog on occasion, but only when she feels like it!