Today's stunning Fayetteville, AR barndominium is a simple and elegant mix of classic barndominium style. This barndo shows that you don't need a ton of bells and whistles to create a gorgeous forever home. Timeless black and white is mingled throughout, and it gives a fun farmhouse feel all through the space.
After peeking through these photos, you won't believe that this sweet barndo was built for around 100k. The owners of this home took care to budget shop, use the help of friends and family, and choose breathtaking splurge items to make this property a true dream home.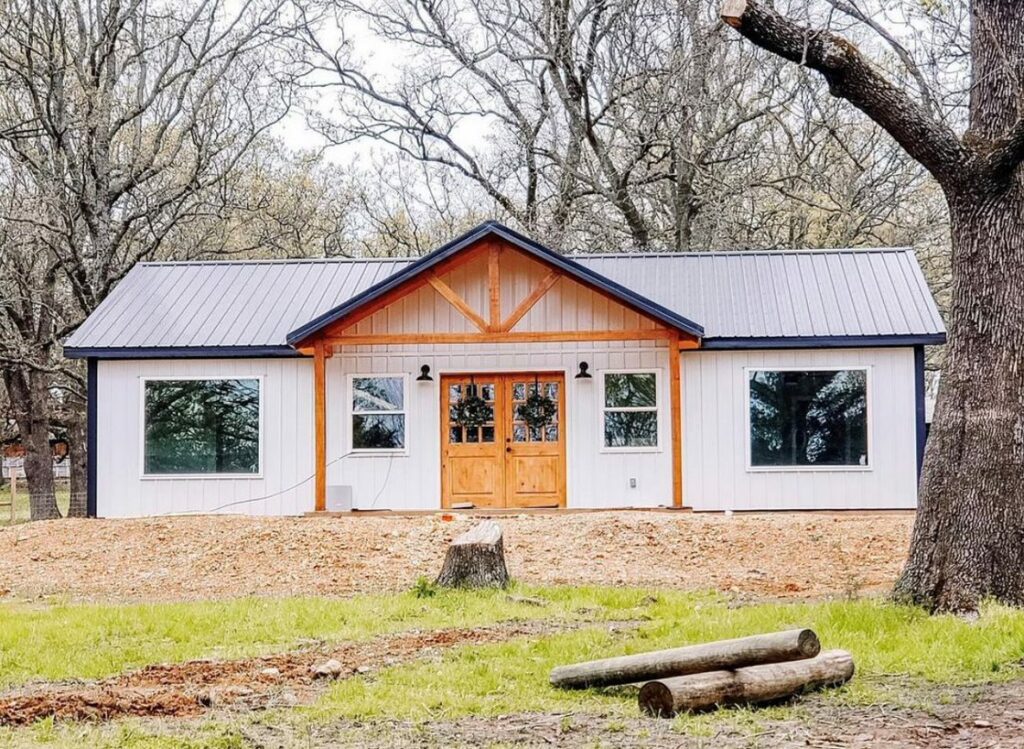 Get a FREE 18 Month Barndominium Planner
There are 39+ steps that must be taken before groundbreaking. Learn them all in this FREE checklist, available for immediate download.
Fayetville, AR Barndominium: Exterior
With a black metal roof and white metal siding, color contrast brings out a true barn classic. The large picture windows and double, knotty alder front doors create perfect symmetry for the front entrance. Wood beams and black sconces finish the look with a country feel that we love.
Check out another cozy AR Barndominium here!
It is the details that count, and the attention to detail in this home is amazing. We love the double wreaths on the doors, and the matching sconces to complete this look.
Fayetteville, AR Barndominium: Kitchen
In the kitchen, custom cabinets, granite countertops and a natural wood vent hood steal the show. Owners report that the granite, in Dallas White pattern, was their splurge item for the home, and we think it ties their black and white theme together perfectly. Custom cabinetry was constructed by a local cabinet maker and friend. Instead of inserting the microwave above the range, our owner decided to hide it away on a shelf on the island and choose a natural wood stain for her vent hood, and this feature brings warmth into the room.
How to Build Your Own Barndominium & 200+ Floor Plans
Get started today with our program "Barndominiums Made Easy: How to Build Your Own Barndominium" and get 200+ barndominium floor plans included!
Since this space seems perfectly proportional, it may be helpful to know the dimensions if you are in the process of planning your own kitchen build. The kitchen itself is 14'x18′, and the kitchen island is 7'x4′. The black island is painted in SW Tricorn Black. Many homeowners swoon over the window above the sink, and for good reason. It gives a great view while washing dishes.
Fayetteville, AR Barndominium: Living Room
The mixture of browns and greenery in the living space gives this Fayetville Barndominium such a welcoming and comfortable atmosphere. The framed highland cow ties perfectly with the stained wood doors and the cream colors of the rug and flooring. Design was obviously a forethought in the planning of this home.
Many choose to stain the exterior of their main doors and paint the interior; however, this owner stained the interior as well to bring the wood tones inside as well. The outcome is just what this sweet home needed.
Fayetteville, AR Barndominium: Bathroom
Bathrooms in this home carry the same design colors and features as the kitchen, but with their own unique character. We love the black hardware throughout the space and the marble-look tile on the shower walls. What a beautiful bathroom!
Although, many choose to tile their shower floor, here a shower pan was used to cut costs and have a more permanent, waterproof solution. Do you think this bathroom is as inspirational as we do? For more barndominium bathroom inspiration, peek through our Top 9 barndominium bathroom ideas.
Like this Post? Sign up for our email list!
Be the first to see new posts about the best barndominiums, construction guides, floor plans, and more! Enter your information below to become a BarndominiumLife VIP.