If you are a business owner or craftsperson who needs a workspace, you know how difficult it can be to find one that fits your needs. Many times, people who want to work from their home end up using their standard garage to work from, but this can be limiting and oftentimes doesn't give you the kind of space or room for equipment that you might need. You may have thought about renting a space, but would more than likely have to share it with other businesses or commute to it, which can take away from your already precious time with friends and family. This can create issues that you don't need to be dealing with as a business owner.
That's why building a 40×80 shop house is such a great option. With a piece of land and a little bit of imagination, you can build the perfect combination of workspace and living space so you can keep your business and home life separate without having to drive for long periods of time and spend time away from your family. Plus, because shop houses, or shouses, take about half the time to build as traditional homes, you can end up saving a lot of money on your construction costs.
When thinking about putting together a 40×80 shouse, you will first want to come up with a floor plan that works for you, your business, and your family. A floor plan determines where everything will be placed and how the whole building will flow together. To get you started on this important step, we have put together some beautiful examples of 40×80 shop house floor plans so you can get inspired.
40×80 Shouse Floor Plans – Things to Consider
There are quite a few things to think about when you are putting together the floor plan for your 40×80 shouse. Knowing what you should be considering can help you get a plan that will make your work and home life more efficient and give you the perfect space for both. All of the below factors are incredibly important and should be carefully thought out before you start working on your floor plan.
Get a FREE 18 Month Barndominium Planner
There are 39+ steps that must be taken before groundbreaking. Learn them all in this FREE checklist, available for immediate download.
Your Work Requirements
You need to think about what your business requires when you are putting together the plan for your 40×80 shouse. For example, if you regularly work on large equipment, you will need enough space to store it and to work on it, which means you will have to sacrifice some space in the residential area of the building. Being able to strike a compromise for both of these areas that work for you and your family is crucial.
You should also consider whether you need large or small doors to get into your shop as well as how it will be situated. For example, if you run a business that regularly receives clients, you should position your doors in a place that is easily accessible to client parking so they know where to go when they visit and don't disturb your family in the house.
Your Family's Needs
While your business's needs are important, you also need to consider how comfortable your family will be in their home. One of the benefits of building a 40×80 shouse is that it is very long and slightly narrow. This means that you can situate the bedrooms and living areas in such a way that they won't be disturbed by activities in the shop portion.
If you or anyone else in your family works odd hours, it is very important that you make your floor plan as accommodating as possible. This means that you should put the bedrooms as far back from the living area as possible so that whoever needs to be sleeping while others are awake can do so.
Storage
Storage is an incredibly important aspect of designing your 40×80 shouse. If you have enough space to store your belongings, you can keep your home looking clean without having to constantly be picking things up. When you design your floor plan, think about how many closets you will need and where they should be situated.
Built-in shelving units are another great way to save space when you are designing your 40×80 shop house. Not only do they give you a place to store things, they also give your home a craftsman-type look that is highly desirable. Consider these units when you are putting your floor plan together.
Traffic Flow
Traffic flow is perhaps the most important thing to think about when putting together the floor plan for your 40×80 shouse. If, for example, you would like a more open-concept design, make sure that you don't have anything separating your kitchen and the living areas. Leaving this space open will give you the space you need to socialize while you have guests over without having to leave the kitchen.
You should also think about how you will access your shop. If you would like the spaces to be completely separate, you can consider having no access to the shop from the inside. However, there are also ways to hide the access point in places like utility rooms and covered porches.
40×80 Shop House Floor Plans – Get Inspired With These Floor Plan Ideas
40×80 3 Bedroom Shop House
This 40×80 shop house floor plan features three bedrooms situated towards the back of the home, quite a ways away from the shop itself. With direct access to the shop from the living room, this is a great option if you want to be able to easily go in and out of the house while you are working. Plus, with two doors on the front of the shop, clients will be able to park in front and go directly to the shop area.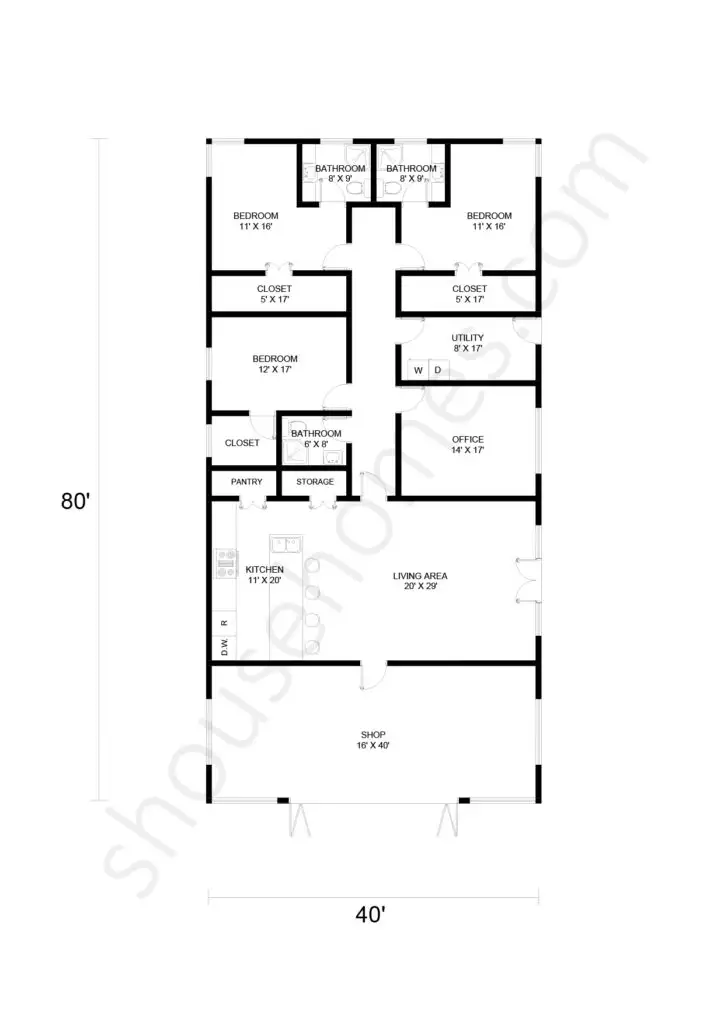 40×80 Shop House with Two Shops
If you have multiple operations going with your business, this 40×80 shouse floor plan could be perfect for you. With two separate shops, including one large one and one that is much smaller, you can have your operations separated and completely independent from one another. Plus, this design also has direct access to the house through a hallway that has a large storage unit, which is perfect for keeping materials or even using it as a small office.
How to Build Your Own Barndominium & 200+ Floor Plans
Get started today with our program "Barndominiums Made Easy: How to Build Your Own Barndominium" and get 200+ barndominium floor plans included!
40×80 Shouse With Covered Porch
Having a covered porch is a great way to be able to enjoy the outdoors without having to be exposed to the elements. This 40×80 shouse floor plan is a great way to separate your bedrooms and keep them completely independent since they are blocked from each other by the shop and covered porch. The living area and kitchen are on one side with two bedrooms and the back end has two larger rooms with their own bathrooms for complete privacy.
40×80 Shouse With Home Office
If you are running your own business, it is crucial that you have your own office. However, you might not want to have this office in the shop where you will be separated from your family. This 40×80 shop house floor plan has an office directly off the living area so you can sit and do your administrative tasks without being isolated from your friends and family out in the shop. This is a great option for people who have a lot of work to do outside of the shop but want to maintain that work/life balance.
40×80 Shop House With Studio Office
This 40×80 shouse floor plan features an incredibly large living area that spans a big portion of the foundation. It also features a large studio office just off the shop that can be used for administrative tasks or even other industrial work if you need something like a painting area. This plan also has a half bathroom located off the shop, which eliminates the need to go in and out of the house during the workday.
40×80 Shop House With 4 Bedrooms
It can be difficult to fit everything that you need into a one-floor plan if you have a large family. However, this 40×80 shouse floor plan has four bedrooms and enough space for everyone no matter how many people you have as company or have living there. The shop is relatively small, but this is the compromise that has to be made if you want enough living space in the residential portion.
40×80 Shouse With Rumpus Room
While it's important to have room to do your work, it's also important that you have the space you need for your hobbies and activities. This 30×80 shop house floor plan has three bedrooms, a large utility room, and a rumpus room that can be used for all kinds of purposes. Having this extra space can be a great way to relax and unwind after a long day out in the shop.
40×80 Shouse With Large Living Room
This large, open-concept 40×80 shouse floor plan features a large living area with a walk-in pantry in the kitchen and enough bedrooms and bathrooms for your entire family. Plus, it features two large doors on the front of the shop for loading equipment in and out and bringing clients in to check on the progress of your work.
Conclusion
Hopefully, by checking out this list of some 40×80 shop house plans, you have gotten some inspiration for your own floor plan. Knowing what can be done with this amount of space is a great way to give yourself the head start you need. You can use the above plans or be inspired by them to create your own.
If you would like even more helpful guides like this one, you can check out the rest of Barndominiumlife.com. There, you will find more floor plans as well as some tips and tricks from the pros. You will also find some featured shouses that can get you thinking about what your next steps should be.
Like this Post? Sign up for our email list!
Be the first to see new posts about the best barndominiums, construction guides, floor plans, and more! Enter your information below to become a BarndominiumLife VIP.
Gail currently spends her free time geeking out about what's new and trending in the world of barndominiums.
She is the former executive editor of BarndominiumLife.com and loves working with the team and members of the barndominium community. She now contributes to the blog on occasion, but only when she feels like it!