Today's featured home is nothing short of amazing! A stylish and contemporary home, this Weatherford Texas Barndominium by HL Custom Homes is a perfect example of what can be accomplished when excellent design and quality craftsmanship come together.
How to Build Your Own Barndominium & 200+ Floor Plans
Get started today with our program "Barndominiums Made Easy: How to Build Your Own Barndominium" and get 200+ barndominium floor plans included!
Exterior – Weatherford, Texas Barndominium
HL Custom Homes has been making a name for itself throughout the Dallas-Fort Worth area, thanks to the many impressive barndominiums they have constructed in recent years. Residents are quickly recognizing the barndominiums as an HL Custom Homes' specialty, and this most project is no exception.
Today's featured Texas barndominium by HL Custom Homes features a dark and stylish vertical-sided exterior that is softened by the natural stone border. A dramatic archway is the exteriors focal point, and the spacious front porch is perfect for enjoying the beautiful Texas evenings.
The rich wood of the front door compliments the exterior colors and gives a natural element to the metal barndominium. Large windows can be found throughout the entire barndominium, ensuring the building takes on more of a homey vs. industrial feel.
A large, detached shop with matching siding is set alongside the property and offers a ton of space for storage, a workshop, and more.
A side view shows more windows throughout the home as well as an exterior door point for easy access to the extra large shop.
The back of this Weatherford, Texas barndominium by HL Custom Homes is simple yet inviting, featuring a spacious covered area and double doors which lead indoors.
How to Build Your Own Barndominium & 200+ Floor Plans
Get started today with our program "Barndominiums Made Easy: How to Build Your Own Barndominium" and get 200+ barndominium floor plans included!
Interior – Weatherford, Texas Barndominium
The interior of this home is just as impressive as the exterior with its high ceilings, exposed beams, and an open floor plan that is perfect for a large family and those who love to entertain.
Living Room
On the other side of the beautiful front door, we find a bright, open, and spacious living area. Gleaming floors, high ceilings, and a statement of a fireplace all work together to create a warm and inviting living space.
Living Room
The spacious living room flows into the kitchen and dining area, making this the perfect space for entertaining. There is plenty of room for furniture and personal decor, and the overall design is simply stunning!
This stunning Weatherford, Texas barndominium by HL Custom Homes has an exposed loft area that is accented with dark wooden railings. The "X" pattern draws the eyes upwards and shows off the room's openness.
Kitchen
Airy and bright, the kitchen features an impressive island with plenty of room for food prep or casual dining. The clean lines of the cabinets are accented by beautiful hardware, and the backsplash adds just the right amount of pattern and texture.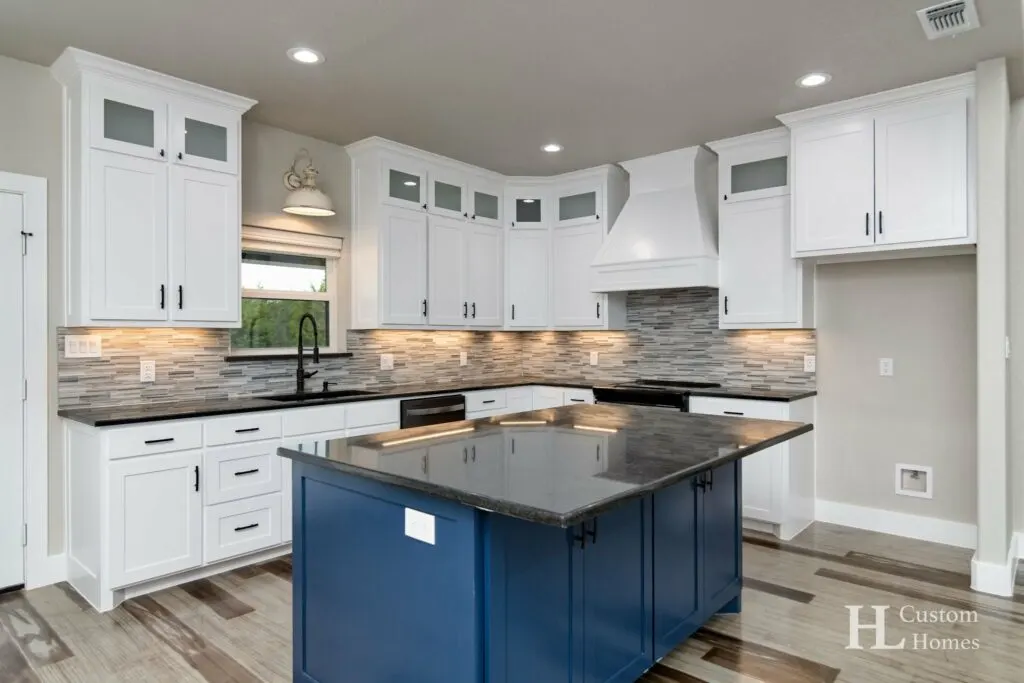 The kitchen features all of the amenities one would expect in a home of this caliber, including top-of-the-line appliances, beautiful countertops, and plenty of storage space.
The large island, painted in the most gorgeous and on-trend navy blue, has ample room for chairs, and it is the perfect place to enjoy breakfast or a quick snack.
Pantry
Completing the kitchen area is a spacious walk-in pantry that allows for storage of all of those extra food items, small appliances, and kitchen gadgets.
Laundry Room
Also located on the main floor is the mudroom/laundry room. There is also separate outdoor access, and the space has been outfitted with a pet wash station to ensure furry friends don't track dirt and mud along the beautiful floors. Along with room for a washer and dryer, the laundry area has a separate vanity which has storage and countertop space for added convenience.
Heading upstairs, we can get a closer look at the barndominiums beautifully designed staircase. The open railings ensure the spaces all flow together without blocking off any light or views.
Master Bedroom
On the main floor of today's lovely Weatherford, Texas barndominium by HL Custom Homes, we find the spacious master bedroom which has three large windows to let the natural light pour in. Light, neutral walls and the mixed wood flooring are the perfect blank canvas to be personalized and decorated.
A large walk-in closet is set directly off of the bedroom area and gives homeowners more than enough space for all their personal belongings.
Master Bathroom
From there, we are led into the gorgeous master ensuite, which is arguably one of the best features of this Weatherford, Texas barndominium by HL Custom Homes.
A separate soaker tub is tucked behind glass, and a large shower area is set conveniently beside it. Intricate tiles give the bathing area a ton of interest and texture, and the overall design is both stylish and functional.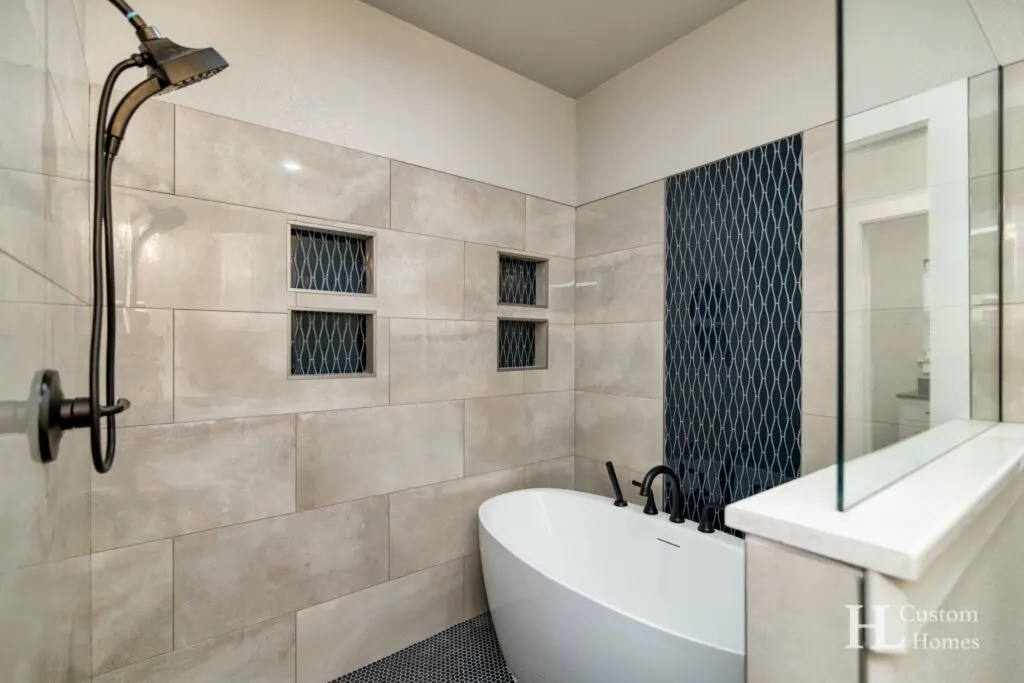 Guest Bedrooms
The second bedroom is equally as beautiful and spacious as the master bedroom. Also, it provides a pleasantly neutral backdrop that can be decorated or designed for a guest bedroom, nursery, or office.
Though not walk-in, the second bedroom features a large closet fitted with custom storage solutions. This is perfect for those who want to keep clutter at bay and take advantage of all available storage space.
Bathroom
The guest bathroom is a clean and tastefully designed space with dual vanities, and a large shower and tub combination. An elongated vertical window in the tub keeps the bathroom, specifically the shower, bright.
If you would like more guides like this one, check out the rest of BarndominiumLife.com. There, you will find more helpful tips and tricks from the pros. You will also find featured barndominiums, barndominium floor plans, and information on financing and insurance. Knowing as much as you can will help you get the best results for your dream home.
Like this Post? Sign up for our email list!
Be the first to see new posts about the best barndominiums, construction guides, floor plans, and more! Enter your information below to become a BarndominiumLife VIP.