To add to our endless list of what we love about barndos, let's check out this Pittsburgh, PA Barndominium. This is an interesting one that will get you even more encouraged to build your dream barndominium. This home is very unique and definitely on the creative side – far from the conventional ones we have usually featured.
What do we love about barndos?
We've already discussed a lot of things we love about barndominiums including durability, cheaper and quicker to build, lower maintenance requirements, and even lower insurance and tax costs. Could there be any more reasons why so many are falling in love with barndominiums? Well, there's also its flexibility in space, energy-efficiency…
Actually, the list could just go on.
Barndominiums could be summed up as a lifestyle preference. What barndo owners and those wanting to build are really attracted to other than its beautiful appearance is getting a shop and house combination. Many barndo owners build half of the building for living space and the other half, or sometimes even the bigger part is for the garage/ shop.
More so, having a customized barndo to fit the owner's needs and layout preference is even more reason to choose to build a barndominium vs regular home.
If telling you these reasons don't convince you enough, it's probably better to show you.
Get a FREE 18 Month Barndominium Planner
There are 39+ steps that must be taken before groundbreaking. Learn them all in this FREE checklist, available for immediate download.
The Pittsburgh PA Barndominium
The Pittsburgh PA Barndominium is 60 x 48 sq ft living space and a 60 x 80 ft garage. Around 225 ft asphalt driveway runs on the way to the house that is mostly owner-built. Only the shell, concrete, and garage door were contracted and everything else is DIY.
The exterior is painted with crinkle-cut charcoal gray for the roof and low surround and ash gray for the sides. It has 3 bedrooms and 2 baths.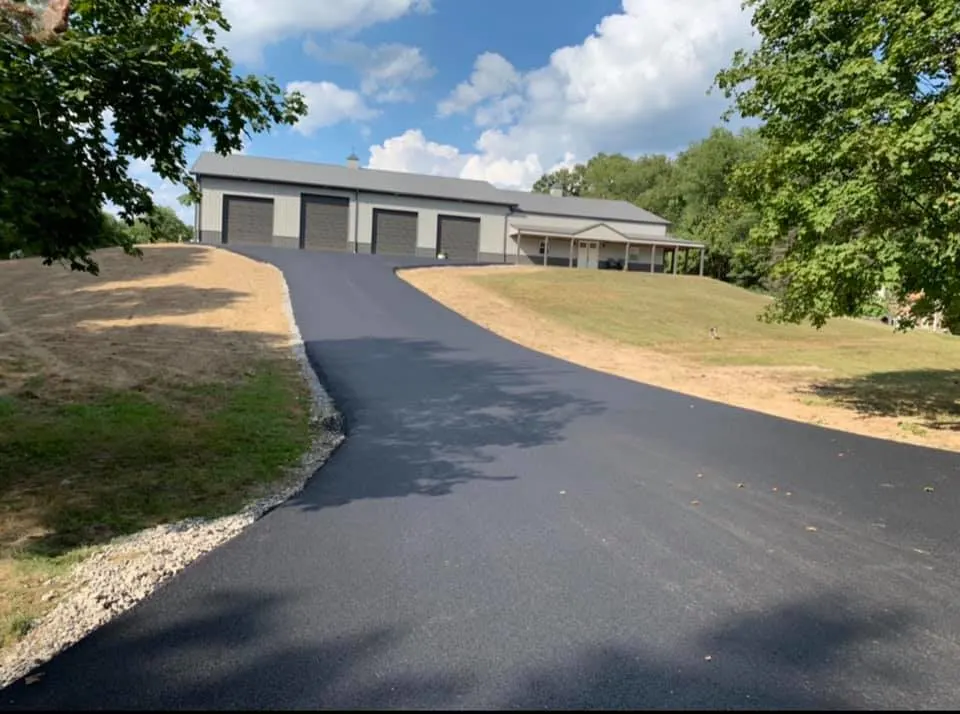 How creative can you get with your barndo?
Entering this barndo somehow just feels like being in another neighborhood. You get a view of the spacious living room, the kitchen on one side, and the best part, the little "buildings" on the other side which are actually the bedrooms and a bathroom.
With a noticeably high ceiling at just about 13 ft, it just makes space (and the experience) even more outdoorsy. It could be on the quirky side for some but that's the best thing about barndos, they can be designed to however the owners like it.
One important thing here is good insulation. Surprisingly (only because it is the first time we've heard that it can actually be done), the house's insulation counts to two other important factors: eliminating the echo and keeping indoor heat and cold-proofed even without AC. You read it right, they have not installed airconditioning.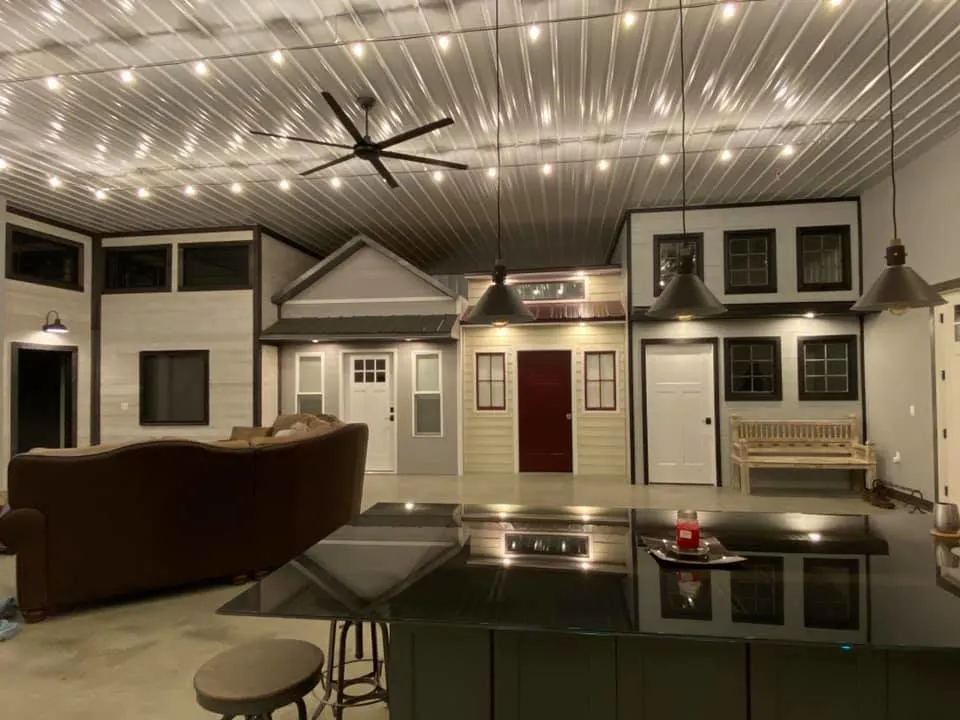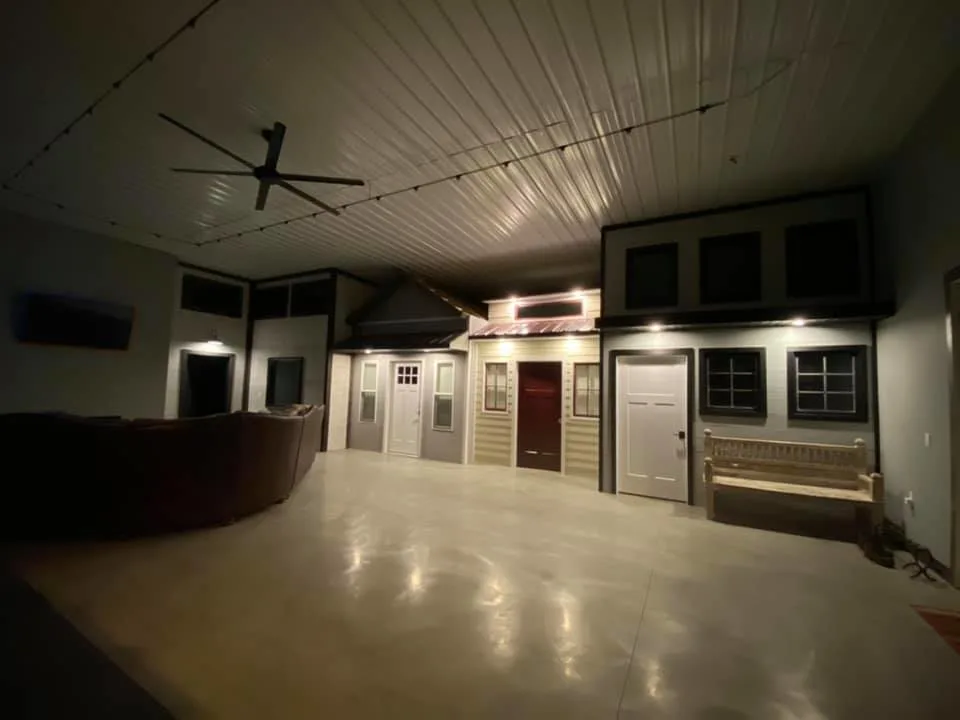 That's a lovely kitchen right there. The combination of dark grays and lighter shades of gray for the cabinets makes this area look very neat and modern. The pantry reaches up to the ceiling it also even look like another building indoor.
Also, notice how cute the lights are. These are festoon lighting – almost like outdoor string lights, and turnbuckles support the light stringers. These hundreds of little lights, the pendant lights above the dining table, and the barn wall mount lighting fixtures keep the entire indoor lit.
Different decors of horses adorn the interior, showing how the family loves horses. And true so, they are actually adding a few stalls, wash rack runouts, etc. in case they get young horses while the rest of their horses stay at the trainer.
How to Build Your Own Barndominium & 200+ Floor Plans
Get started today with our program "Barndominiums Made Easy: How to Build Your Own Barndominium" and get 200+ barndominium floor plans included!
How to Build Your Own Barndominium & 200+ Floor Plans
Get started today with our program "Barndominiums Made Easy: How to Build Your Own Barndominium" and get 200+ barndominium floor plans included!
The Garage
The Pittsburgh PA Barndominium garage is also set up for relaxation and entertainment. While the inside has the appeal of a friendly mini-village, the garage sets a different mood. In here is more olden and farm-like. All the furniture is made of wood made to look aged and weathered.
It seemingly looks like there is no pattern or theme for this area. Most of the things in here that are put together are random things the owners liked. The area has a very distinguished rustic appeal and it is very charming.
The Pittsburgh PA Barndominium
It's probably safe to say one's preference isn't for everyone. The best thing about building your own barndominium is being able to put in as much of your lifestyle and preferences as you like. The flexibility of the barndominium being your ultimate dream home is endless, whether it has been planned for years, or designed on a napkin over beer and wine; or whether built by contractor or simply owner-built. Finally having to achieve it is worth all the wait, and more so, the hard work.
Do check out more barndominium ideas for your barndominium planning or simply additional learning by getting yourself a copy of Build Your Dream Barndominium ebook by Don Howe.
Like this Post? Sign up for our email list!
Be the first to see new posts about the best barndominiums, construction guides, floor plans, and more! Enter your information below to become a BarndominiumLife VIP.
Gail currently spends her free time geeking out about what's new and trending in the world of barndominiums.
She is the former executive editor of BarndominiumLife.com and loves working with the team and members of the barndominium community. She now contributes to the blog on occasion, but only when she feels like it!