When most people think of weddings, images of elegant ballrooms with sweeping staircases and towering chandeliers come to mind. But what if you're looking for something a little more rustic? A pole barn wedding venue might be just the thing.
Pole barns are often used as farm buildings but can also be turned into elegant event venues. With their high ceilings and exposed beams, a pole barn wedding venue can provide a unique and charming setting for this special occasion.
As a matter of fact, in recent years, people have been converting pole barns into homes as well.
This is a trend that is likely to continue as more and more people seek affordable housing options, with the average cost of converting a barn into a home is around $30,000. Based on square footage, this only amounts to between $10 and $50 for every square foot!
Having learned that a barn can be utilized in a variety of ways, we've provided you with ideas for pole barn wedding venues that we hope will inspire you and transform the humble barn into a rustic and romantic location that you, your partner, and your guests will cherish for years to come!
Get a FREE 18 Month Barndominium Planner
There are 39+ steps that must be taken before groundbreaking. Learn them all in this FREE checklist, available for immediate download.
Enhance with Mood Lighting and Draping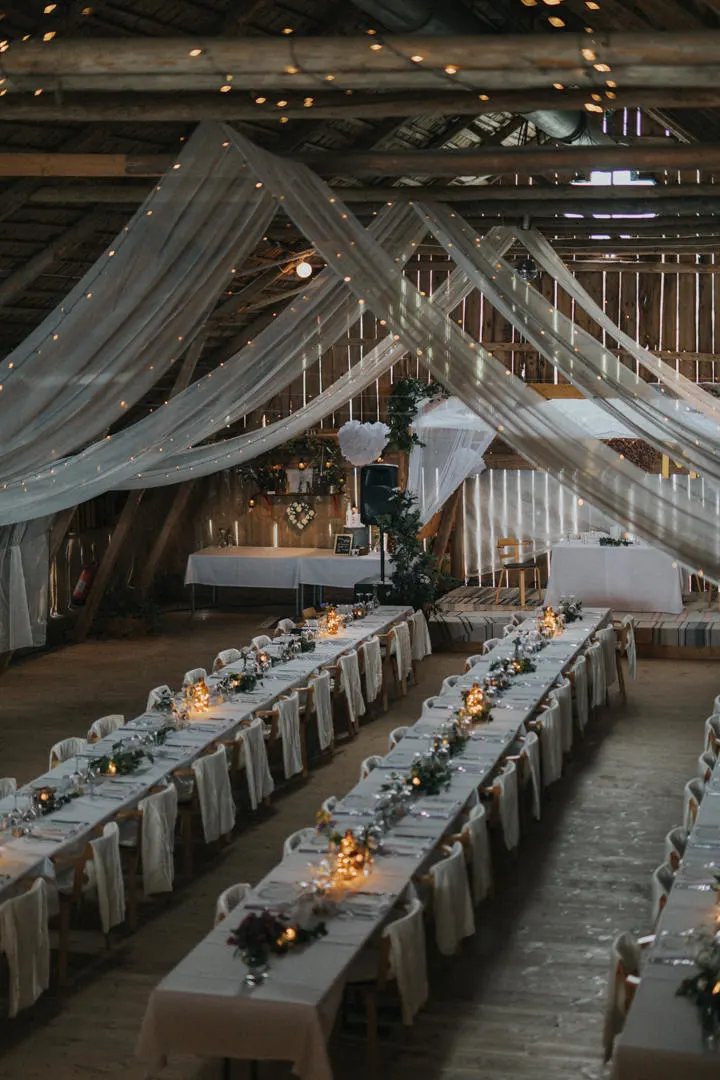 Source: https://www.boho-weddings.com/170631/handmade-rustic-barn-wedding-in-sweden-by-jana-julian/
Adding draping and string lights to your pole barn wedding venue can add a touch of elegance and romance to your big day.
There are a number of ways that draperies can be used to cover unsightly spots or pillars in the barn and to add a dramatic look to the interior. In contrast, string lights, a staple of rustic barn weddings, can be used overhead for a soft, ambient lighting effect.
Not only will this make your barn look beautiful, but it will also create a cozy and intimate atmosphere for your guests. If you want to add extra glamor to your barn wedding, consider using sequined fabric for the draping.
This will give the space sparkle and make your photos look extra special. You can also use fairy lights to create a whimsical effect — these little lights are perfect for adding a touch of magic to your wedding.
Let Nature Come Inside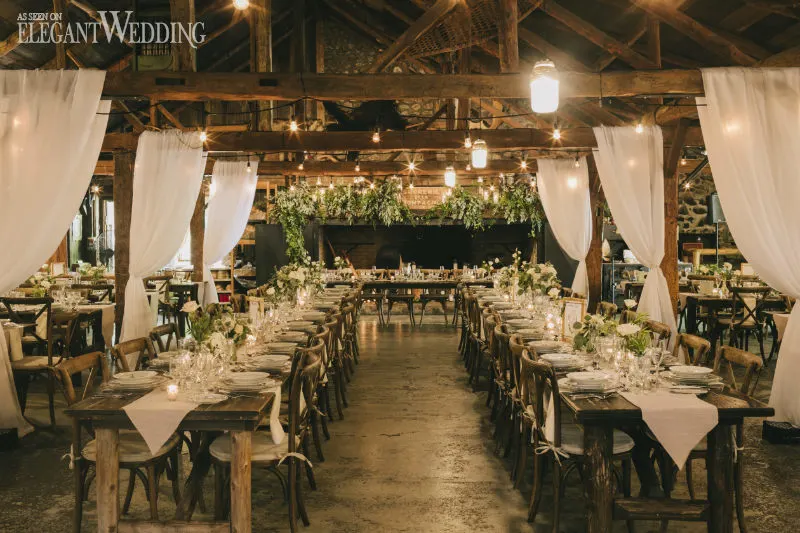 Source: https://www.elegantwedding.ca/rustic-greenery-wedding-sucrerie/
Your pole barn wedding venue can be transformed into a beautiful and rustic setting by adding greenery and letting nature's beauty juxtaposed with the interior of your barn.
The barn can be decorated in a variety of ways using plants, flowers, and trees, such as by hanging potted plants or flower arrangements from the rafters or adorning the barn doors with wreaths. You can also plant potted flower arrangements along the aisle, create a natural arbor or canopy over the aisle with trees or branches, and scatter dried leaves or branches throughout the barn to create an appealing rustic appearance.
The variety of options you have to choose from is great for helping you create a look that perfectly fits your taste and style.
How to Build Your Own Barndominium & 200+ Floor Plans
Get started today with our program "Barndominiums Made Easy: How to Build Your Own Barndominium" and get 200+ barndominium floor plans included!
Let Your Barn Be The Backdrop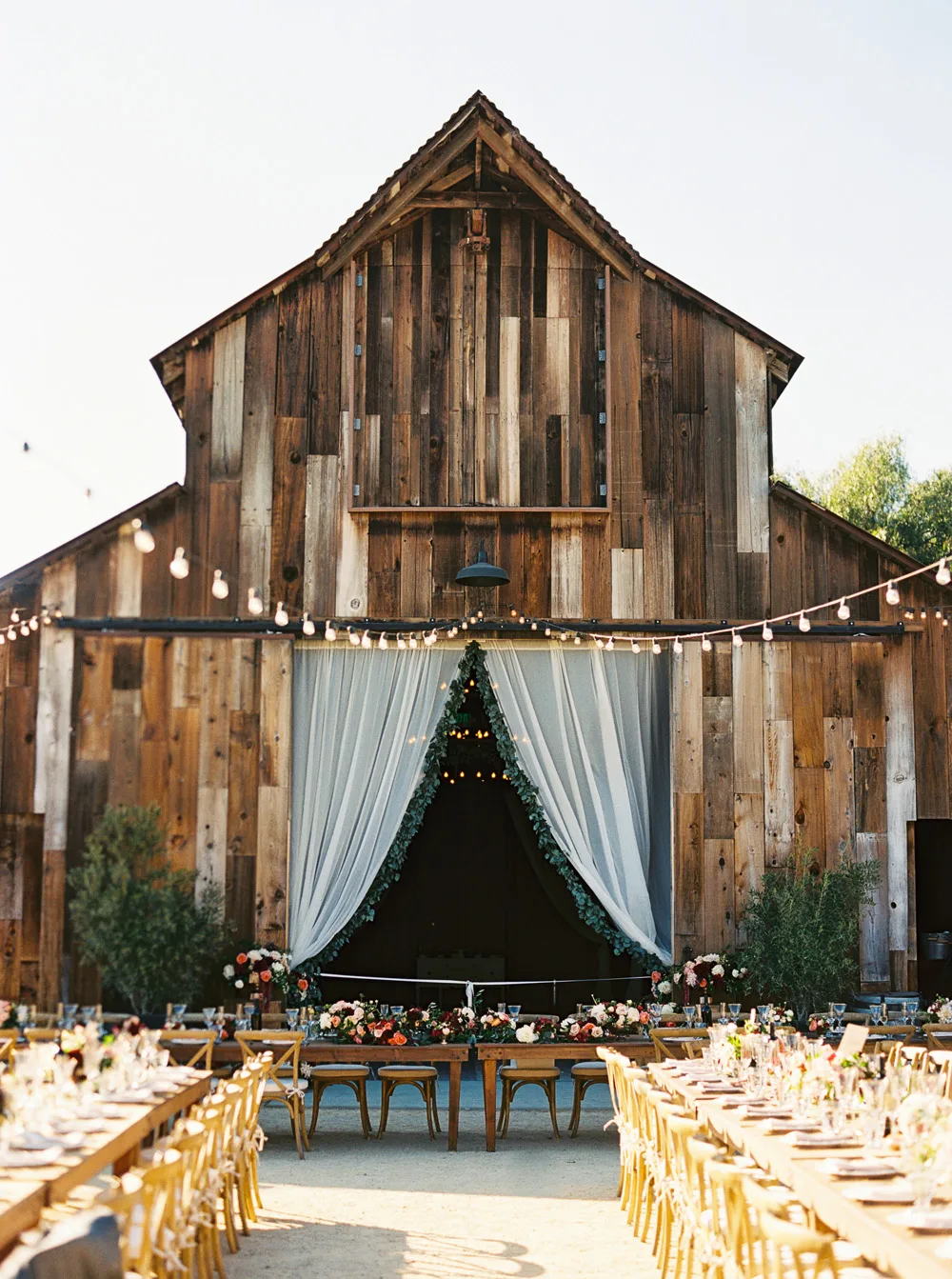 Source: https://www.jen-rodriguez.com/best-barn-venues/
You can even use the barn as the backdrop for your wedding, making it the perfect place to host your outdoor wedding with a rustic feel if you wish to have your wedding outside.
Your barn can be decorated in many ways to match your style, and you can also hold your wedding ceremony and reception at the same location.
Additionally, an outdoor wedding allows you to take in the beauty of the natural surroundings while embracing the colors that contribute to the ceremony's overall aesthetic.
It is easy to see how dramatic foliage can enhance the look of a barn, especially during the autumn months.
Add a Touch of Color
Source: https://hillarymuelleck.com/#/
When most people think of barn weddings, they imagine a rustic event with natural colors and materials. While this can be beautiful, there's no reason you can't add pops of color to make your wedding feel more personalized.
You can add colorful flowers throughout the barn in arrangements or as part of the décor. Make sure to choose a vibrant color for your bridesmaid dresses and groom's suit as well as decorate the barn, chairs, and tables with colored cloth.
Moreover, add brightly colored details, such as place cards, menus, and favors, and select a fun wedding cake that combines bright colors.
With a little creativity, you can incorporate color into your pole barn wedding venue without making it look too jarring or out of place.
By choosing complementary colors and using thoughtful accents, you can create a beautiful and unique event that will last a lifetime.
Don't Forget The Food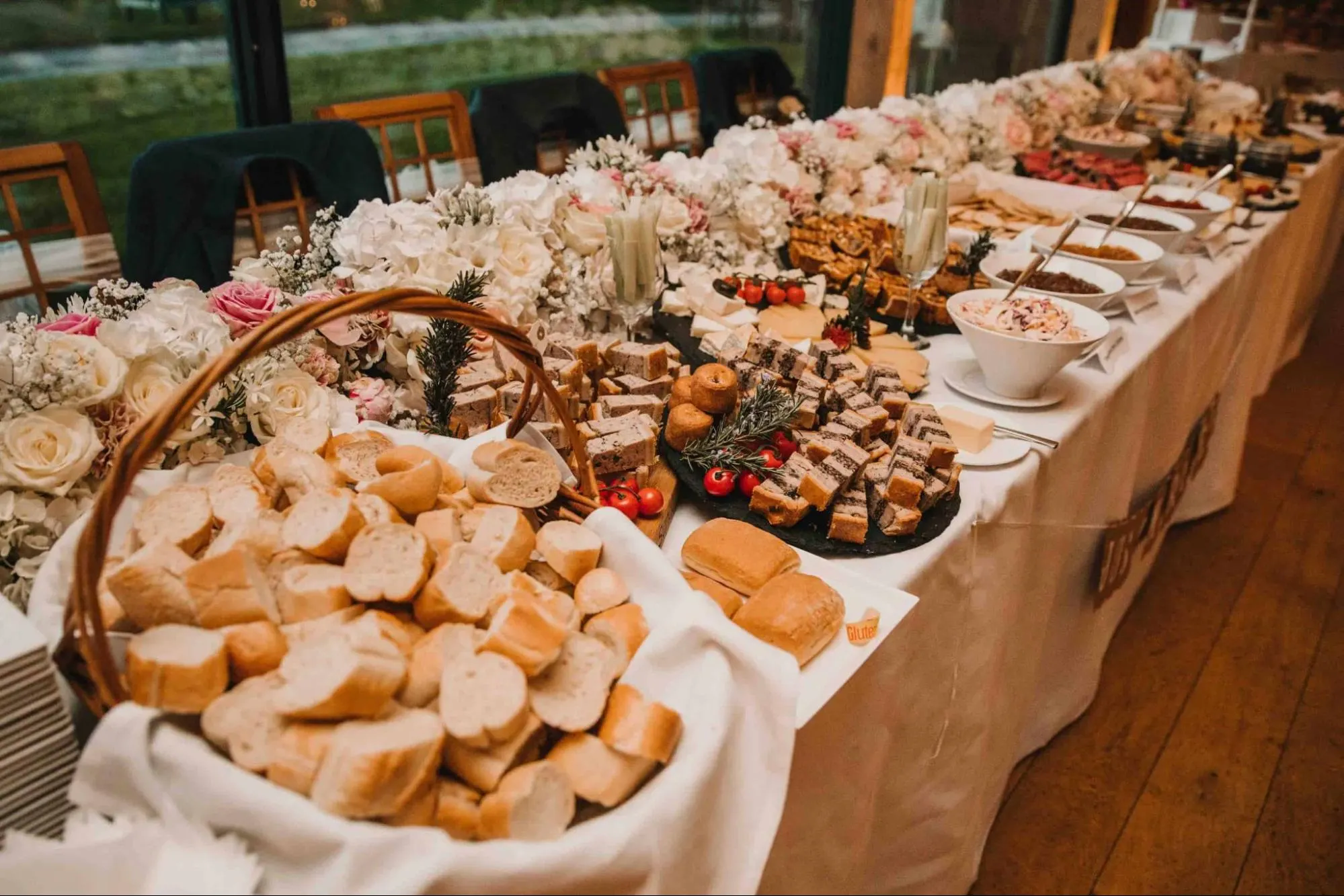 Source: https://www.dodfordmanor-venue.co.uk/
Food is an important part of any wedding, but it's especially important when your wedding is in a barn. Barn weddings offer a rustic and natural setting that the right food choices can enhance.
A good way to keep a rustic charm in your reception is to take advantage of seasonality or the time of year, such as serving warm dishes in the cooler months or serving refreshing dishes in the summer.
There are endless possibilities for elevating your rustic barn wedding with food, from buffets to BBQs and multi-course meals, to cheese courses and more sophisticated dishes.
By choosing the right menu, you can create a memorable dining experience for your guests that will add to the overall charm of your barn wedding while sprinkling in a bit of your personality.
Is A Pole Barn Wedding Venue Worth It?
With beautiful scenery and countryside surroundings, barn weddings are becoming increasingly popular, and for good reason.
A barn wedding provides a relaxed and natural atmosphere that is perfect for couples who want to celebrate in a unique setting and want their wedding to be as rustic as possible.
If you're looking for something quaint and charming, a pole barn wedding venue may be the right choice.
Like this Post? Sign up for our email list!
Be the first to see new posts about the best barndominiums, construction guides, floor plans, and more! Enter your information below to become a BarndominiumLife VIP.
Noah Edis is a passionate staff writer at Barndominium Life, a leading online resource for all things barndominium. With years of experience in the writing industry, Noah has made a name for himself as a skilled storyteller and a knowledgeable authority on the topic of barndominiums.
Noah's interest in barndominiums began when he stumbled upon the concept while researching alternative housing options. Intrigued by the rustic charm and functionality of these converted barns, he soon became obsessed with the idea of living in one himself. He spent countless hours researching the construction, design, and decorating aspects of barndominiums, and soon became an expert on the topic.
As a staff writer at Barndominium Life, Noah enjoys sharing his knowledge and passion for these unique homes with others. He has written numerous articles covering a wide range of topics, from the history of barndominiums to the best ways to decorate them. Noah's writing is informative, engaging, and always on-trend, making him a valuable asset to the Barndominium Life team.
Noah is a graduate of the University of British Columbia, where he earned a degree in English Language and Literature. When he's not writing about barndominiums, he can be found exploring the great outdoors, trying new restaurants, or spending time with his family and friends. Noah is dedicated to his craft and is always striving to improve his writing skills and knowledge of the barndominium lifestyle.
Connect with Noah on LinkedIn