Just as many design elements have been updated to fit the clean, sleek lines of modern fashion, so also has the barn been reborn beyond agricultural storage. Now you too can experience the high ceilings and wide open concept floor plan of a pole barn home in Ohio without breaking the bank!
You might have initially visited Ohio for the beautiful year-round hiking or for the state's loyal sports fan base. But people stay in Buckeye State because of its affordable cost of living and stunning rural countryside that is ideal for new home construction. If you've ever dreamed of waking up near the shore of Lake Erie or living near the Pro Football Hall of Fame, a custom pole barn in Ohio could be right for you!
Read on to learn more about the pole barn home trend and how you can start building a pole barn home in Ohio today.
Pole Barn Homes in Ohio
Over the years, people have been drawn to living in Ohio for its easy access to roller coasters at Cedar Point, great college football and university life, and family-friendly fall festivals. It is called The Heart of It All because of its unique connections to the midwest, east coast, and southern American living.
The cost of living in Ohio is ranked 13th in the nation, and you are guaranteed a short commute to work no matter where you live. This is why a pole barn home is such a great option if you want to build a new home in Ohio. Pole barn homes are already affordable and easy to build, which means you can enjoy even more that Ohio has to offer with your new budget-friendly home!
What is a Pole Barn Home?
Pole barn homes are the repurposed home designs that started it all. Since pole barn homes showed up on the housing market in the 1980s, people to this day are constantly looking for new and unique ways to reclaim old materials to create new homes.
Like a barndominium, a pole barn home uses post-frame construction to save on building materials and work around the design issue of load-bearing walls. However, a pole barn home gives you the high ceilings and open floor plan of a traditional agricultural building without paying for the expensive metal building supplies needed to create a barndominium.
On top of using fewer and more affordable construction materials for your new home, a pole barn home in Ohio can be built faster than a traditional home. You can also plan to purchase all of your building materials in one place, thanks to the ease of pole barn home kits that you can purchase in-person or online. And you can commit to an easily customizable blueprint for your home with the help of expert post-frame building designers.
A pole barn home in Ohio can be as original as the person who invests in its creation. That means you can build your new home with as much imagination as your budget will allow. Maybe you want to add a classic farmhouse feel to your new pole barn home. Or maybe you want to connect with the established Amish community in Ohio to help build your pole barn home. Whatever you dream of your new pole barn home in Ohio, it can easily become a reality!
How to Build Your Own Barndominium & 200+ Floor Plans
Get started today with our program "Barndominiums Made Easy: How to Build Your Own Barndominium" and get 200+ barndominium floor plans included!
Why Should I Build a Pole Barn Home in Ohio?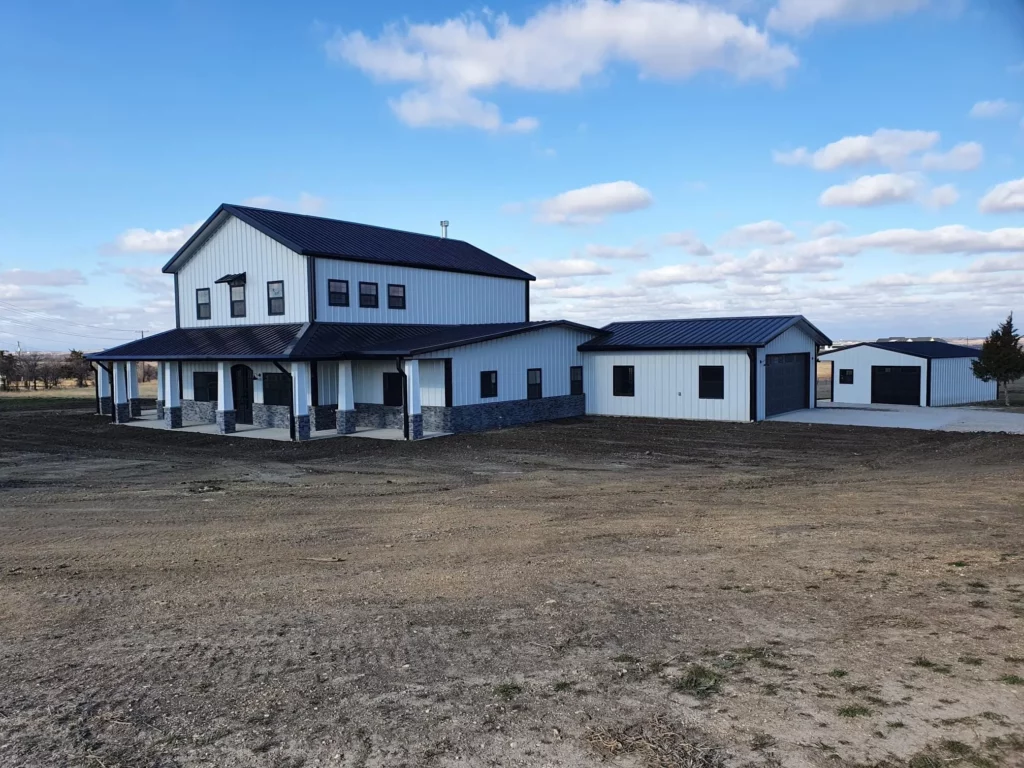 If you've ever been interested in building a new construction home but couldn't figure out where or how it could happen, a pole barn home in Ohio is worth your consideration. Thanks to the affordable living cost in the American midwest, you can purchase a large plot of land and build your new pole barn home without having to worry about breaking your building budget.
A pole barn home in Ohio can fit as many people as you want, and you can keep your home as open and clean or filled to the max as you want. Maybe you keep the main floor uncluttered by adding lofted bedrooms to your floor plan. Or you can design the entire main floor to work as a live-in workshop, with residential housing attached next door.
The other great benefit of a pole barn home is that you don't need expert builders to bring your home to life. With the step-by-step instructions that are part of any pole barn home kit, you can set up the frame and flooring of your home in as little as eight weeks.
When you build a pole barn home in Ohio, you can keep all your hiking and camping gear in one place and still have room to spare. You can even build a pole barn home near one of the main urban hubs in Ohio like Cincinnati or Toledo and enjoy walkable downtown life.
Your new Ohio life is just a few weeks away with a newly constructed pole barn home. Enjoy everything Ohio has to offer with a new pole barn home today!
How much does a pole barn home in Ohio cost?
One of the most common questions when building a pole barn is how much does a pole barn cost?
The cost of new construction is never as clear as you think, especially because you will need to budget for both the land where you plan to build and the supplies to build your new home. You also need to remember that any kit you purchase for a pole barn home in Ohio will not include the cost of any custom details you plan to add to your home. From molding and wallpaper to any unique details you might want to add to your bathroom, these extra finishes to your home can add up if you're not careful.
A pole barn home in Ohio will usually cost around $25,000. In contrast, the average cost of a traditional newly constructed home in Ohio is around $200,000. This number is widely open to change, as the housing market fluctuates regularly with any major shifts in the American economy.
When considering a pole barn home in Ohio, the numbers should speak for themselves. You are guaranteed a higher return on investment because of the popularity of this housing trend, and you will greatly benefit from the affordability of this new home design!
How to Build Your Own Barndominium & 200+ Floor Plans
Get started today with our program "Barndominiums Made Easy: How to Build Your Own Barndominium" and get 200+ barndominium floor plans included!
Pole Barn Home Builders in Ohio
If you choose to commit to a pole barn home designer or pole barn home kit provider, it's important to make sure you connect with a team you can trust. While you may be able to complete a lot of the construction on your new home by yourself, your pole barn home project will still benefit from experts who have experience in the pole barn home and post-frame construction field.
It can be difficult to search through all the different builders working in this type of construction. Luckily, we have put together a list of the best builders for a pole barn homes in Ohio to help you make the right choice.
Weaver Barns Ltd
Weaver Barns has a company motto of "Everyone needs a little structure in their life." They have been involved in post-frame building construction in Ohio and the midwest since 1994, which would make them a great resource for your pole barn home in Ohio.
Yoder Barns
Yoder Barns offers you Amish-built post-frame buildings. You can get anything from a pole barn home to a custom shed designed for your property with this company based out of West Salem, Ohio.
Pole Barns Direct
Pole Barns Direct boats over 150 years of combined experience in construction experience. They are also based out of East Canton, Ohio, which makes them another great local pole barn home-building resource.
Pole Barn Kits Ohio- Ohio Kit Providers
If building a pole barn in Ohio from scratch is not something you want to do, you have other options as well. pole barn kit providers are a great choice if you would like an easier construction phase for your dream home.
One of the major benefits of using a pole barn kit is that they come with everything you need. If you are champing at the bit to get your project underway, you may not want to spend a lot of time gathering materials. By ordering a prefabricated kit, you can get started as soon as it arrives and be confident that you will have everything in place and ready to go.
Designing a Floor Plan for a Pole Barn Home in Ohio
It's crazy to say that 90 feet is small, but that's the number you need to consider when designing your pole barn home floor plan. Ninety feet is the longest your pole barn home can be, which is smaller than the up to 300 feet in length you can plan for when putting together a barndominium home. But remember, that entire square footage is guaranteed to be open concept and covered by the high ceilings of a pole barn.
After you have figured out the dimensions for your home, you might feel stuck on what exactly to do with the layout of your main floor. Check out the Barndominium Life blog for our top floor plan inspiration and design ideas as you put together your pole barn home in Ohio!
Pole Barn Home Floor Plans in Ohio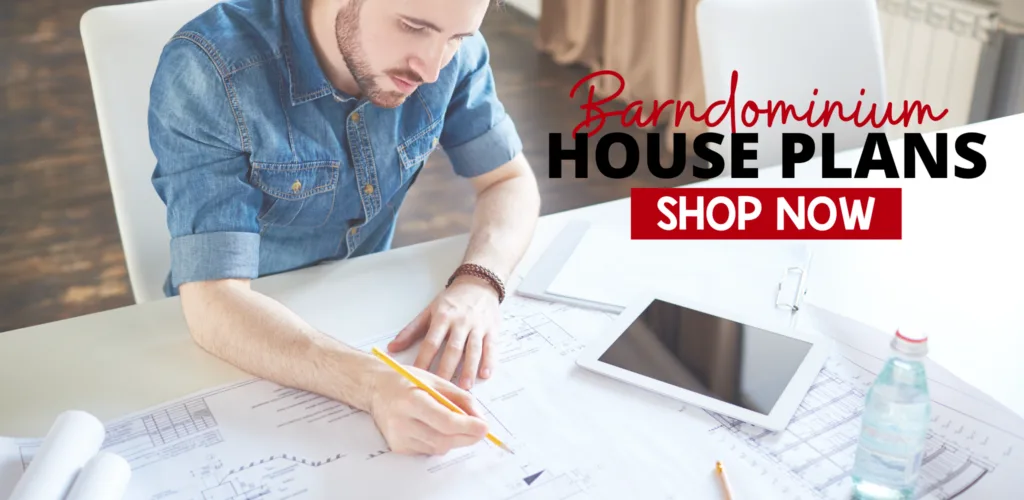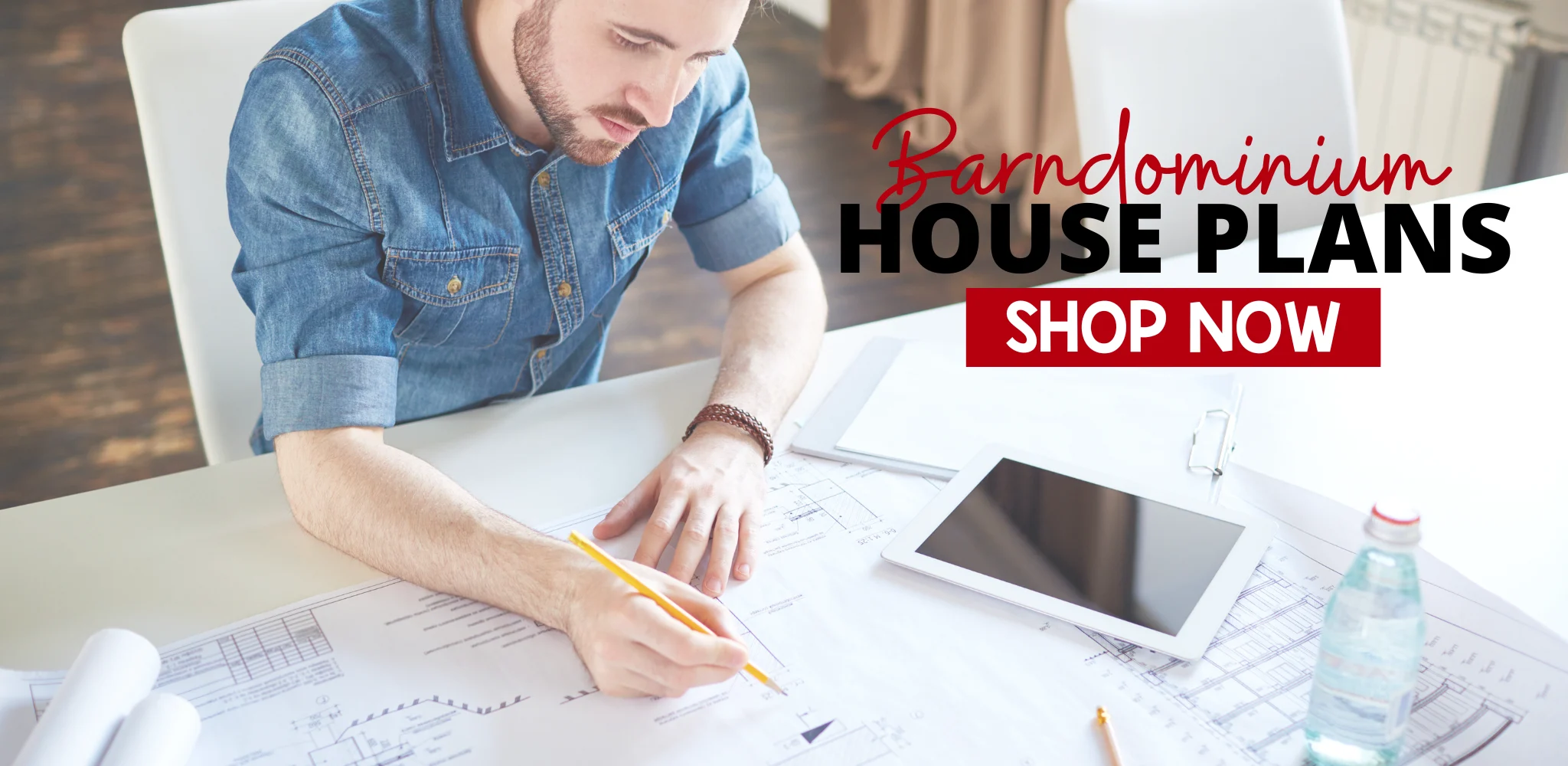 How to Finance and Get Insurance for your Pole Barn Home in Ohio
One of the best resources for getting barndominium financing is by using BarndominiumLoans.com. They are a quote service that takes down your information and works behind-the-scenes with vetted lenders who are best for your location and financial situation.
Whether you have a perfect credit score or a subpar one, and whether you're located in South Carolina or South Dakota, you can submit your information to get a quote within 24-48 hours.
Barndominium Financing Request
Financing a pole barn home can be tricky for a pole barn home, but it's not impossible. If you are willing to do the research and make the right connections, you should be okay.
First, make sure the plans for your home are clearly laid out. Network with local contractors who can walk you through residential building codes and businesses you should connect with to complete your home. And if you're willing, consider asking private banks or smaller mortgage lenders for financial support, instead of bigger companies.
Don't want all the hassle of building a pole barn home from the ground up? Then you may want to buy an existing pole barn home in Ohio! With our Pole Barn Home for Sale Marketplace, you can browse to your state and find a pole barn home for sale near you.
The beauty of buying an existing pole barn home is that it can be really easy to customize the floor plan to your liking. The previous owners' setup is just a starting point! Also, by buying a pole barn home in Ohio, you bypass the potential troubles of the building process – delays, dealing with contractors and subcontractors, and city or county bureaucrats trying to make your build process a nightmare.
Don't delay – find a pole barn home for sale in Ohio now!
Conclusion
Ready to learn more about building your dream pole barn? Be sure to check out how to insulate your pole barn, unique pole barn storage ideas to help maximize the space you have, as well as great pole barn front porch ideas that boost curb appeal to a whole new level. Get started designing your own pole barn with the best pole barn software to start turning your dreams into a reality!
If you would like more guides like this one, check out the rest of BarndominiumLife.com. There, you will find more helpful tips and tricks from the pros. You will also find featured barndominiums, barndominium floor plans, and information on financing and insurance. Knowing as much as you can will help you get the best results for your dream home.
Like this Post? Sign up for our email list!
Be the first to see new posts about the best barndominiums, construction guides, floor plans, and more! Enter your information below to become a BarndominiumLife VIP.
Alicia Drier is a wordsmith with over two decades of writing experience as an English teacher, marketing assistant, podcast cohost, and blogger. As a copywriter, she gets to daily invest in the research and writing she loves – while keeping the time and energy to be the parent she wants to be.