Why is everyone talking about the appeal of pole barn home construction? There might be more opportunity in this time-proven home design trend than you think.
As our lives get busier and more cluttered every day, many have shifted to a simpler American Dream for their futures. Country singers write all the time about scenic views from a large front porch and the peaceful agrarian lifestyle off the grid. But too often, people feel this dream has to be set aside because of the cost of building a new home.
If you are the type of person who is looking for the perfect getaway home at an affordable price, or if you are interested in learning more about the history of new home construction trends over time, you have come to the right place to learn more about pole barn homes. A pole barn home has been around for a while longer than its descendant, the barndominium. It gives you durability and open-concept flooring without breaking your residential construction budget.
Read on to learn everything you need to know about pole barn homes, including the cost and potential floor plan options.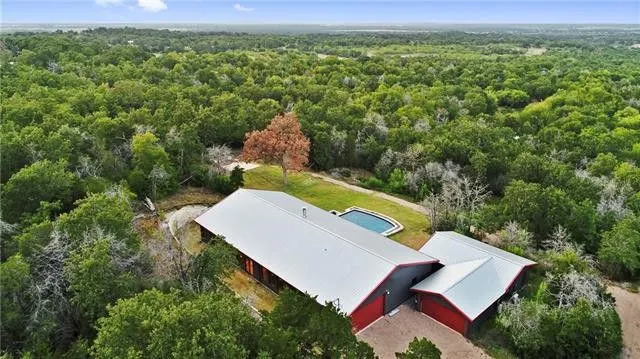 What is a pole barn home?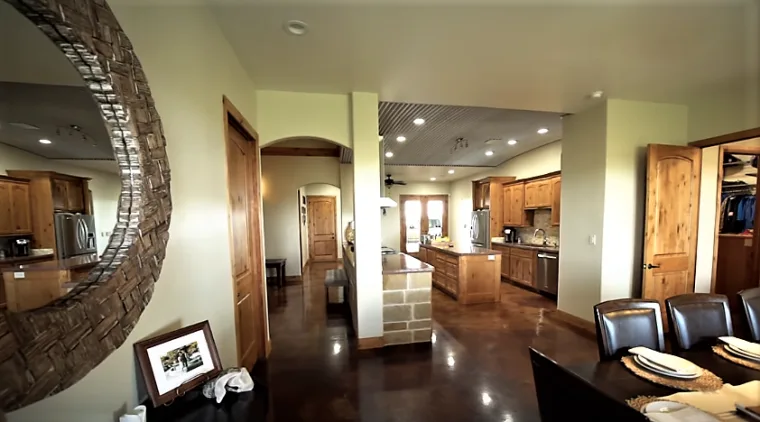 Just like agricultural buildings of the past and present, a pole barn home uses post-frame construction. Also known as pole framing, this building technique requires less labor and construction time than traditional timber-framed houses. Large poles are secured either above ground or in-ground, and these poles are then used to support the roof.
A post-frame structure takes away the floor plan limitations of load-bearing walls, while also taking away the timeline constraints of pouring a foundation. You are guaranteed a sturdy residential building that will withstand changing seasons and your growing family's needs when you commit to a pole barn home.
A pole barn construction can also adapt to any home aesthetic you want. You can create a warm and inviting rustic farmhouse vibe or aim for a more modern and sleek urban home facade. Some people even double up their pole barn homes as commercial spaces, using them as churches, schools, or creating a designated home gym space.
Why build a pole barn home?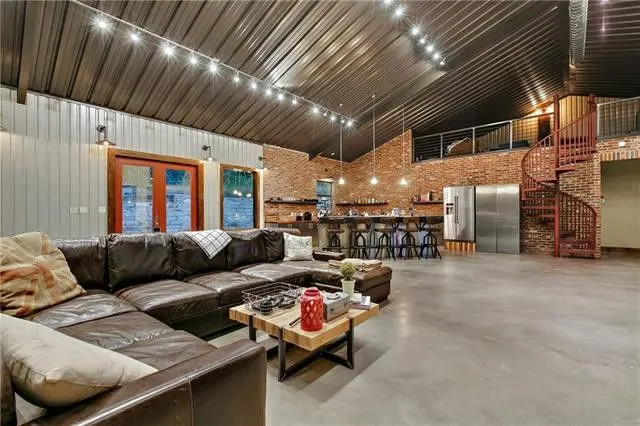 One of the best details of a pole barn home is that you don't need to depend on a building contractor to bring your dream to life. When you purchase a pole barn home kit, you will receive step-by-step building plans along with customizable square foot options. You can also usually download open concept floor plans from pole barn home designer websites to help get you started on how you want to set up the floor plan of your new space.
On top of the personal pride, you will feel after building your pole barn home from the ground up, you will also come to appreciate your pole barn home for its affordability in comparison to traditional home designs and quick construction turnaround. You can expect to move into your pole barn home in as little as eight weeks after you start the project!
Pole barn homes are great if you need extra storage for large toys like boats and campers. You can design a live-in workspace for your car hobby with the help of a pole barn home. Or you can finally host your entire extended family in one place over the holidays when you invest in a pole barn home.
How to Build Your Own Barndominium & 200+ Floor Plans
Get started today with our program "Barndominiums Made Easy: How to Build Your Own Barndominium" and get 200+ barndominium floor plans included!
Pole barn home vs barndominium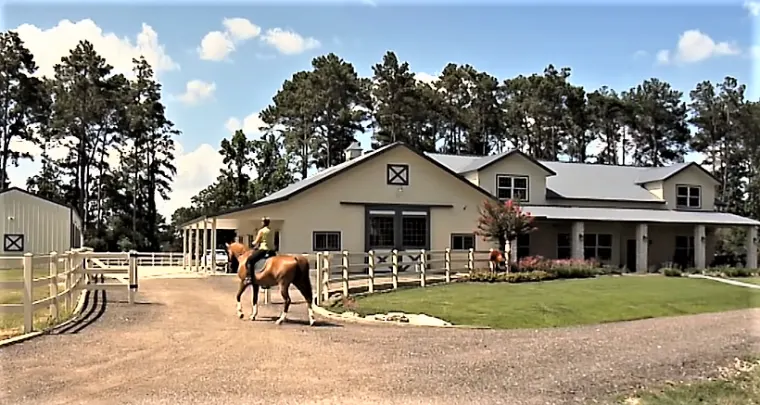 Both a pole barn home and a barndominium are known for their large post frame construction and open floor design that is cheaper and more customizable than traditional wood-framed buildings. The biggest difference between a barndominium and a pole barn home is that, while barndominiums can accredit their start to converted pole barn spaces, barndominiums have evolved into solely steel-frame building designs.
Pole barn homes do not always use only metal construction, as they will often use the post-frame concept with wood poles to support the roof. On top of this, barndominiums can be designed to fit everything you might ever dream of using in your life – up to 300 feet in length – while a pole barn home blueprint. can only stretch to about 90 feet.
While the steel building materials used to create a barndominium are guaranteed to last longer and offer greater protection from mold and rot for you and your family over time, you will benefit from lower construction costs and rust-resistant building materials when you commit to a pole barn home instead. It's also important to note that almost any home design is potentially prone to rot, as no current home construction is completely devoid of wood.
How much does a pole barn cost?
You will be happily surprised by just how much money you can save on a new pole barn home construction. However, there are a few important details to keep in mind to help keep your design budget under control:
Pole barn home cost vs traditional home cost
With that in mind, the average traditional new home construction costs about $120 per square foot. Metal buildings can cost anywhere from $6 to $120 per square foot, varying based on where you plan to build and steel market prices. A pole barn home is guaranteed to cost you only $10 to $30 per square foot. The numbers speak for themselves – you will save the most money when you decide to build a pole barn home!
Using pole barn home kits
Because you can purchase everything you need for a pole barn home kit from a pole barn supplier and because wood building materials are cheaper than metal construction, you are guaranteed to save money with a pole barn home plan.
A pole barn home kit can cost anywhere from $7,000 to $75,000. The price is determined most by regional cost differences and location-based design requirements for your new pole barn home.
Other pole barn home costs
It's also important to note that your budget for any new construction should take into consideration the cost of the land where you plan to build. This is one of the sneaky ways online promoters will try to get you to think you'll have to spend less money than you actually will on a new home project.
You also might want to plan for any consultation time you might need from a contractor or builder throughout your pole barn home design process. You will be able to complete most of your pole barn home construction by yourself if you want, but it is still crucial and helpful to work with a building professional who is familiar with building codes and local construction business in the area where you plan to set up your pole barn home.
How to Build Your Own Barndominium & 200+ Floor Plans
Get started today with our program "Barndominiums Made Easy: How to Build Your Own Barndominium" and get 200+ barndominium floor plans included!
Pole Barn Floor Plans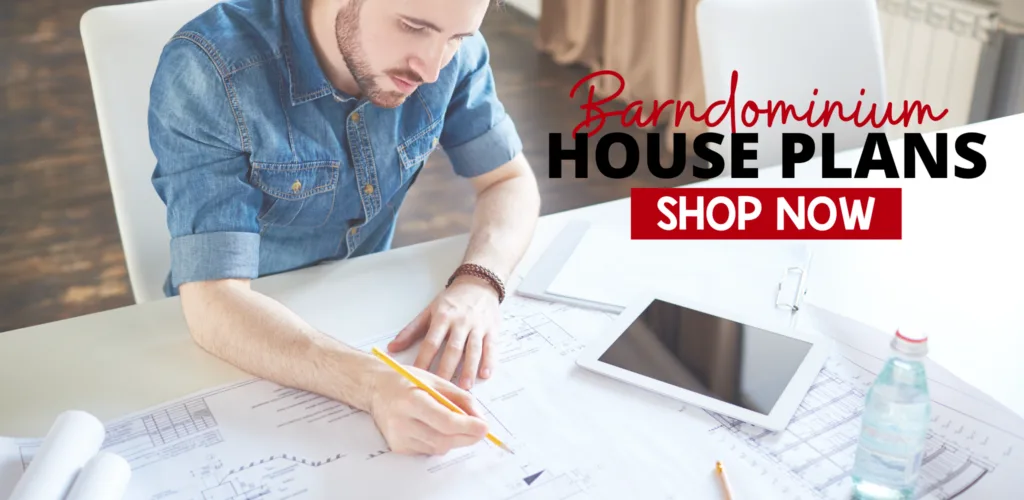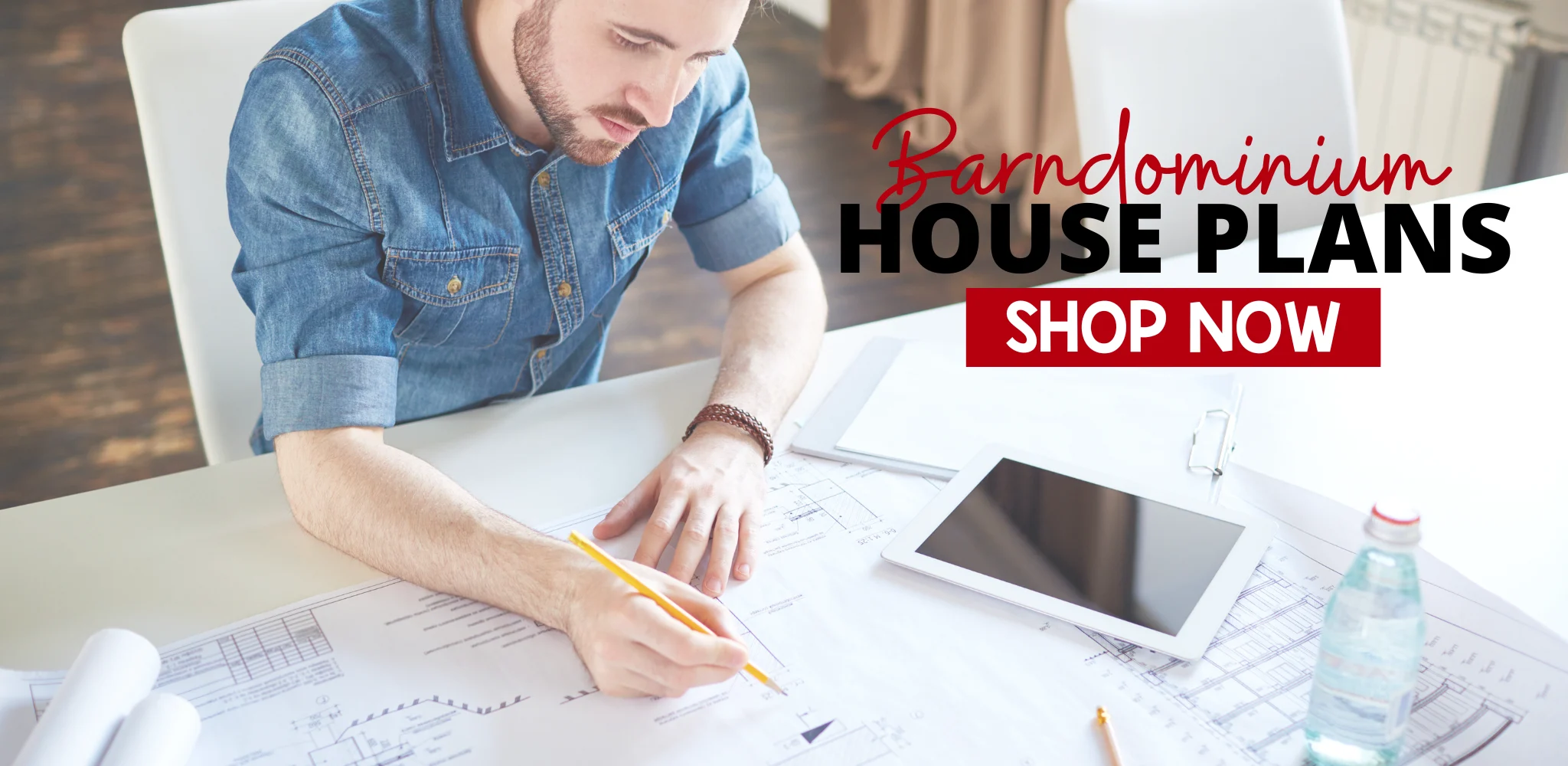 Financing your pole barn home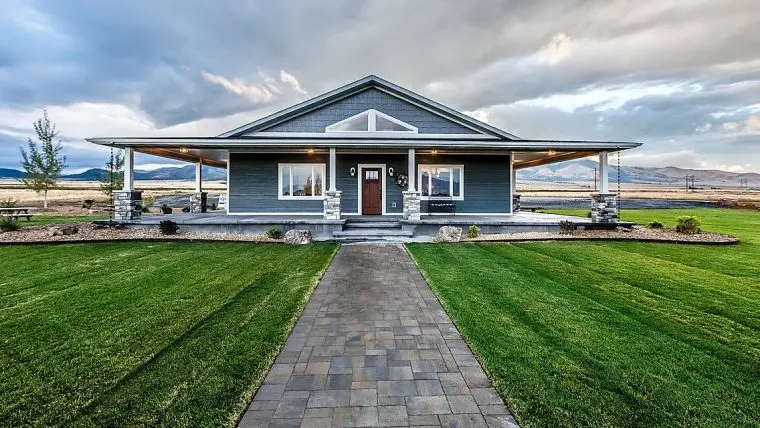 Barndominium Financing Request
As you prepare your plans for your pole barn home, you should know early on that it's not as easy to guarantee financing for an alternative residential space like a converted pole barn home. The main reason for this is that insurance companies and mortgage lenders haven't yet updated to support newer home design ideas. However, you can work around this issue if you do some extra research at the beginning of your project.
Make sure you have clear and detailed plans for your pole barn home layout. Develop a good relationship with a contractor or subcontractor in the area where you've purchased land – even better if they have previous experience in building pole barn homes and come highly recommended by former clients. Talk to a local appraiser to help you put together quantifiable numbers that you can present to financial backers. And it never hurts before you start any new building project to guarantee you have a good credit rating and solid financial history to help potential lenders understand you are worth their investment.
Even without the unique building requirements attached to a pole barn home project, there is little information about new construction loans online. That is why it can also be helpful to check in with current pole barn homeowners to learn from their experience and get a better idea of what they feel did or didn't work through their process. Thanks to online forums and pole barn homeowner blogs, there are a lot of great resources from people who have gone through this process before you that you can turn to.
Conclusion
Now that you've read through our complete pole barn home guide, the only thing left is to start building your pole barn home! You will not once regret investing in this budget-friendly, quick-construction home. Feel free to also look for further building inspiration on our Barndominium Life blog, including a simple and spacious pole barn conversion in Brookhaven and luxury barndominiums around the United States to show you how pole barn homes have evolved over time.
Want to learn more before you commit to a metal building kit provider? Make sure to check out our program, "Barndominiums Made Easy." It's affordable, informative, and will give you every resource you need to move forward confidently with your barndominium build.
If you would like more guides like this one, check out the rest of BarndominiumLife.com. There, you will find more helpful tips and tricks from the pros. You will also find featured barndominiums, barndominium floor plans, and information on financing and insurance. Knowing as much as you can will help you get the best results for your dream home.
Like this Post? Sign up for our email list!
Be the first to see new posts about the best barndominiums, construction guides, floor plans, and more! Enter your information below to become a BarndominiumLife VIP.
Alicia Drier is a wordsmith with over two decades of writing experience as an English teacher, marketing assistant, podcast cohost, and blogger. As a copywriter, she gets to daily invest in the research and writing she loves – while keeping the time and energy to be the parent she wants to be.