If you're looking for that perfect little farmhouse in the country, then you'll love what Christy Herbert Peltier and her family in South Louisiana built. This barndominium is right around 1,215 square feet of living area and features three bedrooms and two bathrooms. The overall exterior dimensions of the building are 40-foot by 60-foot.
From all accounts, they did most of the building themselves, proving that it is possible to create your dream home with a bit of hard work and dedication. In addition, the personalized touches added to create a homey environment prove that you don't have to go bare bones when building! Check out the full pictures and story of their South Louisiana Barndominium.
Farmhouse-Style Barndominium in South Louisiana
If you're looking for an example of a barndominium that looks like a custom home, then you'll love Christy Herbert Peltier's residence. We personally love all the little touches they've added to make it super personalized and special. Check out the photos for yourself.
Get a FREE 18 Month Barndominium Planner
There are 39+ steps that must be taken before groundbreaking. Learn them all in this FREE checklist, available for immediate download.
Construction Process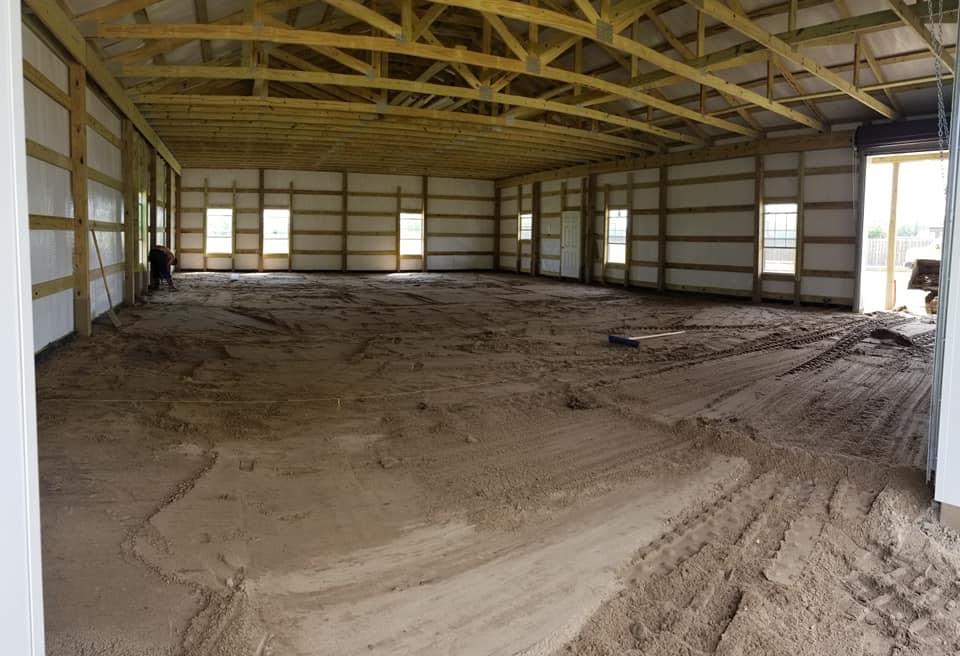 The family took photos to show the overall shell of the building before interior walls, plumbing, electrical, etc. As you can tell, they've come a long way since this point in the construction process!
Building Exterior
We especially love the large porch that wraps around the entire exterior of the building, including over the large roll-up garage door. The concrete patio offers plenty of space to enjoy relaxing, entertaining, or even grilling.
Can't you just picture yourself sitting in one of those oversized patio chairs with a glass of sweet tea in a mason jar? We sure can!
Instead of a large driveway, the couple opted to have asphalt lead straight from the road to the side of the home. This offers plenty of parking for guests and easy access to the opening covered by a large rolling garage door.
How to Build Your Own Barndominium & 200+ Floor Plans
Get started today with our program "Barndominiums Made Easy: How to Build Your Own Barndominium" and get 200+ barndominium floor plans included!
Kitchen Area
Tons of stark white cabinetry pair with a spacious island to create the perfect space for whipping up family meals. A large custom pot rack and light hang from the ceiling, while epoxied wood countertops add an extra dose of charm.
Stainless steel appliances give off a modern appeal, while a farmhouse style sink with upgraded faucet gives off an upscale vibe. Meanwhile, a faux brick backsplash creates illusion and texture within the space.
This view offers better detail of the magnificent epoxy sealed countertops. On the alternate wall, you can easily spot the custom barn door style access to the pantry and the handy built-in kitchen desk.
The backsplash above the sink is hiding a little secret: it's actually wallpaper! This just goes to show that even the simplest of details in your barndominium can create a huge impact.
Living Room
Adjacent to the kitchen is a spacious living room with enough room for everyone to hang out and play. The exposed decorative ceiling beams provide an extra dose of rustic charm.
From this vantage point, you can see the exterior French door heading out the the patio and an additional window for plenty of natural light. Double ceiling fans provide air circulation and ample light.
Bedroom
The farmhouse theme carries into the master bedroom, where a wood plant wall serves as a focal point for the space. The vinyl plank flooring seen throughout the home easily coordinates with this beautiful special touch.
Dining Area
Between the kitchen and living room is an open dining area. This works well to divide up the large space visually, while the open concept allows the family to be together without feeling cramped.
How to Build Your Own Barndominium & 200+ Floor Plans
Get started today with our program "Barndominiums Made Easy: How to Build Your Own Barndominium" and get 200+ barndominium floor plans included!
Play Area
Outside the living room is an area just for the little ones. This play space is still under the cover of the large garage, but includes ample space for wheeled toys and a small picnic table. A mounted television in the corner is great for watching movies, making the whole area a space that will easily grow with the kids.
Extra Special Touches
Of course, it is the extra little touches that make this barndominium a true family home, which is why we wanted to highlight a few of our favorites.
The custom wood wall in the master bedroom offers a unique focal point just above the bed and really gives this space an extra wow factor.
The planked ceiling between the kitchen and dining room is a magnificent addition to the home.
Sliding barn doors throughout the home provide that farmhouse look without going overboard. Plus, they're super easy to DIY!
Wrap Up: South Louisiana Barndominium
Farmhouse charm might be all the rage right now, but we have to admit that this South Louisiana family did a better job than most when it comes to creating a cozy and warm vibe. Best of all, they turned what could have been a boring barndo into something spectacular. Great work, Christy and family!
Are you ready to learn how to build a beautiful farmhouse barndominium just like Christy Herbert Peltier's? Grab a copy of the Barndolife eBook on Amazon: https://amzn.to/3cM3ArJ
Like this Post? Sign up for our email list!
Be the first to see new posts about the best barndominiums, construction guides, floor plans, and more! Enter your information below to become a BarndominiumLife VIP.