Today's featured property tour has us heading back to Texas! This Godley Texas barndominium was designed and constructed by popular barndominium builders, HL Custom Homes. Becoming the go-to business for all things barndominium in Texas, HL Custom Homes continues to create impressive homes for area residents.
Get a FREE 18 Month Barndominium Planner
There are 39+ steps that must be taken before groundbreaking. Learn them all in this FREE checklist, available for immediate download.
Exterior
The first thing that we are drawn to while visiting this Godley Texas barndominium is the vibrant green vertical siding. While many would admit, this color may not be at the top of their list as far as exterior options, HL Custom Homes has perfectly paired the bright color with a natural stone border and finished wood door.
The rear of this Godley Texas barndominium is outfitted with the same exterior doors. However, it also boasts a large covered porch area. Owners can enjoy the additional living space, which can be made into a comfortable outdoor sitting area.
Outfitted with multiple lights and fans, this outdoor area can be used for outdoor living areas, an outdoor dining room, or just a quiet place to enjoy nature and sit outside.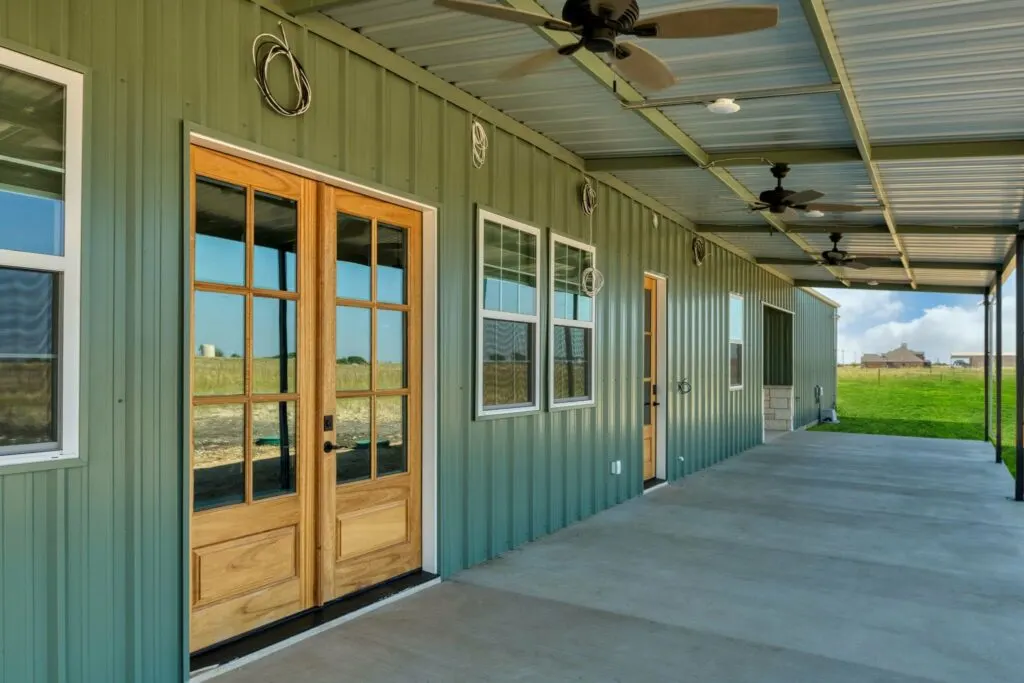 How to Build Your Own Barndominium & 200+ Floor Plans
Get started today with our program "Barndominiums Made Easy: How to Build Your Own Barndominium" and get 200+ barndominium floor plans included!
Interior
Inside this Godley Texas barndominium, we are introduced to another bright color scheme that though equally as bold and daring, fits perfectly into the home. The light blue on the cabinetry and across the island is the ideal amount of spice added to this Godley Texas barndominium without overpowering and dominating the space.
With most of the rest of the home being a neutral off-white, this vibrant blue kitchen acts as an exceptional focal point.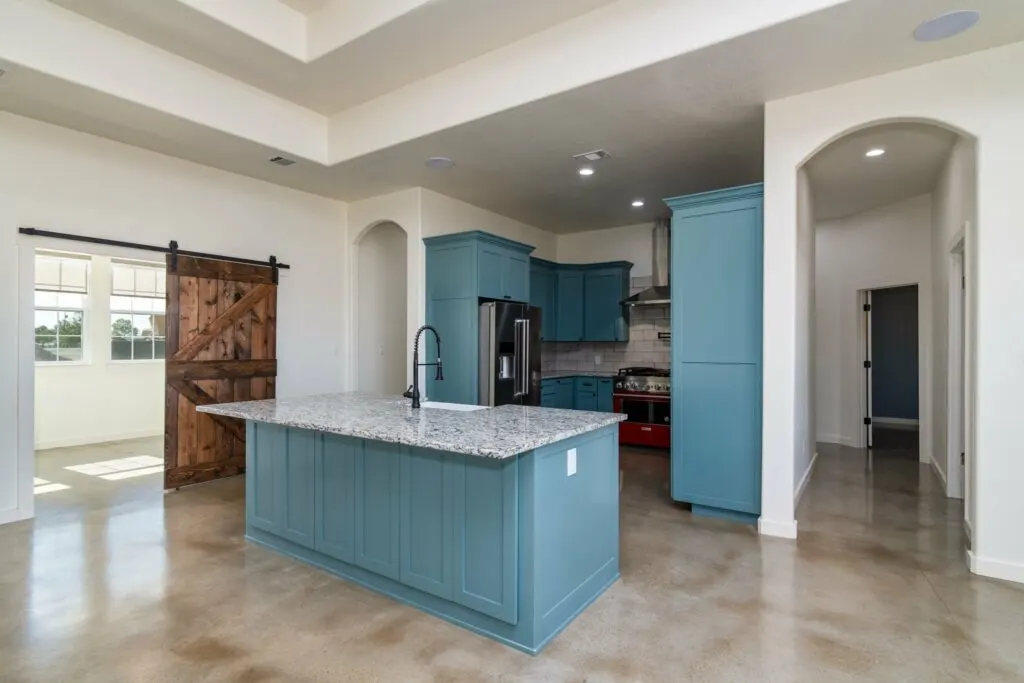 Multiple bedrooms are located in this Godley Texas barndominium, making the home a perfect family home. The rooms all feature large windows to allow natural light to stream in and fans for added comfort.
Each of the guest rooms located in this Godley Texas barndominium is spacious and neutral-toned, making them a blank canvas just waiting for personalization and decoration!
The master bedroom is similarly designed; however considerably larger than the other guest rooms. There are multiple large windows and more than enough space for furniture, decorations, and more.
As with nearly all HL Custom Homes barndominiums, this Godley Texas barndominium features a massive walk-in closet. Outfitted with tons of storage, this closet gives plenty of space to keep everything organized and tidy!
The bathrooms found in this Godley Texas barndominium are simple yet beautifully decorated and designed. We can see that across the hall, there are jack-and-jill style sinks and vanity, and there is a shared toilet area between the two for added convenience. There is a large custom cabinet for storage, and all the cabinetry is painted in the beautiful blue that was originally spotted in the kitchen.
The shower found in this Godley Texas barndominium is a statement piece in and of itself! The brick tiling combined with an extra large shower window make this space feel relaxing and luxurious – the perfect place to wash away stressors of the day!
Though a shorter tour than we are typically used to with HL Custom Homes barndominiums, these small glimpses are enough for us to confidently say that this Godley Texas barndominium is equally as exceptional as all of the other HL Custom Homes barndominiums that we have toured in the past!
If you would like more guides like this one, check out the rest of BarndominiumLife.com. There, you will find more helpful tips and tricks from the pros. You will also find featured barndominiums, barndominium floor plans, and information on financing and insurance. Knowing as much as you can will help you get the best results for your dream home.
Like this Post? Sign up for our email list!
Be the first to see new posts about the best barndominiums, construction guides, floor plans, and more! Enter your information below to become a BarndominiumLife VIP.