30X40 Barndominium Floor Plans
When it comes to Barndominiums, 30×40 floor plans can offer you a unique combination of convenience and comfort. From spacious living areas to ample storage space, these plans have everything you need for a comfortable lifestyle. However, there are some important things to consider when choosing a 30×40 barndominium floor plan for your new home.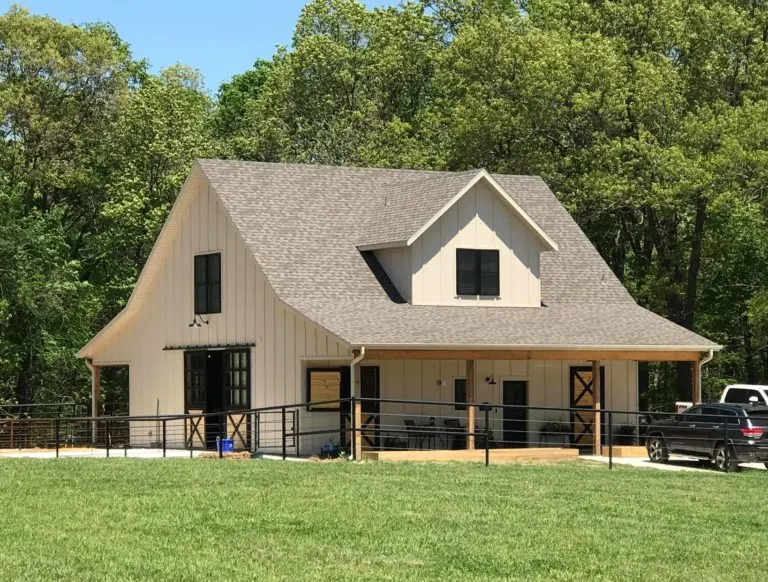 30×40 Barndominium Floor Plans Things to Consider
When considering 30×40 Barndominium floor plans, there are a few important factors to consider. First, think about the size of your family and how much space you need to accommodate them comfortably. You'll want to make sure that there is enough room for everyone in the home and that all necessary amenities are easily accessible. Additionally, you'll need to consider the layout of the plan—does it provide sufficient privacy when needed as well as ample collective space? Before planning and designing your very own floor plan, you must factor in some important aspects.
Lifestyle
A barndo with a 30' x 40' floor area is best for a small family with one or two children. The parents can have the master's suite with its own bathroom and walk-in closet, while each child may occupy their own bedroom. They have the option to share a bathroom to maximize space.
If you are newlyweds this barndominium floor plan will be the perfect size for starting your new life together and a great starter home.
If you are looking to retire and size down with this floor plan you will find you ample space for gathering together in the common areas but the right size to not spend your days cleaning and organizing.
Surroundings
If you are fortunate to own the land in a place with an amazing view, consider using large windows and installing them strategically. This way, you can still enjoy the scenic landscape when the weather requires you to stay indoors.
Consider adding a back porch where you can lounge on the weekends, or make space for a play area for your kids. You can even consider having a sliding door leading to a balcony from the master's bedroom as well.
Traffic Flow
When designing a home, it's important to plan for the traffic flow in and out of different rooms. For example, if you have a family room and kitchen on opposite sides of the house, consider a hallway or open space that runs between them.
This will allow people to move freely throughout the home without having to constantly backtrack or pass through tight spaces. When planning bedrooms and bathrooms, take into account how family members will use each—is one person likely to be getting ready while another is already in bed? Knowing the answers to these questions can help you design a floor plan that works best for your needs.
Closets and Storage
Couples and small families normally don't have much stuff to require a lot of storage space. So, bedroom closets might also have sufficient space to store out-of-season clothing, as well as towels and linen.
However, you should still include a utility room for cleaning appliances and repair equipment. This can double as storage for holiday décor, luggage, and travel or party accessories.
You may also take advantage of the walls and ceiling of the laundry area. It's a great place to store bulky items such as comforters, curtains, and winter jackets.
Parking
The best part of owning a barndominium is its flexibility, both inside and out. For the exterior, you can choose the kind of parking space you want depending on your needs. It can be a carport, a garage, or a paved driveway.
How to Build Your Own Barndominium & 200+ Floor Plans
Get started today with our program "Barndominiums Made Easy: How to Build Your Own Barndominium" and get 200+ barndominium floor plans included!
30×40 Barndominium Kits
If you're looking to start building your barndominium, one of the first things to do is to get a quote for a barndominium kit. By using the quote service below, you'll get connected with a barndominium kit provider within a few hours at most.
While some builders will help you order the barndominium kit, we suggest doing it separately to avoid a potential markup on the barndominium kit.
That's it! By using the tool above you'll get connected with a kit provider for 30×40 barndominium kits.
30×40 Barndominium Floor Plans with Pictures – Get inspired with these floor plan ideas
These compact residences offer great space for carrying out daily activities and providing enough space for a household of 2-4 people to be able to navigate the rooms conveniently.
30×40 Barndominium Floor Plans
Take a look at these 30×40 floor plan examples of barndominium. They are ready to be implemented, so feel free to pick your very own favorite.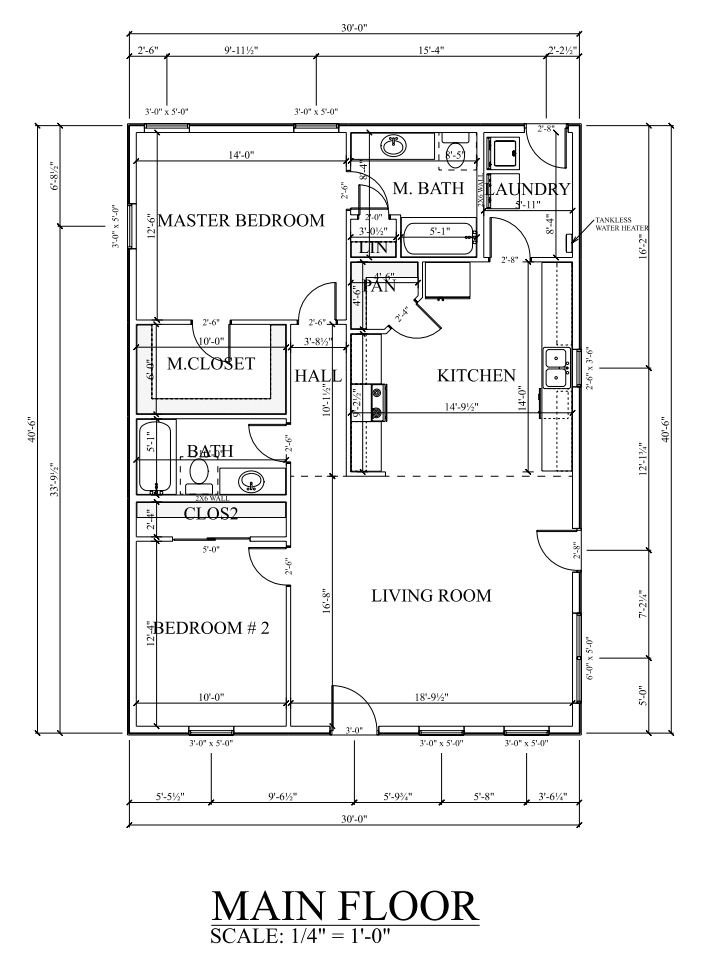 Featuring 2 bedrooms and 2 bathrooms spread across 1233 square feet, this luxurious home was built with your comfort and convenience in mind. Walking in, you'll see a huge great room/kitchen combination, and the kitchen is a cook's dream. Enjoy all that PL-60001 offers in style, comfort, and convenience.
This barndominium is rustic and modern with 2 bedrooms and 2 baths. The open-concept living room, dining room, and kitchen will immediately wow you. The main bedroom's ensuite bathroom adds luxury to this spacious room. The second bedroom is also well-appointed and flexible. It can be a guest room, office, or playroom. Residents and guests can use the nearby bathroom.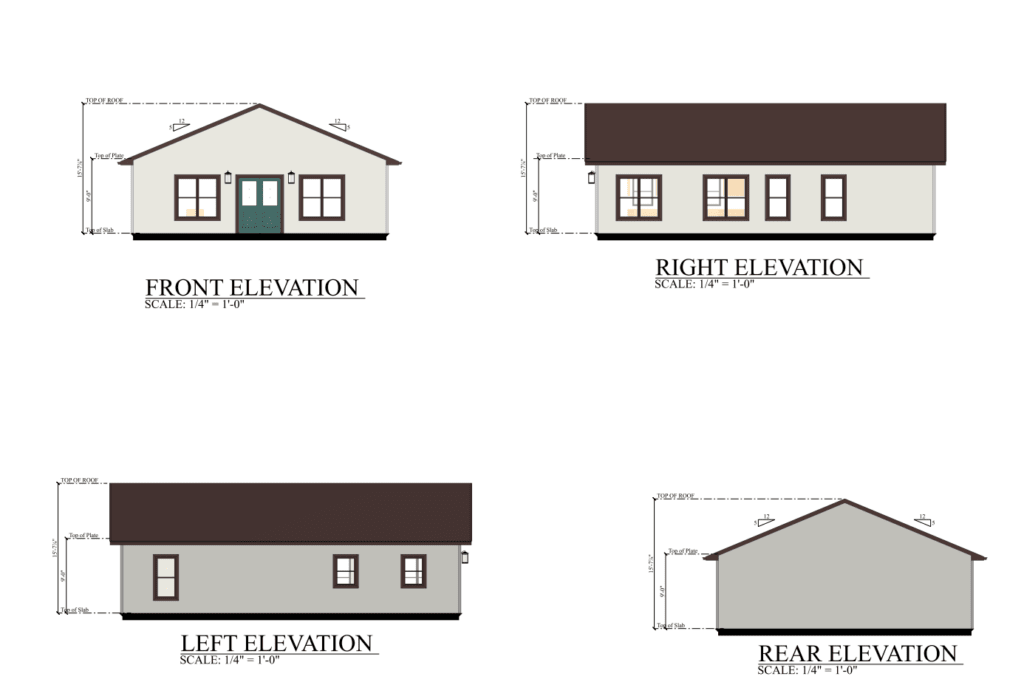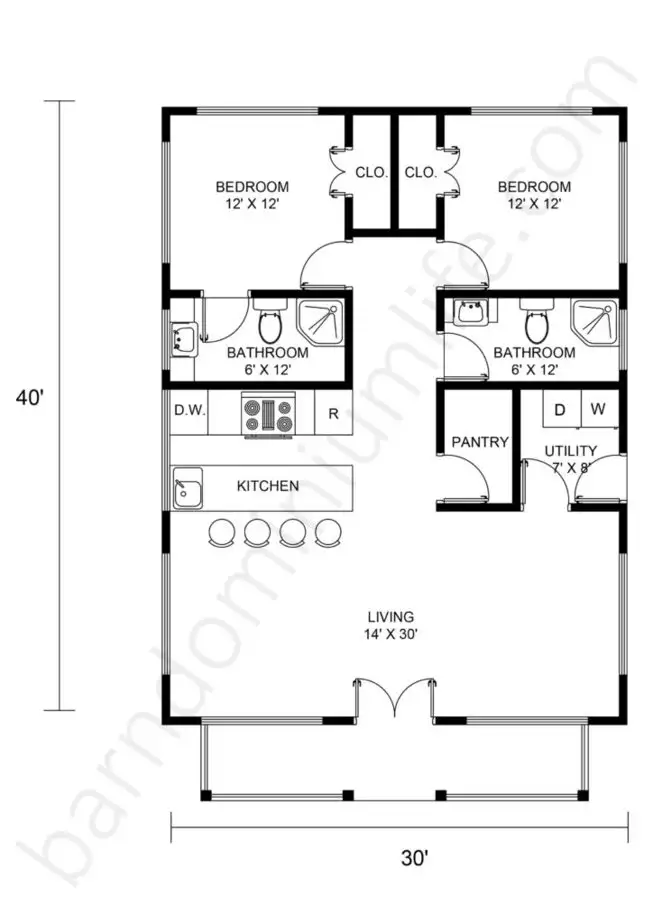 Perfect for an elderly couple, this design provides an open space for the living room, dining area, and kitchen. Without dividers, it will be very easy to transport cooked meals from the stove to the dining table. Note that a breakfast bar offers the option to eat in the kitchen as well.
This barndo includes two bedrooms, both with their own bathrooms, convenient for when visiting family and friends plan to sleep over. Large enough to allow everyone their personal space without getting in the way of others.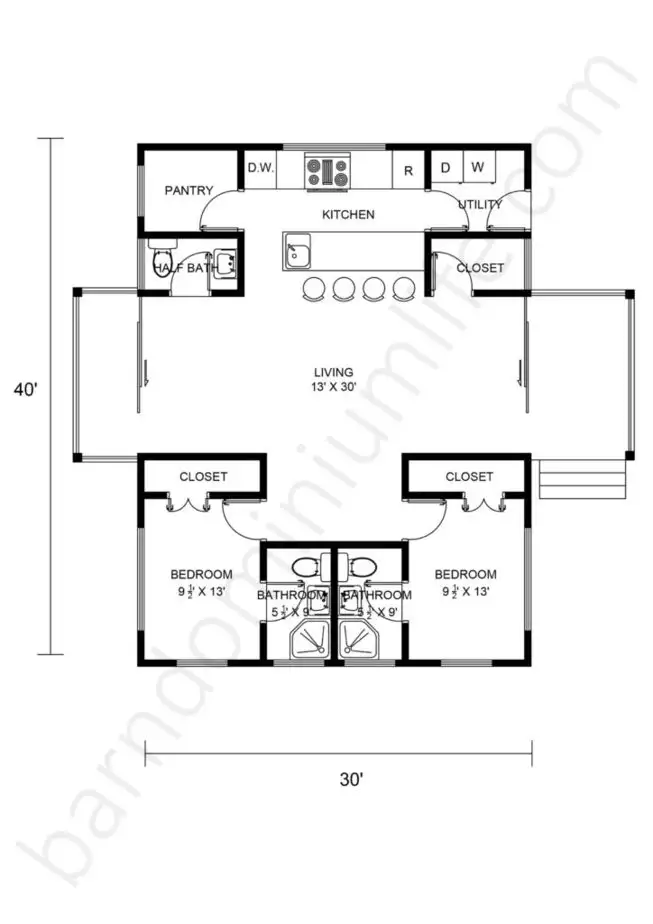 Ideal for a small family with one or two kids, this layout comes with a wide-open space running from the front door to the back. It is an excellent design for young active children, as well as parents who wouldn't want to risk accidents in closed and confined spaces.
Two porches – one in front and another one at the back – are great additions where a family of four could spend quality bonding time on quiet evenings.
This barndo comes with two bedrooms, each with their own bathroom. It's suitable for a couple with just one child or even two kids of the same gender who would be comfortable sharing rooms.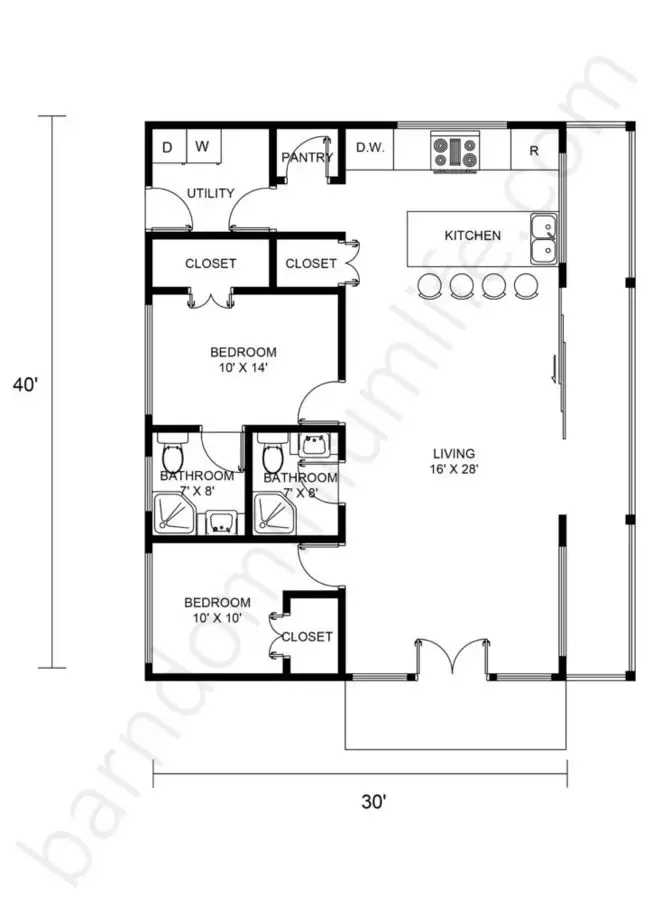 A newly married couple will find this floor plan appealing. The floor plan includes one bedroom with its own bathroom, which they can occupy, and a smaller bedroom they can use as a nursery, sometime in the future. An extra bathroom is accessible from the open space where living and dining areas can be set up.
30×40 Barndominium Floor Plans for Small Families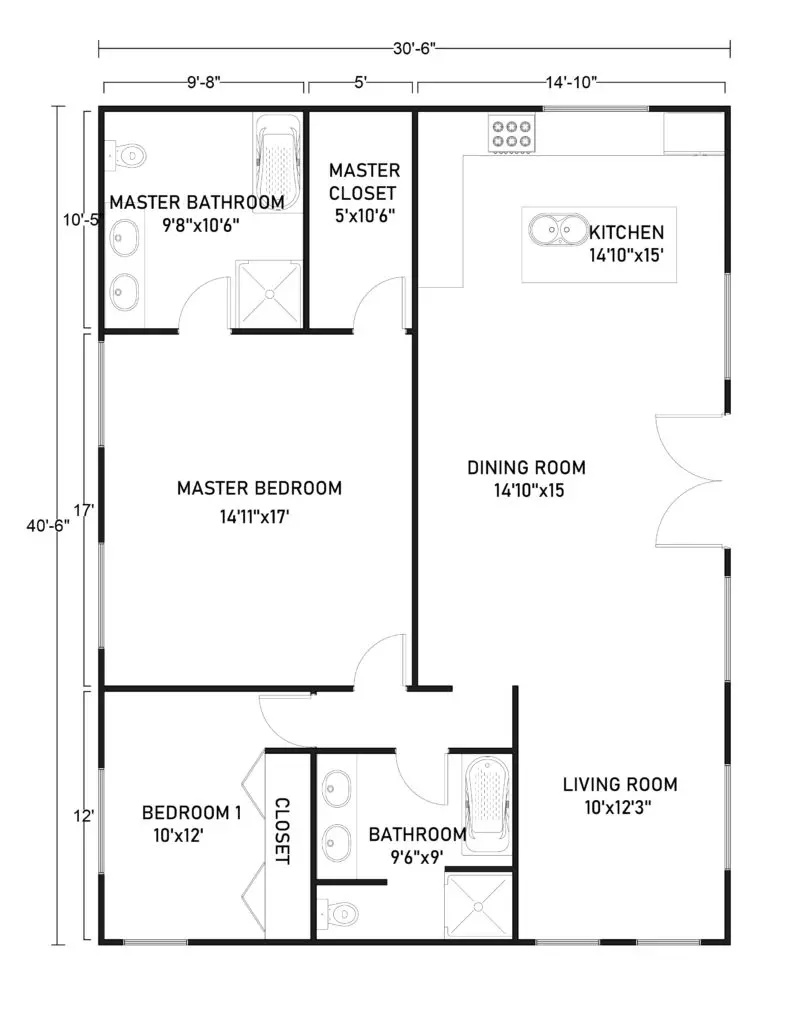 How to Build Your Own Barndominium & 200+ Floor Plans
Get started today with our program "Barndominiums Made Easy: How to Build Your Own Barndominium" and get 200+ barndominium floor plans included!
For a married couple who plans on building their forever home, this charming single-story home offers a spacious dining area that is perfect for entertaining. But the best part is the master's suite, which comes with a master's bathroom and a walk-in closet. It's definitely a dwelling they can grow old in together.
A child or two children can occupy the extra bedroom until they grow up and move into a place of their own. When that time comes, this could be converted into a guest room.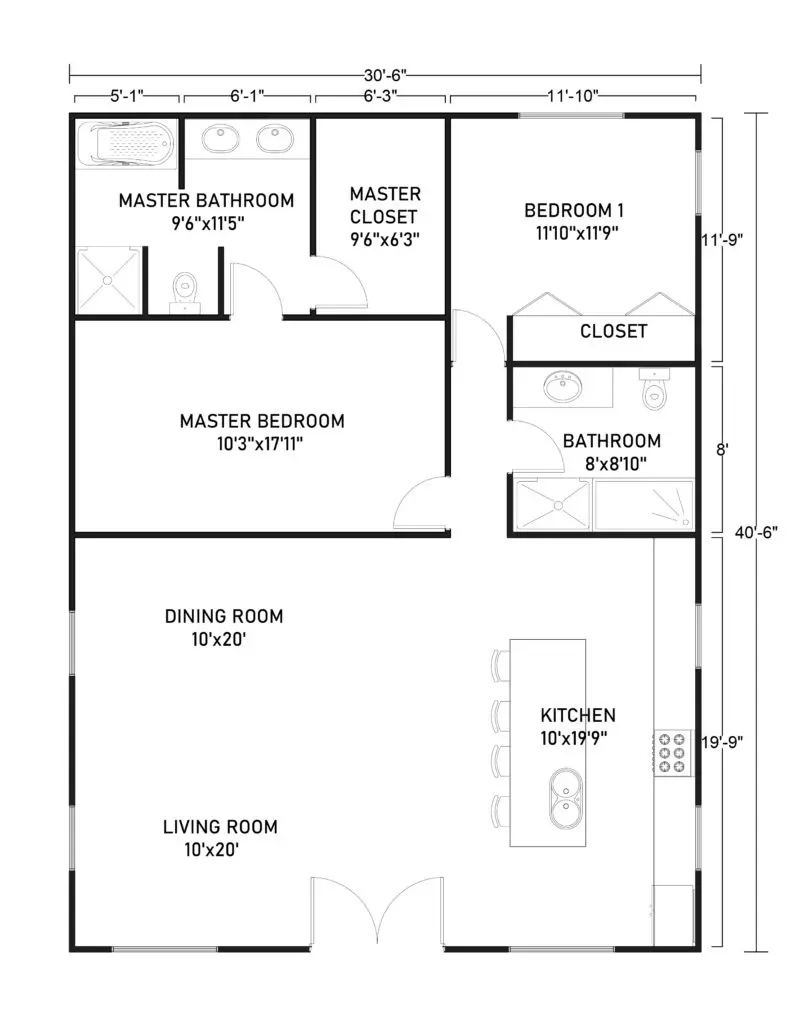 This floor plan was created for a small family or couples who love staying in and enjoy spending time in the kitchen. The kitchen offers plenty of counter space and a breakfast bar that can comfortably and conveniently seat four.
The master bedroom is equipped with a master's bathroom and a walk-in closet, while the smaller bedroom is located right beside it. Both are situated at the back of the house to ensure privacy when guests are invited over.
30×40 Barndominium Floor Plans for Medium-Sized Families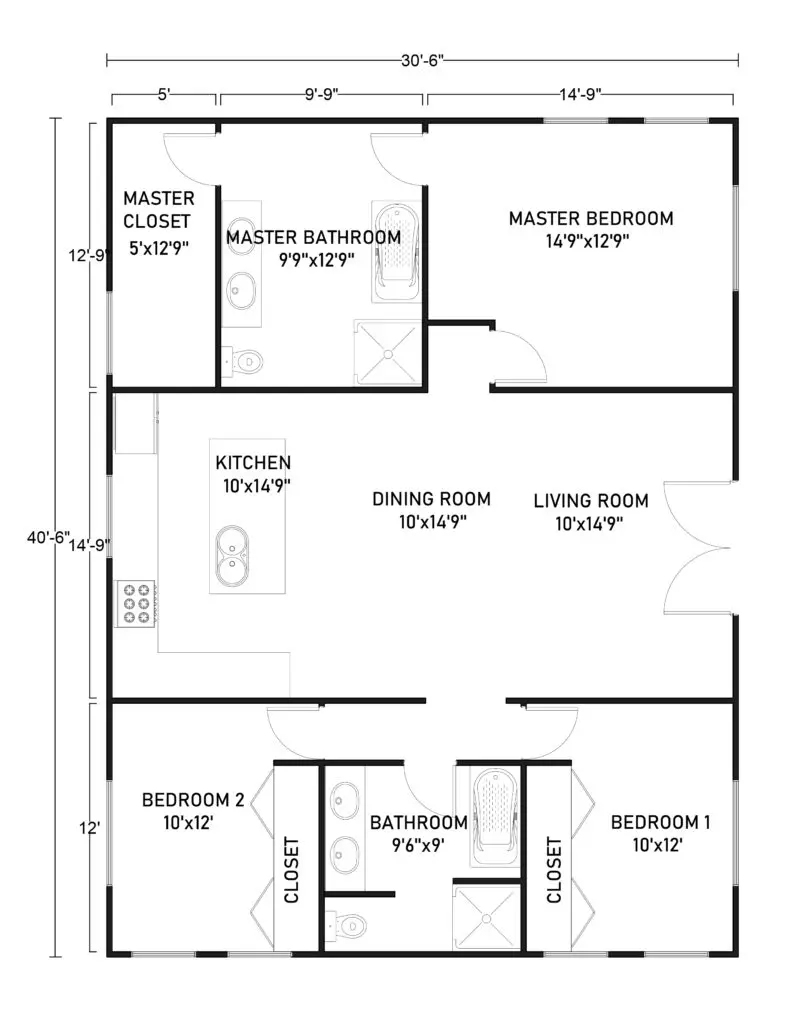 This classic design features a home with common areas in the middle and bedrooms on both sides. The two bedrooms, situated to the left side of the structure, can accommodate up to four children. Both contain a built-in closet each. A bathroom sandwiched in the middle is for sharing.
And to the right, the master's suite takes up the entire wing. It also incorporates a master's bathroom with dual sinks, a bathtub, a shower, and a walk-in closet.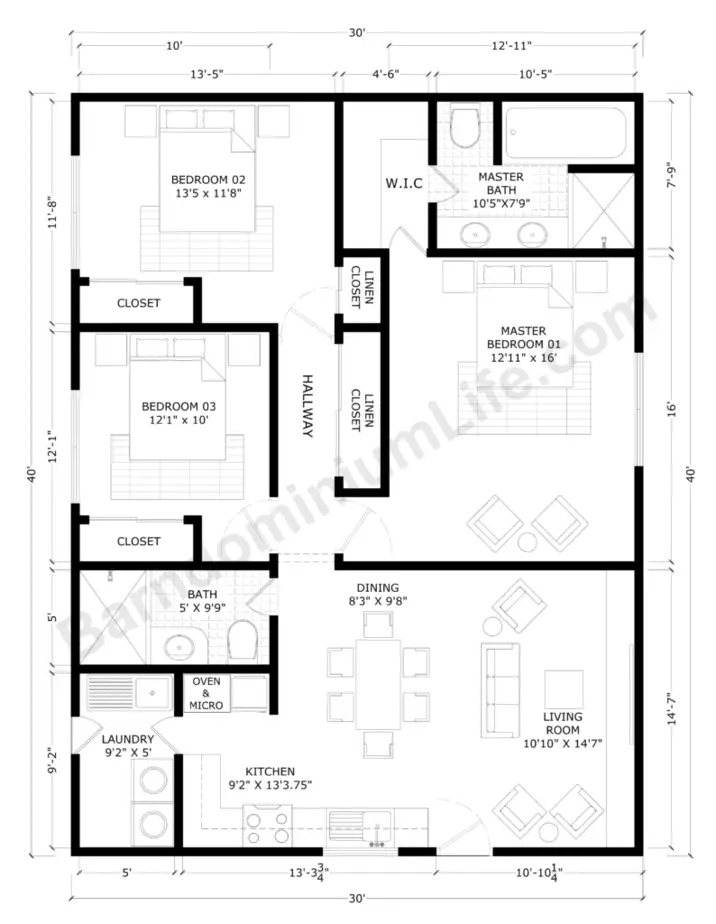 Drafted for a large family of six that may spend a lot of time together, this layout allocates large spaces for the dining and living room.
Two teenage children can share the bigger bedroom, while two younger kids may occupy the smaller one. Both are just across the master's suite, which conveniently includes a master's bathroom and a walk-in closet.
The laundry area opens to a small side entrance/exit doorway and is accessible from the kitchen.
Similar floor plan to the one above, this floor plan comes with the same features. Hence, it can also accommodate a family with two to four children.
The difference here is that the laundry area is more private, with its own door for inside access, and another one for exiting from the side of the house.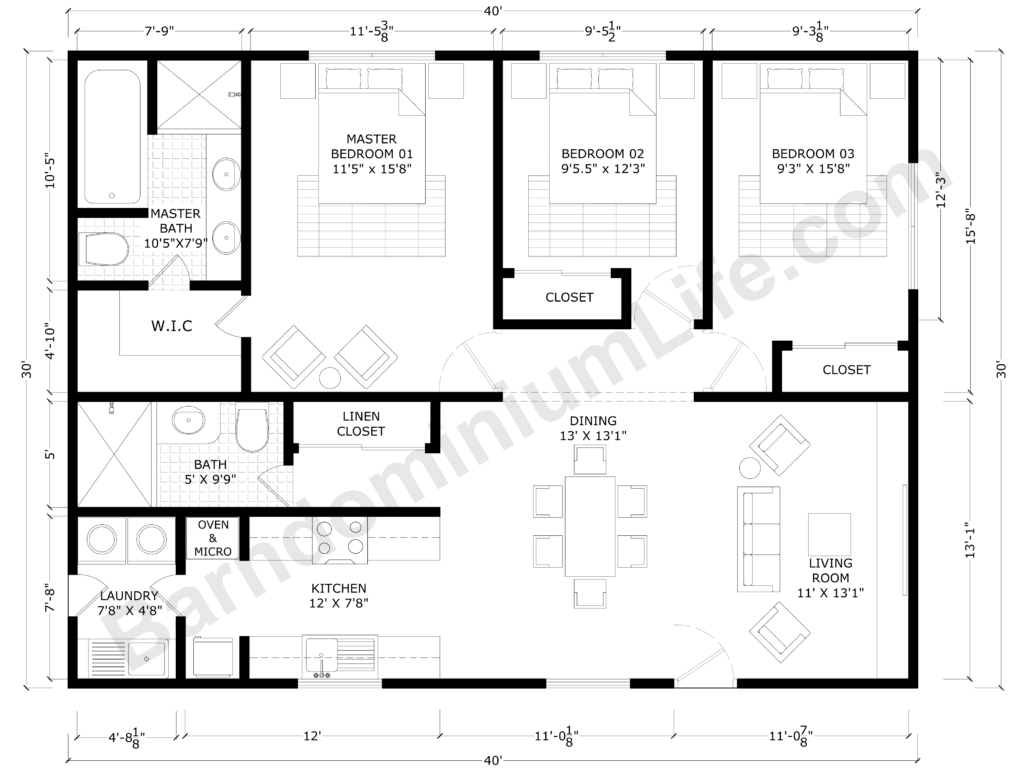 In this floor plan, you can see that all the bedrooms are side by side and occupy the entire backside of the home. Also, like the last two floor plans, the two bedrooms share one bathroom, but in this layout, the bathroom is accessible from the dining room as well.
Design Your Own 30×40 Barndominium Floor Plans
If you are inclined to create your own floor plan inspired by these samples, you can use our custom design software. It's beginner-friendly and allows you to customize your barndo simply by adding your specs to our template.
The Build Your Dream Barndominium e-book by Don Howe is also a valuable resource not only during the planning stage but also while building your dream home.
How to Build Your Own Barndominium & 200+ Floor Plans
Get started today with our program "Barndominiums Made Easy: How to Build Your Own Barndominium" and get 200+ barndominium floor plans included!
Conclusion
If you're ready to transition to your dream home, consider having a barndominium. You'll find many contractors who are more than happy to collaborate with owners to help them build their houses exactly the way they want them. Let us help you start building your dream home with the Barndominium Life Program!
If you would like more guides like this one, check out the rest of BarndominiumLife.com. There, you will find more helpful tips and tricks from the pros. You will also find featured barndominiums, barndominium floor plans, and information on financing and insurance. Knowing as much as you can will help you get the best results for your dream home.
Like this Post? Sign up for our email list!
Be the first to see new posts about the best barndominiums, construction guides, floor plans, and more! Enter your information below to become a BarndominiumLife VIP.
Amanda Armendariz is an accomplished writer with a passion for all things home design and renovation. With over a decade of experience in the industry, Amanda has established herself as a leading voice in the world of barndominium living. Her work has been featured in a number of prominent publications, including Barndominium Life, where she currently serves as a contributing writer.
Amanda's expertise extends beyond the page as well, as she has hands-on experience in the renovation and design of barndominiums. Her ability to blend practical knowledge with creative flair has made her a sought-after consultant for those looking to transform their own spaces into stunning and functional homes.
When she's not writing or designing, Amanda can be found exploring the countryside with her husband and kids, seeking out inspiration for her next project. Her passion for the beauty and simplicity of rural living is evident in everything she does, and her commitment to helping others achieve their barndominium dreams is unmatched.