With a 36×36-foot barndominium, you will likely build the frame on top of a 36×36-foot concrete slab. A slab offers greater stability and costs less compared to a basement foundation. However, you should still understand what involves in the 36×36 concrete slab costs.
Statistics show that the average price of a concrete slab is $4 to $8 per square foot. Across the nation, the median price is $6 per square foot. Using these estimates, a 36×36-foot (1296 square feet) concrete slab may cost $5,184 to $10,368.
A variety of factors influence the cost of a slab foundation. The cost of your concrete slab may come closer to the higher or lower end of the price range depending on the features you choose.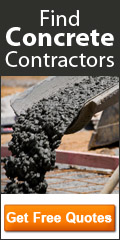 What Should You Expect with a Standard 36×36 Concrete Slab?
The average cost is based on concrete slabs with certain standard features. Here is what you typically get with a standard concrete slab:
3,000 PSI concrete with a thickness of six inches
2×6-inch lumber for creating a wood form around the slab
Rebar for supporting the inner perimeter of the slab
Fiber mesh material to reinforce the slab
A contractor and laborers to complete the project
If the details of your 36×36 concrete slab vary from the list above, the cost of the slab may vary. The following details have the largest impact on the cost of a concrete slab:
Thickness
Features
Geographical region
The geographical region impacts the need for extra site preparation work and the cost of materials and labor. Some plots of land may require the removal of vegetation, such as trees and shrubs. The earth may also need to be leveled.
The cost of materials and labor varies from one state to the next. States in the west, such as California and Washington, often have higher prices compared to states in the south and the Midwest.
Does a Thinner 36×36 Concrete Slab Cost Less?
Choosing a thinner concrete foundation for your barndominium reduces the cost of materials, which lowers the overall cost of this stage of construction. Here is the cost of materials for concrete slabs of varying thicknesses:
$2.83 per square foot for a four-inch slab
$3.20 per square foot for a five-inch slab
$3.57 per square foot for a six-inch slab
Pouring a four-inch concrete slab costs about $0.74 less for each square foot compared to a six-inch concrete slab. A 36×36-foot concrete slab measuring four inches thick may cost about $959.04 less compared to a six-inch slab.

Optional Features for a 36×36 Concrete Slab
If you choose a thinner slab, you may want to reinforce it with optional features, such as thickened edges or wire mesh. These features increase the cost:
Thickened edges around the perimeter – $1 per square foot
Vapor barrier for moisture protection – $0.50 per square foot
Wire mesh instead of fiber mesh for added strength – $0.40 per square foot
Combining all three features adds $1.90 per square foot to your total. With a 36×36-foot concrete slab, these features may add $2,462.40 to the total cost of the concrete slab.

DIY 36×36 Concrete Slab Versus Hiring a Contractor
Hiring a contractor can cost more compared to completing the concrete slab yourself. You can expect to spend about $2.40 less per square foot compared to the $6 median price for a six-inch slab.
A 36×36-foot concrete slab covers 1,296 square feet. At $3.60 per square foot, completing the foundation yourself may cost about $4,665.60 instead of $7,776 for a slab with the same features completed by a contractor. However, if you make any errors, you may end up spending more in the long run.