Looking for the other articles in the series? Check out part 7 here!
Find a list of the articles in order on Instagram @morgan.homebuild and click the link in bio.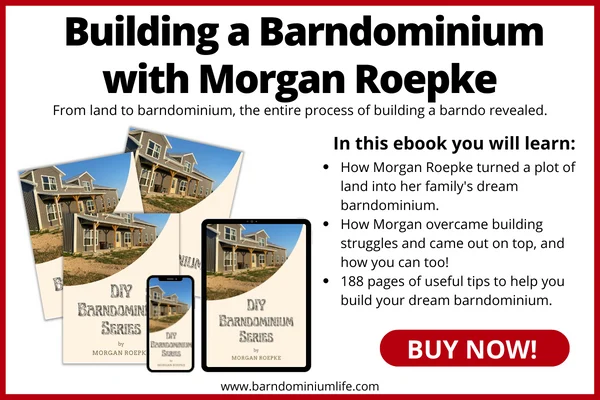 Purchasing Materials for a Barndominium
One of of the most important jobs that an owner has in the home building process is purchasing materials that are perfect for the home. Making sure that you have EVERYTHING purchased for an entire home build can be overwhelming! If you are building with a general contractor, you may be in charge of picking out cabinets, colors, and other design options. However, if you're building without a contractor, the list of materials goes on and on.
Currently in our building process, we are doing a ton of purchasing: fireplace materials, kitchen materials, plumbing, you name it! Here is a simple breakdown of the 3 questions I had to answer in my building process that would have saved me a ton of time and money had I known them up front. Let's go!
What Will I Need to Purchase?
Very early on in your building journey, begin making a list of all of the materials that you will need to purchase. I keep track of these on a spreadsheet with a column for estimated cost and estimated date that I will need to purchase which correlates with our overall timeline.
If you are an owner-builder, I recommend starting with framing, and work your way out focusing on all of the major building materials. Then you will work your way inside listing all of the materials you can think of. Visualize yourself walking through each room and list out any major purchases you will make for that room. Another tip is to ask all of your contractors what materials you will need to purchase. This will help you add to your list and not miss anything.
Where Do I Purchase From?
All of the answers to these questions will differ slightly depending on if you are working with a general contractor who manages your project or not. I will try to acknowledge this as I go through each option.
Major Building Materials
When I say "major building materials" I mean the big stuff you need like lumber, roof materials, siding, doors, windows, etc. If you are working with a contractor who is managing your build, he or she will most likely be purchasing your building materials through their regular supplier. If you are an owner-builder, purchasing materials for a barndominium, you are going to need to think like a builder. Go to different building material distributers in your local area and price out some or all of your major building materials that you will need to see who gives you the best deal. Remember to also compare quality.
You may also choose to price out some of these larger items at big box stores, but in my experience, you will not find a better price for quality materials through these distributors. It is always helpful to be able to compare, though!
Interior Building Materials
Interior building materials refers to all of the things you will purchase for the inside of your home. This can include plumbing fixtures (showers, tubs, toilets, sinks), cabinets, hardware, light fixtures, possibly interior doors, and so much more!
Finding distributors when purchasing materials is more time consuming than the major building materials because you will probably have to purchase from many different places. For example, you may find great hardware for your cabinets online on Amazon, but purchase your toilets at Home Depot. Of course, again, if you are working with a general contractor, they may have certain distributors that they will want you to work with in order to choose your materials. Some contractors may allow you to shop around for good prices. If you are an owner-builder, you will have the freedom to do some research to find the best price.
Some places we have chosen when purchasing materials through (just for ideas):
Cabinets – Local custom cabinet maker
Paint, brick, tile, flooring, other small materials – Home Depot/Lowes/Menards
Hardware for kitchen and bathrooms, light fixtures, ceiling fans, tons of random small purchases – Amazon
Interior doors, exterior doors, windows – Local building materials distributor
How Do I Save Money?
The number one way to NOT save money when purchasing materials for your home: RUSHING! You will get yourself into trouble when you run out of time. Giving yourself plenty of time will allow you to find great deals or wait when the number just doesn't fit your budget. Here are some tried and true ways to save some money on your home build:
Ask for contractor discounts. So many suppliers have these discounts that they regularly give to contractors, but will also offer to you if you ask. We found these at our building materials supplier, Lowes, Home Depot, and more. It never hurts to ask!
Wait for big sales online. Amazon, Wayfair, and most online retailers have big sales at least a couple times a year. Know when these are and make sure you plan to shop those sales. This could save you thousands in more than one area of your budget.
Don't be afraid to shop off brand products (with good reviews). Often you can buy very similar products for half the price if you are willing to skip the name brand. Make sure you read reviews or get feedback from actual customers to make sure the product is quality.
Know your "splurge" items and your "save" items. Don't fall into the trap of busting your budget in every area. Before you purchase anything, make a list of the items that are really important to you and the ones that are less important. Splurge on some things, but find good deals on others to even out your budget.
Our Current Build Progress
Currently in our build, we are working on finishing:
Exterior framing (back porch especially)
Siding
Roof
Exterior doors
Trim, guttering
We have made minimal progress since our last update, and this is due to rain delays and our contractors having to go back and fix a few issues that we had during the first few stages. These sort of issues really take a toll on us at times, but in talking with other home builders, it seems like small issues are very common, almost inevitable in a build. Here's to trusting that the second half of our build will be even smoother than the first!
Follow us on Instagram for more regular updates @morgan.homebuild