When building your barndominium, there are a lot of decisions that you will need to make. From floor plans to design choices, it can be overwhelming and stressful. However, making the right decisions every step of the way will help you get the home of your dreams and ensure that you and your family will be happy living there for many years to come.
One of the big decisions you will need to make is whether or not you want to include a guest house with your plans. A barndominium with a guest house has a lot of benefits and even though it takes a little bit of extra money, it can be well worth the extra time and expense.
Get a FREE 18 Month Barndominium Planner
There are 39+ steps that must be taken before groundbreaking. Learn them all in this FREE checklist, available for immediate download.
6 Reasons to Build a Barndomium with a Guest House
Residence for Visitors
One of the biggest benefits of building a barndominium with a guest house is that you will have an extra residence for when family and friends come to visit. Many times, the only reason that having people over is stressful is that they encroach on your space and make it so that your home isn't nearly as comfortable as it should be. A barndominium with a guest house could solve these issues.
Not only does a barndominium with a guest house give you the space you need when guests come over, but it also gives your guests the space they need. This will make them feel much more comfortable and welcome whenever they come to visit. If you live far away from your friends or family, they will be more inclined to come and visit more often.
Separate Living Space
A barndominium with a guest house is a great idea because it gives you and the other people living in your home an extra space. Everyone needs a little bit of alone time now and then and a barndominium with a guest house can be a great way to get as much space as possible without having to cram extra rooms into your floor plan.
When your guest house is not being used by visitors, it can be used as a completely separate space for everyday living. Whether your kids need a playroom or you need an area where you can get away and enjoy your hobbies or have some quiet time, a barndominium with a guest house is an excellent way to stretch the room you have.
Rental Income
If you want, a barndominium with a guest house can be an excellent source of income if it is marketed correctly. If you are okay with having tenants on your property, you can rent out your guest house and, depending on where you live, can make quite a bit of money on your investment. The rental market is extremely hot right now and if you have the extra space, it might be a good time to try and capitalize on it.
Even if you don't want to rent out your guest house to someone long-term, building a barndominium with a guest house can still be an income opportunity. There are several online marketplaces where you can rent out your guest house for one or two nights at a time and you can charge a premium price. If you live in a desirable area with a lot of attractions, you can use these as a selling point.
How to Build Your Own Barndominium & 200+ Floor Plans
Get started today with our program "Barndominiums Made Easy: How to Build Your Own Barndominium" and get 200+ barndominium floor plans included!
Increased Value
While most people want to build their barndominium for themselves and their families to live in, some also see it as an investment opportunity. If this is you, a barndominium with a guest house can be an amazing way to increase its overall value. Homes that have a guest house are worth much more due to having more space and the fact that they can even generate extra income.
One of the reasons a barndominium with a guest house could be seen as a good investment is because barndominiums, in general, are getting more and more popular. Since they have been featured on television and in print, many more people are getting excited about living in these unique homes. Having a guest is just another selling point that can fetch more money if and when you choose to sell.
Comfortable Multi-Generational Living
Having a barndominium with a guest house is also a fantastic way to make sure everyone in your family is taken care of throughout their life. If you want to have a place where the people you love the most can come and live if the need arises, a guest house is a great way to do it. Not only will you have the space for them, but you can also be sure that they won't be living on top of you in your own home.
If you have children, a barndominium with a guest house can also be a great way to give them their own space as they grow up. Many teenagers and young adults may not want to be in the main house with their parents and the guest house is a good way to give everyone their privacy as the kids grow up.
Multiple Purposes
A barndominium with a guest house can also serve many purposes that don't necessarily fit in with the original intention of the space. When it is not in use, the guest house can serve as a workshop or area for hobbies, or even just as storage if you need it. The possibilities are more or less endless and you will be glad you decided to put the extra area in when the need comes up.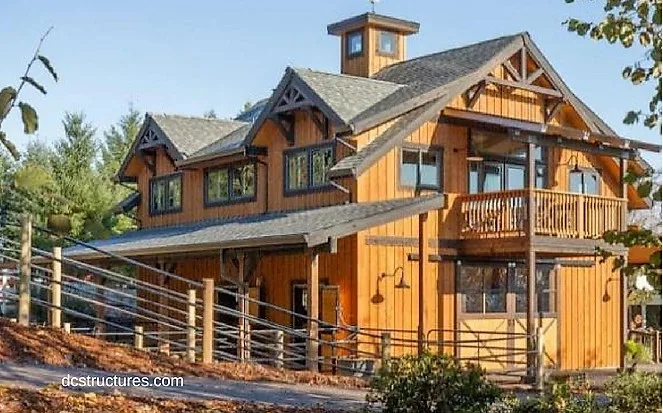 Space for Staff
If you have any live-in staff for your home, a barndominium with a guest house can be a great way to make sure that everyone is comfortable. A live-in nanny can use the guest house for as long as they are needed and afterward it can be used for any of the above purposes. Having the space available is a great way to make sure that anyone you hire to help run your home can feel settled and safe in your barndominium with a guest house.
Conclusion
By understanding some of the benefits of a barndominium with a guest house, you can decide whether it is the right choice for you. It can cost a little extra to build a whole new structure but, as you can see above, it can also bring in money if it is utilized correctly. By knowing how it can benefit you and your home, you can figure out if it will be worth the extra work to get it installed in your yard.
If you would like more expert tips and tricks, be sure to check out the rest of BarndominiumLife.com. There, you will find all kinds of helpful guides like this one as well as barndominium builders and kits in your area. You will also find some featured barndominiums to help you get inspired for your own custom barndo.
Like this Post? Sign up for our email list!
Be the first to see new posts about the best barndominiums, construction guides, floor plans, and more! Enter your information below to become a BarndominiumLife VIP.
Michael O'Connor is a seasoned barndominium writer passionate about creating unique and innovative barndominiums. With over 15 years of experience in the construction industry, Michael has established himself as a leading expert in barndominium design and construction.
His work has been featured in several respected publications, including Barndominium Life, where he frequently contributes articles on best practices and emerging trends in the field. Michael's ability to blend traditional techniques with cutting-edge technology and design concepts has earned him a reputation as one of the most knowledgeable writers in the industry.