By Morgan Ropeke
Benefits of a Barndominium
Thinking back many months ago, one of the biggest turning points in our journey was when we finally decided to build a barndominium over a traditional home. There are many benefits of a barndominium and also benefits when considering a traditional home. Trust me, this was a HUGE decision that took us many months, countless meetings, hours of conversation, and a ton of online research to finally settle on. There were so many benefits of a barndominium, but there were also aspects of a traditional home that we couldn't have if we chose to build a barndo. Many factors went into the equation as we were making the decision. As we processed the vast amount of information that had been thrown at us from general contractors, metal fabricators, and sub contractors, we slowly began to realize that we were both leaning towards a barndominium over a traditional home. Since that day, we pushed forward without looking back. Here are some of the things that helped convince us that barndo is better.
Wondering who we are? Click here to find the first post in the series where I describe what to expect in this series as I document our barndominium build!
Find more info and pics from our journey on Instagram @morgan.homebuild
Benefits of a Barndominium: Open Concept Opportunities
Barndominiums support large and tall spans without the need for load bearing walls due to the far superior strength of steel vs. wood. Traditional wood homes would require costly overhead beams or columns between kitchen and living spaces, or wherever there are very large spans.
Having an open concept kitchen and living area was such an important part of our floor plan design. When we first started brainstorming what our dream floor plan would look like, we made a list of needs and wants. This open concept space was one of the first things on the list. Obviously, traditional homes can include this space as well; however, it may be more expensive or offer less options.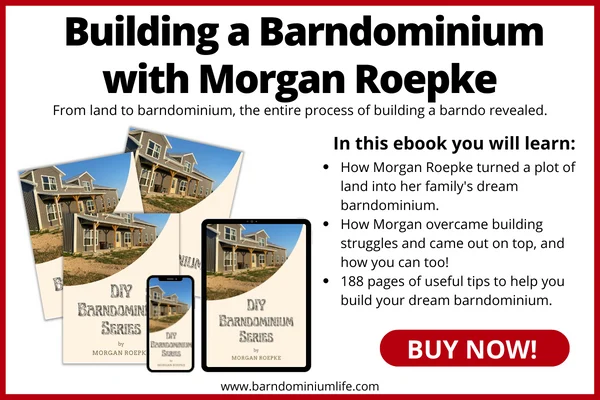 Benefits of a Barndominium: Durability
Another benefit of a barndominium is its comparative strength and longevity. Many of the issues with a wood-framed home are not issues when you are framing the exterior with steel. For example, termites are not a concern. Barndominiums are also much stronger and perform better in storms or natural disasters such as tornadoes or earthquakes. Additionally, metal siding and roof materials are going to have double the warranty length and a fraction of the maintenance costs associated with traditional roof shingles and traditional siding materials such as vinyl.
These factors weighed in heavily for us as we were making our decision on which type of home to choose. We are extremely thrifty people. We analyze every purchase we make. I'm not saying we don't spend money (our house will actually cost more than I ever thought we would spend on a house!), but when we do spend our money, we don't make those decisions lightly. And when we were thinking about the materials that will be used to build and wrap our home, it made so much sense to choose steel. To us, the value was there in how long the materials last, the little maintenance required, and especially the added safety for our family. This was one of the major benefits of a barndominium for us.
Benefits of a Barndominium: Visual Appeal
Over the last 5 years, barndominium popularity has exploded, in part due to a wildly popular TV home show airing the construction of a barndominium in 2016. The metal exterior, concrete floors, and vaulted ceilings of barndominium style truly aren't for everyone, but there is a strong community of people who love the look of a classic barndominium. My husband and I have always loved the look, and because we are building on some acreage outside of city limits, it suits the country environment well. For some, the exterior of a home like this would be a turn off, but for us, it is an added plus!
Benefits of a Barndominium: Smoother Building Process
Two of the main reasons that we finally made the decision to move forward with building our dream barndominium were elements that just made the process smoother for us. First of all, metal buildings can be erected very quickly compared to wood framing. In our build, we were able to get in contact with a local metal fabricator who has been in the business for over 30 years and is highly recommended. This in itself was huge for us. In talking with our metal fabricator we discussed timelines, and when he told us that his crew could erect the steel trusses, install the metal siding and roof, and complete a ton of other detail work in just 2-3 weeks, we were stunned. It just doesn't seem like that is possible. However, I've come to know now that this is pretty standard in this industry. Quick turnaround times cut down significantly on possible weather delays, mold opportunities, and other issues with having a home open to the elements.
Another reason that choosing a barndominium was smoother for us is because of our specific building situation. We are not using a general contractor. Instead, we are building our own budgets and timelines and hiring the subcontractors ourselves. In talking with our metal fabricator, they agreed to complete our foundation work, all of the metal building and exterior work, as well as installing exterior doors and windows. Because of this, we were confident that we would be able to hire and complete the interior work without assistance from a general contractor. I know this path isn't for everyone, and that's okay. For us though, this was a benefit that we couldn't turn down.
Benefits of a Barndominium: Cost
If you do some research on this topic, you will see that many will say that one of the biggest benefits of a barndominium is the low cost to build. The question of cost was what we thought most about when deciding which type of home to move forward with. However, after going back and forth and talking with many different contractors, we discovered that the answer to this question is definitely not black and white. For example, barndominiums are typically designed in either square or rectangular shapes which is the opposite of traditional homes. Cutting down on the amount of corners and angles in the exterior of a home will cut down on labor and material costs from the siding to the framing to the drywall inside. This does save money in the thousands. However, this does have to be thought about in the planning stage. Additionally, Materials for a barndominium are actually a little more expensive than traditional home materials like wood, vinyl, and asphalt shingles. However, a barndominium builder will save money in labor since the home will be built significantly faster than a traditional home. So in conclusion, cost is a factor, but in order to save a lot of money on a barndominium, you have to be knowledgeable about what factors play into the cost as you go.
Choosing a Barndominium
There are also some downsides to choosing a barndominium that are not listed here. In my research and talking with people, others have mentioned appraisals coming in lower for barndominiums, and having a hard time finding lenders for these types of homes. This has not been the case for us. We made sure to find a lender and appraiser who supported our project and was able to trust us (this is huge, and I will discuss this more in another post). Making the big decisions when home building can be extremely stressful, and sometimes, we don't always know the right answer until we are able to make our way down the path a little ways and look back to see how everything has played out. Because of many of the benefits of a barndominium, we chose to move forward with building this type of home, and so far, we are so thankful that we did.
Start building your barndominium today by checking out our ebook here!
Find more progress updates on instagram @morgan.homebuild