Metal buildings have been around for a long time as storage, garages, workshops, and commercial buildings. But recently, more and more people are looking to metal buildings as living spaces. Can you live in a metal building? Is it legal to live in a metal building? We will share everything you need to know about living in a metal building in this article.
Get a FREE 18 Month Barndominium Planner
There are 39+ steps that must be taken before groundbreaking. Learn them all in this FREE checklist, available for immediate download.
Can you live in a metal building?
If you have been wondering if you can live in a metal building, the short answer is yes. There are so many reasons why metal-building homes are becoming increasingly popular.
Metal buildings with living quarters are becoming popular because they are
customizable
affordable
durable
easy to assemble
fire-resistant, and
not susceptible to rot or destruction from termites.
Metal buildings have many benefits. However, you need to understand the types of materials used in metal construction, how to design a metal building, and what to consider when buying them.
Metal Buildings with Living Quarters
The same advantages that apply to industrial or commercial structures also apply to residential applications in metal buildings. For example, metal buildings enable homeowners to enjoy the benefits of prefabrication.
This means they are quick and efficient to construct. In addition, metal buildings can save you significant amounts of money on labor costs.
Metal buildings are also eco-friendly. Unlike other building materials, metal is made from recycled materials that can be recycled at the end of their lifespans.
Many homeowners choose to have metal buildings because of their low maintenance, which is the most significant expense that comes after a home's construction.
Metal buildings have gained a reputation for being incredibly cheap to maintain. This type of construction can last for decades.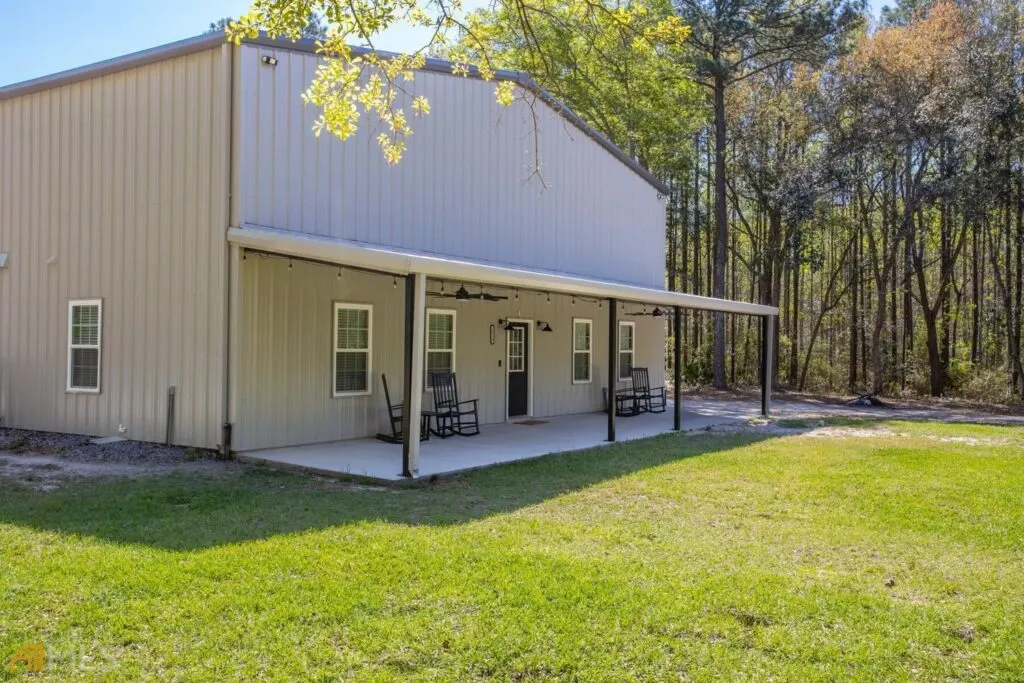 Wood vs. Metal Building
Many homes in the U.S. are made of wood obtained from forests that provide sustainably harvested lumber. However, wood is losing its appeal as a construction material.
Wood doesn't provide the durability, hardness, and insulation properties of metal. Plus, wood has various features that can create structural problems.
Lumber can be low in quality and susceptible to twisting, warping, and infestation by pests. These weaknesses make wood less reliable and weaker as a building material.
On the other hand, metal frames are significantly lighter than wood, not susceptible to pest infestation or damage by mold, mildew, and rot, and come in an amazing array of shapes, sizes, and quality.
How to Build Your Own Barndominium & 200+ Floor Plans
Get started today with our program "Barndominiums Made Easy: How to Build Your Own Barndominium" and get 200+ barndominium floor plans included!
Achieving the Traditional House Look with Metal Buildings
Some people may have reservations about using metal for buildings due to its atypical appearance. But innovations in construction design mean they can have a metal building that has a traditional look.
There are many metal buildings with roofing that has the appearance of tile or shingles. So, your metal building can look just like the traditional homes of your neighbors. Your metal building façade can even look just like stone or brick.
For a more traditional house look on the outside, you can choose your favorite color palette. Metal building materials come in a wide range of colors. This means your home can have one color or different colored components.
In addition, materials used in metal buildings are usually coated with a material that protects them from corrosion and rust when exposed to the elements.
Apart from having the traditional house look, however, metal buildings are energy efficient and can have comfortable interior spaces.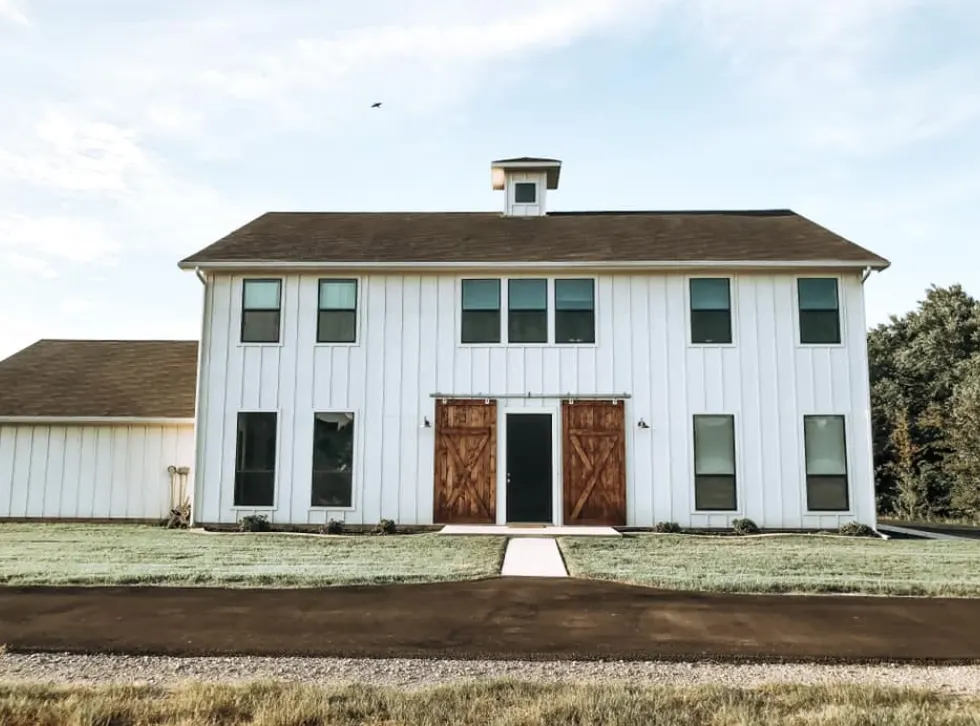 Cozy Metal Building Interiors
Once you finish building your metal home, the options for interior finish are just as varied. A metal building can have all the interior finish features of traditional houses, including drywall, trim pieces, and designer flooring.
A significant benefit of metal frames is they allow your structure to have bigger interior wall spaces — so you can improve the insulation and comfort of the structure.
Metal buildings usually feature 8-inch girt and purlin cavities that can be filled with spray-in insulation to enhance interior comfort.
Metal Building Assembly Tips
The most exciting part of your construction begins once all the materials are delivered via ordering a barndominium kit from a kit provider.
Many homeowners hire contractors to do the actual assembly of their metal buildings. Others prefer to assemble the parts on their own.
There are advantages to both options, but unless you have considerable experience doing this sort of thing, we strongly advise that you hire a contractor to assemble your metal building.
See it done
If you decide to hire a contractor, you can consider visiting a local metal building construction project to understand what it involves.
That way, you can watch as they assemble a metal building — hopefully similar to your own.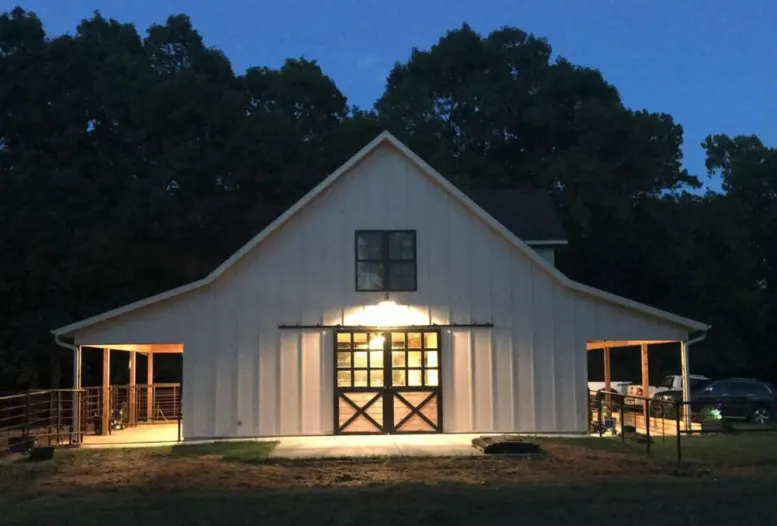 Advantages of Metal Buildings
Metal buildings with living quarters are becoming increasingly popular because they have many advantages.
Durability
Many contractors and engineers like metal as a building material because of its incredible strength. Metal is a durable building material that can withstand the elements effectively.
Dual Purpose
A significant advantage of metal buildings is their dual purpose capability. You can use your metal building for both residential and business applications.
The structure of metal buildings means you can easily partition them into living and business spaces. This can save you significant amounts of money because it eliminates the need to create separate areas for living and business.
Why Should I Live in a Metal Building?
Easy Remodeling
Since metal buildings stand on external walls, the interior columns are saved from bearing the load of the structure. This enables you to quickly make changes to the interior spaces, even at the last minute.
The fact that metal buildings are easy to remodel means you can experiment with new design trends. In addition, you can expand interior spaces simply by removing interior columns to create additional spaces for you and your family.
Low Maintenance
Metal buildings are extremely low maintenance because they are durable and don't fade or wear quickly. This is a significant benefit for homeowners on a tight budget.
Tips for Buying the Right Metal Building
There are various factors to consider when buying metal buildings. The most important thing to do is to analyze your requirements for a building.
Consider the size of the metal building you need. The purpose of the structure determines the suitable size

A general rule of thumb is to choose larger-sized

buildings to accommodate future space requirements.

Make sure the cost of the building does not exceed your budget

Other factors to consider include energy efficiency and weatherproofing
Getting started on a metal home
After receiving your building permit and secured financing, you can begin what's known as "dirt work."
This involves clearing the lot and pouring a properly engineered foundation that takes into consideration the soil type (firm topsoil is good, loose sand is very bad) and the type and number of reinforcing "beams" that will run all through your concrete pad,
Before you know it, the shell will be up and secured, meaning that you are free to execute your own unique interior design.
If you would like more guides like this one, check out the rest of BarndominiumLife.com. There, you will find more helpful tips and tricks from the pros. You will also find featured barndominiums, barndominium floor plans, and information on financing and insurance. Knowing as much as you can will help you get the best results for your dream home.
Like this Post? Sign up for our email list!
Be the first to see new posts about the best barndominiums, construction guides, floor plans, and more! Enter your information below to become a BarndominiumLife VIP.